Wedding welcome bags are an excellent addition to your big day, offering a special way to greet your guests and show your appreciation for their attendance.
These thoughtful bag of goodies hailing a warm welcome to your loved ones set the tone for your wedding weekend, presenting a delightful opportunity to showcase your creativity and personalize them according to your wedding theme.
The purpose of wedding welcome bags is to make your guests feel appreciated and comfortable, while providing them with essentials and treats that will enhance their overall experience.
From selecting the perfect bag to deciding what items to include, there are many elements to consider when creating your wedding welcome bags.
By carefully curating these bags, you can ensure that they align with your theme, personality, and add an extra memorable touch to your wedding.
Key Takeaways
Wedding welcome bags are a thoughtful way to greet guests and show appreciation
These bags aim to make guests feel comfortable while providing essentials and treats
Successful welcome bags involve selecting the right bag and relevant items for guests
Purpose of Wedding Welcome Bags
Making Guests Feel Welcome
Wedding welcome bags serve as a thoughtful gesture to make guests feel welcome and appreciated as they arrive for your wedding festivities.
They are particularly meaningful for destination weddings, where friends and family have likely traveled far to be present.
Whether they are placed in guests' hotel rooms or handed out at a pre-wedding gathering, these gift bags exude warmth and gratitude.
Welcome bags can be personalized to reflect the theme or style of your wedding.
Consider adding a custom touch to the bags, such as monograms, initials, or logos, to make them unique and memorable.
For a tropical or beach-themed wedding, custom beach towels or beach bags can make great additions.
Convey Essential Information
Aside from providing a warm welcome, wedding welcome bags can also serve as a useful tool to convey essential information about the wedding and its activities.
It is a good idea to include a note or schedule of events, detailing the timings and locations of the various ceremonies, parties, and gatherings on your big day.
This helps guests plan their time accordingly and ensures they don't miss any important moments.
The welcome bags can offer helpful contact information for the wedding party, coordinators, and other essential personnel.
This is especially useful for destination weddings where guests may need assistance navigating their surroundings or handling any issues that arise.
Choosing the Right Bag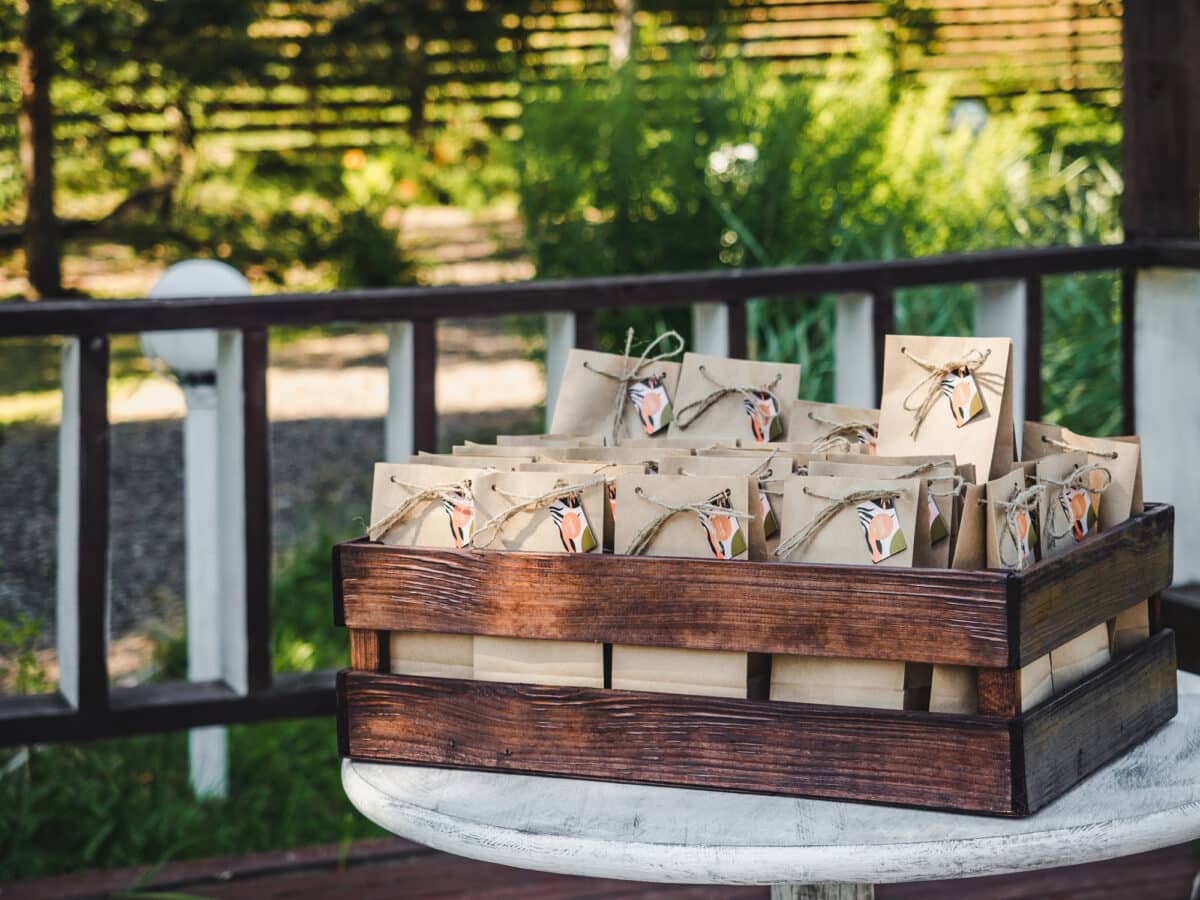 When it comes to selecting the ideal wedding welcome bag, you'll want to consider both form and function.
Making sure your chosen bag aligns with your overall theme and style of your wedding, while also being practical and useful for your guests is essential.
In this section, we'll explore the different options available, categorized into reusable options, customizable designs, and eco-friendly choices.
Reusable Options
Tote bags are a popular and practical choice for wedding welcome bags.
Made from durable materials like canvas or cotton, these bags can be reused by your guests long after your special day.
This not only adds a personal touch but also cuts down on the waste created by single-use gift bags.
If you prefer a more traditional approach, gift bags made from sturdy materials like kraft paper or fabric can also be a reusable option.
Opt for bags with strong handles and good quality materials to ensure they stand up to wear and tear and can be reused by your guests.
Customizable Designs
One way to make your wedding welcome bags more personal is to choose a design that can be customized.
This could involve adding your names, wedding date, or a monogram onto the bag itself.
Both tote bags and gift bags can be easily customized with screen printing, embroidery, or even customized labels. This personal touch will make your welcome bags a memorable keepsake for your guests.
Eco-Friendly Choices
As mentioned earlier, tote bags made from canvas or cotton are an eco-friendly option as they can be reused.
Look for tote bags made from organic or recycled materials to add an extra level of sustainability to your wedding welcome bags.
Another eco-friendly choice for wedding welcome bags is to use boxes made from recycled or sustainably sourced materials, like cardboard or paper.
These can still be customized with printed or stamped designs but are more easily recycled and can help reduce the environmental impact of your event.
Final Thoughts
Selecting the right bag for your wedding welcome packages is an important aspect of your wedding planning.
By keeping in mind the themes mentioned above – reusable options, customizable designs, and eco-friendly choices – you will be able to find the perfect balance between style and practicality for your guests.