Your wedding day is a magical once-in-a-lifetime celebration of love and commitment, bringing together two families and a circle of friends who mean the world to you.
As the big day draws near, the planning and decision-making may seem overwhelming, but let's not forget the finer details that leave a lasting impression on your guests.
Among these are the wedding favors, the tiny tokens of gratitude that reflect your personality and taste, giving guests a sweet little reminder of the love they've witnessed.
So, how do you choose wedding favors that are both meaningful and memorable, leaving your guests smiling as they leave your special day?
In this blog post, I'll guide you through a treasure trove of ideas and insider tips to help you choose wedding favors your guests will truly appreciate and cherish. 
Reflecting Your Personalities in Your Wedding Favors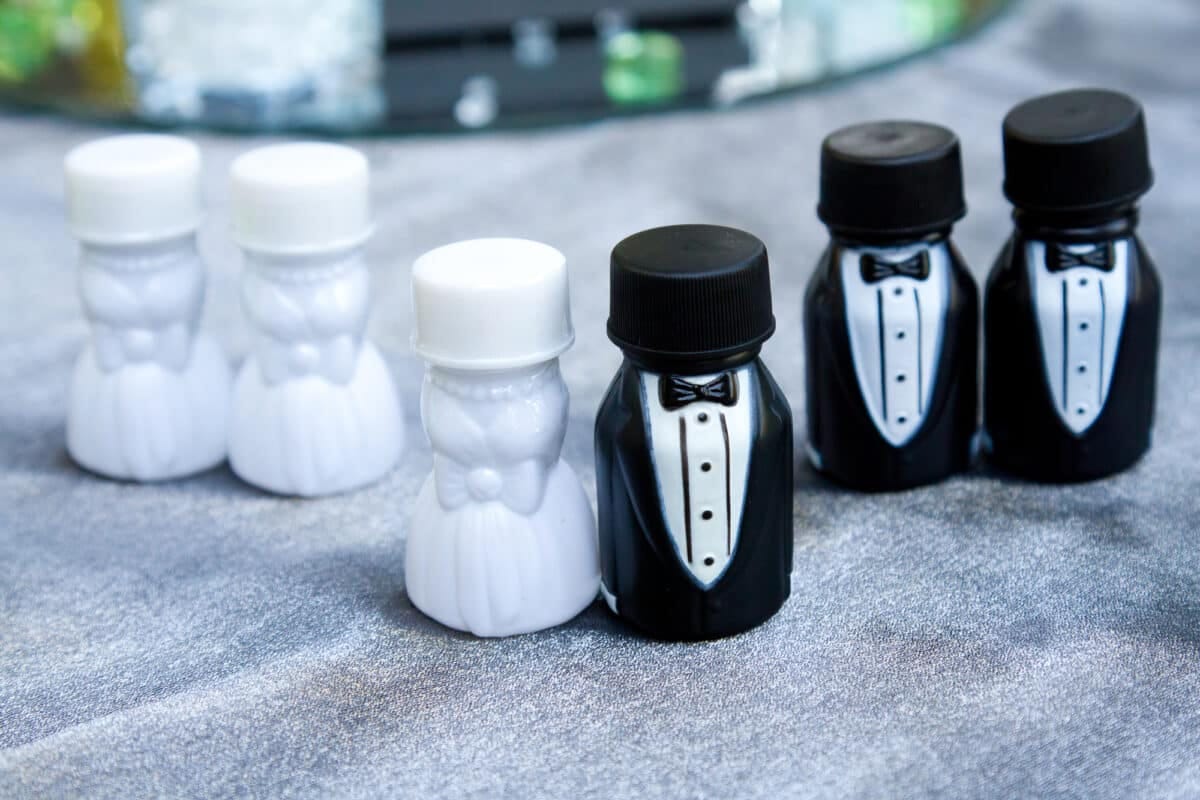 One key aspect of selecting your wedding favors is reflecting your personality as a couple. 
Your guests will appreciate receiving something that showcases who you are and reminds them of your special day.
Not only do they show off your creativity, but they also add a personal touch that guests will appreciate.
Consider making homemade candles or creating personalized succulent planters with each guest's name on it. These ideas not only make for unique gifts, but they're also cost-effective.
Another way to reflect your personality in your wedding favors is by using personalized packaging ideas.
This adds an extra level of customization and shows attention to detail.
For instance, if you both love coffee, consider gifting mini bags of locally roasted beans packaged in burlap sacks stamped with your names and wedding date.
When choosing wedding favors that reflect your personality, remember what makes you unique as a couple.
Whether incorporating elements from shared hobbies or including inside jokes on personalized notes attached to each favor, these small details go a long way in showing appreciation to loved ones on such an important day.
Choosing Eco-Friendly Wedding Favors
Many couples are now opting for eco-friendly options.
Not only is this a great way to reduce waste and promote sustainability, but it also shows your guests that you care about the environment.
One option for eco-friendly wedding favors is to choose items that come in sustainable packaging.
Look for products that use recycled materials or biodegradable packaging, such as bamboo or paper bags. 
You can also opt for reusable containers like glass jars or metal tins, which guests can repurpose after the event.
Another idea is to create DIY wedding favors using natural and organic materials.
For example, you could make homemade soap bars with essential oils and organic ingredients, then package them in compostable wrapping. 
Or consider creating small potted plants or seed packets that guests can take home and grow themselves.
Packaging Your Wedding Favors Creatively
If DIY isn't your thing or you're short on time, consider hiring professional packaging companies.
These companies can help bring your vision to life and ensure each favor looks polished and put together.
From personalized labels to custom wrapping paper, there are endless options for professional packaging.
Regardless of your route, keep in mind that the packaging should complement the flavor inside.
For example, if you've chosen edible favors such as chocolates or cookies, opt for clear bags or boxes to make the treats visible.
If you've chosen something more decorative, like candles or succulents, consider adding some tissue paper or ribbon for an extra pop of color.
Timing Your Wedding Favors Distribution
After putting so much thought and effort into choosing the perfect wedding favors for your guests, you must consider how you will distribute them.
A creative display can greatly affect how appreciated your gifts are.
Consider setting up an eye-catching table or wall display with all of your favors arranged neatly on top or hanging from hooks or strings.
Alternative distribution methods can add an extra element of surprise and excitement for your guests.
One option is to have servers circulate throughout the crowd during the reception, offering each guest their gift.
Another idea is to hide small favor boxes at each guest's seat, turning their search into a fun game before dinner starts.
When deciding when to distribute your wedding favors, timing is key.
While some couples place their favors at each guest's seat during the rehearsal dinner or ceremony, others prefer to wait until later in the night when everyone has had time to relax and let loose on the dance floor.
What matters most is that your guests feel valued and appreciated.
By taking the time to package your favors creatively and considering alternative ways of distributing them, you'll show how much you care about making this day special for everyone involved.
Incorporate personalized tags or stickers onto each favor for an added touch.
Choose practical items that guests can use beyond the wedding day.
Don't forget about children attending the event – include kid-friendly treats like coloring books or activity sets as part of their favor bags.
Showing Appreciation to Your Guests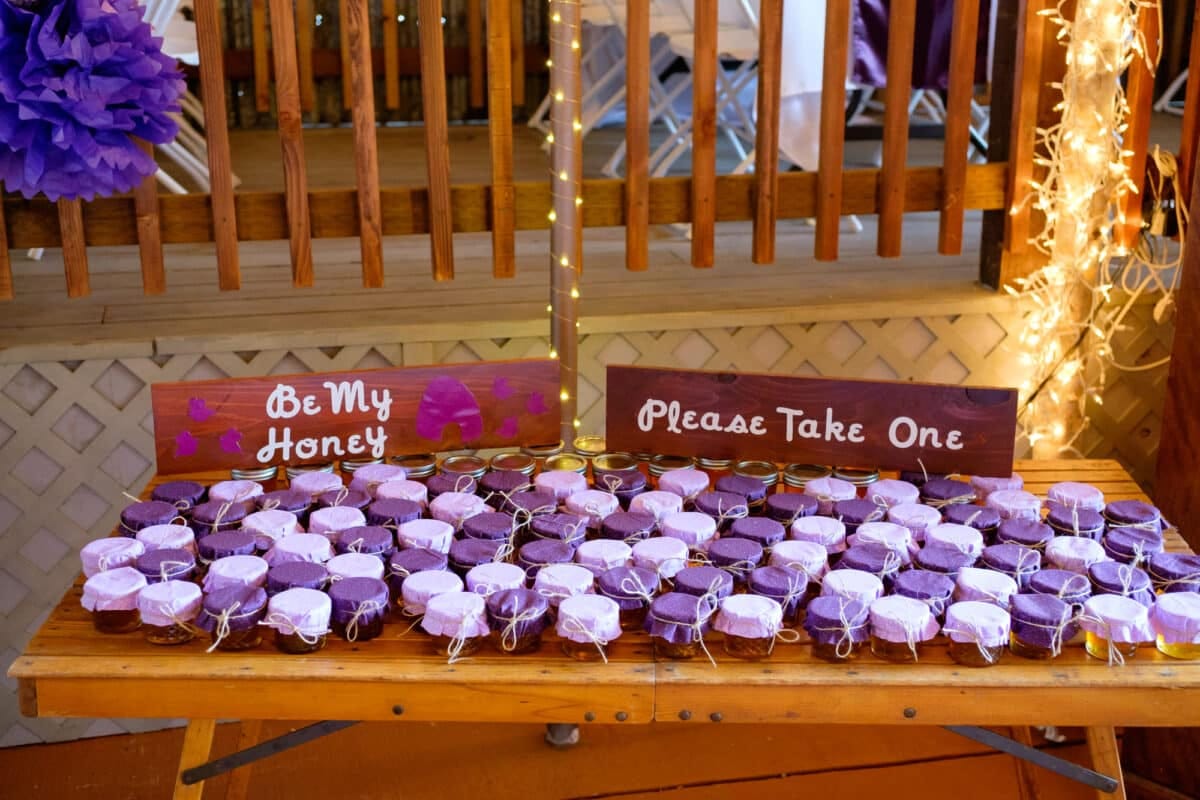 Incorporate cultural traditions into your favorite selection.
Whether it's adding tea leaves for a Chinese wedding or personalized fans for a Japanese ceremony, these thoughtful gestures showcase an appreciation for diverse backgrounds.
Another option is to opt for unique and personalized thank-you notes.
Including a heartfelt message that acknowledges their presence and participation in this milestone event goes a long way in showing gratitude.
It's not about finding one perfect gift but rather creating an overall experience that shows appreciation.
Frequently Asked Questions
Can Wedding Favors Be Skipped Altogether?
While wedding favors can be a thoughtful way to thank guests for attending your special day, it's important to prioritize what matters most within your budget.
Some alternatives include donating to charity in honor of your guests or providing an interactive photo booth experience as a fun and memorable keepsake. 
How Do I Avoid Giving Out Favors That My Guests Won't Like?
The key is to think outside the box and come up with something memorable and useful.
Whether it's personalized wine glasses or gourmet chocolates, ensure your guests feel like they're receiving a gift rather than just another trinket.
And don't forget about the presentation! 
Creative ways to present favors can take even the most straightforward item to the next level.
Try wrapping them in beautiful packaging or creating a display that doubles as decor for your reception.
Are There Any Legal Restrictions on Wedding Favors?
Consider alternative gifts such as charitable donations in honor of your guests or personalized keepsakes that they can cherish for years to come.
This ensures that your guests will appreciate the gesture without any potential legal issues arising.
Should I Keep the Favors Gender-Neutral or Can I Personalize Them for Each Guest?
Personalized favors can give that extra special touch and show your guests how much you care about their individual tastes. 
However, let's not forget those preferring more gender-neutral options.
It's essential to balance personalization and inclusivity so everyone feels appreciated.
How Do I Make Sure My Wedding Favors Stand Out From Others My Guests May Have Received in the Past?
To ensure that your wedding favors stand out from others your guests may have received in the past, consider unique favor options such as personalized candles or custom-made chocolates. 
Another way to make them memorable is by using creative packaging ideas like mini suitcases or printed tote bags with each guest's name on it.
Adding these personal touches guarantees your guests will leave a lasting impression of your special day.
Final Thoughts
While not mandatory, wedding favors can add a personal touch that will leave a lasting impressions.
To avoid giving out favors that may be unappreciated or forgotten, it is essential to consider your guests' preferences and choose something practical yet unique.
Opting for gender-neutral options or personalizing them for each guest can also make them all feel appreciated. 
Choose something that stands out from other wedding favors, including adding personalized packaging or selecting items that reflect your shared interests as a couple.