April is an intriguing month to tie the knot, as it signifies the beginning of spring and offers a unique charm to any wedding celebration.
As the month brings new blooms and crisp air, it's no wonder that many couples choose this time of year to celebrate their love.
While April weddings are not as common as the popular summer and fall wedding seasons, they are increasingly becoming an attractive option for couples seeking a fresh, welcoming setting for their special day.
In recent years, various factors have contributed to the growth in popularity of April weddings, including the availability of diverse wedding themes, flexible budget options, and seasonally appropriate attire.
Moreover, since April is not typically considered a peak wedding season, couples may find easier access to their choice of venues and vendors, which can help in making their special day memorable.
Key Takeaways
April weddings offer a fresh, welcoming atmosphere with seasonal themes and attire options
Couples may experience more flexibility in budget and venue selection during this off-peak season
The unique charm of an April wedding can make the event memorable and distinctive.
Benefits of April Weddings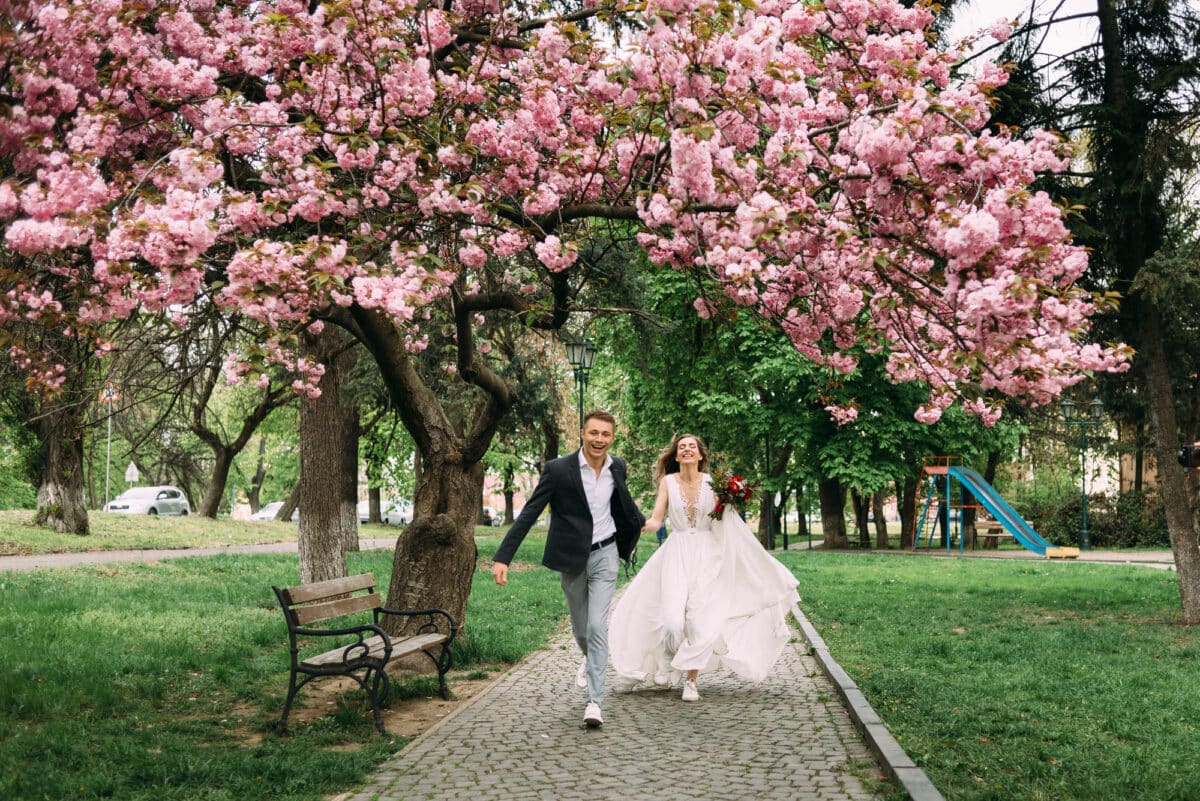 Floral Options
April weddings offer a plethora of stunning in-season flowers options for your big day, which can enhance your overall wedding aesthetic. Some popular April flowers include:
Tulips: Symbolizing perfect love, tulips are an ideal choice for a spring wedding bouquet.
Peonies: These lush blooms are prized for their elegant look and sweet fragrance.
Ranunculus: With their delicate, layered petals, these flowers add a touch of whimsy to any bouquet.
Roses: A classic choice, roses are available in various colors and can be paired with other spring blossoms.
Color Palettes
April, being a spring month, allows for the incorporation of lovely pastel colors into your wedding theme. These soft hues exude romantic vibes and pair well with the natural beauty of springtime.
Some popular pastel colors include: Bluish pink, soft lavender, mint green, baby blue, and pale yellow.
Cherry blossoms, another signature of spring, provide an opportunity for using light pink shades in the color palette as they reach full bloom during this time.
Weather Advantages
April offers milder temperatures and crisp air, creating favorable conditions for both indoor and outdoor wedding celebrations.
While April showers are a possibility, these gentle rainfalls can provide a fresh, revitalizing atmosphere for your event.
The abundance of new blooms, flourishing greenery, and delightful scents of spring also create a magical backdrop for the celebration of your love.
Potential Challenges
Unpredictable Weather Conditions
In many regions, April marks the transition between seasons, making it difficult to anticipate temperature and precipitation patterns.
This uncertainty may require couples to be flexible with their wedding plans, considering both indoor and outdoor options for their ceremony and reception.
Holiday Conflicts
April can be a challenging month for scheduling a wedding as it often coincides with several religious holidays such as Passover, Palm Sunday, Ramadan, and even occasionally Hanukkah.
These holidays can impact the availability of guests and may pose difficulties for those who observe them, affecting the scheduling and planning of the wedding.
Vendor Availability
In line with holiday conflicts and seasonal transitions, vendor availability can also be a challenge during April.
Couples might experience difficulty in securing their desired wedding venue, photographer, caterers, or wedding florist during this time.
It is important to plan early and be flexible with the selection of vendors to overcome this challenge.
Wedding Budget
Off-Peak vs Peak Season Costs
April is generally considered to be the beginning of the peak wedding season, which runs from April to October.
During this time, demand for wedding venues and vendors is at its highest, which can result in increased costs for couples.
In contrast, the off-season typically spans from November to March. Booking a wedding during this time can lead to potential savings, as venues and vendors may offer discounted rates to fill their calendars.
However, it's essential to weigh the pros and cons of each season before making a decision.
To better understand the financial impact of an April wedding, let's examine a few key aspects of the wedding budget:
Venue: The largest portion of a wedding budget typically goes toward securing the venue. According to WeddingWire, the average venue cost in the US is about $6,000 in 2021. During peak season, popular venues may charge a premium, while off-season rates could be more affordable.
Photography: Capturing your special day through photos is an essential part of any wedding budget. On average, a professional photographer charges around $2,000. Prices may be higher during peak wedding season due to increased demand.
Flowers: Decorating your wedding venue with beautiful flowers can be costly, averaging around $1,500. The cost of flowers may be influenced by seasonal availability, which should be considered when planning an April wedding.
Wedding Dress: Finding the perfect dress is a significant part of any bride's budget. The average wedding dress costs about $1,000. Peak wedding season may lead to higher prices and limited availability in some bridal shops.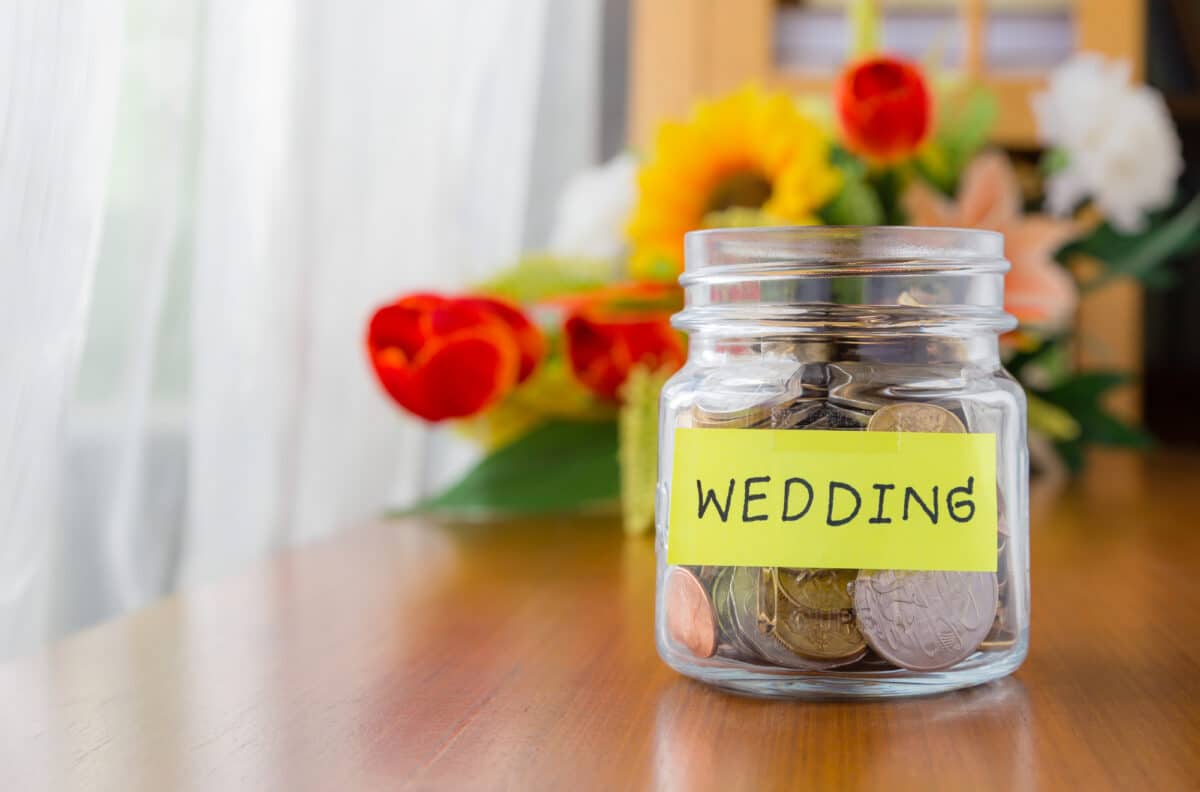 Choosing the Right Venue
Indoor vs Outdoor Venues
April marks the beginning of the spring season, which brings with it the promise of new blooms, pleasant temperatures, and warmer weather.
However, this time of the year might still carry some weather-related risks like showers or cool evenings.
For couples who wish to embrace the beauty of spring and enjoy an outdoor wedding, they must pay attention to the local climate and potential weather challenges.
It is advisable to have a contingency plan in place, such as arranging for tents or canopies, to shield guests from sudden rain showers or chillier-than-expected temperatures.
| Pros of Outdoor Venues | Cons of Outdoor Venues |
| --- | --- |
| Stunning natural backdrops | Potential weather risks |
| Fresh air and more space for guests | May require additional rentals (tents, chairs, etc.) |
| Can accommodate larger weddings | Might need extra accommodations for accessibility and comfort |
On the other hand, indoor wedding venues like banquet halls or ballrooms are a safer option when it comes to weather-related concerns.
Couples can rest assured that their guests will be protected from the elements and can focus on other aspects of the wedding planning.
Indoor wedding venues may also offer additional amenities and facilities, such as on-site fireplaces for added warmth and ambience.
| Pros of Indoor Venues | Cons of Indoor Venues |
| --- | --- |
| Weather-proof | Limited natural light and scenery |
| Convenient amenities and facilities | Can feel crowded in smaller spaces |
| Less outdoor setup and breakdown | May be more expensive than outdoor venues |
Wedding Date Hurdles
Guest Attendance Considerations
April marks the start of the spring wedding season and falls between major holiday seasons. This timing offers the potential for a higher attendance rate amongst invited guests.
However, there are still factors that may impact your guests' ability to attend.
One key consideration is the potential overlap with spring holidays, such as Easter, Passover, or school spring breaks.
These holidays can affect your guests' travel plans, making it challenging for them to carve out time for your wedding.
To mitigate this issue, pay attention to the holiday calendar when selecting your April wedding date, and communicate with your guests as early as possible so they can plan accordingly.
Travel is another hurdle when organizing an April wedding. As the weather starts to improve, flight prices may increase, making travel more expensive for your guests.
To help alleviate this concern, provide your guests with information about hotel and flight discounts, group rates, or other travel tips to make their attendance more feasible.
If you are accommodating a large number of out-of-town guests, consider selecting a wedding venue near major transportation hubs, such as airports or train stations, to simplify their travel arrangements.
Your guest list is a key factor in determining the success of your wedding, and ensuring that the majority of your intended guests can attend requires careful planning around potential hurdles.
Wedding Themes and Attire
Appropriate Colors
April weddings signify the beginning of spring, making it the perfect time to experiment with a variety of wedding colors.
Traditional colors for this season include soft pastels like pink, blue, and yellow.
These colors can be incorporated into the wedding theme through invitations, decor, and attire. Besides pastels, red and champagne hues can also provide elegance to an April wedding.
Dressing for the Season
Lighter fabrics and higher hemlines are suitable choices for a wedding dress, providing both comfort and elegance.
Bridesmaids' dresses can also follow suit, utilizing the similar color palette mentioned above.
For men, formal footwear like derby shoes or oxfords should be considered, along with appropriate wedding attire that matches the specific wedding dress code.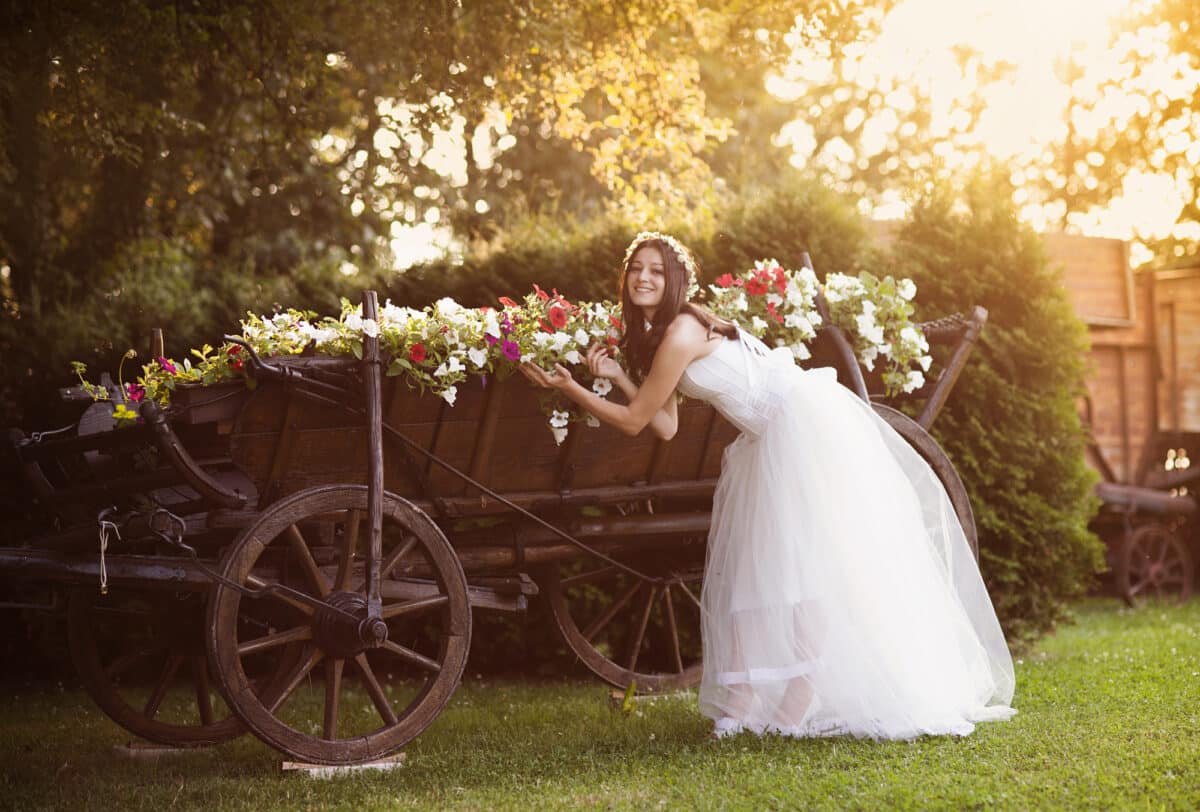 Final Thoughts
Springtime weddings are gaining popularity due to the beautiful weather and the abundance of blooming flowers.
As the season symbolizes renewal and growth, it provides an ideal backdrop for couples to begin their new life together.
April weddings can be both beautiful and economical, making them an attractive option for couples planning their big day.
As with any wedding, careful planning and consideration of the potential challenges of the chosen month will help ensure a truly memorable event.