In recent years, the concept of Monday weddings has become a topic of discussion among couples planning their nuptials.
Some may wonder if hosting their special day on a Monday is strange or unconventional.
As weddings continue to evolve and couples seek to add a personal touch to their celebrations, it's essential to consider the various factors surrounding weekday weddings, specifically those on a Monday.
Monday weddings, while not as popular as weekend celebrations, offer several advantages, particularly when it comes to cost savings and increased availability of venues and vendors.
However, they may also pose challenges to guests who might have work and personal commitments on weekdays.
Couples should weigh the pros and cons while keeping their guests in mind to decide if a Monday wedding is suitable for their unique circumstances.
After the pandemic affected the wedding industry, more couples are exploring alternative options, including weekday weddings, to accommodate restrictions and adapt to the changing landscape.
Considering alternative weekday options may provide flexibility in planning and help couples celebrate their love story in their own unique way.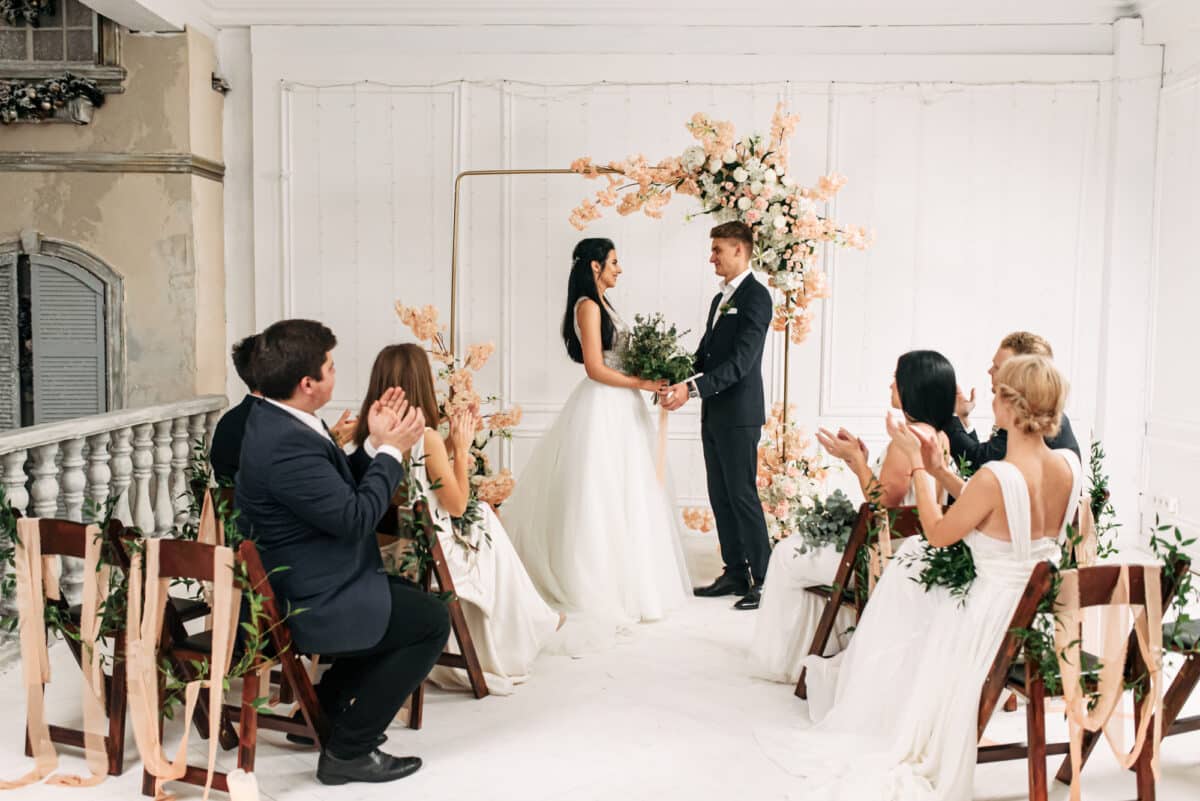 Key Takeaways
Monday weddings are becoming more common due to cost savings and increased availability.
Couples should consider the potential impact on guests with work and personal commitments.
The pandemic has encouraged exploring alternative weekday wedding options and adapting celebrations.
Monday Wedding Popularity
Monday weddings are becoming a popular choice for couples seeking a more cost-effective and unique wedding experience.
While they may not be as mainstream as Saturday or Sunday weddings, there are several benefits to choosing a weekday wedding like a Monday ceremony.
By selecting a Monday wedding, couples can take advantage of significant price discounts that venues and wedding vendors often offer for weekday events.
Savings can range up to 75% in some cases, which allows more flexibility in budgeting for other wedding details without sacrificing quality.
Despite the financial advantages, Monday weddings can raise concerns among potential attendees.
Busy work schedules or other weekday commitments may deter some guests from attending.
However, if the majority of the guest list consists of local residents, the inconvenience of attending a Monday wedding may be diminished, allowing couples to enjoy their special day surrounded by their loved ones.
It's worth noting that Monday weddings, like any weekday weddings, usually see lower attendance rates compared to weekend ceremonies.
Couples planning a Monday wedding should be prepared for the possibility of having a smaller, more intimate gathering.
This could be an appealing aspect for those looking for a more personal celebration.
To successfully plan a Monday wedding, couples should consider providing thoughtful accommodations for their guests.
These may include hosting the event in the evening to avoid conflicts with work schedules, sharing the date well in advance to allow adequate planning, and offering detailed information on transportation and nearby accommodations.
Monday weddings present an opportunity for couples to host a unique and cost-effective celebration.
As long as the potential challenges are acknowledged and addressed, a Monday wedding can be an unforgettable, intimate experience for both the couple and their guests.
Pros of Monday Weddings
Budget-friendly Venues
One of the main benefits of hosting a Monday wedding is the potential for significant savings on wedding venues.
Since Mondays are considered off-peak, many venues offer discounted rates compared to weekends.
This can help couples stay within their budget without compromising on the quality or location of their chosen venue.
Due to the lower demand for Monday weddings, couples may have a greater selection of wedding venues to choose from.
This can lead to finding a venue that better suits your preferences, and potentially at a more affordable cost.
Better Vendor Availability
Monday weddings tend to offer increased vendor availability.
Since only a small percentage of weddings take place on Mondays, your preferred vendors are more likely to be available for your event.
This can include photographers, caterers, and entertainment options, allowing you to arrange the perfect wedding without having to make compromises or settle for second best.
Some wedding vendors may also offer discounts for weekday bookings, providing additional opportunities for cost savings.
By taking advantage of the increased vendor availability and potential discounts, a Monday wedding can be a great option for couples seeking a unique, memorable, and budget-friendly celebration.
Cons of Monday Weddings
Guest Inconvenience
Monday weddings can be inconvenient for guests, as they often have work or school commitments during the week.
This may make it difficult for some family members and friends to attend or fully enjoy your special day.
Out of town guests may need to take time off from work or plan their travel around weekend plans, which can create extra stress and inconvenience for them.
To minimize the impact of a Monday wedding on your guests, you might choose to host the event in the evening, after work hours.
However, keep in mind that even with an evening wedding, some guests might still need to leave earlier to prepare for the following day.
Lower Attendance
Holding a wedding on a Monday is likely to result in lower attendance compared to a weekend wedding.
This is primarily due to guests needing to take time off from work or school to attend the ceremony.
Those with a limited number of vacation days may be hesitant to use them on a Monday wedding.
RSVP rates might be lower for out of town guests, as they would likely need to take off at least two days to travel to and from the wedding.
The reduced attendance at your wedding may also impact the overall atmosphere of the event, with the possibility of a quieter crowd on a Monday through Thursday compared to a lively weekend celebration.
Planning a Monday Wedding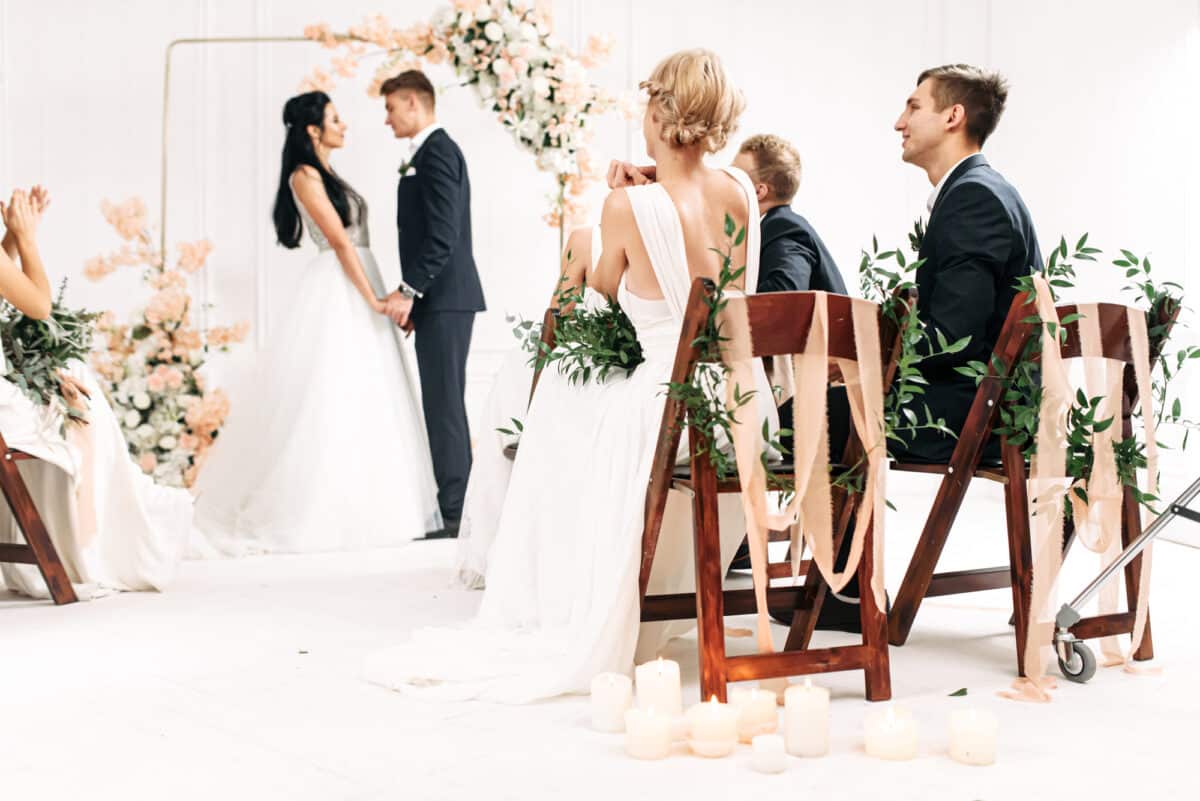 Consider Travel Arrangements
When planning a Monday wedding, it's crucial to take your guests' travel arrangements into account.
Many attendees may need to take time off from work or school, so be sure to give them enough notice in your Save the Date and invitations.
This will allow them to make necessary adjustments to their schedules and book flights or accommodations with ease.
Catering and Entertainment
Securing a caterer, DJ, and photographer for a Monday wedding might be easier than on a busy weekend, as there might be less competition for booking these services.
However, remember to discuss the weekday schedule with these vendors to ensure they can meet your expectations and provide excellent service to make your day memorable.
Save the Date and Invitations
When sending out Save the Dates and invitations, emphasize the fact that your wedding is taking place on a Monday.
This will help guests plan their travel and time off accordingly.
It's also essential to give your loved ones ample notice about a weekday wedding to avoid scheduling conflicts and ensure that they can attend your celebration.
Proactively address potential questions, such as dress code, childcare options, and estimated ceremony and reception times, to help guide guests in planning their attendance.
By considering these factors and proper communication with your guests, a Monday wedding can be a unique and delightful experience for everyone involved.
Impact of Covid-19
The Covid-19 pandemic has had a significant influence on the wedding industry, leading to changes in traditions and preferences.
As the pandemic forced many couples to alter their plans in 2020, this has affected the perception surrounding weekday weddings, including those on Mondays.
In an effort to adapt to new restrictions and prioritize health and safety, couples have sought more flexibility in their wedding arrangements, making Monday weddings an increasingly viable option.
During the height of the pandemic, numerous couples experienced postponed or canceled weddings, causing a backlog in booking wedding venues and other services.
As a result, many couples have had to consider alternative days of the week, such as Mondays, to secure a venue and important vendors for their celebrations.
This shift has helped reduce the stigma associated with weekday weddings, as couples can still enjoy their special day despite not adhering to the more traditional weekend format.
One key factor to consider is the cost-effective nature of Monday weddings.
With high demand for weekend dates, venues and vendors may charge premium rates, making Monday and other weekday weddings a more affordable option for many couples.
Reduced guest lists due to social distancing measures make weekday weddings less inconvenient for attendees, as there are fewer individuals needing to accommodate time off work or rearrange personal schedules.
The impact of Covid-19 on the wedding industry has led to a reevaluation of traditional norms, placing Monday weddings in a new light.
This shift can be attributed to pandemic-related challenges, such as the backlog of wedding bookings and the need for more affordable and flexible options.
As the industry continues to adapt, it is likely that Monday weddings will no longer be considered strange, but rather a practical alternative for couples navigating the post-pandemic landscape.
Alternative Weekday Weddings
Friday Weddings
Friday weddings are becoming more popular as couples seek alternative days of the week to host their special event.
This choice of wedding date offers a balance between the traditional weekend affair and a weekday wedding, providing an ideal option for many couples.
A Friday wedding is particularly convenient for guests, as they often have the remainder of the weekend to relax and spend time together.
Moreover, these weddings can sometimes offer reduced rates when compared to typical Saturday or Sunday events, without compromising the availability of popular venues or vendors.
Destination Weddings
Destination weddings provide another opportunity for a non-traditional wedding date.
When planning a wedding abroad, choosing a weekday, such as Monday, might be a practical decision that allows guests ample time for travel and vacation.
This choice is especially beneficial for those who want to turn the wedding celebration into an extended vacation with their loved ones.
Hosting a wedding at a destination venue during the weekdays might result in lower costs for services and accommodations.
While Monday weddings might be considered unconventional, choosing an alternative weekday wedding, such as a Friday or a destination wedding, can provide a range of benefits.
These include better availability, cost savings, and added convenience for both the couple and their guests.
Final Thoughts
Monday weddings, though uncommon compared to weekend celebrations, can be an excellent choice for couples who want to prioritize close friends and family without sacrificing the quality of their event.
By hosting a wedding on a Monday, couples can enjoy significant cost savings while still experiencing their desired wedding atmosphere.
Discounts on venues, flowers, and other services are often available and can allow couples to create memorable events with reduced financial stress.
One advantage of Monday weddings is the close-knit atmosphere they promote.
Because many guests may need to take time off from work to attend, those present at the celebration are likely to be close friends and family who are truly invested in the couple's happiness.
This can result in a more intimate, meaningful gathering, where the focus remains on the couple and their love story.
When it comes to planning a Monday wedding, flexibility is key as some vendors may not be available or may have limited options due to their schedules.
However, by planning ahead and staying organized, couples can secure the necessary elements such as flowers, decorations, and entertainment for their event.
It is important to be mindful of guests' work schedules and arrange the ceremony and party accordingly to maximize attendance and enjoyment.
Monday weddings offer a unique opportunity for couples to celebrate their union surrounded by their closest loved ones, while taking advantage of cost-saving benefits.
Thoughtful planning and communication can ensure a beautiful, memorable event that is anything but strange.