October weddings may seem unusual to some, but they have actually been popular throughout history.
In medieval England, October was one of the most favored months to tie the knot due to its positioning after the harvest season.
Today, many couples continue to choose October for their wedding celebrations, thanks to the mild and pleasant weather conditions that often accompany this time of year.
The autumnal charm of October weddings is undeniable, with a myriad of opportunities for unique, seasonal themes, color schemes, and décor.
Couples can incorporate the vibrant hues of fall foliage into their floral arrangements, ceremony, and reception details, giving their special day a distinct and memorable ambiance.
Moreover, the crisp air and colorful backdrop make October an ideal month for stunning outdoor wedding photography.
Key Takeaways
October weddings have historical popularity and provide picturesque fall scenery.
Couples can embrace the season with autumn-inspired themes, color schemes, and décor.
The mild weather and natural beauty make October a perfect month for unforgettable ceremonies and receptions.
October Wedding Popularity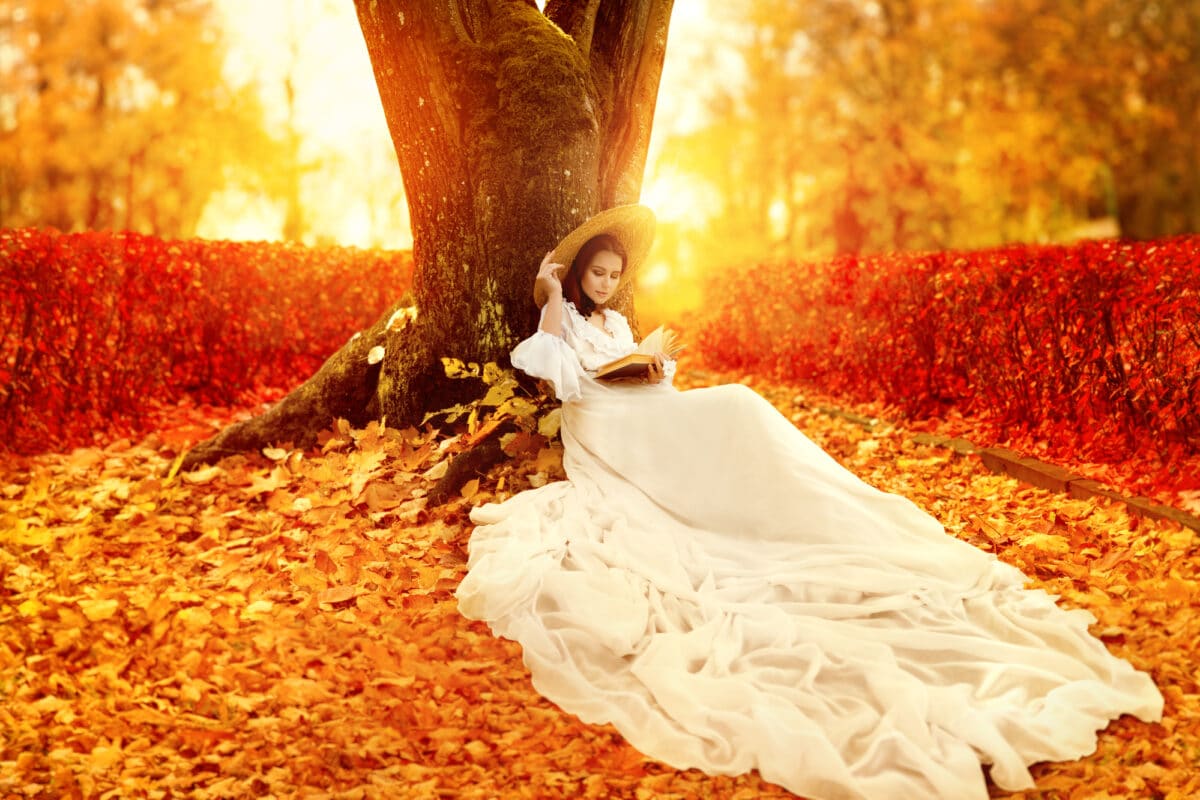 The increasing appeal of October weddings can be attributed to several factors.
Firstly, the month offers mild and pleasant weather conditions in many locations, making it an ideal time for both indoor and outdoor celebrations.
This moderate climate caters to a wide range of preferences and tastes, enabling couples to create a memorable and comfortable experience for themselves and their guests.
Fall weddings, particularly in September and October, have also seen a considerable surge in interest.
Around 36 percent of couples opt for a fall wedding, with 15 percent choosing September. This popularity arises from the charm of autumnal aesthetics and the natural beauty of fall foliage.
The vibrant colors and scenery associated with this season provide a stunning backdrop for wedding photographs, enhancing the overall ambiance of the event.
Historically, October weddings have enjoyed a long-standing significance.
Medieval England, for example, saw the months of October, November, and January as prime times for marriage, primarily due to the conclusion of harvest season.
This allowed families and communities to come together and celebrate the union of the couple during a period of relative abundance and prosperity.
Seasonal Advantages
Autumn, in general, is known for its beautiful scenery, characterized by the vibrant fall foliage.
The transition of leaves from green to various shades of gold, orange, and red creates an idyllic backdrop for wedding photos and ceremonies.
In addition to the breathtaking fall foliage, the weather in October is often mild and comfortable.
This allows guests and the wedding party to enjoy both outdoor and indoor venues without worrying about extreme temperatures, heavy rain, or snow.
Nevertheless, regional variations might exist, so it's important to understand the local climate when planning an October wedding.
Another appealing aspect of October weddings is the harvest season, providing an abundance of fresh, in-season produce and ingredients.
This allows for a diverse and hearty menu, showcasing the best of fall flavors.
From savory roasted vegetables to rich pumpkin-flavored dishes, an October wedding menu is sure to please palates and evoke the essence of autumn.
Having a fall wedding also means embracing a unique color palette.
October weddings allow couples to experiment with deep, moody hues and warm earth tones, creating a cozy and inviting atmosphere.
These colors can be incorporated into various aspects of the wedding, such as floral arrangements, table settings, and attire, giving the event a cohesive, seasonal theme.
October Wedding Themes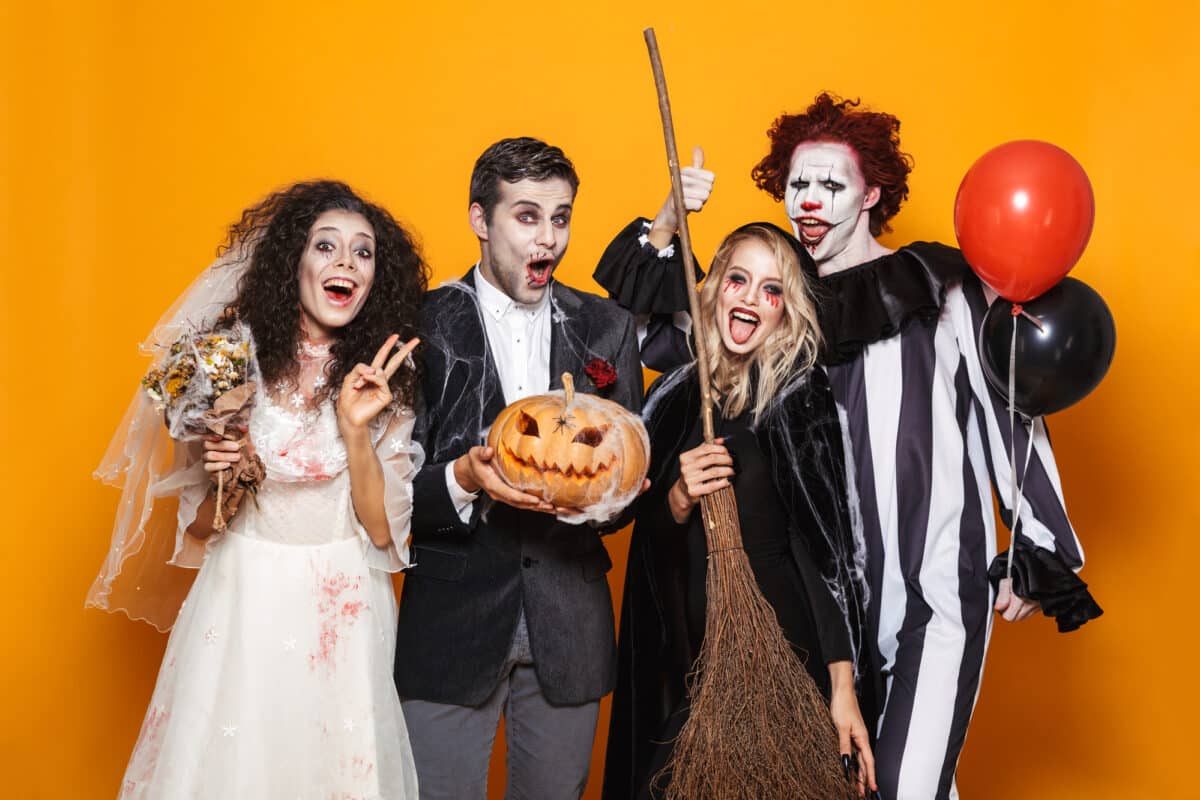 A Halloween wedding theme is a perfect choice for those who love all things spooky and mysterious.
This theme can be as subtle or as extravagant as one desires, ranging from incorporating hints of dark colors or incorporating a full-blown haunted house setting.
Elements like cobwebs, pumpkins, and mysterious lighting can create an eerie atmosphere for guests to enjoy. Couples can also encourage guests to dress up for an unforgettable costume party.
A unique twist on the Halloween theme that some couples prefer is a Halloween-inspired wedding.
This combines the elegance and sophistication of a traditional wedding with subtle spooky touches.
Dark and moody floral arrangements, Gothic-style candelabras, and a chic color palette of black, deep red, and gold can add a mysterious yet romantic vibe to the celebration.
Disney weddings also work well in October as there's a certain magical touch associated with the fall season.
Couples can choose their favorite Disney movie or characters as the theme and integrate elements, such as decorations, songs, and even cosplay, to bring the enchanting fairy tale to life.
Crafting a Cinderella's pumpkin carriage, creating a Beauty and the Beast rose centerpiece, or recreating the ballroom scene from any beloved Disney classic can make the event truly magical.
For those seeking a more classic touch, a rustic wedding theme fits perfectly in an October setting.
The natural elements of fall, such as the changing leaves, and warm colors, make for a beautiful and cozy atmosphere.
Outdoor venues, such as barns or quaint countryside inns, complement this theme perfectly.
Decorations may include burlap, lace, wooden accessories, and an abundance of seasonal flowers, pumpkins, and foliage.
Color Schemes and Decor
Fall colors such as red, burgundy, orange, and yellow create a warm and inviting atmosphere for your big day.
By incorporating some of these colors and taking inspiration from the season, you can create a unique and memorable October wedding.
A popular choice for October weddings is a burgundy and dusty rose color scheme. This palette brings forth feelings of romance and elegance.
Pair these colors with neutral tones, such as a soft sage or ivory, to balance out the rich hues with a touch of freshness.
Another color combination that works well for October weddings is navy and mustard.
The deep, rich navy brings an air of sophistication, while the vibrant mustard adds a pop of contrast and excitement.
Mixing these bold colors with a neutral palette can provide a refined yet playful atmosphere.
For those looking for a more earthy approach, focus on using colors like emerald, black, and neutral tones.
This unique color combination can lend an air of elegance and mystique to your October wedding, embracing the natural beauty of the fall season.
Floral Arrangements and Foliage
As the season shifts from summer to autumn, a wide variety of fall flowers and vibrant jewel tones become readily available for couples planning their nuptials.
Rich, warm colors such as deep reds, oranges, and yellows dominate fall floral themes, creating stunning and cozy atmospheres.
Popular fall flowers for an October wedding bouquet might include sunflowers, which bring warmth and brightness to the festivities.
These golden blooms mix well with other autumnal flower choices, like chrysanthemums and dahlias.
Adding branches and leaves to centerpieces and bouquets is another way to embrace the natural beauty of the season.
Fall foliage, such as maple or oak leaves, can complement flower arrangements and add texture to the overall design.
Incorporating berries and fruits like apples or pumpkins is also a creative way to enhance the seasonal theme and make the tablescape feel more festive.
For a more modern and unique touch, couples might consider incorporating pampas grass into their floral arrangements.
This tall, feathery grass adds a touch of whimsy and can be dyed to match the wedding colors.
It pairs well with other fall flowers and foliage, creating a chic and unforgettable aesthetic for the big day.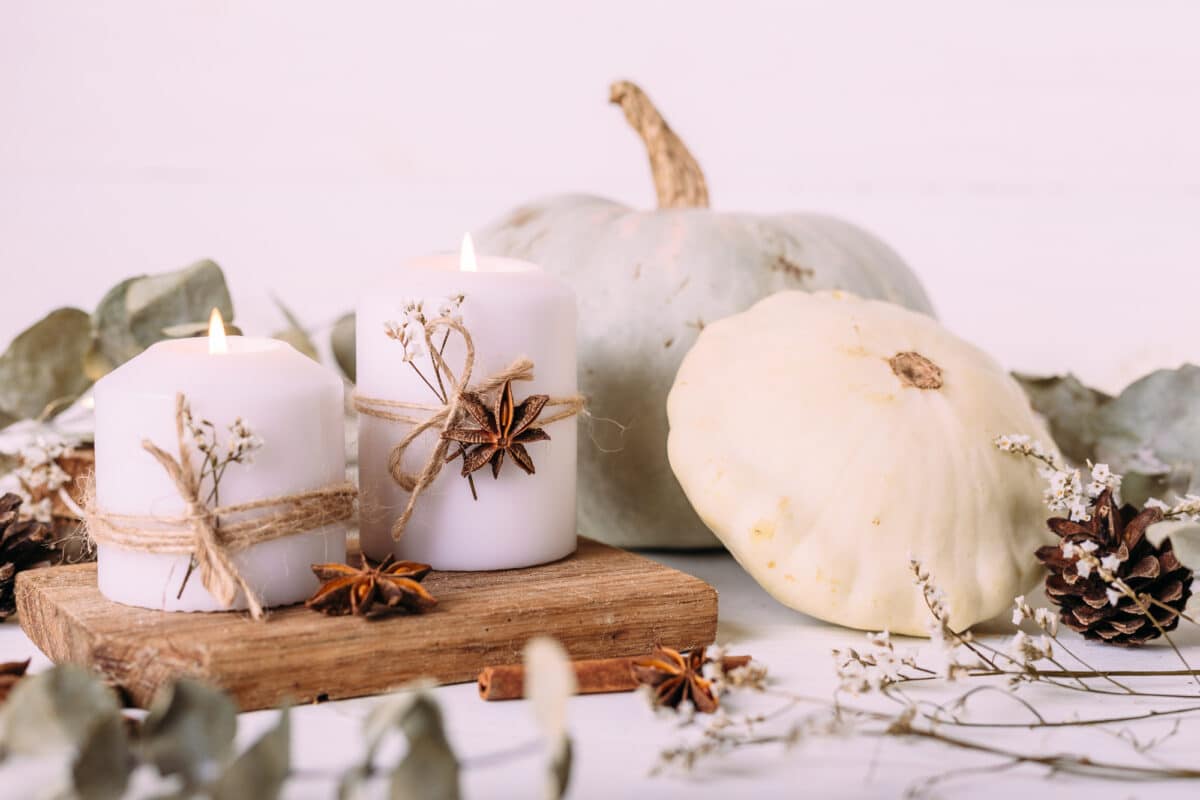 Ceremony and Reception Details
The month's characteristic rustic feel, combined with the charm of an outdoor wedding, lends itself perfectly to creating a memorable ceremony and reception.
When it comes to the ceremony, October weddings often feature natural elements in their decor.
This could include items such as branches, leaves, and pumpkins, which bring the colors of autumn to life.
The beautiful foliage in the background also serves as a perfect backdrop for exchanging vows.
Rustic feel can be extended to the decor as well, with elements such as burlap table runners, wooden signs, and string lighting.
These touches create a warm and inviting atmosphere that blends harmoniously with the natural surroundings.
Moving on to the reception, October weddings provide ample opportunity for unique and cozy wedding ideas.
Outdoor fire pits, s'mores stations, and warm blankets can enhance the overall experience for guests while keeping them comfortable as the temperature drops in the evening.
The wedding party can also embrace the seasonal theme by incorporating deep, rich colors into their attire.
Choosing dresses and suits in shades of burgundy, emerald, and navy blue can complement the natural beauty of an October wedding.
Another important aspect of any wedding is the cocktail hour.
This is an excellent opportunity for the couple to showcase their creativity by offering seasonally-inspired drinks, such as hot apple cider, spiked pumpkin spice lattes, or mulled wine.
Finally, when it comes to the wedding reception itself, it's essential to take advantage of the seasonal produce that October has to offer.
Incorporating items like hearty soups, roasted vegetables, or even a caramel apple bar can enhance your guests' culinary experience.
October Wedding Menu
A popular choice for an October wedding cake is the naked wedding cake, which has minimal frosting and showcases the beauty of the cake layers.
This rustic-style cake can easily be adorned with seasonal fruits, like figs and apple slices, as well as gourds and small pumpkins for a festive touch.
For those who are fans of bold seasonal flavors, a pumpkin spice cake is a delectable option that celebrates the essence of autumn.
Desserts are essential to complete your October wedding menu. Consider incorporating apple cider into your dessert station, either served warm or incorporated into dessert recipes.
Offer your guests a variety of options, such as apple cider doughnuts or a warm apple cider crumble.
You can also have pumpkin as a main ingredient in desserts, like pumpkin pie or pumpkin cheesecake, will surely delight your guests.
In terms of savory dishes, the use of in-season vegetables like cauliflower, onion, mushroom, potato, celery, and pumpkin can contribute to hearty soups, sides, salads, and entrees.
Some menu options to consider are creamy pumpkin soup as a starter, roasted cauliflower and mushroom salad, as well as grilled vegetable skewers with seasonal favorites like potatoes, onion, and bell peppers.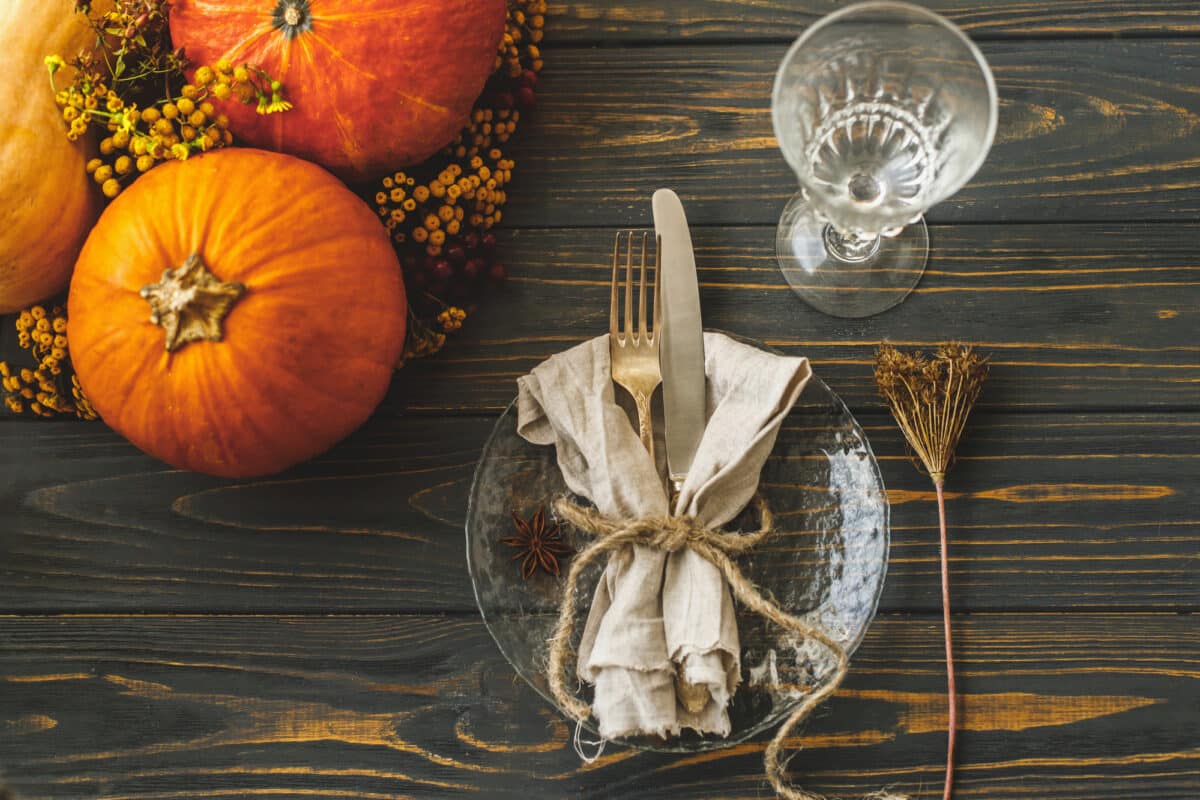 Stationery and Seating Arrangements
Invitations for October weddings often adopt a warm and inviting color palette, such as red or burnt orange, to reflect the changing leaves of the season.
They may also feature romantic calligraphy or elegant fonts to enhance the overall aesthetic.
Couples can utilize budget-friendly options or even create their own custom-designed invitations to incorporate seasonal motifs.
Moving on to escort cards, these are typically displayed in a manner that ties into the October wedding theme.
For instance, couples may choose to use small pumpkins or leaves as holders for the cards.
They might also opt for rustic elements like wooden stumps or a completely unique and modern approach like wire mesh displays.
This not only adds an autumnal touch but also serves as a conversation starter among guests.
The seating chart also plays a critical role in the organization of the reception.
Couples can get creative with their seating arrangements, ensuring that every guest has a great view of the ceremony and reception.
For example, consider using freestanding table assignments or incorporating photos in the seating plan for a personal touch.
The design of the seating chart should align with the overall theme and style of the October wedding, incorporating similar color schemes, fonts, and seasonal decorations to create consistency throughout the event.
Wedding Attire and Accessories
October weddings provide a unique opportunity to explore various textures and materials in wedding attire, as they coincide with the transition from summer to autumn.
One of the most popular fabrics suitable for an October wedding is velvet, known for its warmth and luxurious appearance.
Velvet bridesmaid dresses are a top choice for bridesmaids' attire, as they celebrate the richness and coziness of the season while providing a touch of elegance.
For the grooms and groomsmen, a warm, seasonal fabric such as tweed or wool is ideal for suiting.
As October weather can be unpredictable, it's a good idea to have a jacket on hand to keep comfortable during outdoor events and photo sessions.
Fitted blazers or tailored vests also pair nicely with more casual attire to create a polished, autumnal look.
In terms of color palette, selecting shades that reflect the changing leaves will complement the season beautifully.
Consider rustic reds, bold oranges, golden yellows, and sage greens for both bridesmaid dresses and groomsmen accessories.
Equally appealing, warm neutral tones such as toasted almond, navy blue, and black are more traditional, classic options that work well for formal or black-tie events.
Adding seasonal accessories, like a fur stole or cape for the bride and bridesmaids, not only enhances the look but also provides added warmth on cooler evenings.
Richly textured wraps, shawls or capes in plush materials can lend an air of sophistication and glamour to the bridal party.
For the grooms and groomsmen, patterned or textured ties and pocket squares can bring together the overall theme of the wedding.
Embracing the season and its stunning colors, while incorporating warm and luxurious fabrics like velvet, fur, and wool, makes October weddings both fashionable and comfortable—even in the face of unpredictable weather.
Ensuring the bridal party stays warm and stylish will make the day unforgettable for all involved.