As wedding trends continue to evolve, many couples are considering alternatives to the traditional Saturday affair.
One of which is the increasing popularity of Sunday weddings.
While unconventional, these weddings offer several benefits that could make them an attractive choice for couples looking to break away from the norm.
Sunday weddings provide couples with the opportunity to save on costs, have a more intimate atmosphere, and potentially secure their desired venues more easily.
However, there are also various factors to consider, such as guest availability and possible entertainment restrictions.
As with any wedding planning decision, it's crucial to weigh the pros and cons of a Sunday wedding to determine if it's the best fit for you and your partner.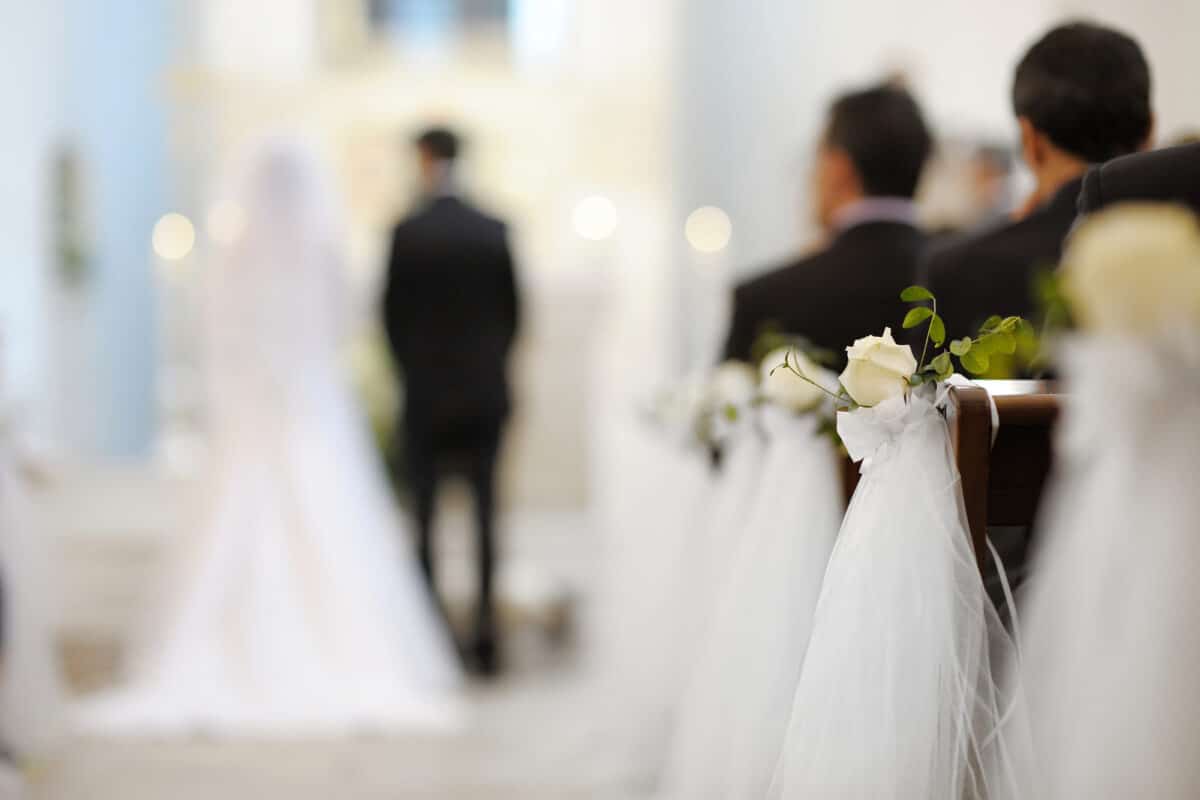 Key Takeaways
Sunday weddings are becoming increasingly popular due to cost savings and increased availability of venues
Couples should consider factors such as guest availability and celebration restrictions before choosing a Sunday wedding
Weighing the pros and cons of a Sunday wedding will help determine if it's the right choice for you.
Popularity of Sunday Weddings
In recent years, Sunday weddings have experienced a rise in popularity, especially as engaged couples navigate the ever-changing landscape of wedding planning in the context of a global pandemic.
Traditionally, Saturday has been the preferred day for weddings, with some couples opting for Friday as an alternative.
However, Sunday weddings now present a new and increasingly appealing option for many.
One reason for the increasing popularity of Sunday weddings is the cost-saving aspect.
Many wedding venues offer discounted prices for Sunday bookings, making it an attractive choice for budget-conscious couples.
In addition to venue discounts, other wedding service providers, such as photographers and caterers, may also offer lower rates on Sundays, further reducing overall costs.
Another factor contributing to the growing interest in Sunday weddings is the availability of venues and vendors.
As Saturday weddings are in high demand, booking a desired venue or top-tier service provider can be difficult and may require a lengthy waiting period.
Planning a Sunday wedding can provide couples with more options and shorter engagement times, as there is typically less competition for bookings.
Polls suggest that couples who opt for Sunday weddings often appreciate the opportunity for a more intimate and relaxed celebration, with close family and friends in attendance.
As Sunday is generally a day of rest and leisure, guests may be more inclined to enjoy the occasion without feeling rushed or preoccupied with work or other commitments.
Although Sunday weddings present some unique challenges, such as potential conflicts with religious observances or guest availability, the growing popularity of these events demonstrates their appeal for many modern couples.
By considering the benefits and drawbacks of a Sunday wedding in relation to personal preferences and priorities, couples can make an informed decision on the most suitable day for their special celebration.
Guest Considerations
Travel and Accommodations
For Sunday weddings, guests may need to consider their travel and accommodation arrangements, particularly if they live out of town.
As many people tend to have Monday as a workday, travel plans might need to be adjusted to allow enough time for guests to return home and prepare for the start of the workweek.
This could mean arriving earlier or leaving later than they would for a Saturday wedding.
When it comes to accommodations, some venues may offer discounts for Sunday weddings, making lodging more affordable for your guests.
However, keep in mind that availability might be limited depending on the area and time of year, so it's a good idea to book accommodations as early as possible.
Work and Time Off
One of the primary concerns for guests attending a Sunday wedding is the need to take time off from work the next day.
Although local guests may be able to attend your wedding without taking an entire day off, those who have to travel a significant distance might need to take off Monday to accommodate their travel plans.
In light of this, it's essential to communicate with your guests and provide them with enough notice to request time off from work, if necessary.
This can be done by sending out save-the-date cards well in advance or including this information on your wedding invitations.
Consider the impact your wedding might have on the guest count.
Some guests might not be able to attend due to work commitments, while others may decline because they are unable to take the time off or travel during the week.
In turn, this could result in a smaller guest count than you would have for a Saturday wedding.
When planning a Sunday wedding, it's important to take your guests' travel and accommodation needs, as well as work and time off considerations, into account.
Providing ample notice and being considerate of guests' schedules will help ensure they can celebrate with you on your special day.
Budget Benefits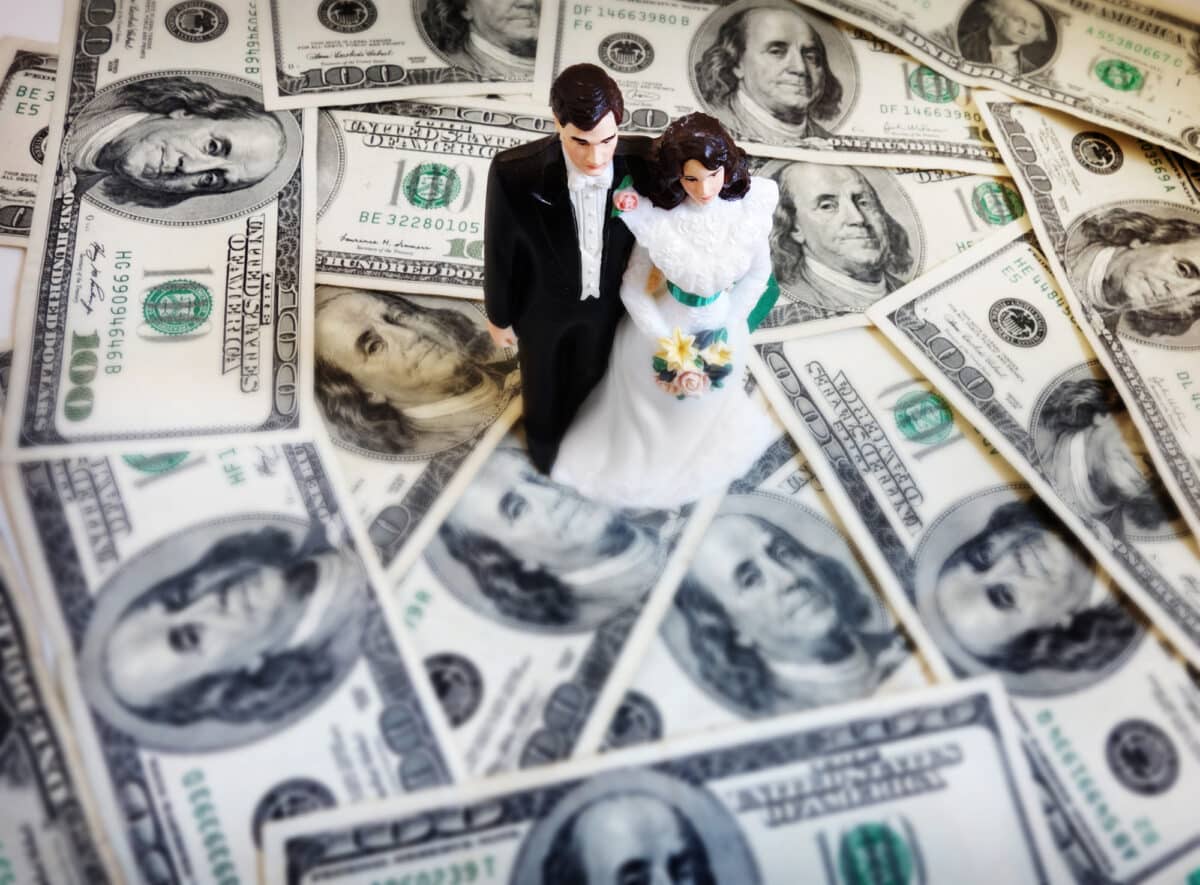 Venue and Vendor Discounts
Sunday weddings tend to be more budget-friendly due to the availability of discounts, especially on venues and vendors.
Since Saturdays are usually the busiest days for these service providers, opting for a Sunday wedding may allow you to secure a venue at a discounted rate.
On top of that, many vendors such as photographers, caterers, and DJs are more likely to offer reduced prices on Sundays as it's considered an off-peak day.
Sunday weddings also provide an added advantage in terms of date flexibility.
Popular venues often require booking a year or more in advance, and Saturdays are usually the first to fill up.
Choosing a Sunday wedding date can give you more availability options and may even allow for greater privacy as you're less likely to share the venue with other events.
Food and Beverage Savings
When planning a Sunday wedding, you can also optimize your budget in terms of food and beverage offerings.
Owing to the weekend's close, guests may be more inclined to drink less alcohol, which can lead to savings on bar expenses.
Daytime reception options, such as brunch or lunch, tend to be more affordable than a costly evening dinner service.
Shifting from a formal dinner to a more casual meal setup may reduce catering costs and allow for more creative menu options.
For instance, you could opt for a buffet or station-style service rather than a plated dinner, giving your guests variety while reaping the benefits of lower service costs.
Timing and Atmosphere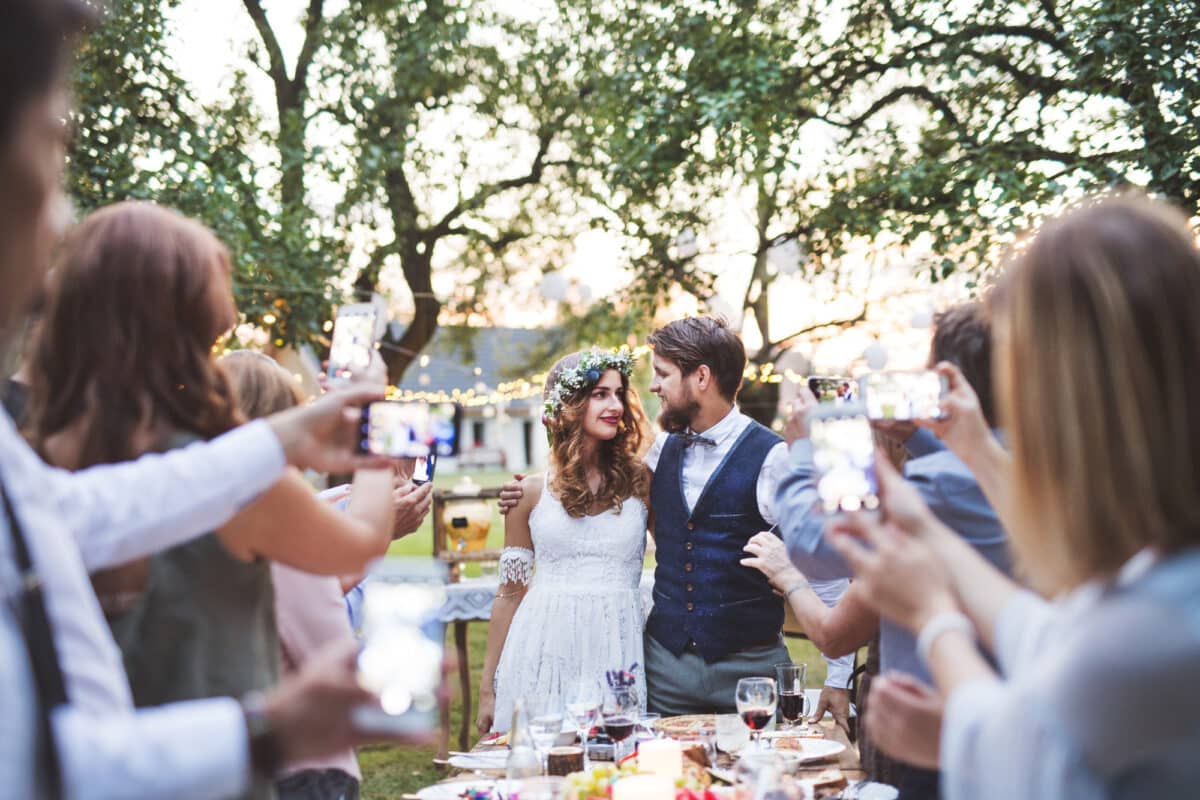 Brunch and Afternoon Weddings
Sunday weddings often have a different atmosphere compared to traditional Saturday weddings. 
Brunch weddings are becoming increasingly popular for Sunday events.
These usually start around late morning, with a light and casual meal.
This timing creates a more relaxed environment, perfect for couples who want a laid-back celebration.
Afternoon weddings on Sundays also offer a unique ambiance.
With ceremonies held around noon or early afternoon, these events allow for more flexibility in terms of reception plans.
Guests can enjoy an extended cocktail hour, luncheon, or lighter fare in a more leisurely pace, compared to the rush and busyness that may be associated with Saturday night receptions.
Evening and Party-Focused Weddings
While many Sunday weddings embrace a casual atmosphere, there are still options for couples who prefer a more traditional evening wedding.
By selecting a later ceremony start time, you can create a similar experience to Saturday nights, complete with a formal dinner followed by dancing and entertainment.
However, keep in mind that some guests may have obligations or work commitments the following morning, so the festive atmosphere may not last as long into the night as it typically would for a Saturday wedding.
Anticipating this, you can also choose to have a party-focused event earlier in the evening and extend the celebration in a more low-key manner as the night progresses.
Sunday weddings can be unique and enjoyable, whether you opt for a brunch, afternoon, or evening celebration.
The timing and atmosphere of your event can cater to a variety of preferences, making Sundays a viable and attractive option for your special day.
Special Dates and Holidays
When selecting a wedding date, it is important to consider special dates and holidays that may coincide with your desired date.
While Sunday weddings are not unusual, it is crucial to be aware of any conflicts that may arise due to major holidays or other significant events.
The choice to hold a wedding on a holiday weekend, such as Labor Day, can offer both advantages and disadvantages.
On one hand, guests may have an extended weekend making it convenient for them to attend.
On the other hand, travel costs and hotel accommodations might be higher, and some guests may have prior commitments with family or friends during such weekends.
December is another month that holds a number of holidays, including Christmas and New Year's Eve.
Having a Sunday wedding during this festive season might offer a beautiful and romantic atmosphere with holiday decorations and winter themes.
However, it is essential to consider that guests may have numerous holiday obligations, making it difficult for them to attend the event.
Venues may charge a premium due to the high demand for celebrations during this time.
For couples who observe Lent, the period between Ash Wednesday and Easter Sunday may not be the ideal time to hold a wedding.
As this is a time of religious reflection and fasting, festivities may be discouraged, and certain dates like Good Friday and Palm Sunday may not be appropriate for a celebration.
Consequently, a wedding held during the Lenten season may require more consideration and potentially limit the selection of dates, particularly if a Sunday wedding is desired.
Sunday weddings may not be considered unusual, but it is important to carefully evaluate the impact of special dates and holidays on your chosen date.
Be mindful of potential conflicts, travel costs, and religious observances while making your decision to ensure a smooth and memorable wedding celebration.
Convenience and Availability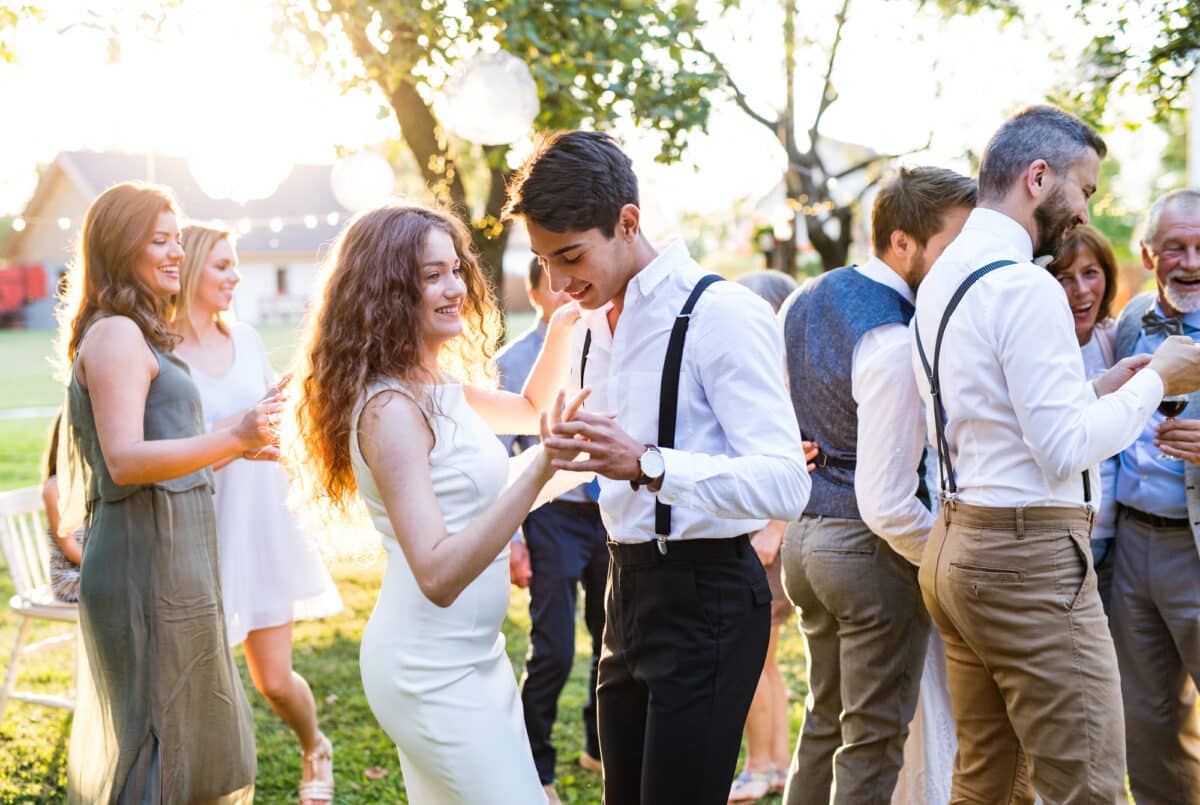 Sunday weddings can offer a certain level of convenience for couples planning their big day.
With fewer weddings traditionally held on Sundays, there is often increased availability of venues and wedding vendors.
This means that couples have a better chance of booking their preferred location and professionals, such as photographers, caterers, and entertainers.
The rise of Sunday weddings has been partly attributed to the COVID-19 pandemic, which has disrupted the schedules of many couples and events.
As a result, Sunday weddings have become a more attractive option for those who have had to reschedule or are working with a more flexible timeline.
However, there are some challenges that can accompany holding a wedding on a Sunday.
In particular, church services might pose a logistical issue for couples planning to hold their ceremonies at a religious institution.
Sunday morning services could limit the available time slots for weddings, and in some cases, churches may not permit weddings on Sundays due to their regular worship schedules.
Another factor to consider when planning a Sunday wedding is the potential inconvenience it may cause guests, especially those who work during the week.
Some guests may need to leave the event early in order to prepare for work on Monday, or they might be unable to attend altogether.
Despite this drawback, Sunday weddings can still offer a unique and memorable experience for couples and their guests.
Sunday weddings present both benefits and challenges in terms of convenience and availability.
While they may afford greater flexibility in venue and vendor selection, certain logistical issues – such as church services and guest attendance – must be taken into account during the planning process.
Entertainment and Celebration
A Sunday wedding offers an opportunity to explore unique entertainment and celebration options.
The more relaxed atmosphere compared to a Friday or Saturday night event allows for a range of enjoyable experiences for your guests, ensuring your wedding will stand out.
In terms of the party and wedding reception, a Sunday event provides flexibility.
This allows you to consider alternative entertainment ideas, such as unique musicians, interactive games, or dance performances.
By selecting entertainment that resonates with your personal interests and taste, you can create a memorable experience for all attendees.
Food and bar options on a Sunday can mirror the relaxed atmosphere of the day itself.
A daytime celebration allows for an outdoor garden party, complete with a lavish brunch or a gourmet food truck.
For beverage options, consider a customized mimosa or Bloody Mary bar in addition to the standard alcoholic offerings.
There is more time to explore a diverse range of catering options on a Sunday, providing ample opportunities to find suitable menu choices to wow your guests.
A Sunday wedding does present some challenges, such as a lack of the traditional morning-after brunch.
To accommodate this, you could consider hosting a welcome party the night before the wedding, while making the after-party a modest celebration that doesn't extend too far into the night, taking into account guests' work commitments on the following Monday.
When planning your Sunday wedding, there is an opportunity to break away from the traditional entertainment and celebrations formula.
With a focus on personalization, creative food options, and engaging entertainment, a Sunday wedding can offer your guests an unforgettable celebration that reflects your unique love story.
Potential Challenges
Early Guest Departures
One potential challenge for Sunday weddings is the possibility of guests leaving early.
Since Sunday is typically a work and school night for many people, guests might feel the need to depart earlier than they would at a Saturday wedding.
This could result in a less lively atmosphere as the night progresses.
If having a high-energy, late-night reception is important to the couple, a Sunday wedding may not be the best choice.
Vendor Availability
Another challenge that arises with Sunday weddings is the potential difficulty in securing vendors.
Many sought-after wedding suppliers, such as photographers and bands, book up quickly, especially during peak wedding season.
While a couple might be able to save money on their venue by holding their wedding on a Sunday, they may ultimately have fewer options when it comes to vendors.
This could mean settling for a less preferred supplier or having to pay a premium for booking a popular vendor.
Vendor Minimums
Finally, some vendors have specific minimums that they require for Sunday weddings.
These could be minimums based on guest count, food, or beverage items.
If the couple isn't planning a large or grand wedding, these minimums might be difficult to meet.
This could result in the couple having to pay extra for a Sunday wedding without reaping all of the potential cost-saving benefits.
To prevent this, it is crucial to review and negotiate with vendors ahead of time to ensure that there are no unforeseen complications related to their requirements.
Final Thoughts
While Sunday weddings may have once been considered unusual, they are becoming increasingly popular in recent years.
Couples are discovering the advantages of hosting their nuptials on a Sunday, including cost savings, increased availability of venues and vendors, and more time spent with family and close friends.
Sunday weddings allow couples to take advantage of discounts at venues, as well as potential price breaks from vendors.
The decreased demand on Sundays can lead to more competitive pricing, providing an attractive incentive for couples working within a budget.
An additional benefit of selecting a Sunday for a wedding is the flexibility it offers with venue and vendor availability.
As Saturdays tend to be the most popular day for weddings, finding an open slot at a desired location might be difficult.
Choosing a Sunday makes it more likely that couples will secure the venue they desire, and have their preferred vendors available for the event.
Truly, Sunday weddings can create an opportunity for extended celebrations and more quality time spent with family and friends.
Out-of-town guests arriving over the weekend may have more time to reconnect and enjoy each other's company, fostering a memorable experience for everyone involved.
In spite of their increasing popularity, Sunday weddings do come with some drawbacks.
Guests may be hesitant to attend due to work commitments the following day, and late-night festivities may need to conclude earlier than on a Saturday.
However, weighing the advantages and disadvantages, it becomes clear that Sunday weddings are no longer the unusual choice they once were. Instead, they present an appealing option for many couples as they plan their special day.