Sunset hues painting the wide-open skies, cacti-studded landscapes meeting the rugged beauty of the desert, and cities bursting with vibrant nightlife and thrilling adventures – Arizona isn't just about cowboy tales and Grand Canyon trails.
This state is also an underrated paradise for those looking to throw an unforgettable bachelor party. Whether your squad prefers adrenaline-pumping escapades or laid-back pursuits,
Arizona's diverse offerings have something for every gentleman on the threshold of wedded bliss.
In this blog post, we're swapping out the cliché of Vegas nights for Arizona days, giving you some of the most original and exciting ideas for a bachelor party that will be etched in your memories for a lifetime.
Outdoor Adventure Activities
Picture yourself and your crew conquering the rugged terrain through canyon hiking or embarking on ATV excursions, creating memories that will last a lifetime.
There's nothing quite like bonding with your best friends while exploring the breathtaking landscapes of Arizona.
For an exhilarating day out, start by tackling one of the many awe-inspiring canyon hikes available throughout the state.
Whether you choose the challenging trails within the iconic Grand Canyon or a more moderate trek in Sedona's red rock country, you'll be rewarded with stunning views and a sense of accomplishment.
Afterward, hop on an ATV and explore Arizona's diverse landscape further as you race across open desert plains, climb rocky hillsides, and navigate winding trails – all while sharing laughs and camaraderie with your closest pals. You'll feel alive and connected as part of this thrilling adventure in the wilds of Arizona!
City Nightlife Excursions
From club hopping in Scottsdale's vibrant entertainment district to trying your luck at casino nights in Phoenix, or exploring the local craft brewery scene on guided tours, dive into a night full of unforgettable memories and legendary adventures tailored just for you!
Club Hopping in Scottsdale
This vibrant city offers exciting nightlife options, including upscale dance clubs, swanky lounges, and hidden Scottsdale speakeasies.
You and your bachelor party crew can experience the best of Arizona's nightlife as you hop from one venue to another in the famous Entertainment District.
Treat yourselves to VIP bottle service at some of the hottest spots in town – it's a perfect way to elevate your night and make lasting memories with your closest friends.
Start by hitting up some of the most popular clubs in town, like Riot House or Dakota, where you'll find pulsating beats spun by renowned DJs and gorgeous crowds grooving on packed dance floors.
If you want something more laid-back but sophisticated, check out places like The Mint Ultralounge or Wasted Grain for their classy ambiance and extensive beverage selections.
No matter what vibe you seek for your unforgettable bachelor party adventure, club hopping in Scottsdale will undoubtedly deliver an epic night everyone will reminisce about for years.
Casino Nights in Phoenix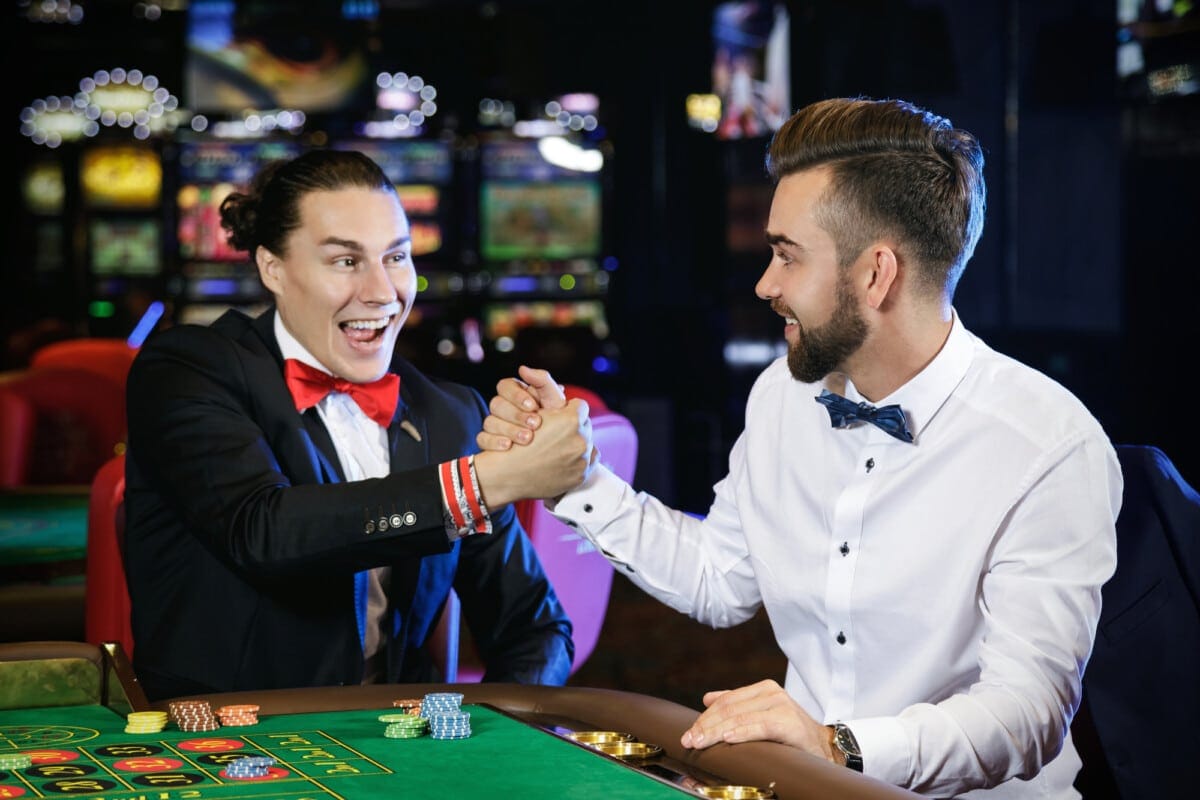 For a high-stakes evening packed with excitement and thrills, casino nights in Phoenix are just the ticket to roll the dice on an unforgettable time.
Gather your closest buddies and immerse yourselves in an atmosphere of glitz, glamour, and heart-pounding action as you take on Phoenix poker tournaments or embark on desert gambling adventures.
Feel like a true high-roller as you navigate through slot machines, table games, and even sports betting options at some of the most popular casinos in Arizona.
As you explore these vibrant gaming establishments, it's easy to get swept up in the camaraderie shared among fellow gamblers looking for that next big win.
Whether new to gambling or a seasoned pro, there's something for everyone within these opulent venues.
Indulge in delicious food offerings between rounds at card tables or enjoy live entertainment that will keep your crew entertained all night.
No matter how your luck pans out during this thrilling bachelor party event, one thing is certain: memories made during your casino nights in Phoenix will be cherished by all those involved for years to come.
Craft Brewery Tours
If you're a fan of unique and flavorful brews, exploring Phoenix's craft brewery scene is a must during your celebration.
Arizona has seen a boom in the craft beer industry over the past few years, and Phoenix is home to some of the finest breweries in the state.
Grab your friends and embark on a memorable adventure filled with brewery tastings, beer-making workshops, and lively conversation that will leave you feeling part of the local brewing community.
Craft brewery tours are perfect for bonding with your buddies while discovering new favorite beers.
From traditional IPAs to unique experimental flavors, there's something for everyone in this thriving beer scene. You can choose from guided tours to multiple breweries or self-guided excursions where you set your own pace.
Either way, don't forget to participate in beer-making workshops where you'll learn about the brewing process firsthand from passionate brewers who love sharing their knowledge with fellow enthusiasts.
Relaxing Retreats
Consider treating yourself and your groomsmen to a luxurious spa day. You could also rent an opulent villa for an intimate getaway.
Alternatively, consider hosting a poolside celebration at an upscale resort.
These relaxing retreat options offer the perfect balance of fun and tranquility. They create unforgettable memories with your closest friends before you tie the knot.
Spa Days for the Groomsmen
Treat yourselves to a luxurious spa day with the groomsmen, because who says pampering is just for the ladies?
Arizona offers a wide range of relaxing and rejuvenating experiences that will make everyone in your group feel like royalty.
Start with some friendly competition on one of the state's top-notch golf courses – after all, nothing brings people together quite like a good round of golf.
Then, let any lingering stress melt away as you indulge in pampering massages at one of Arizona's premier spas.
Imagine surrounded by your closest friends, laughing and bonding over shared memories while sipping refreshing beverages poolside or soaking up the warm desert sun.
Renting a Luxury Villa
With Arizona's breathtaking desert landscapes and upscale neighborhoods, you'll find the perfect setting to create unforgettable memories with your closest friends.
Experience the ultimate bachelor party getaway in a lavish home-away-from-home that offers endless relaxation, entertainment, and bonding opportunities.
As you embark on this luxurious adventure, indulge in the exceptional villa amenities that cater to every aspect of your celebration:
Entertainment Galore: From private pools and hot tubs to game rooms and state-of-the-art media centers, these villas provide endless options for fun-filled activities.
Relaxation Haven: Unwind in style with sumptuous living spaces, plush bedrooms, outdoor lounging areas, or even an on-site spa or sauna.
The Great Outdoors: Bask in Arizona's natural beauty by selecting a villa with manicured gardens or scenic views of mountain ranges and dramatic sunsets.
Personalized Dining Experience: Elevate your culinary experience by hiring a private chef who can craft delectable meals tailored to your group's preferences.
Pool Parties at Upscale Resorts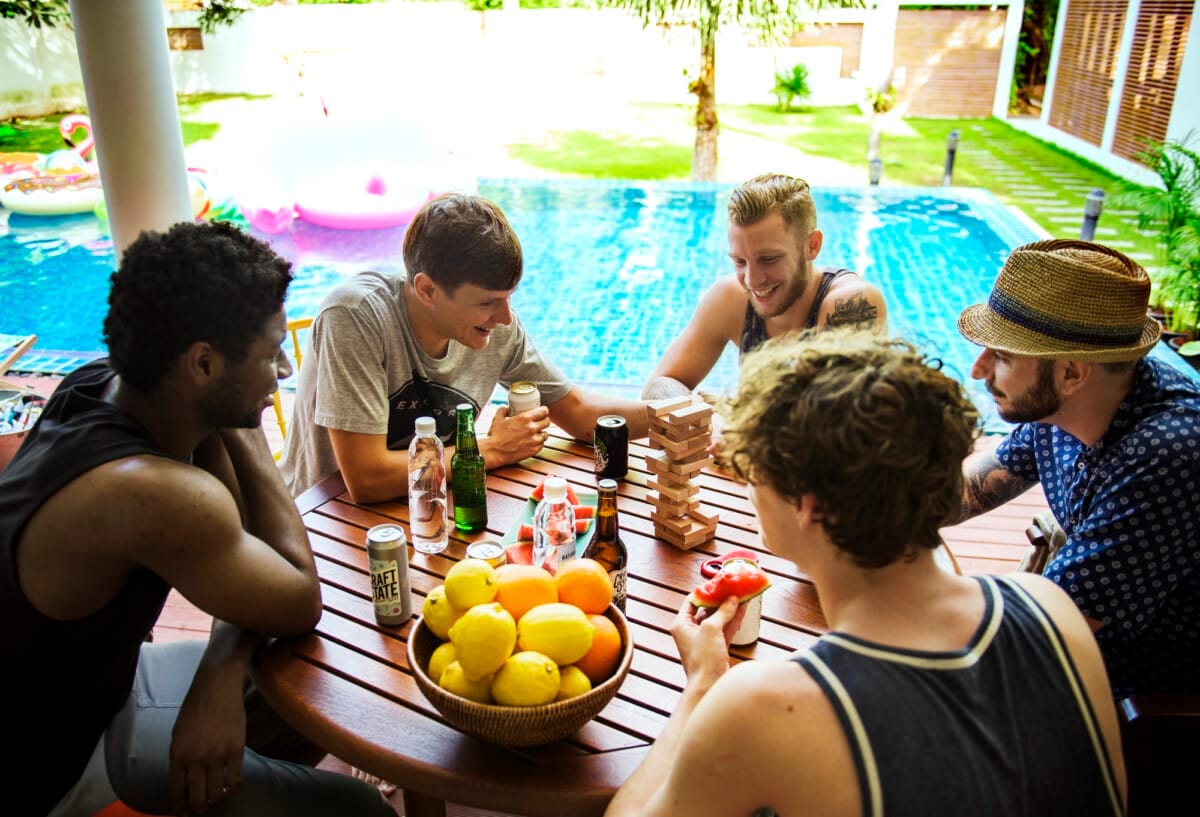 Dive into the ultimate pre-wedding celebration by hosting a pool party at one of Arizona's upscale resorts, where you'll enjoy luxurious amenities, lively entertainment, and unparalleled service.
Picture yourself lounging poolside with your closest friends, sipping on handcrafted cocktails while grooving to the beats of resort DJ battles.
Amp up the excitement by organizing synchronized swimming contests, showcasing your crew's creativity and teamwork as you make a splash in style.
Feel like a VIP as you and your entourage are treated to an unforgettable day filled with laughter, camaraderie, and friendly competition.
As the sun sets over the desert landscape, indulge in gourmet cuisine served al fresco before dancing the night away under a canopy of stars.
Group Dining and Entertainment
Indulge in a night of unforgettable group dining and entertainment experiences that'll have you and your friends raving for years.
Enjoy an evening filled with laughter, delicious food, and amazing experiences as you bond with your closest buddies.
Interactive dining: Take dinner up a notch by participating in the cooking process at popular spots like The Melting Pot or Benihana.
Themed venues: Dive into different worlds at unique restaurants such as Organ Stop Pizza or Casa Bonita, where immersive environments transport you to another time or place.
Comedy shows: Share some laughs at comedy clubs like Stand Up Live or House of Comedy.
Game nights: Challenge each other in friendly competitions at arcades, escape rooms, or bowling alleys like Main Event Entertainment or Octane Raceway.
Live music & dancing: Let loose on the dance floor while enjoying performances from talented musicians at top-notch venues such as Dierks Bentley's Whiskey Row or Crescent Ballroom.
Final Thoughts
So, you've reached the end of your epic Arizona bachelor party journey. You've conquered the great outdoors, painted the town red, and even indulged in some unique experiences fit for a king.
Now's the time to sit back, relax, and revel in your legendary status amongst your fellow groomsmen. Don't just take our word for it – book that getaway and create memories that'll last a lifetime.
After all, fortune favors the bold!