Famous for its majestic Rocky Mountains, picturesque landscapes, world-class breweries, and lively cities, Colorado offers an unrivaled playground for one unforgettable last hurrah.
Strap in for a bachelor party that breaks away from the typical Vegas-style cliché, because the Centennial State offers a rich tapestry of experiences, perfectly blending adrenaline-pumping activities with laid-back, brew-infused camaraderie.
Think white-water rafting through roaring rivers, testing your luck at casinos in Black Hawk, craft beer tastings in Denver, world-class skiing in Aspen, and so much more.
Whether you're a group of thrill-seekers, outdoors enthusiasts, city slickers, or beer connoisseurs, there's something here for every groom-to-be and his band of brothers.
Outdoor Adventure Activities
Imagine paddling through the raging rapids of Colorado's rivers, with nothing but a raft separating you from the roaring waters – that's right, we're talking about whitewater rafting.
This adrenaline-pumping activity is perfect for bonding with your buddies and creating lifelong memories during your bachelor party weekend.
With numerous rivers to choose from, such as the Arkansas River or Clear Creek, you're sure to find the perfect level of excitement and challenge for your group.
But wait, there's more – mountain biking is another exhilarating adventure waiting for you in Colorado. Whether you're an experienced biker or a newbie looking to try something new, this activity offers something for everyone.
Imagine navigating through winding trails while surrounded by breathtaking scenery in places like Crested Butte or Fruita; it doesn't get much better than this!
Brewery Tours and Tastings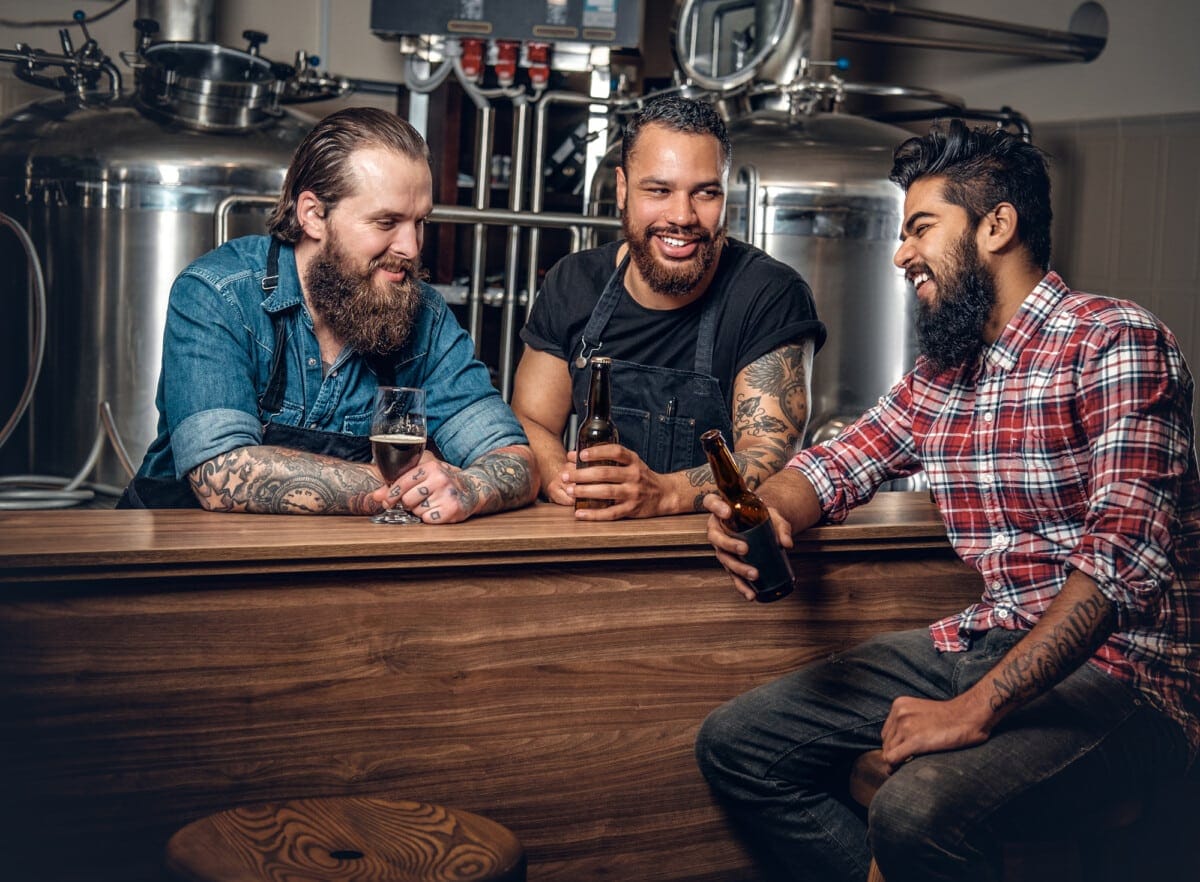 Who wouldn't love a day filled with brewery tours and tastings? Colorado is known for its thriving craft beer scene, making it the perfect destination to indulge in hop-filled adventures with your closest buddies.
Not only will you be able to sample an array of fantastic brews, but also learn about the brewing process and even try your hand at creating your masterpiece.
This is an excellent way to bond with your friends while embracing Colorado's rich beer culture. As you embark on this sudsy journey, consider these exciting activities:
Touring local breweries:
Experience behind-the-scenes access at popular spots like Great Divide Brewing Company or Avery Brewing.
Discover hidden gems that only true connoisseurs know about.
Participating in a craft beer pairing dinner:
Savor delicious food expertly paired with unique brews at gastropubs like Euclid Hall Bar & Kitchen.
Elevate your taste buds as you explore new flavor combinations and broaden your palate.
Signing up for a homebrew workshop:
Learn the art of crafting your beer from experienced brewers.
Take home valuable knowledge that impress your friends and fellow craft beer enthusiasts.
So grab a pint, raise a toast to brotherhood, and immerse yourself in Colorado's vibrant brewery scene.
Because nothing says 'I belong' quite like bonding over shared passions – especially when that passion involves exceptional craft beer!
Nightlife and Entertainment
Dive into Colorado's bustling nightlife and entertainment scene, where unforgettable memories are just waiting to be made.
Whether you're club hopping in downtown Denver or laughing it up at comedy shows, there's something for everyone in this vibrant state.
So break out those dance moves and get ready to let loose with your best friends as you celebrate the end of bachelorhood.
Colorado offers a diverse range of nightlife options that cater to different preferences, ensuring that every member of your group will have an amazing time.
The possibilities are endless, from pulsating dance clubs to relaxed live music venues.
Relaxation and Rejuvenation
After a night of revelry, it's essential to relax and rejuvenate with your friends before diving back into the festivities.
What better way to do that than by treating yourselves to a luxurious mountain spa retreat or a soothing hot springs getaway in Colorado?
Colorado offers an array of options for those seeking respite from the fast-paced bachelor party scene.
Settle in at one of the state's renowned mountain spas where professional therapists will provide rejuvenating massages, facials, and other body treatments tailored specifically for your group's needs.
Or perhaps you'd prefer a more natural approach – in which case, nothing beats soaking in geothermal mineral waters at one of Colorado's legendary hot springs resorts.
Gather your friends as you soak up healing minerals, bond over shared stories from last night's escapades, and create lasting memories together in these serene settings.
Unique Group Experiences
Escape Rooms
Colorado offers a variety of fantastic puzzle-solving challenges that are perfect for adding excitement to your bachelor party.
Immerse yourselves in themed rooms that range from spooky haunted mansions to high-stakes bank heists.
You'll feel part of an action-packed movie as you race against the clock, decipher clues, and crack codes with your brethren.
Escape rooms provide not only adrenaline-pumping fun but also an unforgettable bonding experience.
Paintball or Airsoft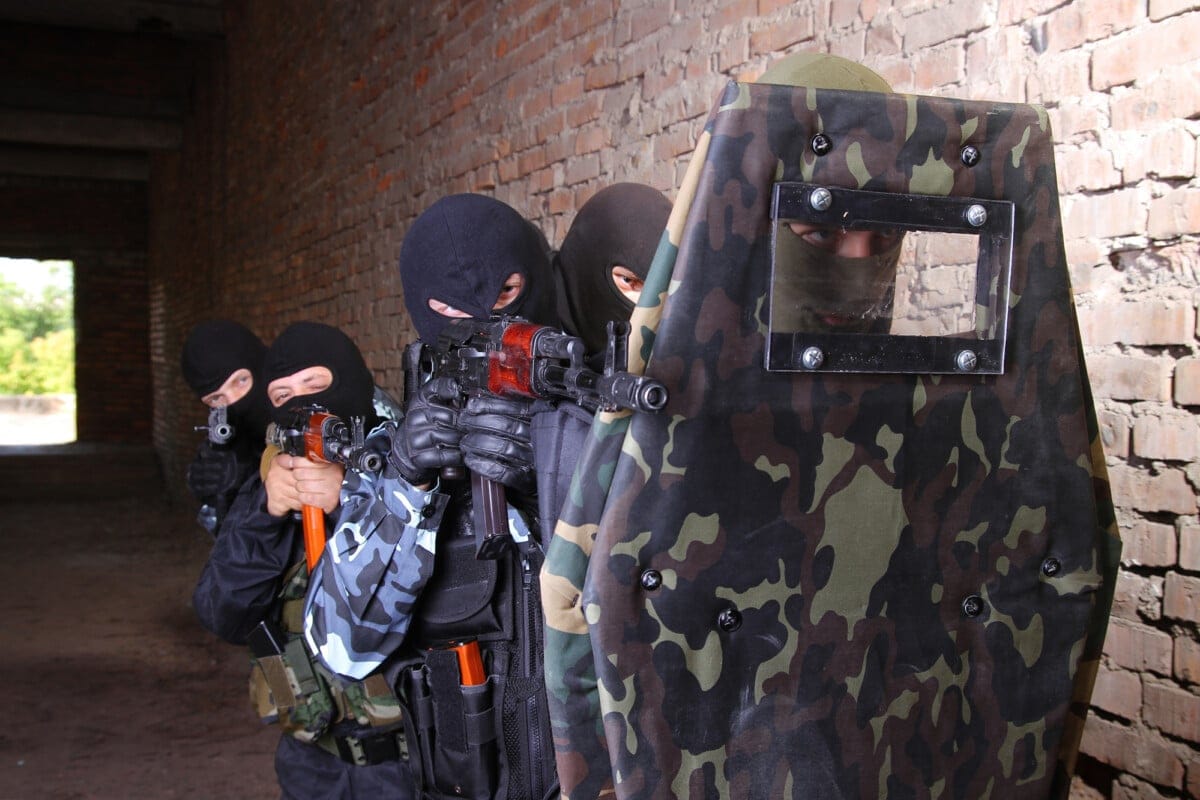 Colorado offers plenty of paintball and airsoft fields with extreme customization options that will make your bachelor party a thrilling experience.
Get ready to dive into an adrenaline-pumping battle with your closest friends, where strategy planning is essential and every decision counts.
Teamwork: Form alliances and create strategies together as you navigate the battlefield. The camaraderie built during this intense adventure is sure to strengthen your bond.
Extreme Customization: Choose from various game modes, field layouts, and gear selections to personalize your unique combat experience.
Exhilarating Competition: Paintball and airsoft bring out the competitive spirit in everyone while providing a safe, controlled environment for all players.
Take charge of your bachelor party by organizing a day filled with excitement, teamwork, and friendly competition on the paintball or airsoft battlefield.
Team Building Activities
Consider coordinating captivating team-building activities for an unforgettable bonding experience with your best buds.
Colorado offers many unique and adventurous opportunities that will bring you closer together while having a blast.
Dive into creative cooking classes where you can hone your culinary skills, laugh over failed attempts, and enjoy the fruits of your labor.
Or, channel your inner Van Gogh by participating in collaborative art projects such as mural painting or pottery making – all while surrounded by the breathtaking beauty of Colorado's landscapes.
The sense of camaraderie created during these team-building activities is truly priceless.
Imagine rafting down thrilling rapids with your crew, working together to navigate the wild waters of Colorado's rivers, or conquering escape rooms by combining everyone's problem-solving prowess.
Final Thoughts
So, you've got the ultimate Colorado bachelor party plan with a mix of adventure, brews, and entertainment. Not convinced? Picture this: over 300 breweries await your sipping pleasure in Colorado alone!
Gather your crew and get ready to create unforgettable memories as you explore the great outdoors and indulge in local flavors.
With these incredible ideas, you're guaranteed to throw a legendary bachelor party that'll be discussed for years! Cheers to new adventures!