It's time to ditch the ordinary and dive into the extraordinary.
Welcome to our definitive guide on crafting the ultimate bachelor party in the heartland of America – Ohio!
This gem, known for its vibrant cities, vast farmlands, and beautiful lakes, holds a treasure trove of unforgettable experiences just waiting to elevate your bachelor party from fun to legendary.
Ohio, often called the 'Heart of It All,' is a perfect backdrop for your pre-wedding celebrations.
With its unique blend of thrilling sporting events, world-renowned craft breweries, rugged outdoor adventures, and dynamic nightlife, it's a state that can cater to every bachelor's taste.
Whether you're an adrenaline seeker, a sports fanatic, a beer connoisseur, or an aficionado of the night, Ohio's rich offerings ensure something for everyone.
Ready to venture into this dynamic journey?
Tie up your party shoes, bring on your best game faces, and delve into the exciting, adrenaline-pumping, and sometimes surprising world of bachelor party planning in Ohio.
Brace yourselves, gentlemen, because this is an adventure you and your crew will forever remember!
1. Adrenaline-Pumping Activities
With these thrilling activities, you'll find your heart racing and your blood pumping, perfect for an unforgettable guys' weekend in the Buckeye State.
Ohio offers a wide range of adrenaline-pumping adventures, from thrill-seeking races to high-flying skydiving, ensuring you and your buddies have time while celebrating the groom's last days as a single man.
Hit the tracks for high-speed action at one of Ohio's many go-kart or race car experiences.
Feel the wind whip through your hair as you navigate tight turns and put the pedal to the metal on long straightaways.
If racing isn't quite daring enough, take to the skies with an exhilarating skydiving experience, either tandem or solo if you're experienced.
Soaring through Ohio's blue skies will create unforgettable memories and foster lifelong bonds between friends – not every day that you plunge thousands of feet from a plane together!
2. Brewery and Distillery Tours
Quench your thirst for adventure and tantalizing spirits as you tour Ohio's finest breweries and distilleries.
With so many options, you'll be able to experience craft beer tastings, distillery workshops, and behind-the-scenes looks at making your favorite libations.
Gather your crew and bond over shared experiences in these one-of-a-kind establishments while soaking in the camaraderie of exploring new tastes together.
Ohio is home to some truly fantastic breweries and distilleries, offering an array of unique flavors and styles to delight any palate.
Visit local favorites like Great Lakes Brewing Company in Cleveland or Rhinegeist Brewery in Cincinnati to taste their renowned brews.
For those passionate about spirits, don't miss out on distillery tours like Middle West Spirits in Columbus or Watershed Distillery in the heart of Grandview Heights.
Discover how each location meticulously crafts their beverages during engaging workshops, where you can learn about everything from the brewing process to barrel aging techniques.
Your bachelor party will become an unforgettable journey into Ohio's vibrant world of craft beverages, allowing you to revel in good company while indulging your senses.
3. City Nightlife Excursions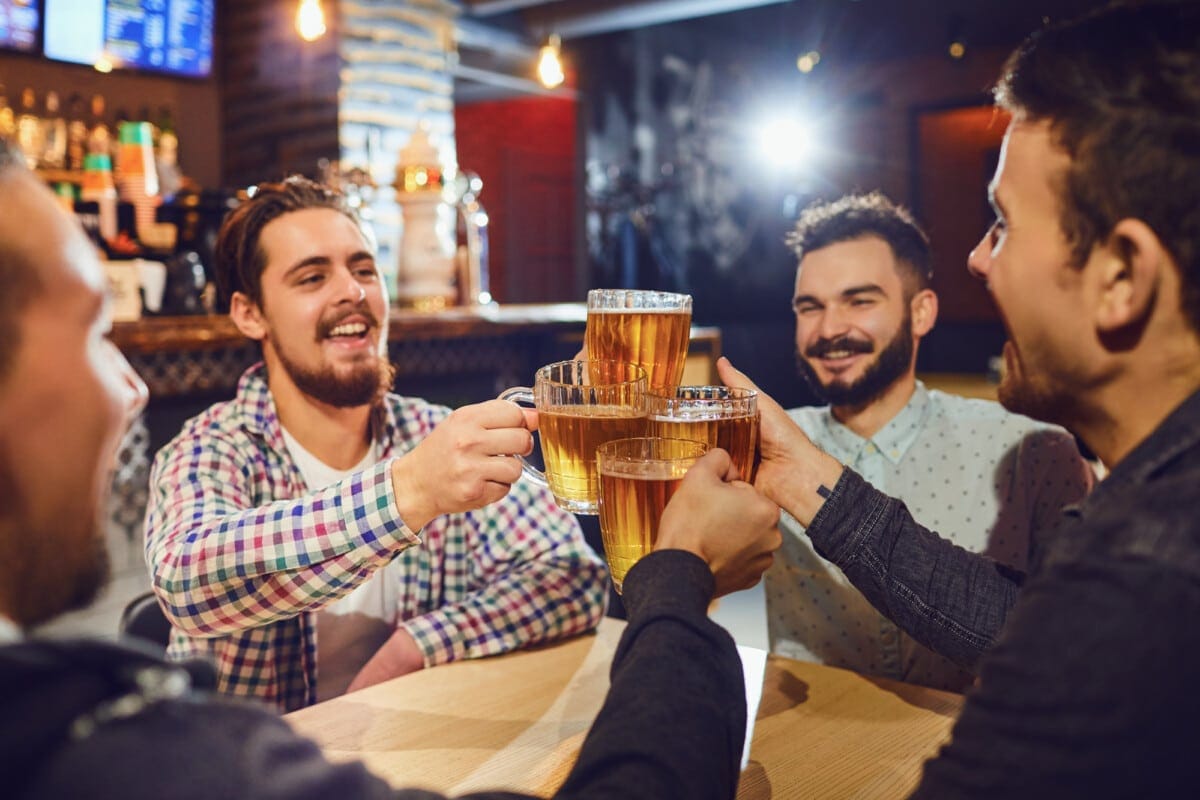 Dive into the pulsating energy of city nightlife excursions as you and your crew explore the vibrant after-hours scene in Ohio's bustling urban centers.
There's something for everyone, whether it's dance club hopping through Columbus' Arena District or laughing it up at comedy show visits in Cleveland. 
Get ready to make memories that'll last a lifetime while experiencing some of Ohio's best entertainment.
Start your night off by hitting popular dance clubs like Dahlia in Columbus or Barley House in Akron, where you can groove with your closest friends all night.
If laughter is more your style, check out hilarity-filled venues such as Hilarities 4th Street Theatre in Cleveland or Go Bananas Comedy Club in Cincinnati.
No matter what kind of adventure you're seeking for your bachelor party, Ohio's cities have covered you with an unforgettable mix of music, comedy, and camaraderie.
Don't miss this opportunity to bond with your crew and celebrate before plunging into married life!
a. Outdoor Adventures
Embrace the thrill of outdoor adventures as you and your buddies embark on adrenaline-pumping escapades that'll leave everyone breathless and exhilarated.
Ohio is home to a vast array of unforgettable experiences, perfect for bonding with your best friends before the big day.
Whether you're an experienced outdoorsman or just looking for something new, there's no shortage of excitement to be had in this beautiful state.
From exhilarating nature hikes through lush forests to thrilling Ohio camping trips under the stars, you'll create memories that will last a lifetime.
Gather your crew and hit the trails at one of Ohio's many stunning state parks, like Hocking Hills or Cuyahoga Valley National Park for breathtaking nature hikes amidst captivating landscapes.
Challenge yourselves with rugged terrain, or take it easy on scenic pathways while soaking in picturesque views, all while building camaraderie among your closest friends.
After an invigorating day exploring the great outdoors, set up camp at one of Ohio's well-maintained campgrounds, where you can unwind by a roaring bonfire, share stories from past adventures, and toast marshmallows beneath a starry sky.
As you swap tales long into the night around that flickering firelight, remember – these moments make life worth living!
b. Unique and Memorable Experiences
Looking for unique and memorable experiences for an unforgettable bachelor party? Try putting your skills to the test with thrilling escape room challenges.
Cheer on your favorite team at sports events and tailgating, or go all-in during a private poker night or casino outing.
No matter what you choose, you're sure to make lasting memories with your closest friends.
c. Escape Room Challenges
If you're tired of the same ol' clichéd shenanigans, try testing your wits with escape room challenges, because who wouldn't want to lock themselves in a room full of puzzles for fun?
Escape rooms are not just about puzzle-solving fun; they also act as team-building exercises that can bring everyone closer together.
In Ohio, numerous escape rooms cater to different interests and skill levels.
Whether you're fan of horror, sci-fi, or mystery – there's bound to be an experience tailored specifically for your group.
While trapped within the confines of a themed room, you and your buddies will have no choice but to rely on each other's unique skills and abilities to solve riddles, crack codes, and escape within the time limit.
The adrenaline rush from working under pressure creates an exhilarating bonding experience like no other.
Not only will you walk away with memories of shared triumphs and laughs over failed attempts at puzzle-solving genius moments, but overcoming these challenges together will create a sense of camaraderie among your group that can last long beyond the bachelor party weekend itself!
4. Sports Events and Tailgating
There's no denying that attending sports events and engaging in tailgating festivities can provide an unparalleled bonding experience for your group.
Ohio is home to many professional and college sports teams, making it the perfect destination for a bachelor party centered around sports events.
From football games at Ohio Stadium to baseball matches at Progressive Field, there's something for every fan in your group.
Stadium tours offer a unique behind-the-scenes look into these iconic venues, while tailgating provides an opportunity to bond with fellow fans over food, drinks, and team spirit.
To make the most of your sports event-themed bachelor party in Ohio, consider incorporating the following activities:
Stadium Tours: Check out tours offered by venues like Paul Brown Stadium or Nationwide Arena to get an inside look at where some of your favorite teams play.
Team Bonding: Participate in pre-game rituals like painting your faces with team colors or creating custom t-shirts showcasing your support.
Tailgate Games: Bring along classic tailgating games like cornhole or beer pong to add extra fun and friendly competition between members of the bachelor party crew.
Meet Fellow Fans: Embrace the camaraderie felt among fans by striking up conversations with those around you during tailgate parties – this shared love for sports might lead to new friendships.
With these ideas, you will create unforgettable memories as you celebrate the groom-to-be. Sports events and tailgating will bring excitement and strengthen bonds within your group as you share this special occasion.
5. Private Poker Night or Casino Outing
Consider hosting a private poker game or hitting the casinos with your crew for a thrilling night of high-stakes fun.
Organizing a poker night at home allows for more intimate bonding and allows everyone to showcase their poker strategies.
Make it even more memorable by setting up a classy atmosphere with dim lighting, cigars, and cocktails – not forgetting some stylish casino fashion to set the mood.
If you're unsure about the rules or need help keeping track of bets, don't worry; there are plenty of apps and websites that can assist in running the perfect poker night.
If you'd rather experience the thrill of a real casino floor, Ohio has several fantastic options for you and your friends.
Check out Hollywood Casino Toledo or JACK Cleveland Casino for an exciting outing with slots, table games, great food, and drinks.
Dressing up in your finest casino fashion will make this bachelor party feel like something straight out of a Bond movie – just remember to brush up on those poker strategies beforehand!
And suppose gambling isn't everyone's cup of tea.
In that case, many casinos also offer live entertainment and sports bars where your group can kick back and enjoy each other's company while still soaking in the vibrant atmosphere.
Final Thoughts
So, there you have it, folks!
Ohio is an excitement and adventure treasure trove, perfect for creating unforgettable bachelor party memories.
Just remember to pack your sense of humor and a thirst for fun because you're in for the ride of your life.
Dive headfirst into adrenaline-pumping activities or soak up the city's vibrant nightlife – whatever floats your boat.
With these incredible bachelor party ideas in Ohio, you're guaranteed to send your buddy off into married life with a bang!