With breathtaking mountain ranges, endless blue skies, and untamed wilderness, Wyoming is a playground for creating unforgettable pre-wedding memories.
From the jagged peaks of the Grand Tetons to the world-renowned geysers of Yellowstone National Park, Wyoming offers a unique backdrop for a bachelor party experience.
Spend your days filled with thrilling outdoor exploits and nights spent under the vast, star-studded skies, exchanging tales of camaraderie and anticipation around a blazing campfire.
Grab your gear, summon your band of brothers, and get ready to venture into the heart of Cowboy State.
Whether you're an outdoor enthusiast seeking the thrill of white water rafting or a fishing aficionado looking for the perfect stream, we'll delve into many bachelor party ideas that promise to make your Wyoming experience epic!
Outdoor Adventure Activities
With rafting trips down the Snake River or zipline adventures through the stunning canyons, you'll create unforgettable memories as a tight-knit group before tying the knot.
Picture yourself navigating through exhilarating rapids with your best friends as you tackle the wild waters of Wyoming on a river rafting expedition.
Or soar above breathtaking landscapes on a zipline adventure, feeling the wind rush past your face as you go from platform to platform, suspended high up in the air.
With these heart-pounding experiences, you will satisfy your need for thrills and strengthen bonds within your crew that'll last a lifetime.
Explore Wyoming's National Parks
You'll marvel at the mesmerizing geothermal features of Yellowstone, including the famous Old Faithful geyser, and be captivated by the towering peaks of the Teton Range in Grand Teton National Park.
Discover the natural beauty and abundant wildlife that make these parks the true gems of the American West.
Yellowstone National Park
Experience the adventure of a lifetime at Yellowstone National Park by embarking on a thrilling white-water rafting trip with your closest friends.
As you navigate through the park's scenic waterways, prepare to be amazed by the geothermal wonders and wildlife sightings that make this location truly one-of-a-kind.
Feel part of something special as you bond with your buddies while conquering exhilarating rapids and exploring breathtaking landscapes.
Witness the awe-inspiring power of Old Faithful: marvel at this iconic geyser's eruption, which sends boiling water soaring up to 185 feet in the air approximately every 90 minutes.
Discover Mammoth Hot Springs: this incredible formation showcases nature's artistic side, with colorful travertine terraces created by mineral-rich hot springs.
Encounter majestic wildlife: Watch for bison, elk, bears, and wolves as you explore the park's diverse habitats.
Embrace this unique opportunity to challenge yourself and strengthen your bonds with those who matter most in your life.
Whether it's sharing laughs around a campfire or capturing unforgettable moments on camera during wildlife encounters, Yellowstone National Park offers an experience that will leave you feeling more connected than ever – both with nature and each other.
Grand Teton National Park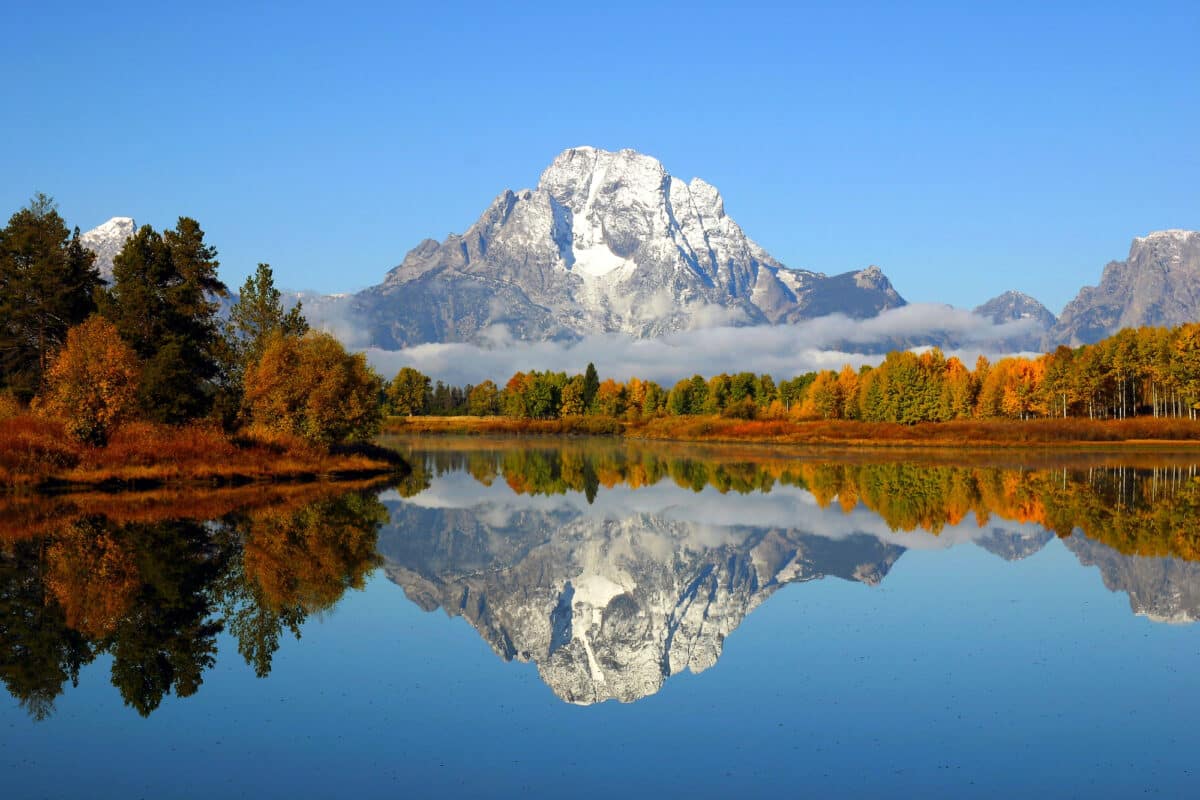 This breathtaking destination offers a unique blend of rugged wilderness, pristine lakes, and towering peaks that will leave you in awe.
As part of your bachelor party experience, immerse yourself in the park's rich Teton wildlife by embarking on guided tours or hikes to spot elk, moose, bears, and more.
For an unforgettable bonding experience with your buddies, consider mountain camping under the stars, surrounded by the majestic Tetons.
Grand Teton National Park is not just about admiring its natural beauty; it also offers many exciting activities for your group.
Test your limits with rock climbing or mountaineering on some of the most iconic peaks in North America.
If water sports are more your style, take advantage of the park's numerous lakes and rivers for kayaking, rafting, or fishing excursions.
No matter what type of adventure you're seeking for your bachelor party in Wyoming, Grand Teton National Park provides an unparalleled setting where lifelong memories are made and friendships are strengthened.
Western-Themed Experiences
Cowboy cookouts are a must-do on your trip. Chow down on delicious grub prepared by real cowboys over an open campfire.
Picture sizzling steaks, hearty beans, and mouth-watering cornbread under the vast Wyoming sky as you swap stories and laughs with your buddies.
Experience the thrill of live rodeo action at one of Wyoming's many rodeos.
From small-town events to world-famous competitions like Cheyenne Frontier Days or Cody Nite Rodeo, you can cheer on daring riders in heart-pounding bull riding or barrel racing contests while enjoying a true taste of cowboy culture.
Get up close and personal with life on a working cattle ranch by booking a stay at one of Wyoming's historic guest ranches.
Authentic ranch experiences will help you learn how to rope cattle, try your hand at horseback riding across breathtaking landscapes, or simply kick back around the campfire with new friends who share your love for adventure.
Relaxing Bonding Experiences
For a more laid-back and rejuvenating experience with your crew, consider indulging in relaxing bonding activities that strengthen friendships and create lasting memories.
Wyoming's picturesque mountain retreats offer the perfect setting to unwind, recharge, and reconnect with your closest pals.
From spending quality time in cozy cabins surrounded by stunning landscapes to enjoying leisurely hikes or fishing trips, you can embrace the slower pace of life and appreciate the natural beauty of Wyoming together.
Elevate your relaxation game by booking spa sessions for your squad at one of Wyoming's luxurious resorts.
Indulge in soothing massages, invigorating facials, or calming body treatments as you bond over these refreshing experiences against majestic mountains.
After a day full of pampering and self-care, gather around a crackling fire pit to share stories, laughter, and perhaps a few drinks under the star-filled skies only Wyoming can provide.
With these tranquil bonding moments woven into your bachelor party itinerary, you'll leave feeling refreshed while cherishing shared memories that last a lifetime.
Nightlife and Entertainment
Ready to dive into Wyoming's vibrant nightlife and entertainment scene?
You'll find plenty of live music venues showcasing local talent. There are also buzzing bars and clubs where you can let loose with friends.
Live Music
Dance the night away with your buddies as talented local bands serenade you with electrifying tunes.
Wyoming concerts and music festivals are abundant, offering a variety of genres to suit everyone's taste – from country and bluegrass to rock and indie.
In cities like Cheyenne, Casper, and Laramie, you can catch live performances at popular venues such as the Gryphon Theatre or the Beacon Club.
During summer months, don't miss out on annual events like the Cheyenne Frontier Days or Beartrap Summer Festival; these gatherings showcase music and celebrate Wyoming's rich culture and history.
To feel a true sense of belonging in this vibrant state, consider checking out smaller towns that host intimate live music experiences in unique locations.
Take your bachelor party off the beaten path by visiting places like Jackson Hole or Sheridan—where cozy bars and rustic breweries often feature local acts performing against stunning landscapes.
You'll immerse yourself in an authentic atmosphere that connects you with new friends and fellow fans who share your passion for great tunes.
Local Bars and Clubs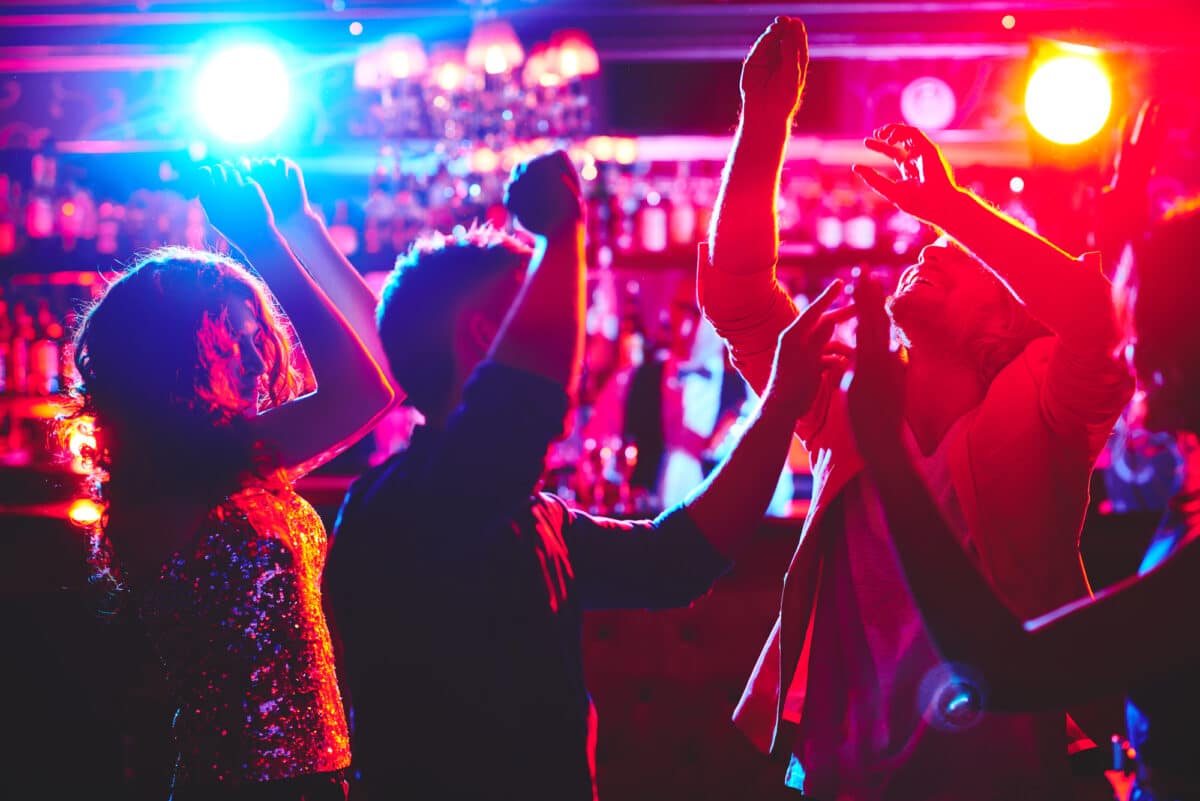 You'll find an impressive selection of local bars and clubs to explore, ensuring your night out is one for the books.
Wyoming's nightlife scene offers everything from rooftop lounges with stunning mountain views to speakeasy hideouts that transport you back in time.
With a diverse range of options catering to various tastes and preferences, there's no doubt that you'll feel right at home among the friendly locals.
Discover hidden gems like The Rose or The Million Dollar Cowboy Bar in Jackson Hole, where you can enjoy live music and dance the night away with your crew.
For a more upscale experience, visit one of Wyoming's rooftop lounges, where you can sip on craft cocktails while taking in breathtaking views of the surrounding landscape if you're looking for something more low-key yet still unique, venture into a speakeasy hideout like The Gaslight Social in Casper or Sanford's Grub & Pub in Cheyenne.
Here, you can indulge in delicious food and drinks while feeling like part of an exclusive club as you bond with your friends during this unforgettable bachelor party adventure.
Final Thoughts
So, saddle up and gather your posse for an unforgettable Wyoming bachelor party.
From exploring the wild west to bonding under those wide-open skies, there's no better place to celebrate your buddy's final days of freedom.
Don't miss out on this chance to create lasting memories with your best friends in the heart of cowboy country.
With so many incredible adventures at your fingertips, Wyoming truly offers a unique and thrilling experience that'll make you feel like king of the frontier.