Planning a bachelorette party can be a lot of fun, but it can also be challenging to come up with ideas that everyone will love.
If you're looking for inspiration, check out our list of 200 creative bachelorette party hashtag ideas.
These hashtags will help organize your party and make it easy for guests to find photos and videos from the event.
How to Make a Bachelorette Party Hashtag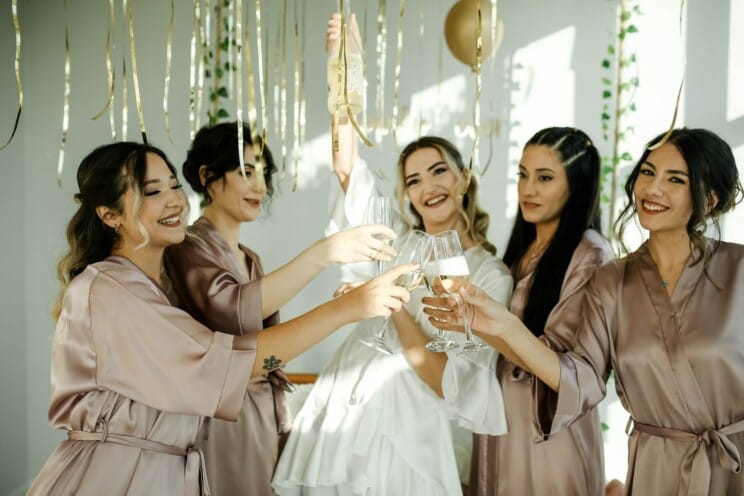 Creating a bachelorette party hashtag is easy. Devise a clever phrase or pun related to the bride-to-be's name or the party's theme.
Once you've got your hashtag, promote it ahead of time so guests can start using it on social media.
Here are some tips for creating a great bachelorette party hashtag:
Keep it short and sweet: The shorter, the better regarding hashtags. You want something easy to remember and quick to type.
Make it unique: Don't use a hashtag already used by someone else. This will confuse people and make it harder for them to find your party photos.
Use letters and numbers: You can use both letters and numbers in your hashtag, but avoid using symbols or special characters.
Promote it ahead of time: Be sure to let guests know the hashtag before the party starts. This way, they can start using it right away.
Add the location of your party. This will help guests search for photos and videos from the event. For example, if you're having a party in New Orleans, you might use the hashtag #NOLABacheloretteParty.
Include the bride's name. This is optional, but it's a good way to ensure your hashtag is unique. For example, if the bride's name is Sarah, you might use the hashtag #SarahsNOLABacheloretteParty.
Add the date of the event. This will help guests search for photos and videos from the event. For example, if the party was on May 20, 2017, you might use the hashtag #May20BacheloretteParty.
With these tips in mind, you're ready to create a bachelorette party hashtag perfect for your event.
Importance of Bachelorette Hashtags
Bachelorette hashtags are important for a few reasons.
First, they can help you keep track of all the photos and videos from your event in one place. This is especially helpful if guests post on social media using different platforms or devices.
They can be a great way to promote your party and get people excited about attending.
They can help you create a unique and memorable event that your guests will discuss for years.
It's a great way to keep your party organized and ensure everyone is on the same page.
Simple Bachelorette Hashtag Ideas
If you're looking for something simple, these bachelorette party hashtag ideas are for you.
Just use the bride's name or initials followed by "Bachelorette" or "BachParty" to create a hashtag that's easy to remember and use.
For example:
#LastFlingBeforeTheRing
#BachLorettes
#SheSaidYes
#BachBash
#FinalFlingBeforeTheRing
#BridalShower
#HenParty
#BacheloretteWeekend
#BrideSquad
#GirlsNightOut
#Besties
# GalPals
#SheGotHitched
#Hitched
#AVowToParty
Creative Bachelorette Party Hashtag Ideas
If you want something a little more creative, try using one of these bachelorette party hashtag ideas.
These hashtags are perfect for parties with a specific theme or activity.
For example:
#BachToRemember
#BachBeforeTheStorm
#BridalBliss
#BacheloretteVibes
#Bridezilla
#WeddingCrashers
#BestDayEver
#OneLastFling
#GirlsJustWantToHaveFun
#FiestaForever
#LivingLaVidaBride
#BlessedBeyondBelief
#LoveIsSweet
#IDoCrew
#BridesBesties
Classy Bachelorette Party Hashtag Ideas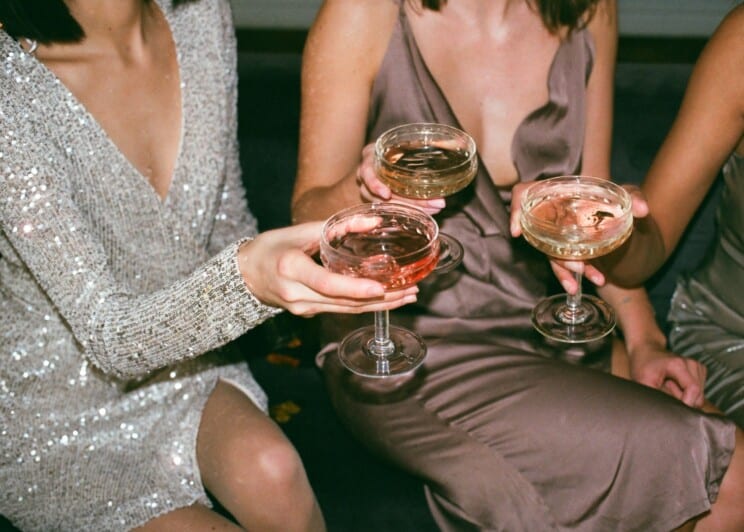 If you're looking for a bachelorette party hashtag that's both classy and elegant, look no further.
These classy bachelorette party hashtag ideas will help set the tone for your event.
#BachElite
#BachLuxe
#BachelorNation
#ElegantBachelorette
#FancyBach
#GlamBach
#OpulentBachelorette
#PrettyInPink
#RegalBachelorette
#RichAndFabulous
#TheEliteBride
#TheUltimateBachelorParty
#TrueBach
#WhiteWineAndRoses
#WildeBachelorette
#WineAndDineTheBride
#YouHadMeAtMerlot
#ZestyBachelorette
#LastFlingBeforeThe Ring
#BachelorettePartyFun
#BachPartyLife
#BachPartyVibes
#LuckyMeBrideToBe
#CountDownToTheBigDay
#BacheloretteBash
#BachloretteWeekend
#SheIsGettingMarried
#OhMrs(Name)
#TheBigDayIsComing
#WeddingBells
Cute Bachelorette Party Hashtag Ideas
Are you looking for something a little more cute and whimsical? These bachelorette party hashtag ideas are perfect for you.
For example:
#BigAppleBach
#LetsDoThis
#BachelorettePartyTime
#KissTheMissGoodbye
#PartyingForTheBride
#BachelorettePartyIdeas
#OneLastSplash
#BridalShower
#WeddingPlanning
#FutureMrs
#BacheloretteVeil
#BachelorettePartyDress
#BachloretteKiss
#BestiesForLife
#MaidOfHonor
#MatronOfHonor
#FlowerGirl
#RingBearer
Romantic Bachelorette Party Hashtag Ideas
Try one of these ideas if you're looking for a bachelorette party hashtag that's romantic and sentimental.
From #LoveIsInTheAir to #BestFriendsForLife, these hashtags will capture all the love and friendship of your special day.
#ToHaveAndToHold
#LoveAtFirstSight
#LoveBirds
#MeantToBe
#BestFriendsForLife
#FairytaleWedding
#LoveIsInTheAir
#Nuptuals
#SayingIDo
#Newlyweds
#Marriage
#MrandMrs
#WifeyForLife
#HusbandAndWife
#TogetherForever
#CoupleGoals
#Love
#BestFriends
#MyBetterHalf
#MyEverything
#MyPerson
#RideOrDie
#PartnersInCrime'
General Bachelorette Party Hashtag Ideas
Try one of these ideas if you're looking for a more general bachelorette party hashtag. These hashtags can be used for any bachelorette party.
#BeachBum
#BeachDay
#BeachFun
#BeachLife
#BeachLover
#BeachPlease
#BikiniWeather
#GirlsJustWannaHaveFun
#ParadiseFound
#SandyBeaches
#SeaYouSoon
#ShellWeDance
#SunnyDay
#WaveWatching
#LastflingBeforeTheRing
#ShesGettingHitched
#BrideBesties
#WeddingParty
#BrideTribe
#LastCallForMs(Name)
#TheKnot
#TyingTheKnot
#TrueLove'sKiss
#RideOrDie
#ForeverAndEver
#BacheloretteParty
#Bachelorette
#BrideToBe
#WeWillRememberThisNight
#ForBetterOrForWorse
#TilDeathDoUsParty
#HereComesTheBride
#HeresToYouMrs(Name)
#ThisIsHowWeRoll
#PartiedLikeAnAnimal
#TheFutureMrs(Name)
#LoveIsLove
#TwoBeComeOne
#DrunkInLove
#BestFriends
#Fiancee
#OneLove
#FutureWifey
#AlwaysAndForever
#ToHaveAndToHold
#ICan'tWaitToMarryYou
#BestDayEver
#CelebratingLove
#CheersTo(Name)
#BestNightEver
#LastNightAsASingleLady
#OnToTheNextChapter
#LastCallForMS(Name)
#CheersToALifetimeOfHappiness
#ToLoveLaughterAndHappilyEverAfter
#ToLoveAndMarriage
#LastRodeo
#ThankYouForBeingPartOfMyJourney
# Couldn'tHaveDoneThisWithoutYou
#StokedToBeA(Name)
#LoveYouMeanTheWorldToMe
#BlessedBeyondMeasure
#ThankYouGodForThisSpecialNight
#Blessed
#SheFoundAKeeper
#I'mTheLuckiestGirlInTheWorld
#SoGratefulForMyFiancéAndFriends
#BestDayEver
#IDo
#JustMarried
#Soulmate
#LoveWins
#Equality
#BrideTribe
#BrideSquad
#MrsToBe
##DrunkInLove
#CountdownToTheWedding
#CactusCrew
#HereComesTheBride
#ShesGettingMarried
#DreamWedding
#WeddingGoals
#WeddingInspiration
#WeddingDay
#WeddingBell
#TyingTheKnot
#WalkingDownTheAisle
#WeddingVibes
#Marriage
#VeilBound
#BridesWolfPack
#BestDayEver
#BigCityBride
#LoveConquersAll
#TeamBride
#BrideSquad
#Goodbye
#NoBoysAllowed
#AlmostWifeyLifey
Frequently Asked Questions
Does a Bachelorette Party Need a Theme?
Yes, for a perfect bachelorette party, all you need is the right theme and some fun activities for your bride-to-be.
Planning will ensure that this event stands out as one she'll never forget.
How Would You Describe a Bachelorette Party?
A bachelorette party is a celebration for an upcoming bride organized and attended primarily by female friends, usually the night before or the days preceding the wedding.
Drinking alcohol and having fun are examples of activities.
Who Picks the Bachelorette Theme?
The Maid of Honor (MOH). If there is no one elected to be maids-of honor, then it falls on individual bridesmaids and friends.
What Do You Call a Post-Wedding Bachelorette Party?
A bach party is held separately to celebrate one last outing before the wedding.
Given that you're already married, consider throwing a joint bach party. 
Final Thoughts
Hashtags are a great way to get your guests excited about the bachelorette party and ensure that all of the photos and memories from the event are captured and easily shared.
We hope our list of 200 creative hashtag ideas will help you choose one (or more!) that perfectly represents your upcoming celebration.
Have fun!