Georgia! Renowned for its sultry Southern charm, stunning natural beauty, and captivating blend of city and country life, Georgia is a treasure trove of bachelorette party ideas just waiting to be discovered.
From the booming nightlife and world-class eateries of Atlanta to the serene beaches of the Golden Isles, the tranquil vineyards nestled in the Blue Ridge Mountains, to the historic streets of Savannah – Georgia has a thrilling smorgasbord of experiences to cater to every type of bride and her squad.
Whether you're a lover of nature, a party aficionado, a history buff, a food and wine connoisseur, or a mix of everything, there's something here for everyone.
Atlanta's Vibrant Nightlife
You'll love exploring Atlanta's vibrant nightlife scene with your besties by your side. From swanky downtown clubs to trendy rooftop bars, there's something for everyone in your bachelorette party crew to enjoy.
Immerse yourselves in the lively atmosphere, dance the night away at popular venues like Tongue & Groove or Havana Club, and let loose with fabulous cocktails that'll keep you going until the wee hours.
Don't forget to take in the stunning views from one of Atlanta's many rooftop bars while sipping on a refreshing drink and enjoying the company of your favorite people.
Head to SkyLounge at Glenn Hotel for an elegant experience, or check out Whiskey Blue at W Atlanta-Buckhead for a more laid-back vibe.
You'll feel like you belong as you laugh, chat, and create unforgettable memories against the dazzling backdrop of Georgia's capital city.
Savannah's Historic Charm
Stroll down cobblestone streets and sip on mint juleps while reveling in the enchanting beauty of Savannah's historic charm.
As one of the oldest cities in Georgia, it offers a unique bachelorette party experience filled with rich history, stunning architecture, and breathtaking parks.
Indulge your taste buds with mouthwatering Southern cuisine at renowned local restaurants like The Olde Pink House or Mrs. Wilkes' Dining Room.
And don't forget to treat yourself to some famous Leopold's Ice Cream for dessert! You'll feel right at home among the friendly locals and warm atmosphere that makes Savannah truly special.
Take your bachelorette party adventure to a new level by experiencing one of Savannah's many captivating ghost tours.
Venture through haunted mansions, eerie cemeteries, and shadowy squares as you listen to spine-tingling tales about the city's dark past – all while bonding with your best friends over shared shivers and laughter.
Afterward, head back into town for a lively night out, savoring cocktails in cozy speakeasies or dancing under twinkling lights at rooftop bars that provide breathtaking views of the riverfront skyline.
With its blend of old-world allure and contemporary entertainment options, Savannah is an unforgettable destination for creating cherished memories with your closest crew before tying the knot.
North Georgia Wine Country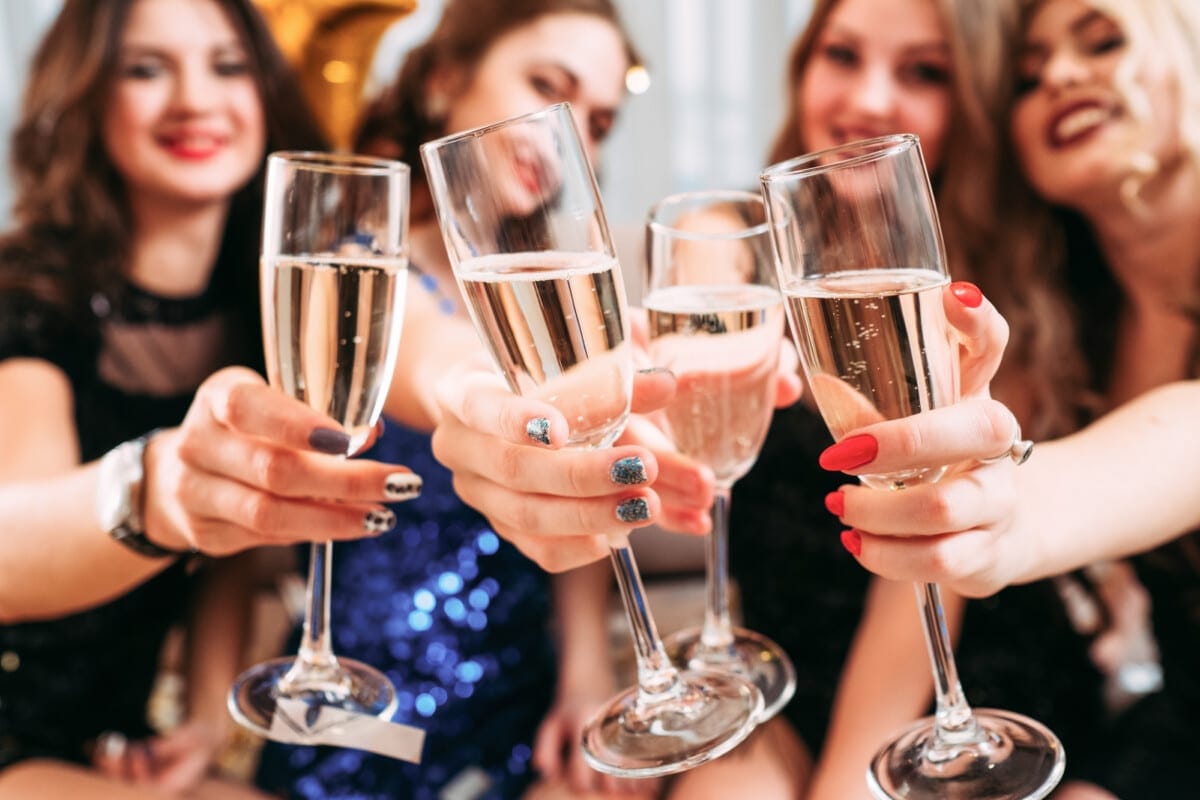 Escape to North Georgia's scenic Wine Country for a laid-back and indulgent getaway with your besties before the big day.
This beautiful region offers a variety of wine tasting tours and vineyard explorations, perfect for creating unforgettable memories together.
As you sip on sumptuous wines amidst stunning landscapes, you'll feel like you've been transported to an idyllic European countryside – without ever leaving Georgia.
During your retreat in the heart of North Georgia's wine country, be sure to:
Embark on a curated wine tasting tour through several vineyards, where you'll sample award-winning wines while learning about the winemaking process from knowledgeable guides.
Explore picturesque vineyards nestled among rolling hills and lush forests – many even offer guided tours or self-guided walks through their property so you can fully immerse yourself in nature's beauty.
Enjoy leisurely lunches at charming farm-to-table restaurants or gourmet picnics set up by local caterers amidst the vines, making your bachelorette party truly one-of-a-kind.
Beach Getaway on the Georgia Coast
Dive into a sun-soaked coastal adventure with your best gals, where the salty air and crashing waves create the perfect backdrop for memory-making.
The Georgia coast offers endless opportunities for coastal pampering and island hopping, ensuring that your bachelorette party will be an unforgettable experience.
From luxurious beach resorts to charming historical towns, you'll find activities and accommodations that cater to every member of your girl squad.
Explore the beautiful barrier islands like Tybee Island, Jekyll Island, or St. Simons Island for stunning beaches, delicious seafood restaurants, and unique local boutiques.
Indulge in spa treatments at premier coastal resorts or embark on excursions like dolphin-watching tours or kayak adventures through winding marshes.
Adventure and Outdoor Activities
Kick off your adventure with an adrenaline rush by rafting river down the Chattahoochee River. Feel the thrill of navigating through thrilling rapids, splashing waves, and beautiful scenery with your closest pals.
After conquering the river, take to the skies on a zipline tour. Soar over lush forests and breathtaking landscapes as you bond over shared memories and laughter high above the treetops.
Continue to satisfy your adventurous spirit with outdoor activities like hiking through scenic trails in North Georgia's picturesque mountains or horseback riding along serene paths surrounded by nature's beauty.
You can also opt for an ATV excursion through muddy terrain or test your skills at one of Georgia's challenging ropes courses.
Whatever adventures you choose, you're bound to create unforgettable memories while strengthening your bonds of friendship – making this bachelorette party a truly unique experience that will have everyone feeling connected and exhilarated long after they return home.
Final Thoughts
Peach State offers a perfect blend of vibrant nightlife, historic charm, and outdoor adventures for an unforgettable celebration.
Whether it's sipping wine in North Georgia or soaking up the sun on the coast, your bride-to-be will surely be thrilled.
So go ahead and dive into these fantastic ideas – after all, it's not every day that fate hands you such a fabulous setting for a memorable bash!