Idaho is known for its breathtaking landscapes, majestic mountains, and pristine lakes. It is about to reveal another jewel in its crown—its amazing potential for hosting one-of-a-kind bachelorette parties.
Idaho isn't just about potatoes and famous ski resorts; it's a vibrant and eclectic state with options for your bachelorette celebration.
We're talking thrilling white-water rafting experiences, tranquil spa getaways in luxurious resorts, innovative craft beer tours, unique glamping experiences, and vibrant nightlife in Boise.
Whether you're a nature lover, adventure enthusiast, pamper princess, or city socialite, Idaho has a bachelorette party idea that's perfect for you.
So, wear your best party attire, ready your spirit of adventure, and join us as we embark on a journey through Idaho's charming cities, thrilling outdoors, and unique attractions.
It's time to discover Idaho's hidden bachelorette party potential, just as dazzling as any diamond. Buckle up, ladies, and let's get this party started!
Wine Tasting in Idaho Vineyards
You'll love exploring Idaho's beautiful vineyards while sipping delicious wines with your besties!
Vineyard tours offer a unique and memorable experience for your bachelorette party, allowing you to bond with your friends while learning about the winemaking process.
Not only will you get to taste various exquisite wines, but you can also participate in winemaking workshops where you'll learn all about grape cultivation, wine production techniques and even try blending your custom bottle.
As you wander through the picturesque vineyards surrounded by rolling hills and stunning landscapes, it's hard not to feel a sense of belonging among your closest friends.
The warm atmosphere offered by local wineries will make everyone feel welcomed and at ease as they share stories, laughter, and unforgettable memories.
Outdoor Adventure Activities
Imagine embarking on thrilling outdoor adventures with your besties, surrounded by Idaho's breathtaking natural beauty.
One of the most exhilarating activities you can experience together is river rafting down one of Idaho's pristine rivers, such as the Snake or Salmon Rivers. 
Feel the adrenaline rush through your veins as you navigate the rapids and bond with your friends over this unforgettable experience.
If water sports aren't quite your speed, consider zipline tours through Idaho's lush forests or scenic mountainsides for a bird's-eye view of nature at its finest.
Another perfect bachelorette party idea in Idaho is to combine adventure with relaxation by taking advantage of hot springs after an exciting day outdoors.
Soak in soothing mineral-rich waters while reminiscing about the day's adventures and further strengthening your friendships.
Whether it's river rafting, ziplining, or unwinding in hot springs, exploring these outdoor activities creates unique memories and fosters a sense of belonging among you and your closest friends that will last a lifetime.
Relaxing Spa Retreats
Looking for a rejuvenating escape? Immerse yourself in luxurious spa packages to unwind with various revitalizing treatments.
Don't forget to dip in hot springs and mineral pools, as they offer soothing and healing experiences that refresh and recharge you.
Luxurious Spa Packages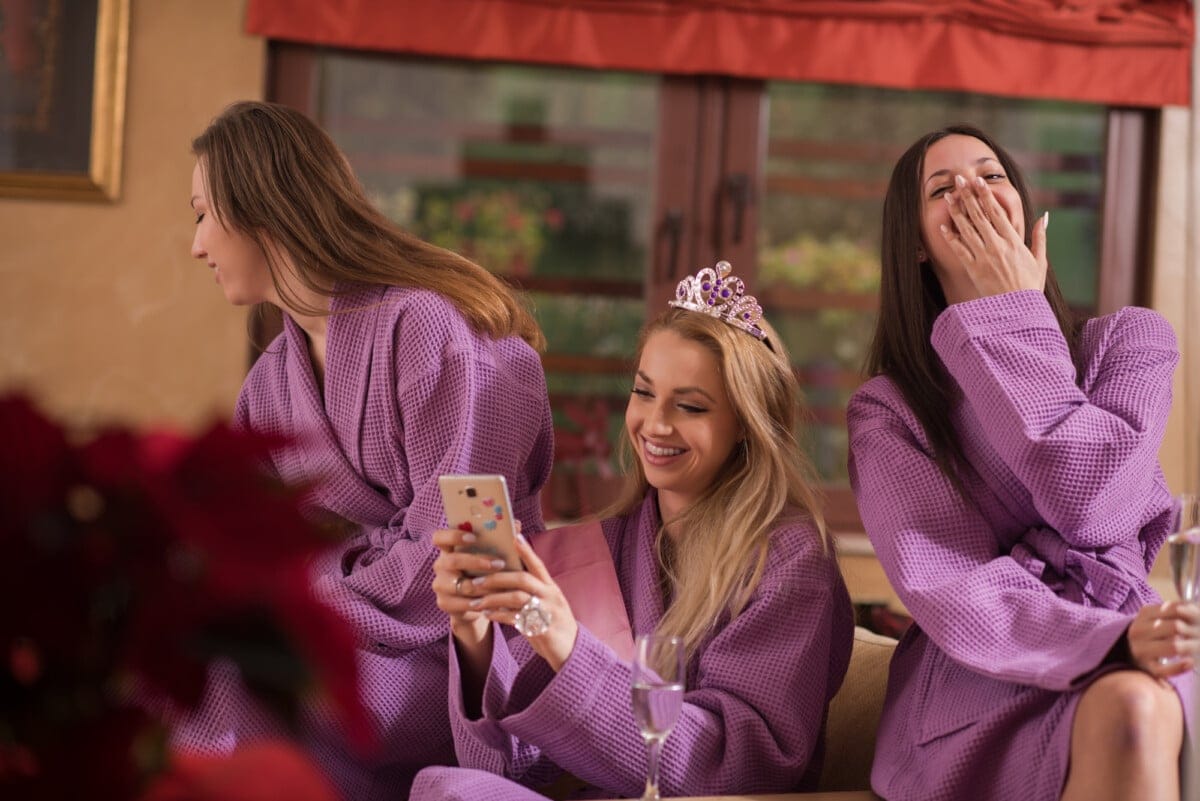 Indulge in a lavish spa experience, where pampering and relaxation are the top priorities, creating unforgettable memories with your closest friends.
Luxurious spa packages in Idaho provide an array of pamper sessions and beauty treatments to ensure you and your besties feel truly special during this once-in-a-lifetime bachelorette celebration.
From rejuvenating facials and soothing massages to full-body wraps and invigorating scrubs, these high-end spas offer something for everyone.
As you immerse yourself in the tranquil ambiance of Idaho's finest spas, consider indulging in some of these luxurious treatments:
Decadent Facials:
– Hydrating caviar facials that nourish your skin with rich vitamins
– Collagen-based treatments for ultimate anti-aging benefits
– Customized organic facials tailored to your skin type
Relaxing Massages:
– Aromatherapy massages using essential oils for ultimate relaxation
– Hot stone massages to soothe tense muscles
– Couples massages so you can share the experience with a friend or partner
Body Treatments:
– Detoxifying body wraps infused with essential oils
– Exfoliating sugar or salt scrubs to reveal glowing skin
– Restorative mud baths designed to purify and heal
Whether unwinding poolside, sipping champagne while enjoying breathtaking mountain views, or simply bonding over rejuvenating beauty treatments, a luxurious spa package will fulfill your desires for belonging and create lasting memories during your Idaho bachelorette party.
Hot Springs and Mineral Pools
Geothermal exploration has uncovered some of the state's most rejuvenating and relaxing spots, perfect for your bachelorette party getaway. 
With natural mineral benefits known to soothe aching muscles, detoxify the skin, and promote overall well-being, these hot springs destinations will have you and your besties feeling refreshed and revitalized in no time.
Whether you're soaking in the serene environment of Gold Fork Hot Springs or embracing the rustic ambiance at Burgdorf Hot Springs, each location offers an unforgettable experience for everyone.
And if you seek adventure, Lava Hot Springs boasts soothing mineral pools and provides thrilling activities like river tubing to satisfy your squad's adventurous spirits. 
Culinary Experiences and Nightlife
Ready to savor Idaho's culinary scene and nightlife? Discover the farm-to-table dining options, where fresh, locally sourced ingredients are enjoyed.
Then, dance the night away at local bars and clubs, immersing yourself in a lively atmosphere that will make your bachelorette party unforgettable.
Farm-to-Table Dining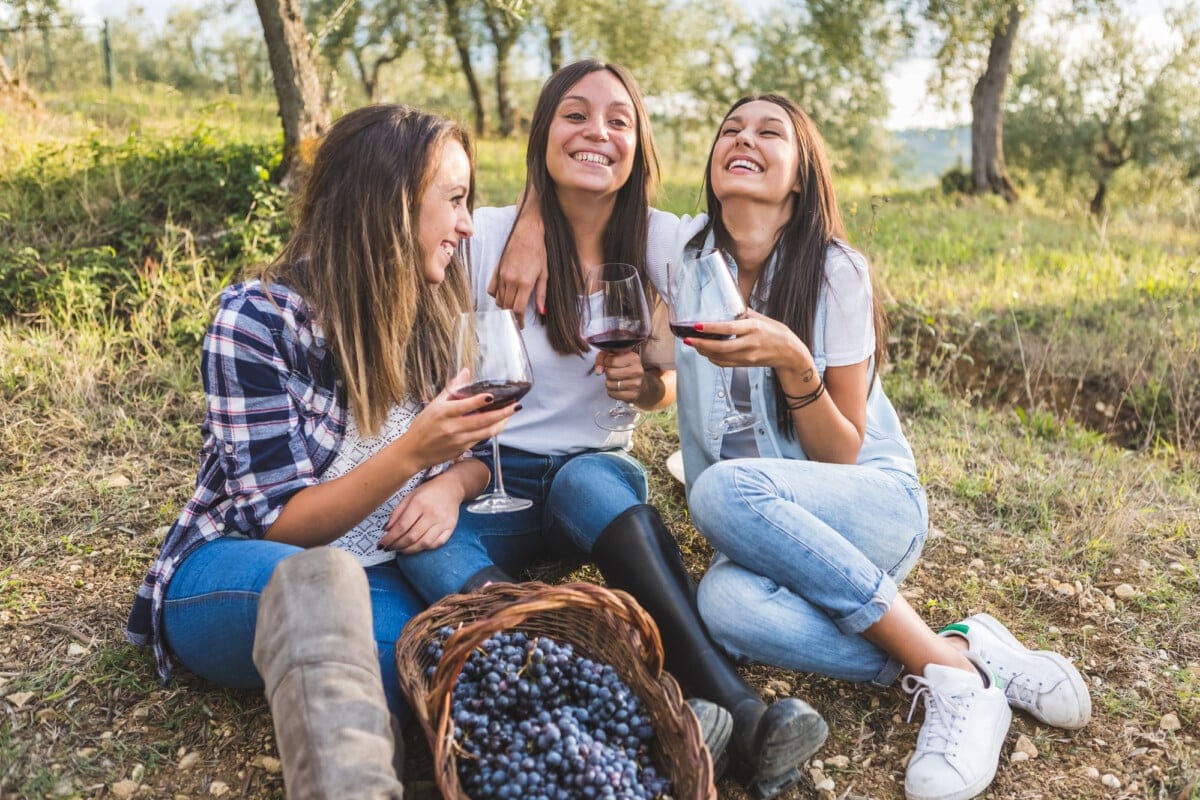 Savor the freshest flavors by treating yourselves to a farm-to-table dining experience where local ingredients shine and memories are made.
Rustic picnics in idyllic settings or Idaho cookouts featuring locally-sourced meats and produce will give your bachelorette party a unique, memorable twist.
Gather around a beautifully set the table under the open sky as you bond with your closest friends over delicious dishes prepared by talented chefs who share your passion for sustainability and community.
Explore charming farms and vineyards, where you can spend an afternoon picking fresh fruits or tasting exquisite wines before enjoying a meal that highlights the region's culinary treasures.
You'll satisfy your taste buds and support local farmers and artisans while fostering connections with those around you.
Your bachelorette party will be remembered as an unforgettable celebration of friendship, good food, and the simple pleasures that come from truly connecting – all against the stunning backdrop of Idaho's natural beauty.
Dance the Night Away at Local Bars and Clubs
Let loose and embrace the vibrant nightlife as you and your squad hit up local bars and clubs, dancing your hearts out till the wee hours of the morning.
Idaho offers various dance-themed venues catering to different music tastes and styles, so there's something for everyone to enjoy.
If you're feeling adventurous, sign up for dance classes before hitting the clubs – it's a fun way to learn some new moves while bonding with your besties.
Options include salsa or bachata lessons at local Latin dance studios and country line dancing sessions at popular country bars.
For unique party experiences, try silent discos where each person wears headphones playing their choice of music; watch as everyone dances in sync or wildly offbeat!
From traditional nightclubs with live DJs spinning the latest hits to unique experiences like silent discos, Idaho's nightlife scene has plenty of options for an unforgettable bachelorette party.
Art and Cultural Activities
Dive into a world of creativity and culture with your best gals, exploring the vibrant art scene waiting to be discovered!
From pottery workshops to museum tours, Idaho offers plenty of unique and engaging experiences for an unforgettable bachelorette party.
Try crafting beautiful ceramics alongside your friends in a cozy studio, or take a guided tour through local museums, marveling at the diverse collections of artwork and historical artifacts.
Pottery workshops are perfect for bonding with your fellow bridesmaids while creating one-of-a-kind keepsakes to commemorate the special occasion.
You'll learn new skills together while expressing yourselves artistically, all under the expert guidance of friendly instructors.
On the other hand, if you're more interested in appreciating art than creating it yourself, museum tours offer an immersive experience of Idaho's rich cultural heritage.
Discover everything from ancient Native American artifacts to contemporary masterpieces as you stroll through these captivating institutions with your closest friends.
No matter your path, you'll be sure to leave feeling inspired and connected on this once-in-a-lifetime bachelorette adventure!
Final Thoughts
So, you thought Idaho was just about potatoes? Well, think again! It turns out that this underappreciated gem has all the ingredients for an unforgettable bachelorette party.
From wine tasting to outdoor adventures and everything in between, there's no shortage of ways to celebrate your last hurrah as a single lady.
So give Idaho a chance – it might just surprise you with the time of your life!