Your closest gal pal is about to tie the knot, and you've been handed the honored (and slightly intimidating) task of planning the ultimate bachelorette party.
The pressure to create the perfect send-off into married life is on, and there's a world of possibilities. But fear not, party planner, because we have your back!
Welcome to our 'Ultimate Guide to Bachelorette Party Ideas in the US' where we've curated a list of sensational, memory-making experiences from coast to coast.
From vibrant Vegas shenanigans to tranquil spa retreats in the Rockies to wine tasting in the romantic vineyards of Napa Valley, I've got it all covered. 
Choosing the Ideal Destination
Big City Celebrations
If the bride-to-be loves the excitement and energy of a big city, consider destinations like:
Las Vegas: The crown jewel of bachelorette parties offering world-class nightlife, extravagant pool parties, and a vibrant atmosphere.
New York City is an iconic destination with countless entertainment, dining, and shopping options.
Los Angeles: Full of Hollywood glamour, fashionable venues, and trendy beachside cities like Santa Barbara.
Miami: Famous for its vibrant nightclubs, boutique hotels, and beautiful beaches.
Beach Getaways
For a more relaxing, sun-soaked experience, check out these beach destinations:
Palm Springs: This California hotspot is perfect for poolside relaxation, luxurious spa treatments, and leisurely shopping.
The Hamptons: A posh beach getaway known for its picturesque towns, high-end shopping, and beautiful beach homes.
Scottsdale: In Arizona, Scottsdale offers all-day pool parties, luxury hotels, and outdoor activities like hiking.
Country-Themed Escapes
If a more laid-back, country atmosphere is preferred, consider these locations:
Nashville: The heart of country music, offers live music, Southern hospitality, and a thriving bar scene.
Napa Valley: A beautiful destination for wine lovers featuring countless wineries, gourmet dining, and scenic views.
Unique Destinations
For something truly one-of-a-kind, consider these options:
Aspen: This ski resort town offers year-round outdoor activities, luxurious accommodations, and a charming village atmosphere.
Orlando: Encompassing a variety of theme parks and family-friendly attractions, Orlando is great for brides who want to embrace their inner child.
Planning the Perfect Party
Budgeting and Logistics
To plan an unforgettable bachelorette party, set a budget and consider the logistics. Discuss with the bride and bridesmaids to decide on a shared budget, location, transportation, and accommodation options.
Consider destination costs, travel expenses, and activity prices
Make reservations for lodging and activities in advance
Creating the Guest List
When building the guest list, consult the bride and consider these points:
Include close friends, family, maid of honor, bridesmaids
Keep the group manageable for ease of planning and logistics
Remember to respect the bride's wishes on the guest list
Curating the Itinerary
A well-planned itinerary is essential for a memorable bachelorette party. Here are a few ideas to keep in mind:
Schedule downtime for relaxation and getting ready
Include a mix of activities like pool parties, sightseeing, and group dinners
Consider adding music-related activities for a fun twist, e.g., country music shows on Music Row
Incorporate local experiences to enhance the party, such as southern hospitality in a Nashville setting
Setting the Party Theme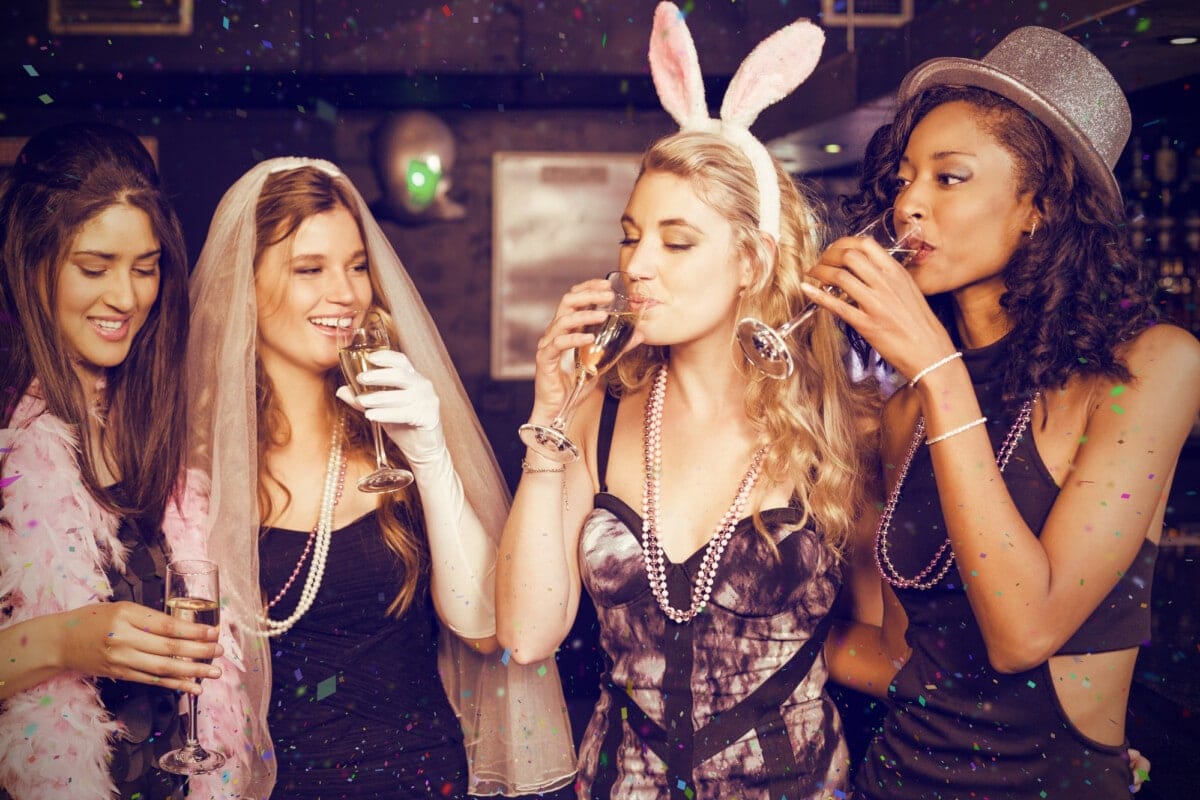 Choosing a fun and playful theme for the bachelorette party can make it even more memorable. Consider these ideas:
Select a theme that represents the bride's personality and interests
Coordinate outfits or decorations around the chosen theme
Incorporate the theme into activities, games, and party favors
Host and Etiquette Tips
As the host, keep these etiquette tips in mind to ensure a smooth and fun experience for all attendees:
Communicate frequently with guests through a group chat
Provide clear information regarding dates, times, and locations
Delegate tasks to bridesmaids if necessary
Be mindful of the bride's preferences
Encourage guests to have fun and respect the party dynamics
By incorporating these elements into your planning process, you'll create a bachelorette party experience that's fun, personal, and memorable for the bride and her besties.
Fun Activities and Ideas
Outdoor Adventures
For brides-to-be who love adventure, consider planning some exciting outdoor activities for the bachelorette party. Some ideas include:
Beach day: Organize a picnic and enjoy soaking up the sun at a beautiful beach.
Road trip: Plan a trip to visit national parks, scenic spots, or nearby attractions.
Hiking: Lace up your hiking boots and explore nature trails with stunning views.
Wine Tasting and Nightlife
To experience a more glamorous bachelorette party, explore the options of wine tastings, breweries, and nightlife:
Winery: Visit a local winery for guided tours and wine sampling.
Rooftop bars: Enjoy cocktails and live music at a rooftop bar with stunning city views.
Breweries: Tour well-known breweries for craft beer tastings and a relaxed atmosphere.
Shopping and Pampering
For a day of retail therapy and relaxation, consider these bachelorette party activities:
Shopping spree: Hit up boutiques, outlets, or malls for a day of fashion and fun.
Spa day: Schedule a group spa day for massages, facials, and relaxation.
Makeup & makeover: Treat the bride and her friends to a professional makeup session and makeovers.
Art and Culture Experiences
Celebrate the bride-to-be's love for art and culture with these unique experiences:
Gallery hopping: Stroll through art galleries, discovering local artists and their creations.
Creative classes: Sign up for a group painting, pottery, or photography workshop.
Food tours: Embark on a culinary journey, tasting local cuisines and learning about the area's food traditions.
Group Games and Entertainment
A bachelorette party wouldn't be complete without some laughter and bonding activities:
Board games: Gather for a night, from strategy to laughter-inducing options.
DIY scavenger hunt: Create a scavenger hunt tailored to the bride's interests and hobbies.
Fun group games: Play classics like beer pong or try out newer trends like an escape room.
Remember to cater the activities and experiences to the bride's interests, making the bachelorette party a memorable celebration.
Accommodations and Travel
When planning a bachelorette party, finding the right accommodation is essential for the bride-to-be and her friends.
This next section will discuss various options such as Airbnb and vacation rentals, hotels and resorts, and budget stays while highlighting group savings tips.
Air BnBs and Vacation Rentals
Airbnbs and vacation rentals like VRBO are great options for bachelorette parties, as they often provide a more intimate and personalized lodging experience.
Whether you're looking for a beach house or a chic city apartment, these platforms offer a wide range of properties to suit your needs.
Here are some advantages to choosing an Airbnb or vacation rental for your bachelorette party:
Spacious accommodations for larger groups
Flexibility to customize your stay
Access to full amenities like kitchens and private pools
Potential cost savings when splitting the bill among attendees
Hotels and Resorts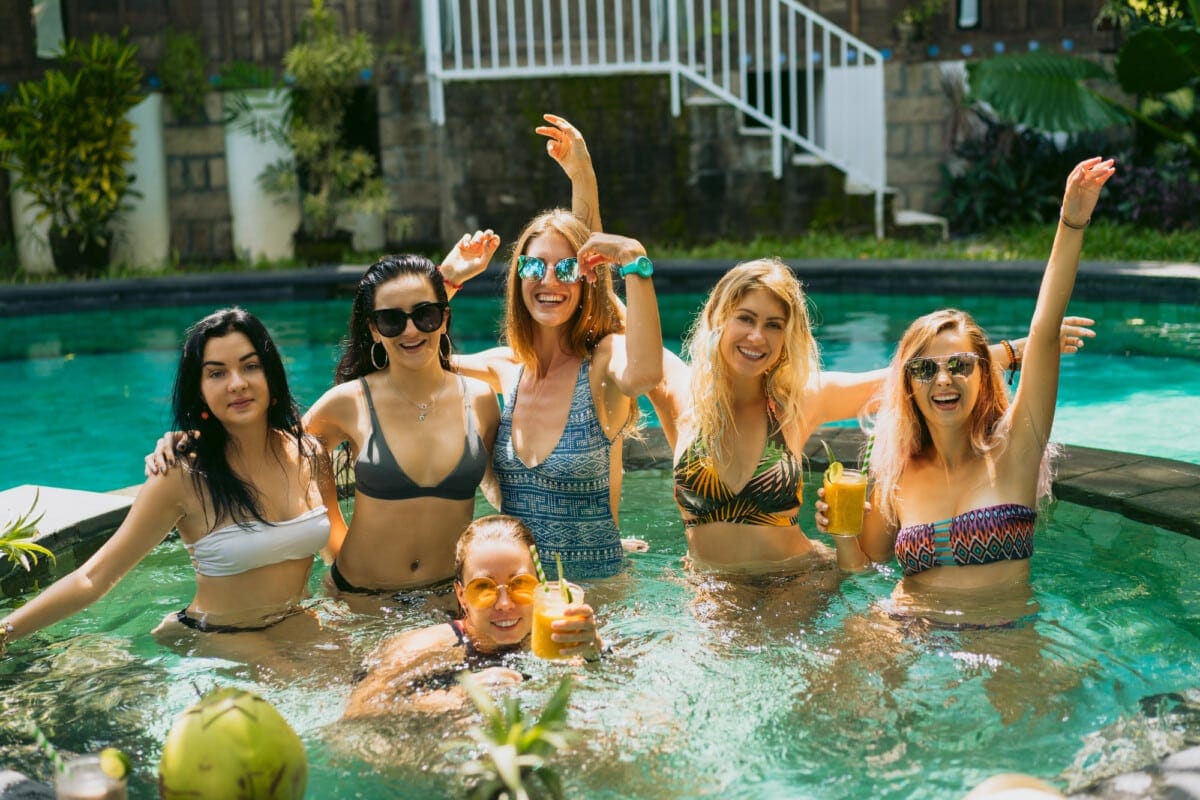 Hotels and resorts are the way to go for those who crave luxury and convenience.
From beach clubs with picturesque views to upscale hotels with chic cocktail bars, these accommodations offer a variety of amenities and services for your bachelorette party.
Some popular resort destinations for bachelorette parties include the Ritz-Carlton Central Park in New York, 1 Hotel South Beach in Miami, and the luxurious spas in Calistoga in the Napa Valley.
Benefits of staying in hotels and resorts include:
Access to on-site dining, bars, and nightlife
Exclusive perks like spa treatments and fitness centers
Convenient location to popular attractions and activities
Dedicated staff to assist with your party needs
Budget Stays and Group Savings
If you're working with a limited budget, fear not, as there are still plenty of options available for your bachelorette party accommodations.
Consider the following tips for finding budget-friendly stays and maximizing group savings:
Search for deals on travel booking sites like Expedia or Booking.com
Look for group discounts in hotels and vacation rentals
Consider splitting one large accommodation instead of booking multiple rooms
Travel during off-peak seasons to score lower rates on lodging
Party Attire, Decor, and Favors
Choosing the Perfect Outfits
When it comes to bachelorette party outfits, comfort, and style are key. As the bride-to-be celebrates her transition into married life, she must feel good about what she's wearing.
Coordinating with the bridesmaids can create a sense of unity and festivity. Here are a few ideas:
Theme-based attire: Choose outfits based on a specific theme, such as "80s Glam," "Boho Chic," or "All-White Everything."
Matching accessories: Opt for matching headbands, sashes, or T-shirts featuring fun quotes or the bride's name.
Dress code: If the event involves dressing up, consider providing a dress code to help guests prepare their outfits.
Creating a Party Atmosphere
The atmosphere can make or break a bachelorette bash. Everything from the décor to the playlist should contribute to an unforgettable experience. Consider the following:
Décor: Choose decorations that reflect the party's theme or the bride's favorite colors. Some popular decoration ideas include metallic stamped napkins, banners, balloons, and photo booth props.
Lighting: Set the mood with soft, warm, funky-colored lights, depending on the party's vibe.
Playlist: Curate a music selection that keeps guests entertained and dancing all night. Include the bride's favorite tunes, as well as popular dance hits.
Gifts for the Bride and Guests
A bachelorette party isn't complete without gifts for the bride and her guests. Here are some ideas to consider:
| For the Bride | For the Guests |
| --- | --- |
| Personalized keepsake items | Customized party favor bags |
| Lingerie | Mini hangover recovery kits |
| Gift cards for spa treatments | Beach or poolside preparedness kits |
| Wedding day emergency kit | Personalized drinkware |
Celebrate in Style
Creating a Fun Playlist
Kick off the celebration with a playlist that features the bride-to-be's favorite tunes. Put together a mix of old and new songs that will resonate with everyone in the group, and don't forget to add the usual party hits.
A great soundtrack sets the mood and brings your favorite ladies together for a memorable bachelorette party.
Signature Cocktails and Mocktails
An ultimate bachelorette party should always have fun, festive drinks.
Design a selection of signature cocktails and mocktails for the guests to enjoy throughout the celebration, including classics like mimosas and tequila cocktails. Here are some ideas:
Mimosas: A classic choice for brunch, mix orange juice and sparkling wine for a light and refreshing drink.
Tequila Cocktails: Mix tequila with lime juice, triple sec, and a splash of soda for a zesty beverage.
Mocktails: Create a fruity and vibrant drink using fruit juices and sparkling water garnished with fresh fruit.
Don't forget to enhance the experience with stylish bachelorette decor, such as personalized drink stirrers, chic glassware, and custom cocktail napkins.
Memorable Party Photos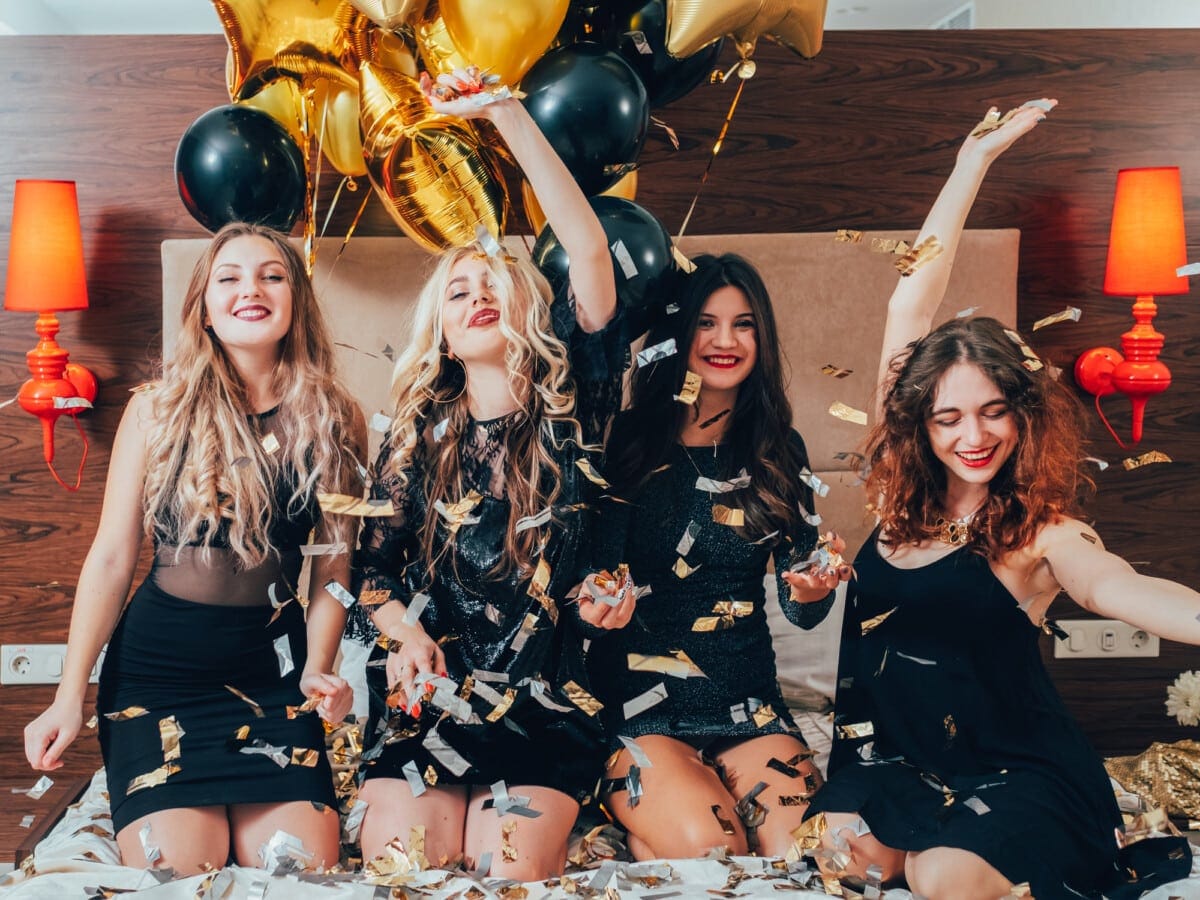 Capture the fun moments and memories at your bachelorette party through photographs.
Take plenty of pictures, whether you opt for a low-key dinner, a full-blown destination weekend, or a small group slumber party. Here are some ideas for memorable photo opportunities:
Themed Photoshoot: Coordinate outfits or accessories to match the party's theme and arrange a photo shoot at a picturesque location.
Candid Snaps: Encourage guests to take candid shots of the night's festivities with their cameras or smartphones.
Photo Props: Provide bachelorette-themed photo props, such as funny glasses, tiaras, and signs, for an entertaining photoshoot.
Incorporating these elements into your bachelorette party will create a fun-filled and stylish event that the bride-to-be and her guests will always remember.
Final Thoughts
Planning the ultimate bachelorette party is an exciting and rewarding task. By following this comprehensive guide, you can create an unforgettable experience that caters to the bride's tastes, budget, and dreams.
Whether you choose a big city celebration, a beach getaway, a country-themed escape, or a unique destination, there are endless possibilities for creating lasting memories.
Remember to carefully consider the logistics and budget and involve the bride and bridesmaids in decision-making.
Curate an itinerary that includes a mix of activities, downtime, and local experiences to enhance the party. 
Select a fun and playful theme that reflects the bride's personality and interests, and coordinate the attire, decor, and favors accordingly.