Welcome to the ultimate guide to crafting an unforgettable bachelorette party in the heart of the Midwest – Indiana.
Brimming with Midwestern charm, vibrant nightlife, thrilling adventures, and tranquil hideaways, Indiana promises a diverse and delightful range of experiences for every bride-to-be and her tribe.
In this beautiful blend of rural and urban landscapes, we've curated a wide array of bachelorette party ideas.
Imagine cruising along the Indiana Wine Trail, exploring the buzzing nightlife of Indianapolis, unwinding in the peaceful ambiance of Brown County, embarking on exhilarating water adventures on Lake Michigan, or even stepping back in time in Amish country. 
Whether you're a thrill-seeker, a party animal, a nature enthusiast, or a lover of all things tranquil and relaxing, Indiana offers many ways to celebrate your upcoming nuptials.
Get ready to dive headfirst into the planning process with this treasure trove of unique, fun, and memorable bachelorette party ideas that are quintessentially Indiana.
Gather your squad, grab your party gear, and let's kickstart this exciting journey through the heartland of America.
Here's to an unforgettable last fling before the ring in the Hoosier State!
1. Explore Indianapolis Nightlife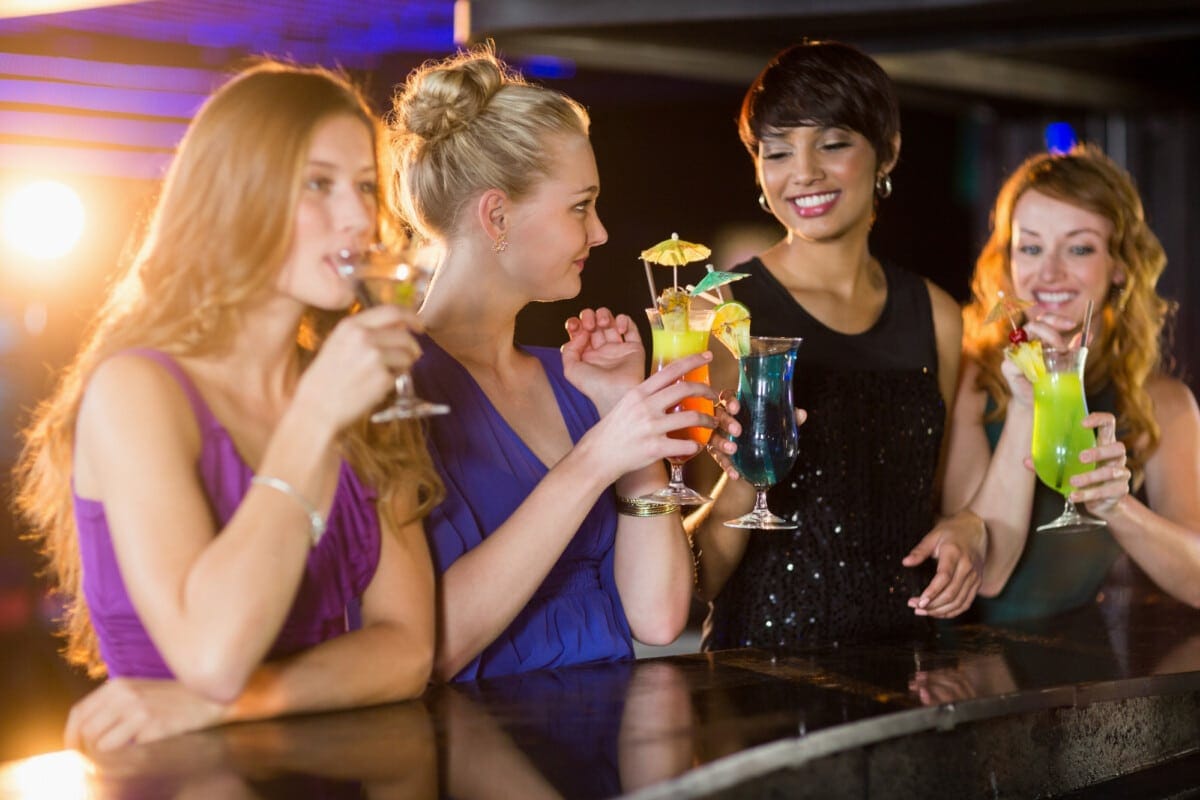 You can't miss out on the vibrant nightlife of Indianapolis, offering an array of bars, clubs, and entertainment venues to make your celebration unforgettable.
Dive into the heart of Indy's bar-hopping scene by starting your night at the chic Ball & Biscuit or TikiTiki Lounge for unique cocktails with your squad.
Then head to Mass Ave or Broad Ripple Village, where you'll find an eclectic mix of live music venues, buzzing pubs, and trendy wine bars.
Don't forget to snap group selfies while exploring these lively streets with fellow revelers seeking a good time.
For a more energetic experience, embark on a dance club exploration that will have you and your besties grooving all night long.
Check out Revel Nightclub & Lounge or The Vogue for pulsating beats spun by talented DJs in an electrifying atmosphere.
Or if Latin rhythms are more your style, visit The Jazz Kitchen or El Meson De Margarita's Cantina Bar for some sultry salsa dancing.
So gather up your crew and prepare to paint the town red while creating lasting memories during this phenomenal bachelorette party adventure in Indiana!
2. Relax at a Luxury Spa Retreat
Imagine unwinding with your best friends at a luxurious spa retreat, sipping champagne and indulging in soothing treatments that'll melt away all the wedding planning stress.
Indiana offers an array of top-notch spas where you can enjoy some much-needed relaxation before the big day.
Picture yourself being pampered at West Baden Springs Hotel's Spa, located within French Lick Resort – a stunning historic locale that has been a favorite among celebrities and royalty for over 100 years.
Here, you'll be spoiled with rejuvenating treatments like rejuvenating facials, hot stone massages or even their signature 'Serenity' package which combines aromatic body polish, hydrating wrap, and aromatherapy massage.
Another fabulous option is the Woodhouse Day Spa in Carmel, north of Indianapolis.
This award-winning spa boasts over 70 different spa pampering options, ensuring each member of your bachelorette party will find something to suit their needs perfectly.
From invigorating Vichy shower rituals to calming lavender pedicures and everything in between – there's no better way to celebrate sisterhood than by treating yourselves to some well-deserved TLC.
So gather your bride tribe and head to one of these amazing Indiana spas for an unforgettable bachelorette experience filled with laughter, connection, and pure bliss!
3. Plan a Glamping Getaway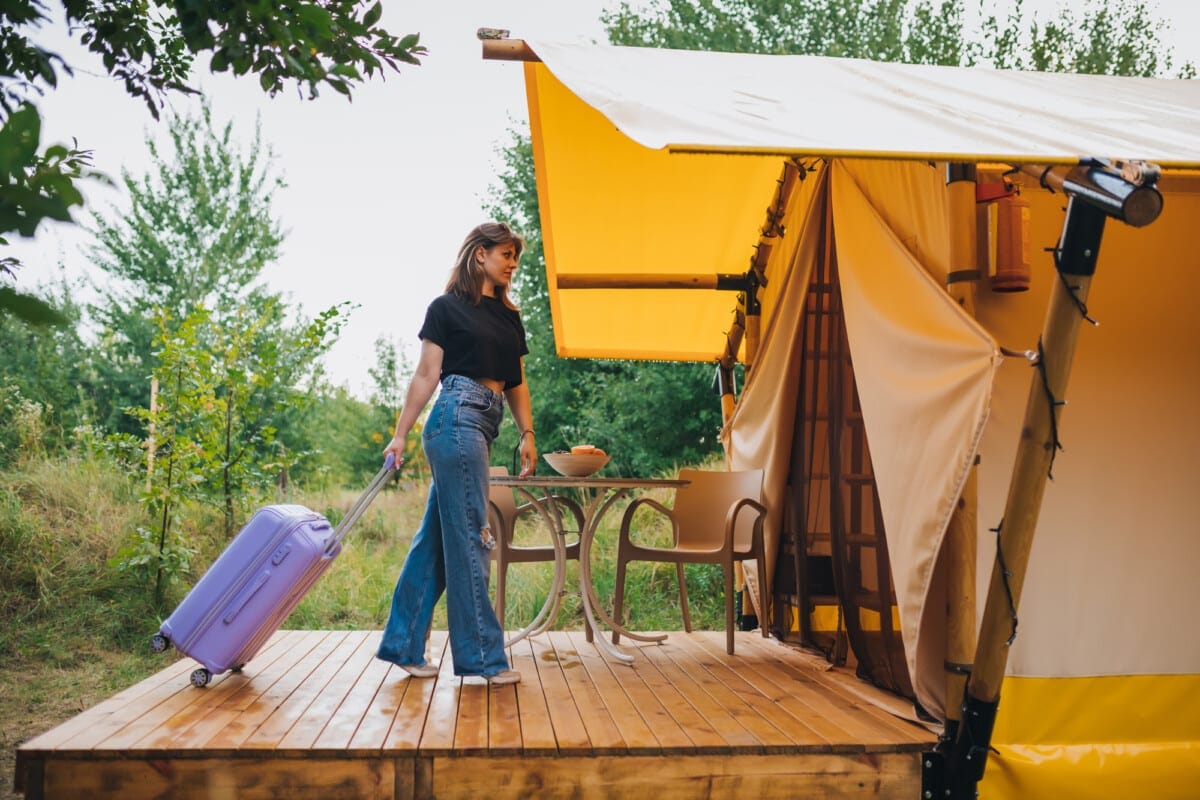 Get ready to plan an unforgettable glamping getaway in Indiana!
Choose a unique accommodation, such as a luxury treehouse or a cozy yurt, and immerse yourself in the great outdoors. Enjoy exciting activities like hiking, kayaking, or stargazing.
Don't forget to soak in the beauty of Indiana's natural scenery. 
From the rolling hills of Brown County to the peaceful shores of Lake Michigan, there's something for every nature lover to enjoy.
4. Choose a Unique Accommodation
Unleash your inner wild child by nestling into a cozy treehouse or embracing the charm of a vintage-inspired glamping tent, symbolizing an escape from the mundane and a taste of adventure.
Indiana offers a plethora of unique lodgings and creative accommodations that cater to those seeking an unconventional bachelorette party experience.
From rustic cabins in the woods to luxurious yurts overlooking picturesque landscapes, you and your bridesmaids can create unforgettable memories while bonding in these extraordinary settings.
Kokomo Treehouse: Located just outside of Kokomo, this enchanting treehouse offers all the comforts of home with the added allure of being nestled among nature's beauty.
The Serenity Springs Cabins: Tucked away in La Porte County, these romantic cabins feature fireplaces, hot tubs, and private gazebos – perfect for a cozy girls' weekend.
Tryon Farm's Yurt: This luxurious yurt in Michigan City provides modern amenities like heated floors and stunning views of Tryon Farm's lovely meadows.
Fort Wayne Vintage Glamping Tent: Indulge yourselves in this beautifully decorated tent near Fort Wayne that includes plush beds, chandeliers, and access to outdoor activities such as hiking trails and canoeing.
By choosing one (or more) of these distinctive lodging options for your Indiana bachelorette party getaway, you will satisfy your desires for adventure and belonging and create lasting memories that'll stay with you long after you say 'I do.'
5. Enjoy Outdoor Activities and Adventures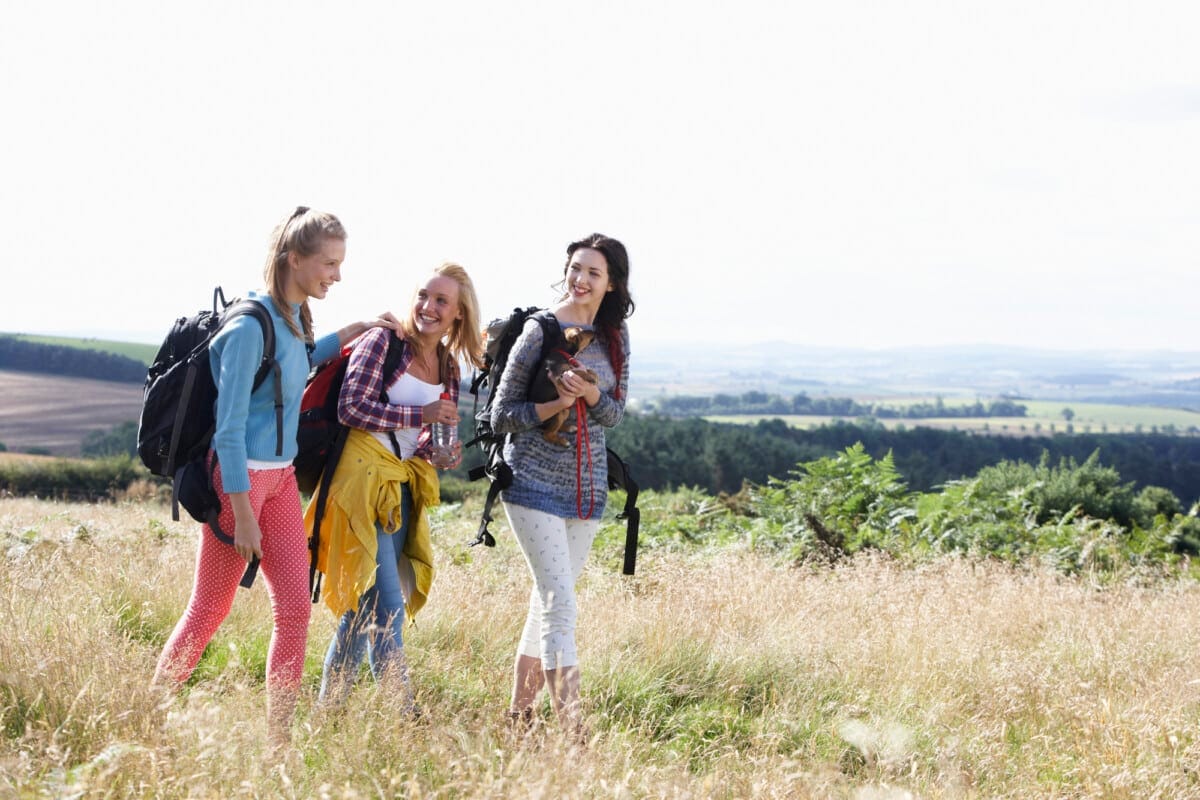 Embrace the thrill of nature's playground by partaking in exhilarating outdoor activities and adventures with your best gal pals during your unique getaway.
Indiana offers many exciting escapades, perfect for creating unforgettable memories with your bride tribe.
Challenge yourselves with an outdoor scavenger hunt through the lush forests and trails at Turkey Run or Shades State Parks.
You'll explore hidden caves, traverse breathtaking suspension bridges, and uncover this midwestern gem's natural beauty.
Take bonding to the next level by participating in an adventure race like no other – canoeing down Sugar Creek or zip-lining through the treetops at Eagle Creek Park.
This adrenaline-pumping experience will bring out everyone's competitive spirit while forging stronger connections within your sisterhood.
Alongside cheering each other on as you tackle thrilling obstacles, don't forget to take a moment to savor Indiana's picturesque landscapes and serene surroundings before celebrating your victories together around a campfire under the starlit sky.
No matter which adventure you choose, these shared experiences will undoubtedly solidify lifelong friendships and make for one epic bachelorette party!
6. Experience the Beauty of Indiana's Natural Scenery
Immerse yourselves in the stunning beauty of Indiana's natural scenery, where picturesque landscapes and tranquil settings create a perfect backdrop for memorable moments with your besties.
The breathtaking views and serene environment are the ultimate setting for bonding, laughter, and unforgettable memories.
As you embark on scenic hikes or capture nature photography that will last a lifetime, you'll experience the beauty of Indiana's natural scenery in a way that will leave you feeling refreshed and rejuvenated.
To truly experience the beauty of Indiana's natural scenery during your bachelorette party, consider exploring these five must-visit spots:
Turkey Run State Park: Hike through sandstone ravines and lush forests while admiring cascading waterfalls and crossing rustic wooden bridges.
Brown County State Park: Known as the 'Little Smokies,' this park offers over 70 miles of trails for hiking, horseback riding, and mountain biking amidst stunning fall foliage.
Clifty Falls State Park: Discover hidden waterfalls, rugged cliffs, and winding creeks as you trek through dense woodlands.
Indiana Dunes National Park: Stroll along sandy beaches or hike through dunes while taking panoramic views of Lake Michigan's shoreline.
Spring Mill State Park: Explore caves by boat tour at Twin Caves or take a leisurely walk around Spring Mill Lake surrounded by rolling hills and diverse flora.
Whether you're seeking adventure-filled hikes or simply want to soak in the natural beauty with your closest friends, Indiana's breathtaking landscapes will surely provide an unforgettable bachelorette party experience.
7. Take a Culinary Tour
Can't decide on a single restaurant for the big night?
Why not tantalize your taste buds with a culinary tour that'll leave you craving more?
Indiana is home to some delectable delights, and there's no better way to celebrate your bachelorette party than by indulging in its diverse food scene.
Picture this: You and your best friends embark on a foodie scavenger hunt through the city, discovering hidden gems while sampling mouthwatering dishes from local eateries.
Or perhaps you'd prefer to take things up a notch with culinary classes, where you can learn new skills and create delicious masterpieces together.
One great option for a culinary tour is in the vibrant city of Indianapolis, where you can find everything from farm-to-table cuisine to international delights.
Start at the historic City Market, where you can taste artisanal cheeses and charcuterie, before heading to Fountain Square for authentic Mexican treats.
Continue exploring Broad Ripple's thriving food scene or visit one of Indy's craft breweries for a refreshing pint.
Throughout your adventure, don't forget to snap photos, share laughs, and create lasting memories as you bond over the shared love of good food – making this bachelorette party an unforgettable experience steeped in Indiana flavor!
Final Thoughts
So, you've danced the night away in Indy's vibrant scene and treated your senses to a symphony of flavors on a culinary tour.
Indiana has truly rolled out the red carpet for your bachelorette bash, leaving no stone unturned.
Now it's time to raise a glass to friendship and new beginnings as you embark on this life journey.
After all, memories made in the Hoosier State are like diamonds – precious and everlasting!