Get ready to dive into an exciting journey through the diverse landscape of the Buckeye State as we curate a spectacular bachelorette party guaranteed to make headlines.
Known for its rich blend of urban sophistication, pastoral beauty, and Midwestern charm, Ohio is an unexpected treasure trove of unique bachelorette party possibilities.
Ohio's unique blend of pulsing city life, serene rural settings, and natural wonders makes it a veritable playground for an unforgettable bachelorette party.
Imagine unwinding in luxury spa retreats nestled in the heart of Amish Country, dancing the night away in Cleveland's energetic music scene, exploring the serene landscapes of Hocking Hills, attending exclusive art workshops in Columbus, or tantalizing your taste buds on a gastronomic tour of Cincinnati's best eateries.
Whether you're a high-energy party seeker, a relaxation maven, a nature lover, or a cosmopolitan city girl, Ohio has something to offer every bride-to-be and her squad.
So, fasten your party tiaras, gather your streamers, and let's begin this exploration of the thrilling, laughter-inducing, and sometimes the unexpected world of bachelorette party planning in Ohio.
Prepare for a celebration that will become the gold standard for all parties!
1. Columbus Nightlife Experience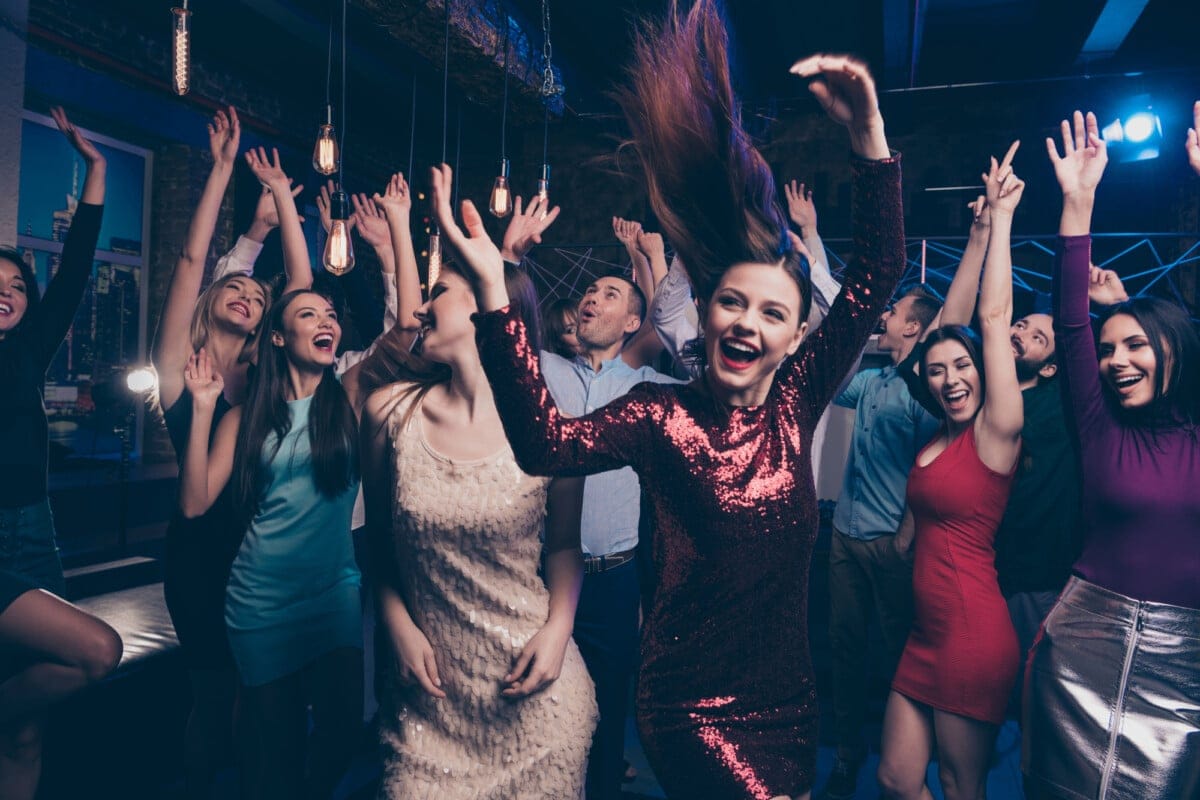 You'll love exploring Columbus' vibrant nightlife, filled with trendy bars, pulsing dance clubs, and cozy pubs that offer the perfect backdrop for a memorable evening.
Start your night with some laughs at one of the many Columbus comedy clubs, like the Funny Bone or Shadowbox Live.
Then, amp up the excitement by embarking on a downtown scavenger hunt for an unforgettable adventure that will bring you closer together while discovering hidden gems in the city.
As the night goes on, hit up some popular spots like Park Street Cantina or Brothers Drake Meadery to enjoy unique cocktails and live music.
Dance your heart out at places like Dahlia Nightclub or Skully's Music-Diner where you can groove to different beats while creating memories that will last a lifetime.
No matter where you go in Columbus, you and your crew will feel welcome and connected as you celebrate this special occasion.
2. Wine Tasting Tours
Indulge in a delightful wine-tasting tour with your best friends, exploring various vineyards and sipping exquisite local wines.
Ohio has numerous wineries that provide the perfect setting for a memorable bachelorette party.
Enjoy strolling through lush vineyards and sharing laughter with your closest friends as you taste the unique flavors of each region's terroir.
Many wineries offer additional activities, such as vineyard picnics and winery games, to create an unforgettable experience for you and your guests.
Some exciting options for wine-tasting tours in Ohio include:
Gervasi Vineyard: A picturesque Tuscan-inspired estate offering romantic vineyard picnics and an elegant tasting room.
Valley Vineyards: Known for their fun-filled winery games, this family-owned establishment guarantees endless entertainment alongside delicious wines.
The Winery at Wolf Creek: With stunning views of the surrounding countryside, this winery offers a serene atmosphere to enjoy tastings paired perfectly with gourmet cheeses.
Ferrante Winery & Ristorante: Experience Italian cuisine and exceptional wines in their beautiful outdoor seating area overlooking the vines.
As you embark on these wine-tasting adventures with your closest friends, remember that it's not just about the delicious libations but also about celebrating love, friendship, and belonging.
Cheers to making lasting memories during your bachelorette party!
3. Spa Retreats and Relaxation
For a truly rejuvenating experience, treat yourself and your friends to a luxurious spa retreat where you can unwind and recharge before the big day.
Ohio offers a variety of incredible spa destinations that provide soothing massages, rejuvenating facials, and other relaxing treatments to help you feel refreshed and pampered. 
Whether you're looking for a countryside escape or an urban oasis, there's something for every bride-to-be and her squad.
To help you plan the perfect spa retreat for your bachelorette party in Ohio, we've compiled a list of five fantastic locations offering top-notch services in beautiful settings.
Each one will leave you feeling renewed and ready to celebrate your upcoming nuptials with loved ones.
Whether indulging in soothing massages at The Spa at Glenmoor or experiencing the luxurious Vichy Shower massage at Marengo Luxury Spa in Cleveland, each destination provides unique experiences tailored to make your bachelorette party unforgettable.
Gather your friends for much-needed relaxation as you bond over these calming treatments and create lasting memories.
4. Outdoor Adventures in Hocking Hills
Embrace your wild side and dive into a thrilling adventure amidst the breathtaking beauty of Hocking Hills, where exhilarating experiences await you and your crew.
Gather your closest friends and embark on an unforgettable bachelorette weekend filled with zip-lining thrills, scenic hikes, and bonding moments that will leave you all feeling more connected than ever.
Feel the adrenaline rush as you soar through treetops on a zip line tour, taking in panoramic views of lush green forests and majestic rock formations while laughing in pure excitement.
Lace-up your hiking boots for a picturesque journey along winding trails that lead to enchanting waterfalls, tranquil caves, and awe-inspiring natural wonders just waiting to be discovered.
Share stories, laughter, and heart-to-heart conversations as you traverse these captivating landscapes with your besties by your side.
As the sun sets over Hocking Hills' rolling hillsides, gather around a crackling campfire under the stars to toast marshmallows for s'mores and celebrate the lifelong friendships that have brought you together for this unforgettable outdoor adventure.
5. Unique and Creative Workshops
Get ready to unleash your inner artist and gather your friends for a memorable paint-and-sip class where laughter and creativity flow like fine wine.
Or, dive into the mesmerizing world of pottery or glassblowing as you shape molten materials into stunning masterpieces.
Don't miss the chance to learn a new skill at a DIY workshop, where hands-on experiences lead to unforgettable memories and newfound passions.
5. Gather Your Friends for a Paint and Sip Class
Unleash your inner artist and bond with your closest pals over a fun-filled paint-and-sip class!
This creative experience is perfect for those looking to add a splash of color to their bachelorette party in Ohio.
With talented instructors guiding you through each step, you'll be amazed at the masterpieces you create while sipping your favorite beverages.
To make the event even more memorable, incorporate sip-themed games like 'Guess the Wine' or an artful scavenger hunt where guests search for hidden items within their paintings.
As you laugh, paint, and sip together, you'll create beautiful works of art and lasting memories with your friends.
The relaxed atmosphere encourages everyone to let loose and enjoy themselves as they explore their artistic side.
So gather your besties, pick up some brushes, and prepare for an unforgettable bachelorette party experience that will leave everyone feeling connected and inspired!
6. Try Your Hand at Pottery or Glassblowing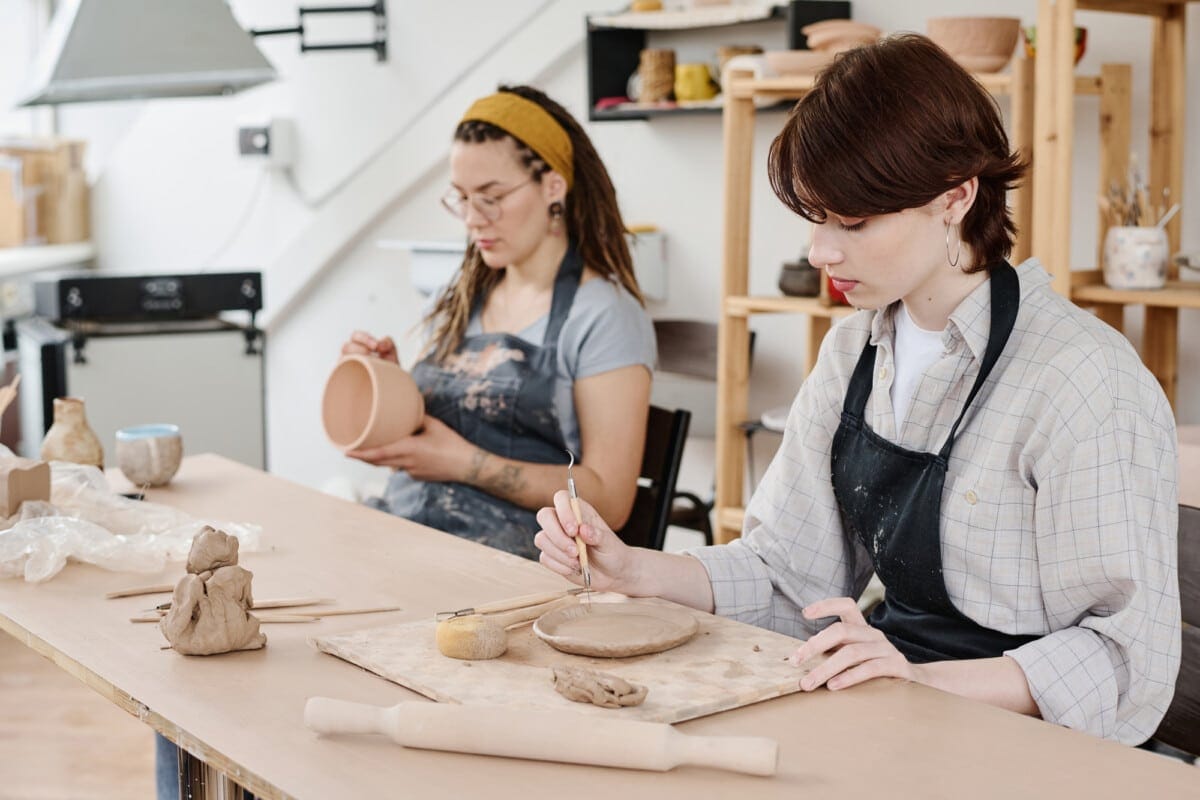 If you're looking for a unique hands-on activity, why not give pottery or glassblowing a shot?
These art forms offer an opportunity to create something beautiful while learning new skills and enjoying time with your closest friends.
Working with clay and molten glass can be incredibly therapeutic and help bring your group closer together.
To make the most of your pottery or glassblowing bachelorette party experience in Ohio, consider the following tips:
Research local studios: Look for well-reviewed pottery or glassblowing studios in your area that offer workshops tailored for groups.
Choose a theme: Pick a fun project idea that ties into the wedding theme or reflects the bride's interests.
Plan: Book your workshop well to secure spots for everyone attending.
Dress appropriately: Wear comfortable clothing that can get dirty, as both pottery techniques and glassblowing can be messy.
Capture memories: Don't forget to snap photos throughout the day to remember this one-of-a-kind experience.
You'll find yourselves bonding over shared challenges and successes as you explore and learn more about pottery techniques and glassblowing history during your bachelorette party.
Whether spinning clay on a wheel or blowing air into molten glass, these activities will surely spark laughter, conversation, and connection among friends.
By stepping outside of your comfort zones together, you'll strengthen the bonds within your group – all while creating lasting memories and keepsakes from this special occasion.
So go ahead, dive into the world of pottery or glassblowing in Ohio for an unforgettable bachelorette party!
7. Learn a New Skill at a DIY Workshop
Embrace your inner craftsperson and bond with your besties by participating in a DIY workshop that'll leave you feeling inspired and accomplished.
Ohio offers many workshops, from culinary classes to dance lessons, ensuring there's something for every member of the bachelorette party to enjoy.
Picture yourself laughing with your friends as you learn new cooking techniques or perfect your pirouette in an energetic dance class.
The shared experience will create lasting memories and deepen the bond between everyone.
Culinary classes are a fantastic way to unite your group over delicious food while learning from skilled chefs.
Whether it's mastering the art of making sushi or whipping decadent pastries, these workshops cater to all skill levels and tastes – just be prepared for plenty of taste-testing!
On the other hand, dance lessons promise to get everyone moving and grooving as you try out salsa, hip-hop, or even belly dancing under expert guidance.
As you twirl around the dance floor and share laughs along the way, you'll feel an undeniable sense of belonging among this amazing group of women who've come together to celebrate this special milestone in life.
Final Thoughts
So, there you have it – a treasure trove of bachelorette party ideas in Ohio that are as diverse as the colors in a kaleidoscope.
From adrenaline-pumping outdoor adventures to soothing spa retreats, there's something for every bride-to-be and her tribe.
Don't let the pre-wedding jitters get the best of you.
Dive into these unique and exciting experiences while creating unforgettable memories with your closest friends before you say 'I do.'