The smallest state in the U.S. is ready to deliver some of the most memorable experiences that will forever be etched in your bachelorette party lore.
Brace yourselves to discover a magical blend of cultural sophistication, coastal beauty, and cosmopolitan flair in Rhode Island, making it the ideal backdrop for a bachelorette bash.
Envision yourself and your best friends sipping on exquisite wines in a picturesque vineyard, immersing in Newport's Gilded Age glamour, exploring the vibrant food scene of Providence, or basking in the sun on the stunning Block Island beaches – Rhode Island is a treasure trove of diverse experiences.
Eager to start your journey through the 'Ocean State?'
Grab your pearls, adjust your party tiaras, and join us as we unveil the multitude of charming, exciting, and sometimes unconventional bachelorette party adventures that Rhode Island has to offer.
Get ready, ladies – this is bound to be a grand voyage of merriment and shared memories!
1. Plan a Day at the Beach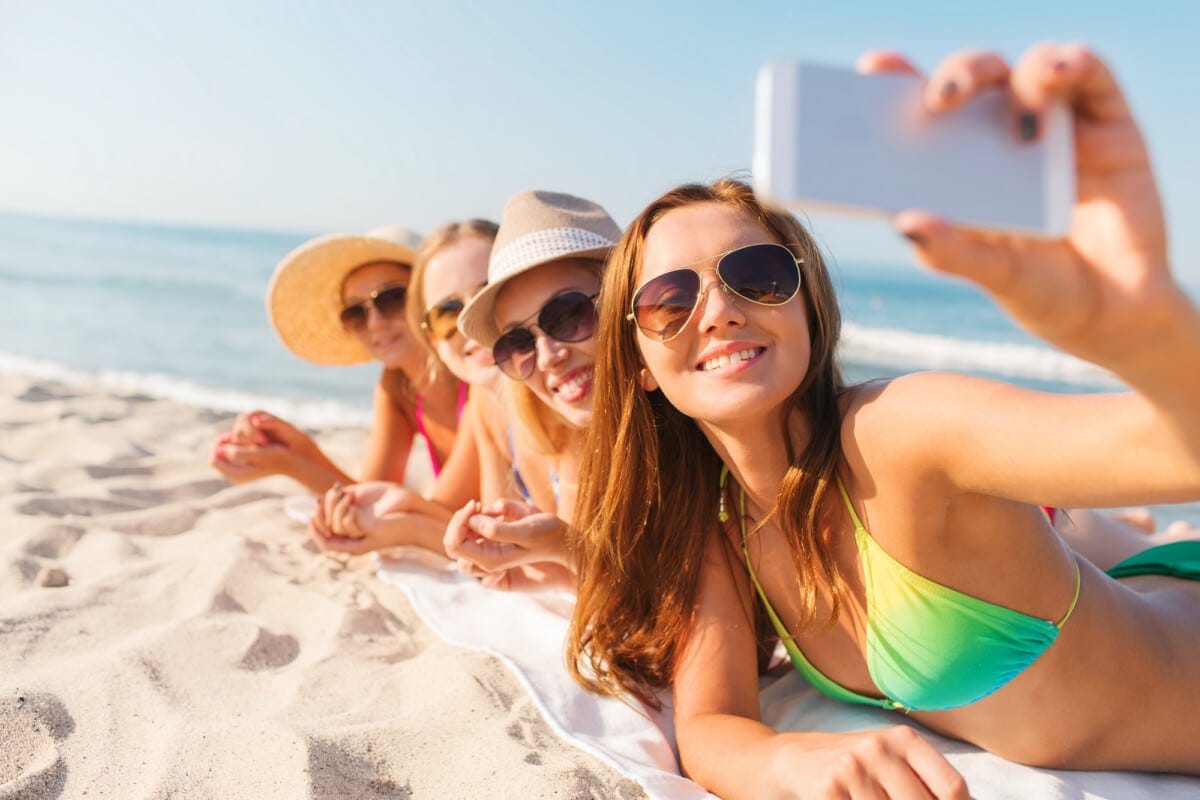 Imagine soaking up the sun, sipping cocktails, and laughing with your besties as you celebrate on a picturesque beach in the Ocean State.
Rhode Island offers countless beautiful beaches to host an unforgettable bachelorette party.
You can start by setting up a beachside picnic with delicious finger foods, refreshing drinks, and cozy blankets for everyone to lounge on.
To make it more fun and engaging for everyone involved, organize a sandcastle competition where each person can showcase their creative skills while bonding over shared memories and inside jokes.
As the day goes on, take advantage of Rhode Island's stunning coastlines by exploring nearby attractions such as lighthouses or scenic trails – perfect opportunities for group photos that will evoke feelings of belonging and create lasting memories together.
Don't forget to wind down your beach day by watching the breathtaking sunset while reminiscing about past adventures and anticipating new ones in this exciting chapter of life.
So gather your closest friends, and start planning an extraordinary bachelorette party that will be cherished forever!
2. Indulge in a Wine-Tasting Tour
Savor the flavors of local vineyards by embarking on a delightful wine tasting tour with your closest friends.
Rhode Island offers a variety of stunning wineries and vineyards where you can indulge in sophisticated sips, share stories, and create new memories together.
Picture yourself surrounded by lush green vines, a soft breeze brushing past as you taste each unique vintage.
For an extra special touch, plan a winery picnic where you can lay out blankets, unpack delicious snacks, and toast to the bride-to-be.
Consider incorporating vineyard yoga into your itinerary to elevate your bachelorette party experience even further.
Imagine gently stretching and moving through poses amidst the peaceful scenery while breathing in the fresh air. 
This harmonious combination allows you to bond with your friends on a deeper level as you celebrate this special occasion.
Afterward, continue exploring more picturesque wineries throughout Rhode Island's beautiful landscape – filling your day with laughter, friendship, and unforgettable moments that will last a lifetime.
3. Relax with a Spa Day
Drift into a blissful state of relaxation as you and your friends indulge in a luxurious spa day, where pampering and tranquility become one enchanting experience.
Rhode Island's serene spas offer an array of rejuvenating treatments that will leave you feeling refreshed and revitalized.
From soothing facials to invigorating body scrubs, let the professional staff cater to your every need while you unwind with your besties.
Experience the healing power of massage therapy as skilled therapists work their magic on your tired muscles, melting away stress and tension with each gentle stroke.
As your bachelorette party indulges in a world-class spa experience, create deeper connections with those who matter most to you.
Share laughter over glasses of refreshing cucumber water or detoxifying herbal tea as you gather in plush robes between spa treatments.
Discover new skincare secrets together as expert estheticians recommend personalized products for each member of your group.
In this haven of peace and serenity, watch friendships grow stronger while memories are made that will last a lifetime.
After all, there's no better way to celebrate sisterhood than by treating yourselves like royalty at a luxurious Rhode Island spa retreat!
4. Set Sail on a Yacht Cruise
You'll love setting sail on a yacht cruise with your best gals, as it offers the perfect blend of adventure, relaxation, and bonding.
Imagine cruising along the picturesque Rhode Island coast, feeling the gentle sea breeze on your face while sipping champagne and laughing with your closest friends.
To make this experience even more memorable, add some fun bachelorette-themed yacht decorations like nautical banners or personalized floaties that'll show off your bride squad pride and create amazing photo opportunities.
While on board, you can engage in exciting sailing games to keep everyone entertained—how about a scavenger hunt for hidden treasures or a friendly competition of who can tie the best sailor's knot?
As you glide through the beautiful waters surrounding Rhode Island, take advantage of this unique opportunity to explore some hidden gems only accessible by boat.
Discover secluded beaches where you can lay out under the sun or take a dip in the crystal-clear water before enjoying a delicious picnic lunch prepared by your expert crew.
Watch a breathtaking sunset as evening approaches while indulging in mouth-watering hors d'oeuvres and raising a toast to lifelong friendships.
A yacht cruise is truly an unforgettable way to celebrate your bachelorette party—and after all these fantastic experiences shared with your besties—you'll undoubtedly cherish these memories for years to come!
5. Experience the Vibrant Nightlife
Get ready to experience the vibrant nightlife of Rhode Island!
Kick off your night by bar hopping through Providence's eclectic mix of pubs, clubs, and lounges.
Then, keep the party going by attending a live music or comedy show.
You'll dance, laugh, and make unforgettable memories with your friends.
6. Bar Hopping in Providence
Ready to paint the town red and make unforgettable memories with your bride tribe?
Providence's bustling bar scene is the perfect canvas for a night of endless fun and adventure!
From trendy rooftop bars to cozy local pubs, this city offers an eclectic mix of hotspots that cater to everyone in your party.
Here are some must-try experiences when planning your bar hopping adventure in Providence:
Providence Breweries:
Long Live Beerworks: Known for their exciting rotating tap list, this brewery is a craft beer lover's paradise.
The Guild: With both indoor and outdoor seating options, this spacious brewery offers a variety of locally brewed beers to enjoy.
Historic Pub Crawl:
Trinity Brewhouse: Established in 1995, this iconic brewpub offers a taste of history alongside their delicious house-made brews.
The Dorrance: Housed in an old bank building, this elegant bar adds a touch of sophistication to your pub crawl experience.
As you venture from one lively spot to another, you'll immerse yourself in the electric atmosphere defining Providence nightlife.
Not only will you bond with your bride tribe over shared laughter and clinking glasses but also create stories worth retelling for years.
So raise your glass high as you toast to the bride-to-be and embark on an unforgettable journey through Rhode Island's spirited capital city. Cheers!
7. Attend a Live Music or Comedy Show
Looking for even more excitement during your Providence getaway?
Attending a live music or comedy show is the perfect way to amp up the fun and keep everyone entertained!
With various venues catering to different tastes, you're sure to find something that will make your bachelorette party unforgettable.
This lively city has everything from comedy club insights to local band discoveries.
No matter what type of entertainment you choose, attending a live music or comedy show during your Rhode Island bachelorette party will bring everyone closer together as you share memorable experiences that will last a lifetime.
So whether you're laughing out loud at hilarious jokes or dancing along to incredible tunes from talented musicians, these moments will surely become cherished memories that define your special celebration.
Final Thoughts
So, you've got some amazing bachelorette party ideas for Rhode Island. What's next?
Just wait until you hear the pièce de résistance that'll make this celebration unforgettable.
Stay tuned as we reveal how to wrap up an incredible weekend with your besties.
Trust us; it's gonna be an experience like no other, so get ready for the grand finale that'll leave everyone in awe!