Famed for its historic charm, beautiful coastline, and vibrant cities, the Palmetto State offers a diverse palette of experiences that promise to make your celebration both unique and unforgettable.
South Carolina, with its rich blend of history, culture, city life, and beachfront luxury, presents the perfect backdrop for an array of bachelorette party themes.
Imagine sun-soaked afternoons on Myrtle Beach, charming shopping sprees in Charleston, exploring the gourmet scene of Greenville, or an adventurous jaunt in the Blue Ridge Mountains, among many others. 
Whether you're a sun-kissed beach lover, a history buff, a foodie, or an outdoors enthusiast, South Carolina is ready to cater to every bride-to-be and her tribe.
Are you prepared to embark on this exciting journey?
Polish your champagne glasses, don your party tiaras, and join us as we navigate the diverse, lively, and often unexpected terrain of bachelorette party planning in South Carolina.
Hold on to your veils, ladies, this is going to be an adventure of a lifetime!
1. Beach Getaway in Hilton Head Island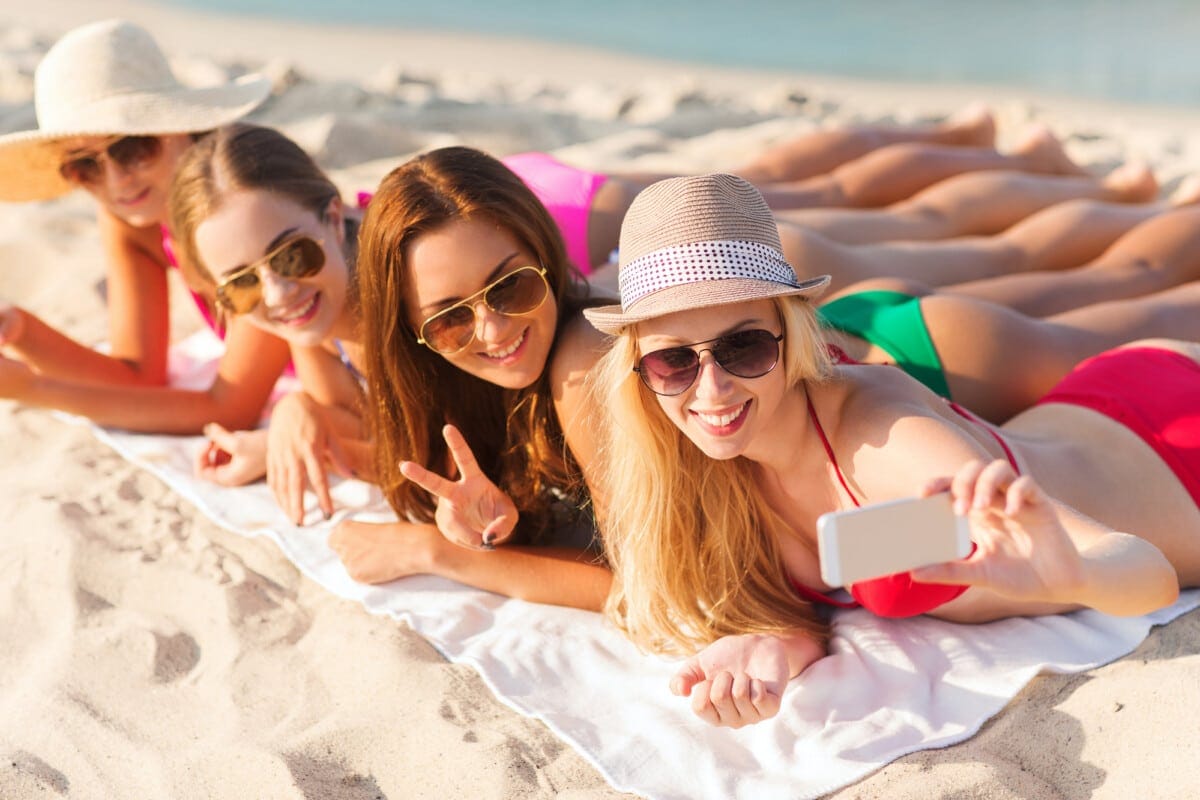 For a sun-soaked escape, you can't go wrong with Hilton Head Island – a dreamy destination perfect for celebrating with your besties.
This picturesque island offers miles of pristine beaches, lush maritime forests, and beautiful marshland for your ultimate bachelorette party getaway.
Spend your days indulging in island exploration by renting bikes or paddleboards and navigating the scenic trails and waterways that wind throughout this coastal paradise.
After working up an appetite, treat yourselves to delicious coastal cuisine at one of the many waterfront restaurants where fresh seafood is always on the menu.
As evening falls, gather your girl squad and hit the town for a night of laughter and memories you'll cherish forever.
From beach bars boasting live music to trendy lounges offering craft cocktails, there's no shortage of entertainment options where you can dance the night away or simply unwind with great conversation.
And when it's time to rest up for another day of fun-filled adventure on Hilton Head Island, retreat to one of the luxurious vacation rentals or cozy bed & breakfasts that embody southern charm and hospitality at its finest.
So pack your bags, grab your favorite ladies, and prepare for an unforgettable bachelorette experience in sunny South Carolina!
2. Charleston City Escape
You'll adore a Charleston City escape, as it's packed with stylish bars, trendy boutiques, and amazing dining experiences!
Not only will you find the perfect spots to celebrate your upcoming nuptials with your closest friends, but you'll also have the chance to explore this charming city through historic tours and ghostly encounters.
Wander down cobblestone streets while learning about Charleston's rich history or take a spooky ghost tour to experience the city's haunted side.
No matter your chosen activities, you'll feel an undeniable sense of belonging in this beautiful Southern city.
During the day, enjoy delicious brunches at popular local cafes and indulge in some retail therapy at King Street's unique boutiques.
As evening falls, gather your group for a picturesque sunset cruise on the harbor before hitting up some of Charleston's hottest nightlife spots.
With its vibrant mix of culture, history, and fun-filled adventures waiting around every corner – there truly is something for everyone in your bachelorette party squad to love about an unforgettable Charleston City escape.
3. Myrtle Beach Fun and Adventure
There's no time like the present to dive into the fun and adventure that await you in Myrtle Beach, where laughter is truly the best medicine for an unforgettable getaway.
Gather your girlfriends and embrace your inner mermaids with Oceanfront Yoga, a unique experience that combines relaxation and mindfulness while surrounded by the calming waves of the Atlantic.
After finding your zen, amp up the excitement with surf lessons from local experts who'll have you riding those waves in no time!
You'll exchange smiles, stories, and maybe even some wipeout tales as you create lasting memories together.
During your Myrtle Beach bachelorette party adventure, take full advantage of all this coastal paradise offers.
Explore Broadway at the Beach for shopping, dining, nightlife, and entertainment options galore—a perfect place to find matching outfits or souvenirs to commemorate your trip.
As day turns into night, relish in some friendly competition at Topgolf or dance under neon lights on a rooftop patio overlooking the ocean.
Your Myrtle Beach escape promises endless bonding moments that remind you why life's always better when shared with friends who become family.
4. Wine Tasting in the South Carolina Countryside
Imagine sipping on exquisite local wines amidst the picturesque South Carolina countryside, a perfect addition to your Myrtle Beach bachelorette getaway.
Vineyard exploration and winery tours offer an elegant and memorable experience for you and your best friends as you celebrate your upcoming wedding.
Take a break from the bustling beach scene and venture into the serene beauty of South Carolina's wine country.
During your wine tasting adventure, you'll have plenty of opportunities to indulge in delicious vino while bonding with your favorite ladies.
Some highlights include:
La Belle Amie Vineyard: Discover this charming family-owned vineyard that offers delightful wine tastings, live music events, and beautiful picnic areas surrounded by lush greenery.
Duplin Winery: Known for their sweet muscadine wines, enjoy a guided tour through their production facility followed by a relaxed tasting session.
Carolina Vineyards Winery: Sample over 30 wines made right here in South Carolina at this cozy boutique winery in Barefoot Landing.
Boardwalk Winery: Located within Broadway at the Beach, combine shopping with wine tastings as you explore their wide selection of fruit-infused creations.
With so much variety and charm around every corner, exploring South Carolina's wine country will surely be an unforgettable addition to your bachelorette party itinerary.
5. Luxurious Spa Weekend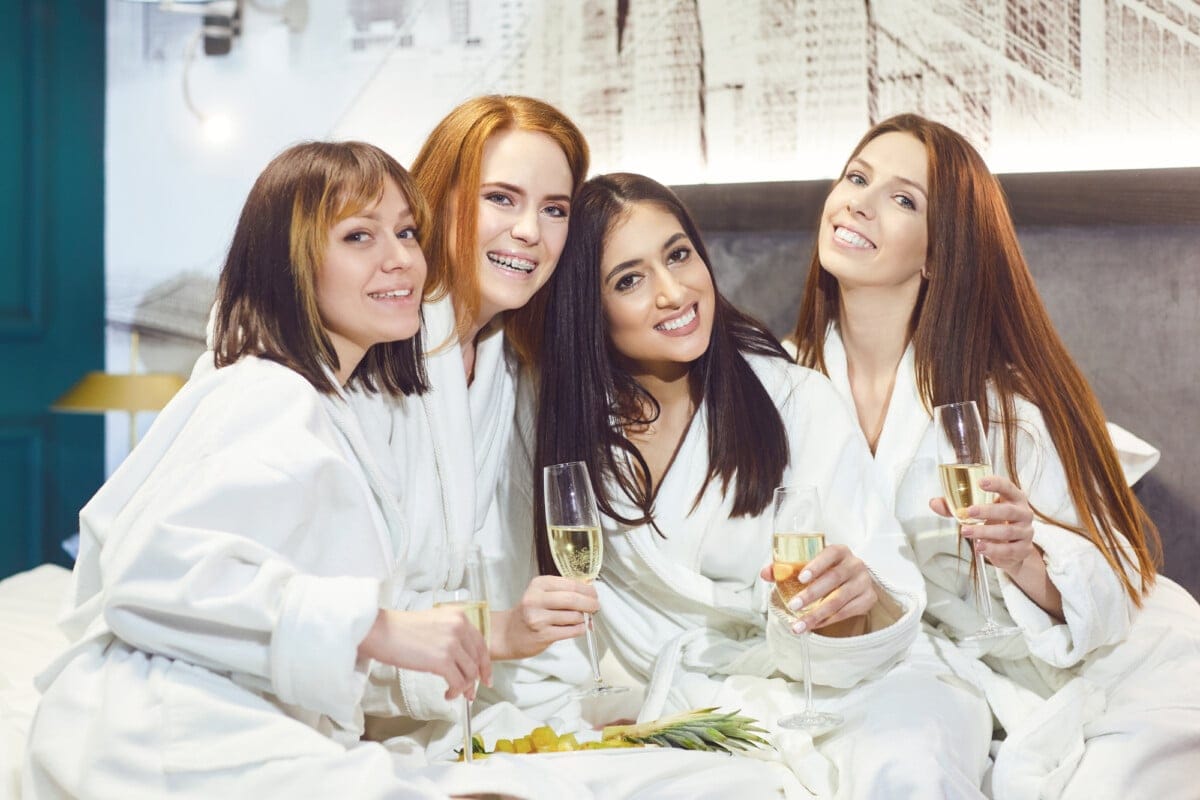 A luxurious spa weekend is like a soothing balm for the soul, providing an ideal escape from the everyday hustle and bustle as you celebrate your upcoming nuptials with your closest friends.
South Carolina has several high-end wellness retreats that are perfect for a pre-wedding celebration filled with spa pampering, relaxation, and rejuvenation.
Imagine lounging by the pool or indulging in personalized treatments tailored to each person's unique needs.
From facials and massages to body scrubs and wraps, these exquisite spas offer everything you need to feel refreshed and ready for your big day.
One option to consider for your indulgent spa getaway is The Sanctuary at Kiawah Island Golf Resort, where you'll be surrounded by stunning ocean views while enjoying top-notch amenities.
Or perhaps head inland to discover Greenville's charming West End Historic District, home to the luxurious Westin Poinsett Hotel and its on-site Spa at West End – a peaceful haven amidst quaint shops and restaurants.
As you sip chilled cucumber water between treatments, share laughter with your bridesmaids over stories of past adventures while creating new memories during this ultimate bonding experience.
Come nighttime, retreat to plush accommodations, where you'll drift off into blissful slumber after an unforgettable day of self-care at these tranquil wellness retreats in South Carolina.
Final Thoughts
So, there you have it! South Carolina is a treasure trove of bachelorette party ideas just waiting to be explored.
From beach getaways to luxurious spa weekends, the Palmetto State has something for every bride-to-be and squad.
Don't let your bachelorette party be a wilted bouquet – make it an unforgettable adventure in South Carolina.
With so many options at your fingertips, you're sure to create memories that will last a lifetime.