Known for its cheese, charming small towns, and vibrant cities, this state has so much more to offer than meets the eye.
From the bustling streets of Milwaukee to the tranquil shores of Lake Michigan and the rolling hills of Door County, Wisconsin is a playground for unforgettable bachelorette party experiences.
Whether you're a nature enthusiast, a foodie, or a thrill-seeker, Wisconsin has something to satisfy every bride-to-be and her squad.
Imagine indulging in delectable cheese and wine tastings, cruising along picturesque lakes, exploring quaint boutiques, embarking on thrilling outdoor adventures, and dancing the night away in lively city hotspots.
Are you ready to discover the endless possibilities for an extraordinary bachelorette party in the Badger State?
Buckle up, ladies, because we're about to unveil a handpicked selection of Wisconsin's finest experiences to make your bachelorette party a legendary celebration. 
From the shores of Lake Geneva to the awe-inspiring Wisconsin Dells and the cultural hub of Madison, we'll guide you through an unforgettable journey that will have you raising your glasses and creating memories to last a lifetime.
Milwaukee City Adventure
Dive into urban exploration by checking out some of the city's unique neighborhoods, like the Historic Third Ward or Brady Street.
You'll find a mix of boutique shops, hip eateries, and eclectic nightlife.
Don't forget to stop at one of Milwaukee's many street art murals for those Insta-worthy group shots that scream squad goals!
Nothing says Wisconsin quite like brewery hopping, so why not treat yourselves to a day of craft beer discoveries?
Visit some iconic breweries such as Lakefront Brewery or Milwaukee Brewing Company and take guided tours to learn about their brewing process while sipping on delicious samples.
Try out smaller local gems like Eagle Park Brewing or Good City Brewing for something more intimate.
Fine Dining and Shopping
Start your day with a gourmet cheese tasting at one of the state's renowned creameries, such as Carr Valley Cheese or Marieke Gouda.
Savor the rich flavors of award-winning cheeses while learning about their unique production processes.
Afterward, head to a local winery like Wollersheim Winery or Door Peninsula Winery for a delightful wine-tasting session that perfectly complements your cheese adventure.
Next up on your bachelorette party itinerary is vintage boutique exploration.
Discover hidden gems and treasures at charming shops like Lela Boutique in Milwaukee or The Vintage Roost in Sturgeon Bay.
These boutiques offer an eclectic mix of clothing, accessories, and home décor items that will delight everyone in your group as you browse these stylish finds, bond with your besties over shared memories and create new ones together during this unforgettable Wisconsin getaway!
Waterpark Fun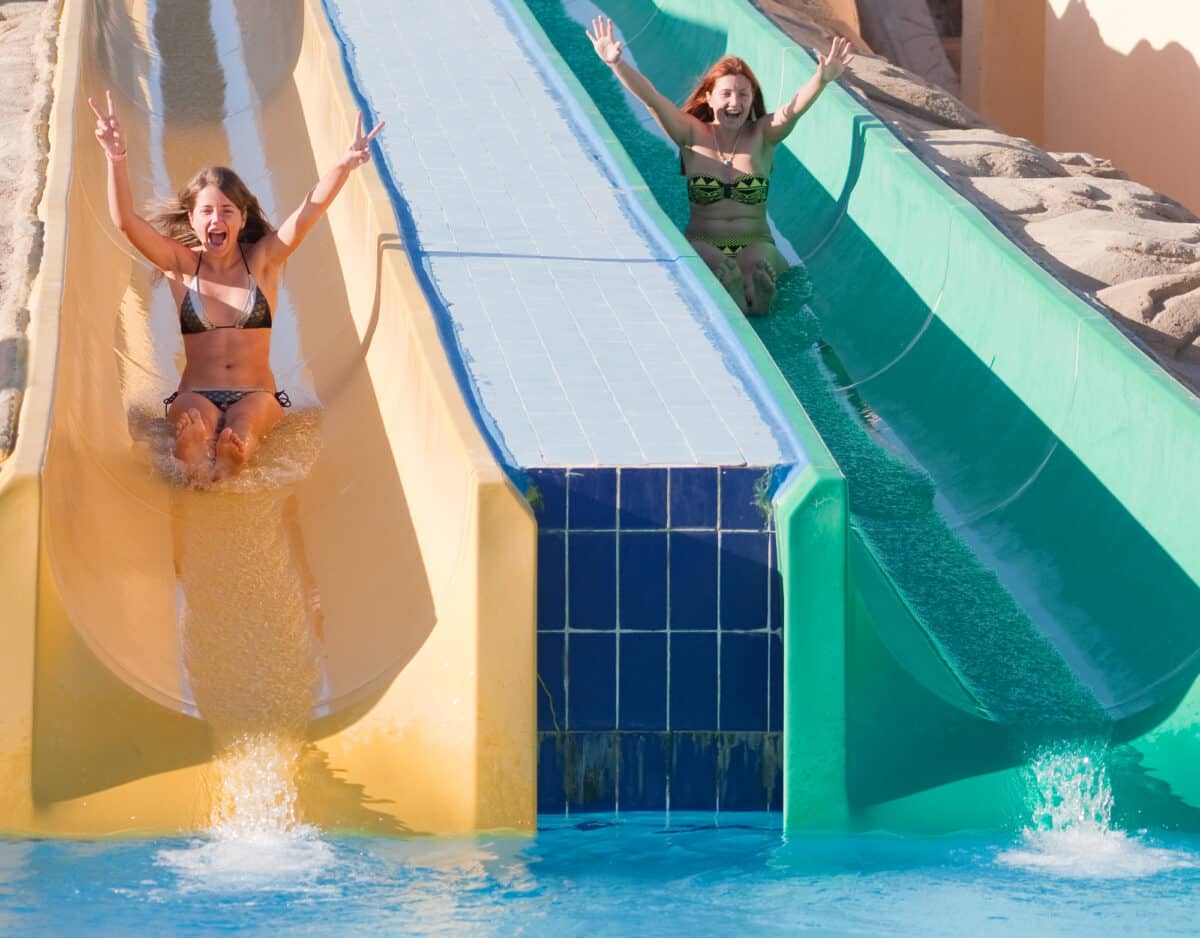 Wisconsin has some incredible water park resorts that offer everything from indoor surfing to lazy river lounging.
You and your bridesmaids can create unforgettable memories as you explore all the wet and wild activities these parks offer.
Indoor Surfing
Channel your inner surfer chick without worrying about weather conditions or ocean waves.
Some waterparks in Wisconsin, like Kalahari Resort or Wilderness Resort, feature indoor surf simulators that allow you to ride the perfect wave all year round!
Lazy River Lounging
Float along a winding lazy river with your favorite ladies by your side, sipping cocktails and reminiscing on cherished moments together.
Noah's Ark Waterpark and Great Wolf Lodge are just two places where you can find this relaxing attraction.
Thrilling Waterslides
Ride high-speed slides and twisting tunnels for an adrenaline-pumping good time!
Mt. Olympus Water & Theme Park boasts some of the most exhilarating waterslides in Wisconsin Dells.
Cabana Rentals
Upgrade your bachelorette party experience by renting a private cabana for ultimate relaxation after splashing around with friends.
Many waterparks offer this luxury option, providing comfortable seating, shade, and even food service at your fingertips.
Outdoor Adventures and Zip-lining
Wisconsin offers a variety of thrilling activities that'll have you and your squad soaring to new heights and exploring breathtaking forests.
Gather the girls, strap on those helmets, and prepare for an unforgettable bachelorette party experience as you conquer the skies together.
Whether it's feeling the wind in your hair as you speed through the air or immersing yourself in nature during a forest exploration hike, these outdoor adventures are guaranteed to create lasting memories for everyone involved.
Themed Restaurants and Entertainment
After an adrenaline-pumping day of outdoor adventures and zip-lining, it's time to unwind and indulge in delicious food and entertainment.
Wisconsin offers a variety of themed restaurants and entertainment options that will make your bachelorette party unforgettable.
Dinner Theater
For a night of interactive fun, book tickets to a dinner theater show where you can enjoy a scrumptious meal while being entertained by talented performers.
Check out the Palace Theater in Wisconsin Dells or the Fireside Dinner Theatre in Fort Atkinson for some fantastic productions.
Themed Bars
Wisconsin has several quirky themed bars that are perfect for adding extra excitement to your bachelorette party.
Visit SafeHouse Milwaukee for a spy-themed experience or The Driftless Historium & Mount Horeb Area Historical Society's Trollway Pub Crawl for a whimsical troll-themed adventure.
Supper Clubs
Experience the classic Wisconsin supper club atmosphere at places like Ishnala Supper Club in Lake Delton or Buckhorn Supper Club in Milton.
These iconic establishments offer mouthwatering food, a cozy ambiance, and friendly service that will make you feel right at home.
Brewery Tours
If you want to sample some local brews while enjoying good company, consider taking a brewery tour at spots like New Glarus Brewing Company or Lakefront Brewery in Milwaukee.
No matter which option you choose, these themed restaurants and entertainment venues will provide an unforgettable experience that brings everyone closer together during this special celebration.
Madison Cultural Experience
Embrace Madison's vibrant arts scene and let it sweep you off your feet. It breathes life into your celebration like a colorful canvas.
Begin your cultural journey by exploring the eclectic galleries, street art installations, and local boutiques that showcase the city's creative spirit.
Stroll down State Street and pop into the Chazen Museum of Art or MMoCA for unique exhibits.
Then, embark on a foodie exploration of Madison's diverse culinary landscape with farm-to-table eateries such as Graze or Harvest.
Indulge in everything from artisanal cheeseboards to locally brewed craft beers.
Delight in Madison's rich performing arts scene by catching a show at Overture Center for the Arts or an intimate live music performance at High Noon Saloon or Majestic Theatre.
Complete your night on the town with a visit to one of the many bars that offer craft cocktails made with Wisconsin-sourced ingredients – think Old Sugar Distillery or Robin Room.
Dance under twinkling string lights at Memorial Union Terrace beside Lake Mendota.
As you revel in these memorable experiences with your closest friends, relationships deepen and cherished memories are created within Madison's inspiring cultural embrace.
Final Thoughts
So, savor the sweetness of a spectacular bachelorette bash in Wisconsin's wondrous wonderlands.
Make memories with your marvelous mates while wandering through Milwaukee, delving into Door County, gallivanting around Lake Geneva, exploring the exciting Dells, or meandering through Madison.
Wisconsin awaits with welcoming warmth, ready to reward you with a ravishingly remarkable rendezvous.