Are you ready to kick your bachelorette party up a notch in the wildly beautiful landscapes of Wyoming?
This ruggedly charming state, known for its breathtaking mountains, sparkling rivers, and wide-open prairies, will serve an unforgettable pre-wedding celebration.
Renowned as a sanctuary for nature lovers and adventure enthusiasts, Wyoming offers more than just a stunning backdrop for your Instagram photos.
It promises a uniquely Western experience that goes beyond the typical bachelorette bash. 
From glamping under the stars in Grand Teton National Park, horseback riding across the rolling plains, unwinding in luxurious ranch resorts, and tasting locally brewed craft beers in the lively town of Jackson Hole, there's something to pique the interest of every bride-to-be and her squad.
Pack your cowboy boots, grab your best gal pals, and get ready to dive into an array of thrilling, amusing, and unforgettable bachelorette party ideas in the heart of the Wild West.
Whether you're a thrill-seeker, a nature aficionado, a luxury lover, or a cowgirl, we have some incredible suggestions to make your Wyoming bachelorette party a celebration to remember!
Outdoor Adventure Activities
You'll love exploring the great outdoors with thrilling adventures that'll create unforgettable memories for the whole squad!
Wyoming offers an array of exciting outdoor activities perfect for a bachelorette party, and nothing says adventure quite like river rafting or zip-lining thrills.
As you and your closest friends take in the breathtaking scenery of Wyoming's wilderness, you can't help but feel a sense of belonging – not only with nature but also with each other.
Imagine navigating the rapids on a whitewater rafting trip through Snake River Canyon, surrounded by stunning landscapes, as your adrenaline pumps. Or perhaps you'd prefer to soar high above the treetops on a zip line tour, feeling the wind rush past while taking in panoramic views of the mountains below.
No matter which adventure activity you choose, these experiences will bring your group closer together as they conquer fears and embrace new challenges.
So gather your tribe and embark on an exhilarating journey through Wyoming's great outdoors – it's sure to be a bachelorette party no one will ever forget!
Relaxing Retreats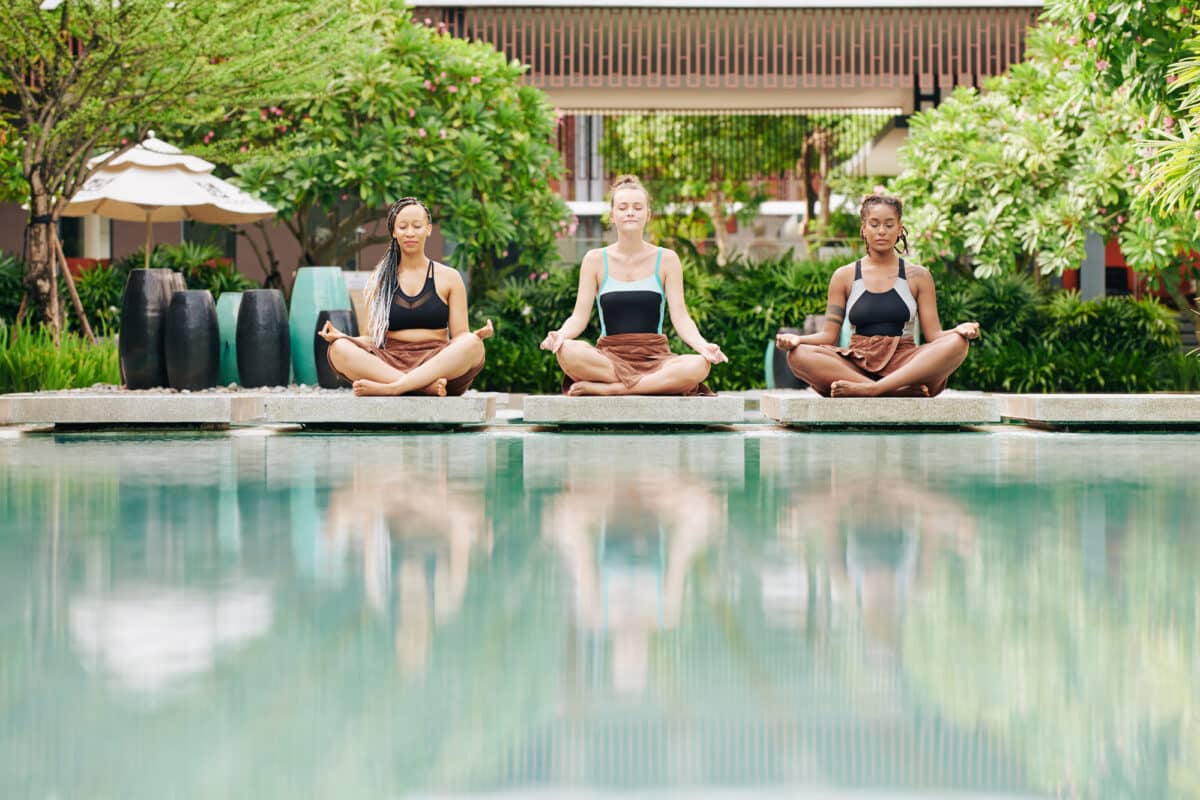 Escape the hustle and bustle by treating yourself and your girls to a rejuvenating retreat in the heart of nature. Wyoming offers an abundance of tranquil spas where you can unwind, relax, and reconnect with yourself and your closest friends.
Immerse yourselves in soothing mineral hot springs or indulge in luxurious spa treatments that will refresh you and revitalize you. Picture this: you're all gathered around a serene pool surrounded by breathtaking mountain views, sipping on refreshing beverages as you laugh, reminisce, and create lasting memories together.
In addition to pampering yourselves at these heavenly oases, why not explore the world of rejuvenating yoga amidst Wyoming's stunning landscapes? Take part in outdoor classes led by experienced instructors who'll guide you through gentle flows designed to balance mind, body, and spirit.
Whether it's sunrise yoga overlooking majestic mountains or sunset sessions amidst lush forests, these moments of stillness will bring a sense of belonging to your group while deepening your connection with Mother Nature herself. So go ahead – treat yourselves to a relaxing retreat full of tranquility and sisterly bonding that'll be cherished for years to come!
Exploring Charming Towns
After unwinding at a relaxing retreat, why not delve into the enchanting charm of Wyoming's small towns? You'll immerse yourself in history and local culture while enjoying modern comforts.
Exploring charming towns like Jackson, Cody, Sheridan, and Laramie will give you a taste of what makes this state so special. From historic tours to boutique shopping, these towns offer a variety of activities that cater to all interests while providing an intimate setting for bonding with your closest friends.
Here are just a few of the many things you can do in these charming towns:
Historic Tours: Wyoming's rich history comes alive as you are guided through picturesque streets lined with beautifully preserved buildings. Discover tales of the Wild West and learn about the pioneers who shaped this great state.
Boutique Shopping: Indulge in some retail therapy at unique boutiques featuring handmade jewelry, stylish clothing, and one-of-a-kind gifts crafted by local artisans.
Culinary Delights: Satisfy your cravings at locally-owned eateries offering mouthwatering dishes made with fresh ingredients from nearby farms.
Art Galleries & Museums: Immerse yourself in the vibrant arts scene by visiting galleries showcasing works by talented regional artists or exploring fascinating museums dedicated to preserving Wyoming's heritage.
With each town boasting its own distinctive character and attractions, there's no shortage of memorable experiences waiting for you and your friends to share during your bachelorette celebration.
Unique Experiences
There's nothing quite like bonding with your besties over once-in-a-lifetime experiences, and Wyoming offers a treasure trove of unique adventures that'll leave you all breathless and inspired!
For instance, why not indulge in some creative photoshoots amid the stunning natural landscapes of this wild west state?
Gather your gals and hire a local photographer to capture unforgettable memories as you strike poses against the picturesque backdrops of Grand Teton National Park or beneath the wide-open skies of the high plains.
Or, if you're looking for something more hands-on, sign up for an art workshop in one of Wyoming's charming towns.
Under the guidance of talented local artists, you can create your masterpieces using various mediums such as painting, pottery or even glassblowing while surrounded by inspiring mountain vistas.
But don't stop there—Wyoming is brimming with unique experiences just waiting to be discovered by adventurous bachelorette parties.
Take a thrilling white-water rafting trip down Snake River Canyon or ride a guided horseback ride through Yellowstone National Park.
And if you're craving something extraordinary, consider booking a scenic hot air balloon flight at sunrise to take in Wyoming's breathtaking beauty from above.
After all these incredible adventures, bond over delicious meals at cozy restaurants offering farm-to-table fare while reminiscing about your amazing day.
Cozy Cabin Getaways
Nestle in a rustic mountain lodge, surrounded by the serene beauty of Wyoming's wilderness, or indulging in the comforts of luxury glamping sites under a star-filled sky.
These cozy cabin getaways offer an unforgettable experience combining adventure and relaxation.
Rustic Mountain Lodges
Immerse yourselves in the rugged beauty of Wyoming's mountains, indulging in luxurious mountain spa treatments while taking in panoramic views of the surrounding landscape.
Spend your day's wildlife watching as you hike through pristine forests, spotting majestic elk, moose, or even a bear from a safe distance.
As evening falls, gather around a crackling fire with your favorite drinks in hand, sharing stories and reminiscing about past adventures.
Feel the warmth of friendship embrace you like a soft blanket under the star-filled sky.
Let this bachelorette party be more than just a celebration – an opportunity to reconnect with nature and each other at one of Wyoming's enchanting rustic mountain lodges.
Luxury Glamping Sites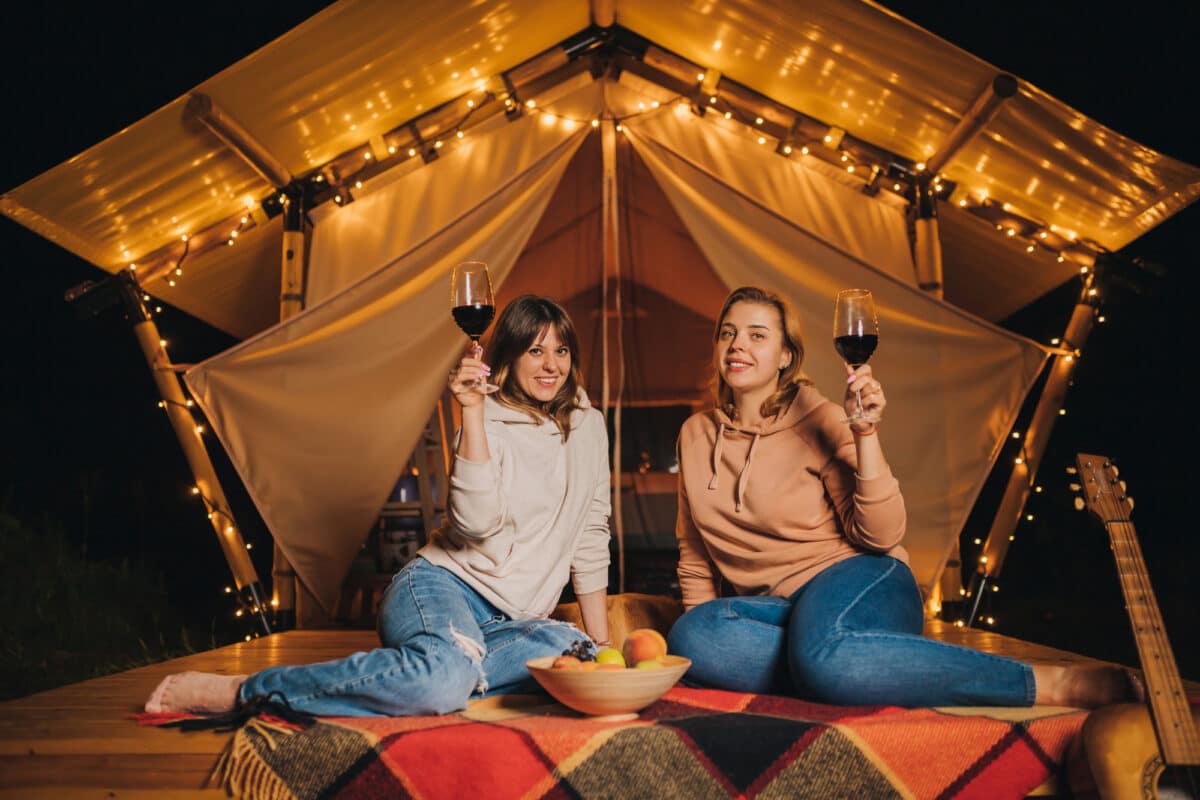 For a truly unique and lavish experience, treat yourself and your closest friends to one of the luxury glamping sites nestled in the breathtaking landscapes of Wyoming.
Glamping combines the best elements of traditional camping with modern amenities and creature comforts that will have you feeling right at home under the stars.
Choose from a variety of stunning locations, such as national parks, forest reserves, or even private ranches, as you indulge in an unforgettable bachelorette party surrounded by nature's beauty.
Luxury glamping provides a perfect setting for bonding with your favorite ladies while enjoying outdoor activities like hiking, horseback riding, or stargazing.
At night, retreat to your upscale accommodations featuring plush beds, cozy linens, and stylish décor reminiscent of high-end hotels.
Share stories around a crackling campfire before retiring to your private sanctuary with luxurious bathrooms and spa-like amenities.
Final Thoughts
So, gal pals, don't miss out on Wyoming's hidden gems for your bachelorette party!
97% of the state has breathtaking landscapes and outdoor adventures waiting to be explored.
Get ready to create unforgettable memories with your bride tribe in charming towns, relaxing retreats, or cozy cabins.
Whether you're seeking adrenaline-pumping activities or unique experiences, Wyoming covers it all.
Dive into the fun and let the good times roll!