When the melody of wedding bells meets the soft rustling of backyard leaves, the result is nothing short of magical.
Picture an intimate gathering under a canopy of stars, surrounded by the familiar comfort of home, where love is the star attraction, and every detail sings your unique love story.
Who said weddings need grand ballrooms and exorbitant bills to be memorable? Welcome to backyard weddings – where simplicity meets sophistication and budget meets extravagance.
As budgets tighten and the desire for intimate, personalized weddings grows, backyard weddings have entered the spotlight, taking the "home is where the heart is" mantra to a new level.
But how does one transform a familiar space into an enchanting wedding venue that leaves your guests spellbound? And can you plan a mesmerizing backyard wedding without breaking the bank?
Here's to the beauty of saying 'I Do' amidst the place that has witnessed your journey, where every corner tells a tale of love, growth, and togetherness.
Key Takeaways
Backyard weddings offer a budget-friendly option for couples.
DIY decorations and ambiance can add a personal touch, and rustic and vintage themes can make it charming and romantic.
Utilizing different backyard areas can optimize space, and affordable catering options like food trucks or potluck receptions are available.
Simplifying invitations, using natural elements, and renting or borrowing items instead of buying new can help with cost control.
Choose the Perfect Location
When considering potential locations, consider factors like parking availability, accessibility for guests with mobility limitations, and how much work will be required to transform the space into your dream wedding venue.
Space optimization is essential when planning a backyard wedding on a budget. Consider how many guests you invite and ensure enough room for everyone to move around comfortably.
You may need to rearrange furniture or even rent additional seating depending on the size of your guest list.
If possible, utilize different areas of the backyard for various parts of the celebration – such as having the ceremony in one area, cocktail hour in another, and reception under a tent or canopy nearby.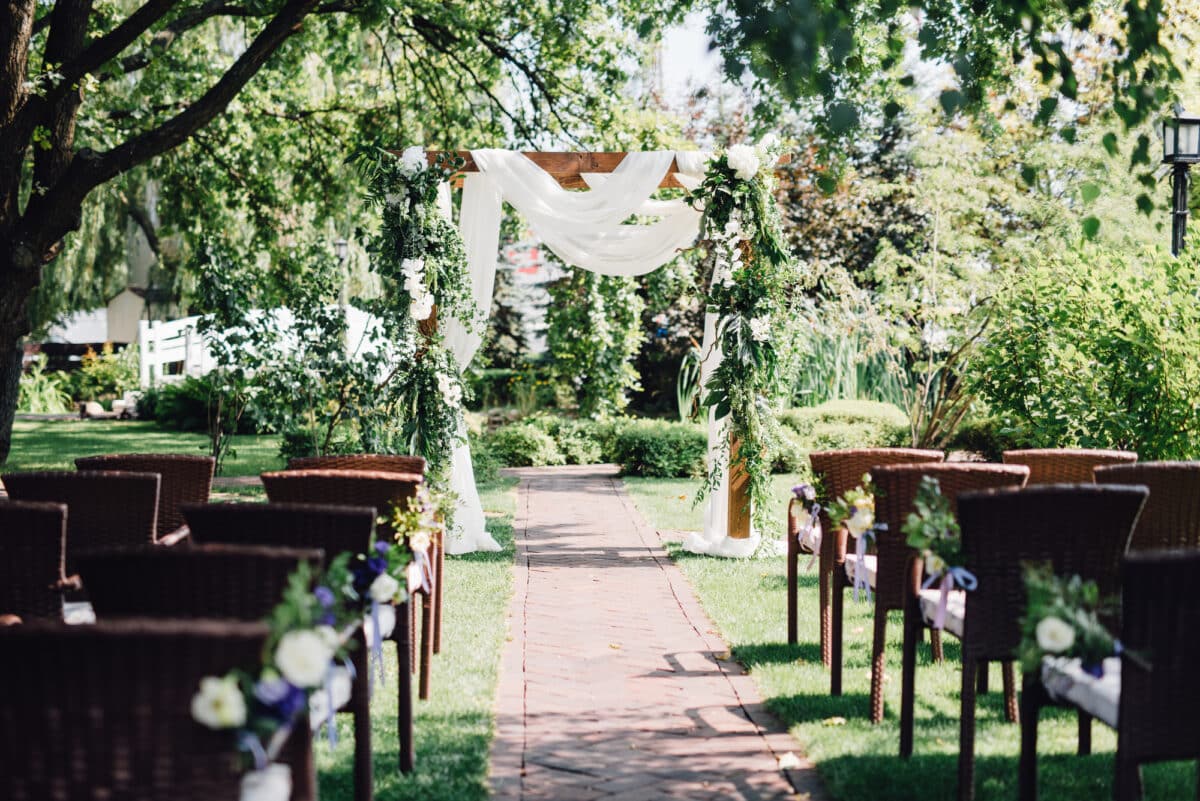 DIY Decorations and Ambiance
Enable your creativity and set the perfect ambiance for your backyard wedding by embracing rustic and vintage themes.
By upcycling and repurposing items, you'll not only save on costs but also add a personal touch to your special day.
Rustic and Vintage Themes
Consider using rustic centerpieces made from reclaimed wood or antique items such as lanterns or mason jars filled with flowers to create a cohesive look.
You can also encourage guests to embrace the theme by wearing vintage attire, adding nostalgia to your special day.
Incorporating rustic and vintage themes in your backyard wedding will make it feel like you've stepped into a fairy tale from centuries ago.
These timeless styles add charm, warmth, and romance to any celebration, creating an unforgettable atmosphere for you and your guests.
When planning your backyard wedding with rustic and vintage themes in mind, consider these elements that evoke emotion:
Soft lighting: Use twinkling string lights and candles to warmly glow your reception area.
Whimsical details: Incorporate lace tablecloths, burlap accents, or birdcages as part of your decor.
Natural materials: Emphasize the beauty of nature by incorporating wooden elements like barrels for seating or tables made from tree trunks.
Sentimental touches: Display old family photos or heirlooms throughout the space to pay homage to past generations.
Upcycling and Repurposing Items
Upcycling and repurposing items not only helps you stay within your budget but also gives new life to otherwise discarded objects.
The possibilities are endless, from centerpieces made of old books to vintage suitcases as gift tables.
You can even create eco-friendly favors like potted succulents in repurposed jars or homemade candles in teacups found at thrift stores.
Your creativity and resourcefulness will make your backyard wedding truly one-of-a-kind.
Don't forget about thrifty attire options for you and your bridal party! You can find stunning vintage dresses or suits at consignment shops, which you can alter to fit perfectly.
Another option is to borrow heirloom pieces from family members, adding sentimental value to your big day.
Encourage your bridesmaids and groomsmen to wear outfits they already own or purchase secondhand clothing that fits with the theme of your wedding.
Transforming old treasures into beautiful accents for your special day doesn't just save money; it adds a personal touch that'll leave guests in awe.
Affordable Catering Options
Budget bites and frugal feasts can be as delicious and memorable as more expensive options.
You'll love the money-saving possibilities when you explore affordable catering options like food trucks, buffet-style meals, or even a potluck reception for your backyard wedding.
With a little creativity and planning, you can serve up a fantastic meal without breaking the bank.
Plus, these unique catering choices will add to the laid-back atmosphere of your backyard celebration.
Consider contacting local food trucks or small catering businesses offering lower prices for more casual events.
A taco bar, BBQ station, or gourmet pizza truck are all fun ways to satisfy your guests' appetites while sticking to your budget.
For an even more cost-effective option, try organizing a potluck-style reception where family and friends contribute their favorite dishes.
Make sure you have enough tables and serving utensils for everyone's contributions!
Budget-Friendly Entertainment
Economical games are an excellent way to entertain guests without breaking the bank. Set up classic lawn games like horseshoes, cornhole, or croquet for hours of enjoyment at minimal cost.
You can even create DIY versions of popular wedding games such as giant Jenga, ring toss, or a custom photo booth with props sourced from thrift stores and dollar shops.
Budgeting music doesn't mean settling for subpar tunes; finding quality music on a shoestring budget is easier than ever.
Consider hiring local musicians or students eager for experience and more affordable than professional bands or DJs.
Alternatively, create a personalized playlist filled with meaningful songs for you and your partner and play it through rented speakers or borrowed equipment.
Not only will this save money, but also add an intimate touch that reflects your unique love story.
Don't forget to encourage guests to request their favorite songs in advance so everyone feels included on the dance floor!
Simplify and Save on Invitations
Simplifying your invitations can be a heartfelt way to save money and make your guests feel special.
E-invite alternatives, such as sending out digital invitations through email or social media, can significantly cut costs while being eco-friendly.
Look for free or low-cost online platforms that offer customizable templates with minimalist designs, allowing you to create elegant and personal invites without breaking the bank.
Another way to save on invitations is by creating minimalist designs using affordable design software or crafting them by hand.
This adds a personal touch and allows you to control the cost of materials used.
Consider using recycled paper or cardstock for an environmentally friendly option, and focus on simple yet eye-catching typography and graphics that convey the intimate nature of your backyard wedding.
By putting thought into every detail, you'll show your guests that they are important and valued – all while staying within budget.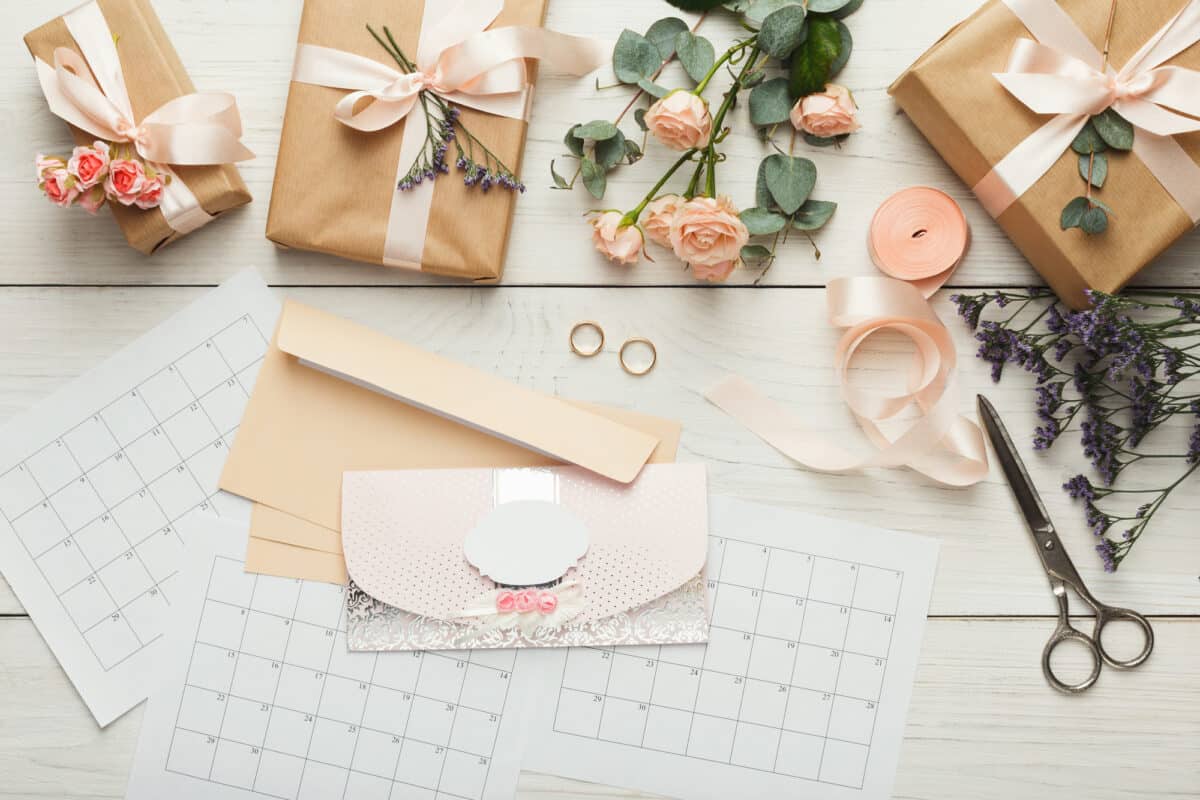 Frequently Asked Questions
What are Some Creative Ways to Provide Seating for Guests at a Backyard Wedding on a Budget?
Need seating ideas? Try hay bales with blankets for a rustic touch or foldable chairs with DIY centerpieces.
Use affordable lighting like string lights to create an enchanting atmosphere. Your guests will love it!
How can I Incorporate Eco-Friendly Practices Into Our Budget-Friendly Backyard Wedding?
Incorporate eco-friendly practices by choosing sustainable catering options, like locally sourced ingredients and reusable dinnerware.
Opt for green decorations such as potted plants or repurposed items for a beautiful, earth-conscious celebration.
What are Some Budget-Friendly Alternatives to Traditional Wedding Party Attire?
Consider DIY bridesmaid dresses, allowing each to showcase their unique style.
Groomsmen attire swaps are another option, trading items they own for a coordinated look without breaking the bank.
How can I Keep Guests Comfortable at Our Backyard Wedding During Unpredictable Weather Without Overspending?
Don't let Mother Nature rain on your parade! Opt for weatherproof decor and invest in affordable tents to shield guests from unexpected showers or sun.
Your loved ones will thank you for their cozy experience.
What Unique and Affordable Wedding Gift Ideas Will Our Guests Appreciate?
Create DIY centerpieces from thrifted finds or repurposed items, adding a personal touch to your wedding.
Make personalized playlists as favors, giving guests a memorable soundtrack they'll appreciate and enjoy at home.
Final Thoughts
In a nutshell, planning a beautiful backyard wedding on a budget is easy.
You'll create an unforgettable day without breaking the bank with the right location, DIY decorations, affordable catering, and entertainment options.
So, go ahead and dive into planning your dream wedding. Remember to keep it simple and stick to your budget. After all, love doesn't cost a thing!