Sun-kissed shores, gentle waves lapping at your feet, and a breathtaking sunset as the backdrop for your vows – it's no wonder beach weddings have captured the hearts of countless couples looking to tie the knot!
If you've been dreaming of a romantic, picturesque, and unforgettable seaside celebration, then this comprehensive beach weddings guide is for you.
We're diving deep into the world of beach weddings, covering everything from finding the perfect location to navigating the unique challenges of a coastal ceremony.
So, grab your sunhat, and let's embark on a journey to create the beach wedding of your dreams!
Why Choose a Beach Wedding?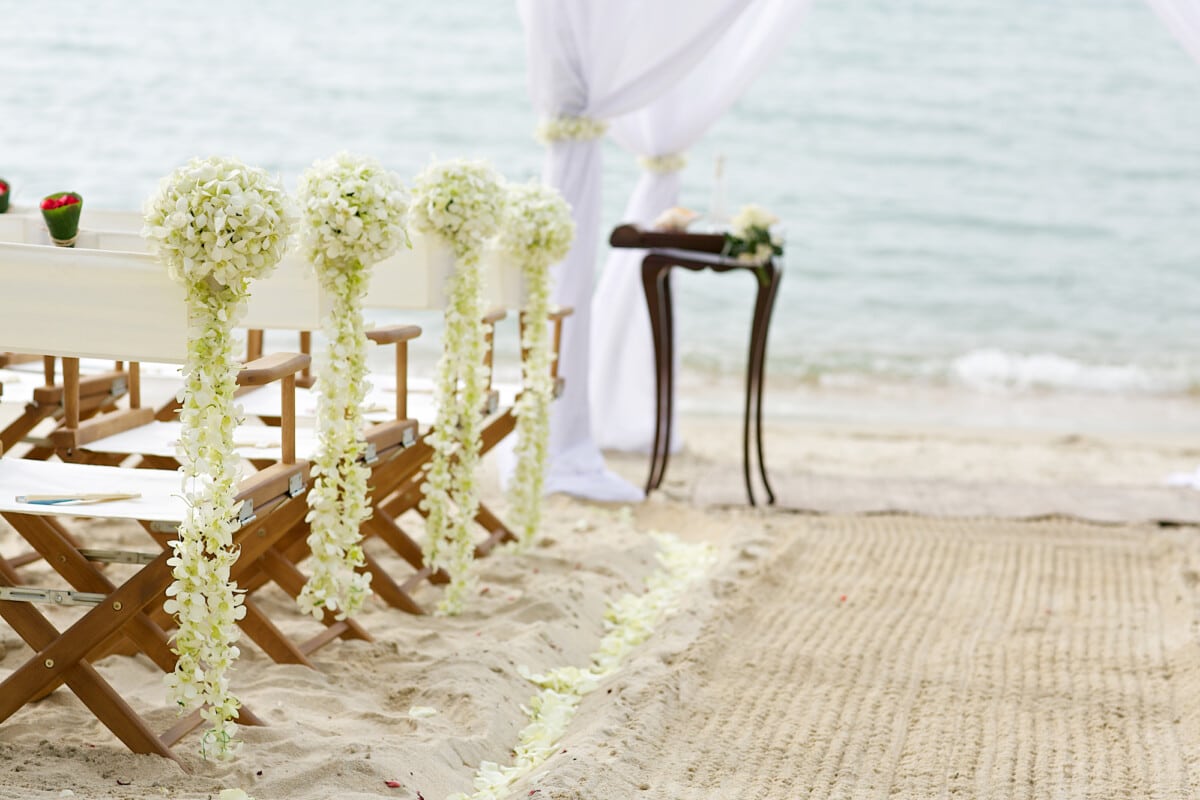 If you're considering getting married, a beach wedding might be perfect! The benefits of a beach wedding are numerous and diverse.
Beaches offer beautiful scenery that can create lasting memories.
Moreover, they provide an effortlessly romantic ambiance that makes relaxing and enjoying your special day easier.
Planning a beach wedding is relatively easy compared to other types of ceremonies.
You won't have to worry about hiring transportation since most couples choose nearby destinations where guests can walk from their accommodations.
Also, you'll find plenty of hotels, restaurants, and venues nearby that specialize in hosting events like this – making finding vendors much simpler than planning elsewhere.
1. Choosing the Right Time of Day
When choosing the right time of day for your beach wedding, there are two options: sunset or sunrise.
Each has its pros and cons that you should consider before making a decision.
Sunset weddings are more popular because they offer stunning views during the ceremony and reception.
The sun's warm glow as it sets over the ocean creates an incredibly romantic ambiance that can't be beaten.
Plus, guests will appreciate not having to wake up early to make it to your wedding on time.
On the other hand, sunrise weddings have their unique benefits.
For starters, they provide cooler temperatures, making for a more comfortable experience for everyone involved.
Additionally, morning light is known for being softer and more flattering than harsh midday sunlight – perfect for those coveted wedding photos!
2. Planning for the Weather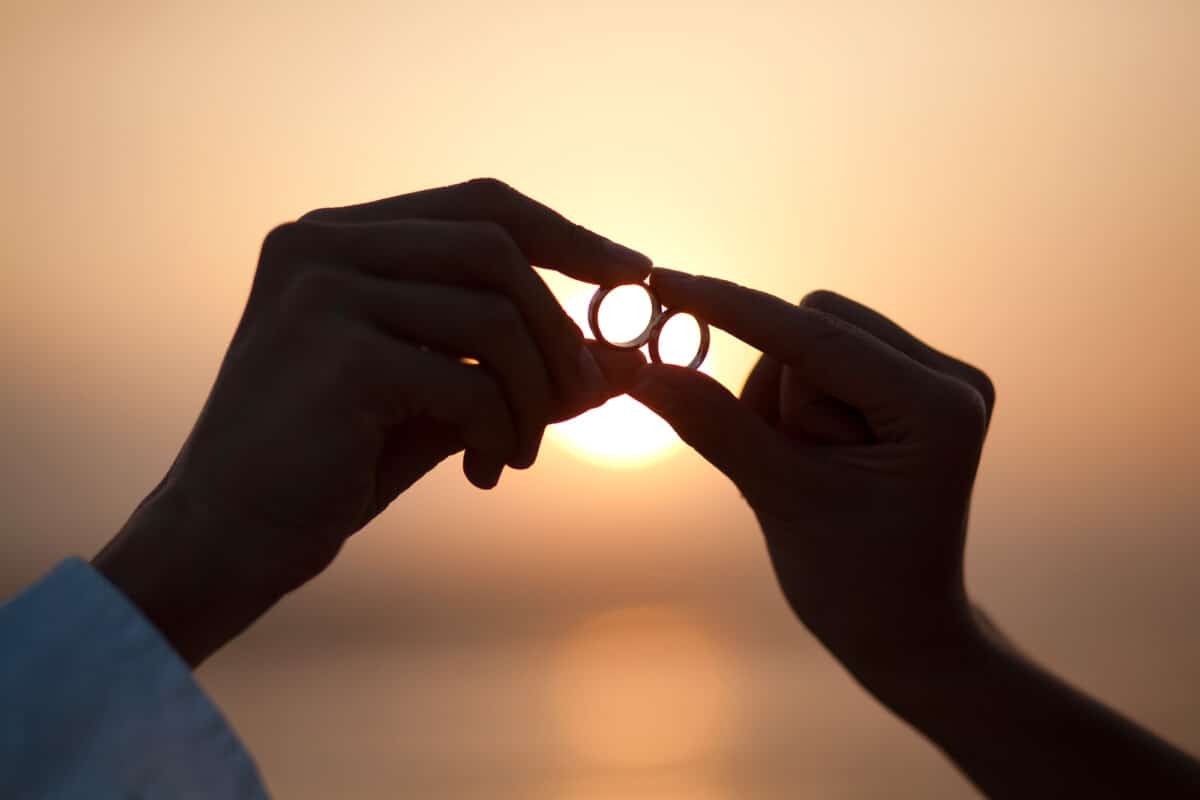 As you plan your dream beach wedding, one thing to keep in mind is the unpredictable weather.
The ocean breeze can be refreshing on a hot day, but it could also mean sudden rain showers or gusty winds.
However, don't let this dampen your spirits! With proper planning and preparation, your big day will go off without a hitch.
Firstly, consider having a rainy-day contingency plan in place.
This means having an alternative indoor venue that you can move your ceremony to if needed.
Communicate these plans with your vendors and guests beforehand so everyone knows what to expect.
It's always better to have a backup plan just in case!
Another important aspect of planning for the weather is thinking about setting up your beach ceremony.
Work with your wedding planner or coordinator to ensure everything is securely anchored down in case of wind gusts.
Think about hiring some tents or umbrellas to get some shelter from the heat and any rain that may come your way.
Remember that while the weather may be out of our control, being prepared will give you peace of mind and allow you to fully enjoy your special day no matter what mother nature throws your way.
3. Beach Wedding Accessories
When it comes to accessorizing for a beach wedding, less is more.
You don't want anything too cumbersome to weigh you in the heat. Instead, focus on simple yet elegant pieces that complement your overall look.
Starting with jewelry – opt for delicate pieces such as dainty necklaces or drop earrings.
Avoid chunky statement pieces that can overpower your dress and make you uncomfortable in the heat.
Consider incorporating natural materials like shells or pearls into your jewelry choices if you're going for a bohemian vibe.
Moving onto hair accessories- flowers are perfect for adding a touch of whimsy to any bridal hairstyle.
Whether you choose fresh blooms woven into braids or silk flower clips tucked behind your ear, they'll add a romantic touch to your beachy look.
4. Beach Wedding Decor
A stunning backdrop can make or break your special day. Don't worry if you're unsure where to start – plenty of options are available.
Firstly, consider incorporating seashell centerpieces into your decor. These beautiful natural elements will add a touch of seaside charm and elegance to your tables.
You could use large shells as vases for flowers or small ones scattered around as accents. Either way, they'll help create an intimate and romantic atmosphere.
Another great idea is to incorporate nautical-themed decor throughout the venue.
Think rope details, anchors, compasses, and maps – anything that evokes the spirit of adventure at sea.
This theme works particularly well if you're having a ceremony near the water; just be careful not to go overboard (pun intended) with the decorations!
5. Booking Vendors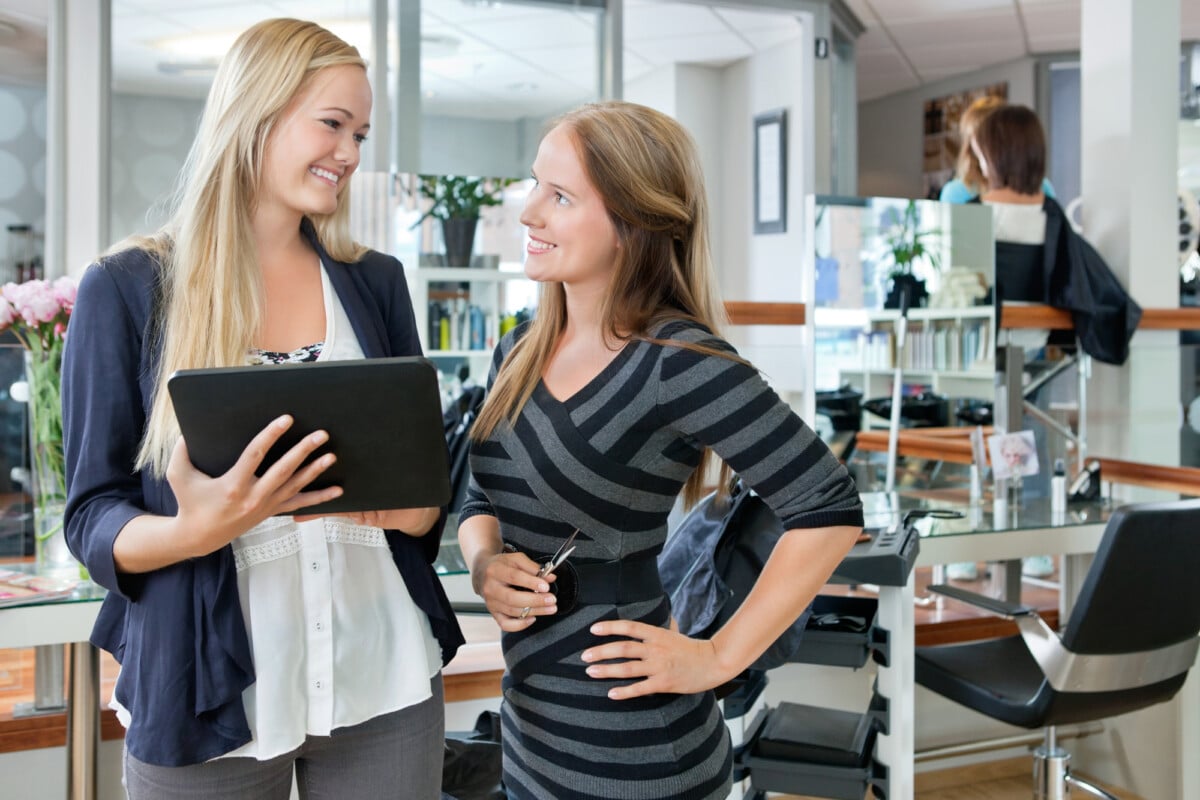 Booking providers for your beach wedding is crucial.
Consider that you'll need a photographer, a caterer, and maybe a performer. Before signing vendor contracts, budget for these services.
Research providers within your budget.
Most wedding suppliers have internet portfolios and evaluations from previous clients. This can help you discover industry jewels.
Consult with suppliers after finding several.
During these conversations, ask about availability on your wedding date, cost, and packages. Before paying, thoroughly check each vendor's contract.
Frequently Asked Questions
1. Are There Any Restrictions on the Type of Decor That Can Be Used for a Beach Wedding?
Beach wedding decor has constraints.
Before buying anything substantial, check with your local authorities to see what's allowed on the beach. 
However, unique beach wedding décor ideas do exist!
Driftwood arches, seashell centerpieces, and other beach touches may be added to your wedding. 
As someone who specializes in beach weddings, I would recommend working with a professional planner familiar with each location's ins and outs to assist you in selecting decorations that conform to your vision and the venue's requirements.
2. What Are Some Unique Beach Wedding Activity Ideas?
Need some creative beach wedding ideas?
Set up a driftwood bridge or colorful parasols on the beach for photos.
These will provide you and your visitors with Instagram-worthy photos.
Consider theme-related favors like seashell-shaped chocolates or customized sunglasses. Have fun!
Set up cornhole, frisbee, or beach yoga around sunset.
As a beach wedding specialist, these tiny details will make the event unique.
3. How Can I Ensure That My Guests Are Comfortable During the Ceremony on the Beach?
When it comes to beach wedding guest attire, comfort is key.
Encourage guests to dress in breathable fabrics and avoid anything too formal or restrictive. 
Regarding seating arrangements for the ceremony on the beach, consider providing chairs with cushions or renting out a tented area to shield guests from the sun. 
It's important to remember your guests' comfort throughout the planning process – happy guests make for a successful beach wedding celebration!
4. What Are the Best Types of Flowers to Use for a Beach Wedding?
The best types of flowers for beach weddings are those that can withstand wind and saltwater spray like orchids or tropical blooms.
Don't forget to consider your color scheme and personal taste when selecting your blooms. 
And if all else fails, you can always toss in some seashells and call it a day!
After all, isn't it the primary focus of one with the title of expert?
5. Can I Have a Bonfire on the Beach for My Reception?
As a beach wedding specialist, I suggest checking with the reception site to see whether they allow bonfires and what their rules are.
A beach wedding reception bonfire may generate lasting memories with appropriate preparation and safeguards.
Final Thoughts
So there you have everything you need to know about beach weddings!
Remember that when planning your special day on the sand, there may be some restrictions on décor and activities. 
You shouldn't, however, allow that to stop you from adding special touches to the event, such as centerpieces made of driftwood or a live steel drum band.
Consider providing fans or parasols for shade to ensure your guests are comfortable during the ceremony.
And when it comes to flowers, opt for hardier varieties like orchids or lilies that can withstand the heat and humidity of the beach environment.
In my capacity as an authority on weddings held on beaches, I strongly advise capping off the festivities with a beach bonfire.
It's the perfect way to bring everyone together under the stars and create unforgettable memories.
So get ready to say "I do" with your toes in the sand – your dream beach wedding is just around the corner!
Next, check out our ultimate guide to choosing a wedding venue.