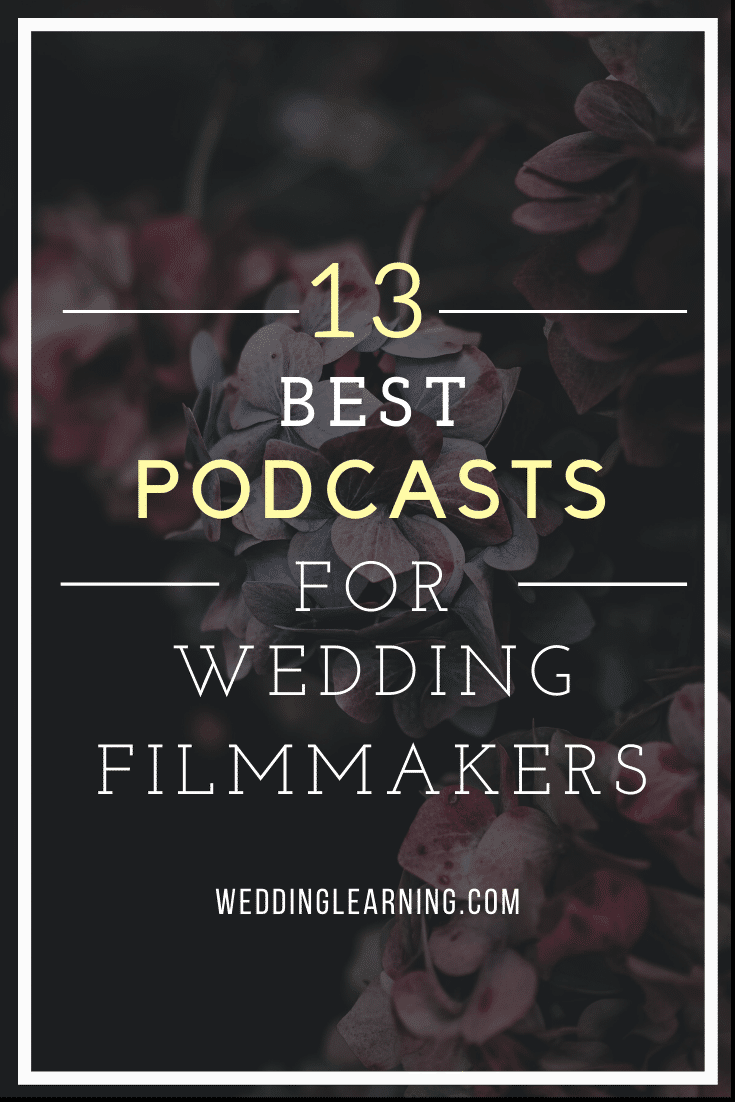 As a wedding filmmaker, I've personally learned so much from listening to many of the best wedding videographer podcasts.
This collection of business and creativity-focused podcasts aimed towards wedding vendors are packed full of inspiration, advice, and educational tidbits.
I'll hazard a guess to say that if you are a wedding filmmaker, you've probably already heard of most of these wedding videographer podcasts.
I mean, most of them are already well established within the wedding vendor educational space.
How do we decide which wedding vendor podcasts are our favorites? Easy! We prefer to recommend podcasts that contain real actionable content.
Some of the podcasts listed contain a lot of small talk conversations. In other words, they're entertaining to listen to during a long drive home from a wedding.
Some of the various wedding videographer podcasts listed below are a bit shy in terms of specific bullet point actions that can move the needle for your wedding film business.
Sometimes, you might also hear practical tips including things like how to stop your viewfinder from fogging up at a wedding.
You might also hear such wonderful randomness such as the most unusual first dance wedding songs.
Nonetheless, overall, we think you'll enjoy all of them.
Here it is, our ultimate list of the best wedding videographer podcasts for your videography business.
NOTE: These podcasts are not ranked in any particular order, they're all great resources for wedding videographers, filmmakers.
I believe wedding photographers and other vendors will also get value from listening to them.
So forget about that editing backlog for a while, make yourself a coffee and start taking notes!
13 of The Best Wedding Videographer Podcasts
---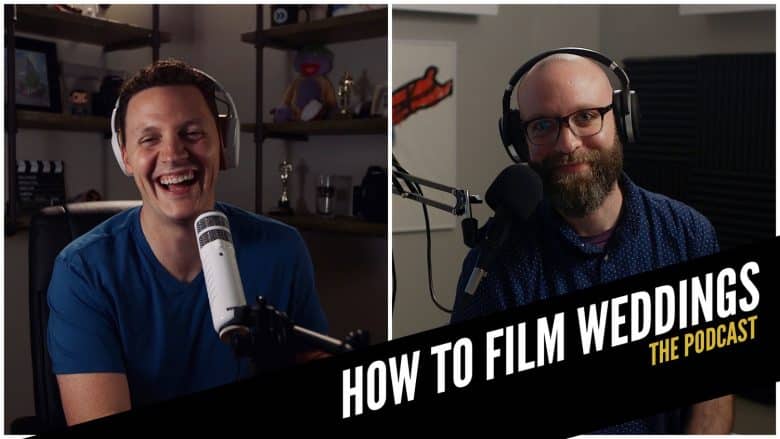 How To Film Weddings Podcast
This podcast is probably the gold standard of wedding videographer podcasts insofar as it covers the entire spectrum of running a successful wedding film business.
The show is hosted by two guys, John Bunn and Nick Miller, both of whom run their own videography companies, Redeemed Productions and Wild Oak Films respectively.
They've been around in the business for a while now, so they're savvy and genuinely do know their stuff.
Their podcast is sponsored by well-known brands such as Core Financial, Wedditor, and Musicbed music licensing.
They cover some great topics and ask great questions such as can I use copyrighted music for wedding video?
John and Nick also released their own training program recently and their Facebook group is hitting almost 8,000 members at the time of writing. It's a great community.
I've listened to almost every episode, (which they also film for their YouTube channel) and have learned a ton from them and some of their high caliber featured guests.
---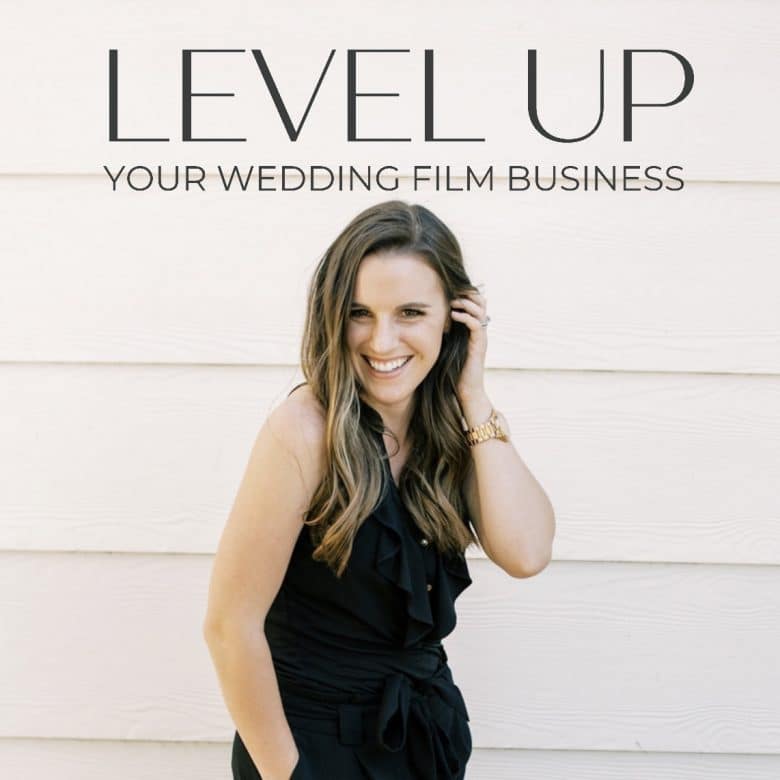 Level Up Your Wedding Film Business Podcast
This show is one of the most inciteful wedding videographer podcasts out there. It's relatively new but it has really hit the ground running.
The show is hosted by Taylor Petrinovich who has been filming weddings since 2017.
It's an impressive feat that just a couple of years later, she's now actively mentoring others on how to grow their wedding video business.
I like that approach because I think it's a unique advantage to teach others where the experience gap between student and mentor is closer than usual.
She has had a nice range of guests on her show so far. Taylor's focus is on discussing marketing strategies that will take your wedding filmmaking business to the next level.
---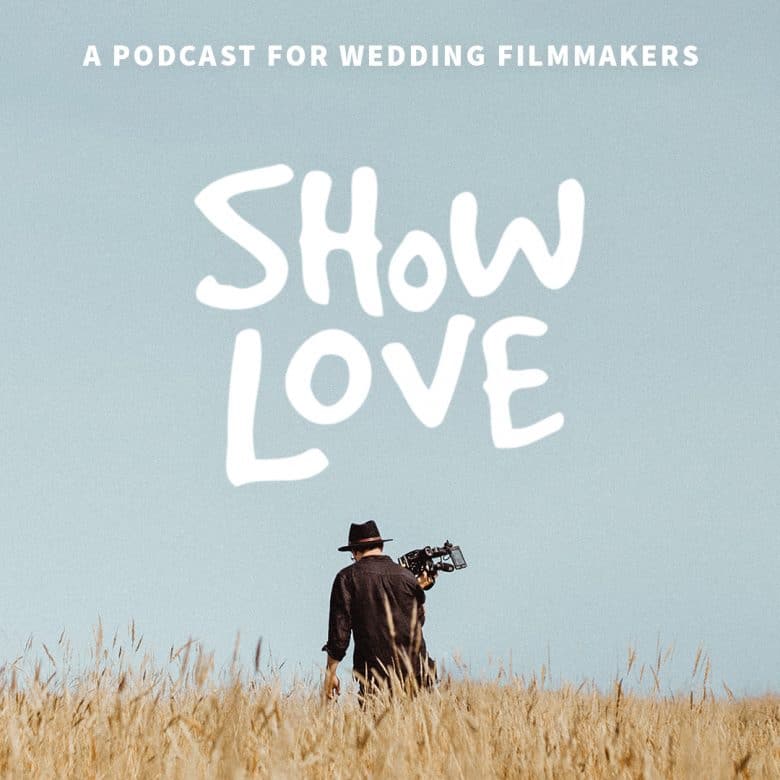 Show Love – A Podcast for Wedding Filmmakers Podcast
Ben is based in New Zealand and hosts the Show Love podcast. It's relatively new, but it's one of the wedding videographer podcasts that quickly gets to the heart of the content.
It originally started as an outlet for Ben to connect with like-minded people to discuss all aspects of wedding filmmaking.
Give it a listen!
---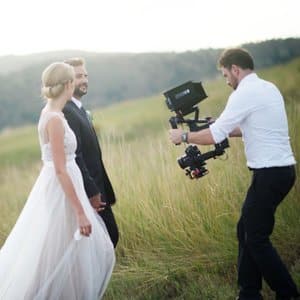 Wedding Videography School Podcast for wedding videographers
If you want to listen to fun and lighthearted wedding videographer podcasts, then this one is for you.
It's hosted by Adam and Michael who really buzz of each other in an entertaining way.
It's not published super regularly but their back catalog is perfect for a long drive home from a wedding.
You'll get a wide-ranging flow of conversation from life, love, and all things wedding video!
---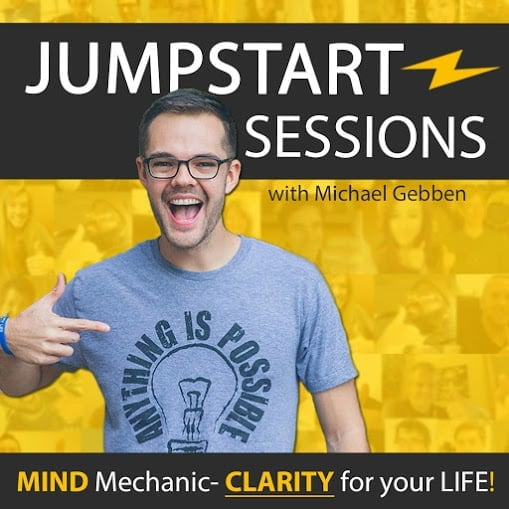 Jumpstart Sessions Podcast – Mindset Mentor for your Videography Business
Next on our list of recommended wedding videographers podcasts is Jumpstart Sessions, a podcast is hosted by Michael Gebben.
What I like about this podcast is that it's not 100% focused on weddings so you get a good insight into other types of videography.
Michael's approach is all about being a mindset mentor. Creatives who listen in will benefit from improved work & life balance and achieving personal goals.
---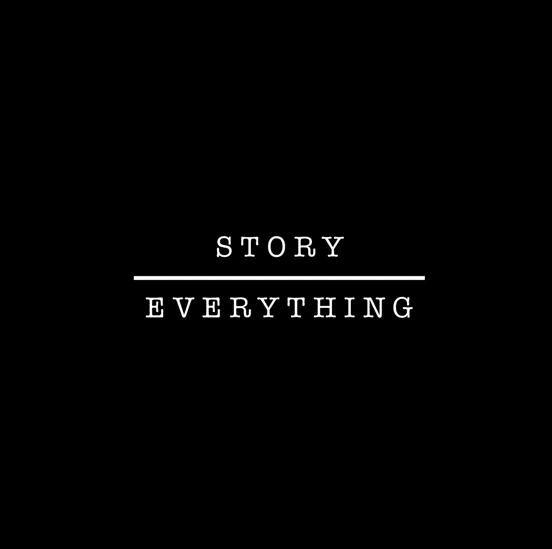 Story Over Everything – Wedding Videography Podcast
So if you're starting out in the wedding filmmaking industry, this is one of the wedding videographer podcasts that is aimed towards beginners.
The hosts are Edward Atwell and Chaz Reid. They often have guests on their show. It's not just aimed at beginners, this is a good podcast to listen to if you have plenty of experience too.
---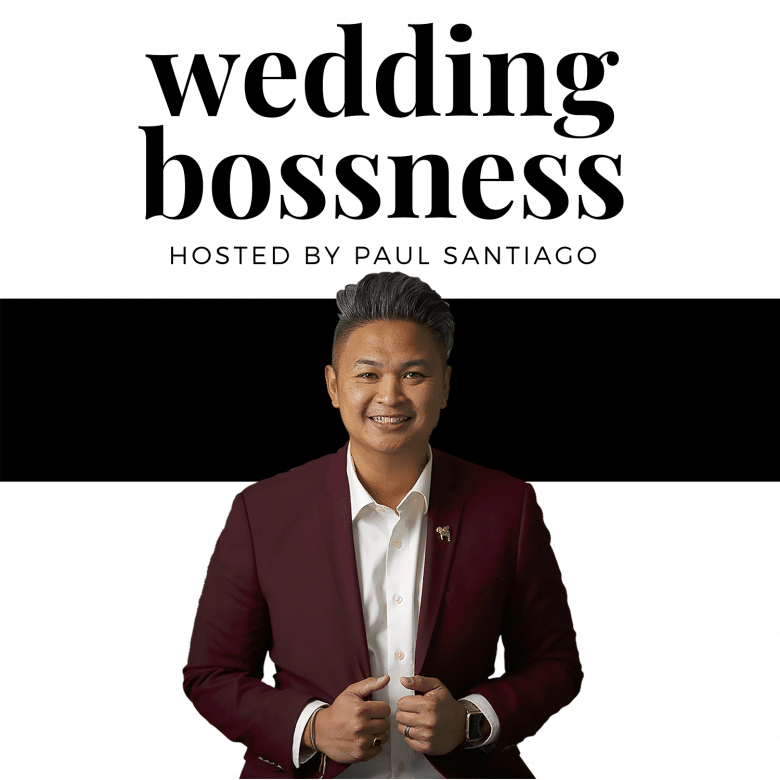 Wedding Bossness – Paul Santiago Podcast
I'm a big fan of Paul's podcast! Originally, it was called the Wedding Video Boss Podcast.
The show later rebranded to Wedding Bossness and has expanded its target audience to also include other wedding vendors.
In the first season, he had more of a focus on wedding videographer podcasts.
Overall, I really like the message behind his podcast where he says:
"Bossness is defined as every time people might doubt you, you prove them wrong."
Paul Santiago is very knowledgeable himself, but he also invites some very interesting guests to chat about their experiences within the wedding industry.
The majority of the guests share actionable tactics that can really help improve your success as a wedding vendor.
---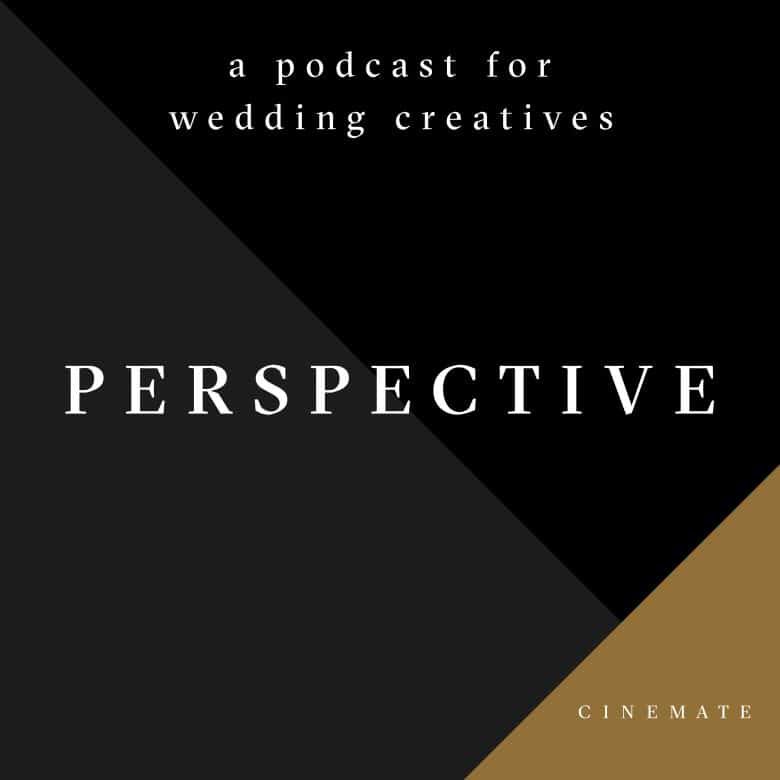 PERSPECTIVE: a podcast for wedding creatives
This show is worth listening to just for the Scottish accents of the hosts, Simon and Gregg!
Of all the wedding videographer podcasts I listen to, this is probably the most chilled and entertaining.
For each episode, they invite another wedding vendor like a photographer or planner onto the show and they simply shoot the breeze together for the next 90 minutes!
Together, Simon and Gregg run a wedding videography business called Cinemate. They clearly work really well together both off and on the mic.
Watch out for Simon's catchphrase:
"Meanwhile, Gregg, what are we drinking?"
---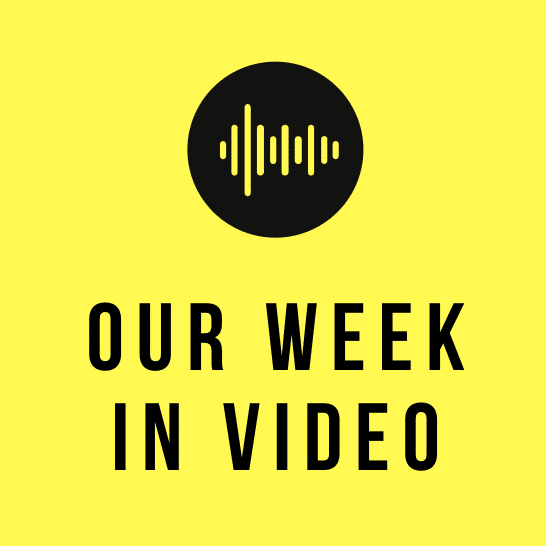 Our Week In Video Podcast
Another of our UK wedding videographer podcasts is Our Week in Video. Originally it was hosted by Richard Shelton and Ben Bruton-Cox. Ben was later replaced by Andre Foster.
The guys have an easy to listen to style where they talk about recent jobs they've done. They cover a range of technical and practical topics from weddings to corporate videos.
---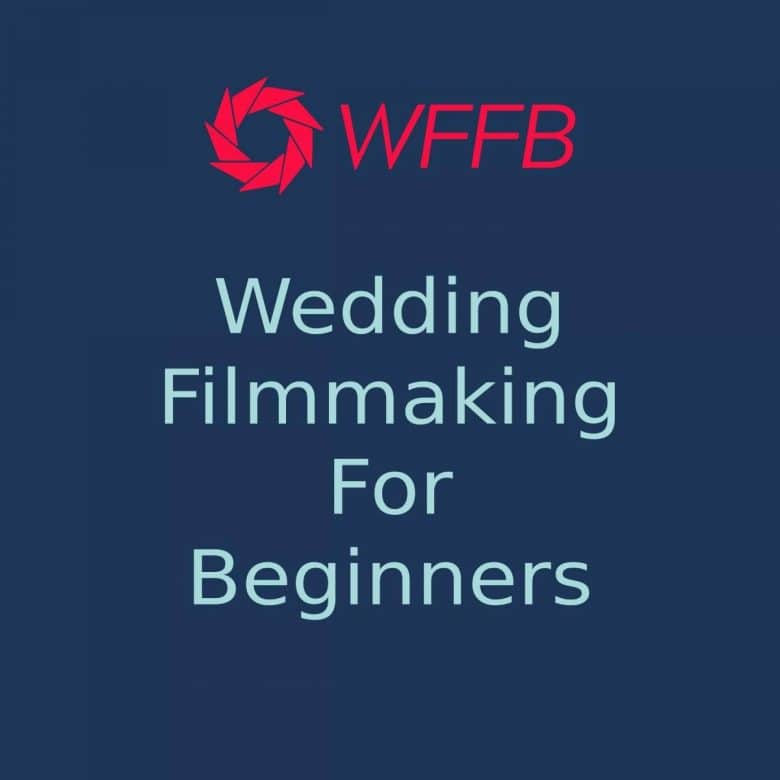 Wedding Filmmaking For Beginners Podcast
Phillip and Brittany run Wedding Filmmaking for Beginners Podcast which is an up and coming show targeted towards those who are starting out in the industry.
Some wedding videographer podcasts assume a lot of prior knowledge. However, this podcast really gets down to basics and contains some great strategies that are useful for beginners and intermediates.
Check it out!
---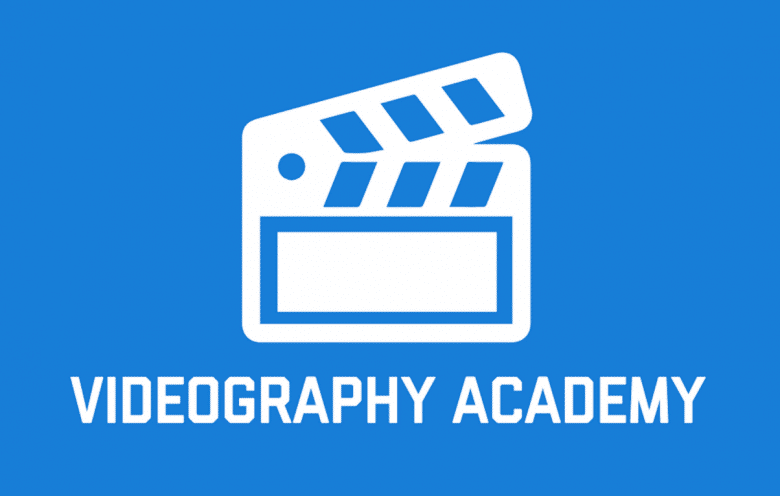 Videography Academy Podcast
This podcast is an excellent videography 101 podcast hosted by Henry Finn. For a bit of balance, it's refreshing to listen to a videography related podcast that is not focusing entirely on weddings.
Well worth checking out!
---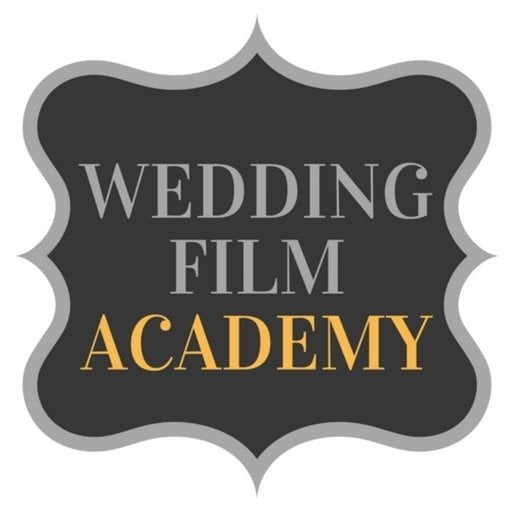 Wedding Film Academy Podcast – Jordan Bunch
Unfortunately, this podcast has not been active for a while. Thankfully, the back catalog is still online and it is well worth taking a deep dive into.
The show was hosted by Jordan Bunch who is a filmmaker based in Texas. What I like about Jordan's approach is that he thinks big.
He has some great episodes where he talks openly about how he scaled his business. He's an open book and many of the episodes contain some great actionable points.
The series on pricing is excellent. I made significant changes to my own pricing model after I listened to the series a few times.
For this pricing series, Jordan invited some of the world's leading wedding filmmakers to talk about their own pricing journey. The knowledge shared in these episodes was gold.
It's a few years old now, but much of the tactics and strategies being shared are timeless and completely valid today.
Pricing strategies and figuring out how much to charge for a wedding video are always my favorite topics. This show had it in abundance.
Other episodes talk about equipment, our tools of the trade. I'd love to see Jordan rekindle the show at some stage, it was an important part of the wedding filmmaking community.
---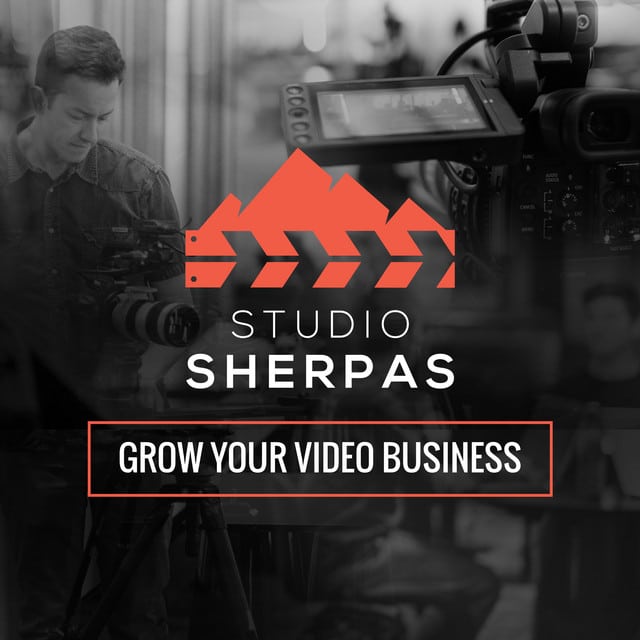 Studio Sherpas Podcast – Grow Your Video Business
The Studio Sherpas Podcast is hosted by Ryan Koral and it has just celebrated its 200th episode. That's a massive achievement!
It has a very polished feel and is well presented. The earlier episodes focused more on wedding videography, but as the show matured, it expanded to freelance and corporate.
The show is focused on helping listeners to grow their video business by increasing profits. Doing that without going crazy in the process!
Matt Davis is a co-founder of Studio Sherpas and a former co-host of the show. He departed as co-host in 2018.
This podcast attracts a high caliber of guests, really big names in the industry. Listening to this show will really help to take your videography business to the next level.
That's about it for now. We'll be sure to keep updating this roundup of our favorite wedding videographer podcasts.
Happy listening!