Weddings are beautiful, joyous, and sometimes completely overwhelming with the traditions and etiquette rules accompanying them.
There are so many "shoulds" and "musts" floating around that it can be hard to differentiate the truth from tradition.
In this post, I will tackle the bridal party seating arrangements mystery. The question of the hour is: does the bridal party have to sit together?
Key Takeaways
Bridal party seating ultimately depends on the couple's preferences and wedding dynamics.
Focus on creating enjoyable and welcoming seating arrangements for all guests.
Consider traditional roles, relationships, and reception logistics when planning seating.
Bridal Party Sitting Options
When it comes to arranging the seating plan for your wedding reception, there are various options for accommodating the bridal party.
Here are a few popular choices for where the bride, groom, and their entourage can be seated during the dinner and festivities.
Traditional Head Table
Traditionally, the bridal party would sit at a head table dedicated to the bride and groom. This table typically includes the maid of honor, best man, bridesmaids, and groomsmen.
The bride and groom sit in the center, with the bride on the groom's left. The maid of honor sits to the bride's left, while the best man sits on the groom's right.
The rest of the bridal party alternates seating on each side of the table. This arrangement allows for easy communication, and it places the focus on the bride and groom.
Sweetheart Table
A sweetheart table is a smaller table designated for just the bride and groom. This provides the couple with some privacy, and it allows them to enjoy their meal together without distractions.
This option is also convenient for bridal party members, as they can sit with other guests, like their family members or friends, allowing them to chat and enjoy their time at the wedding reception as well.
Family Table
Some couples prefer a more intimate seating plan, having the bride and groom sit at a family table.
This arrangement includes the bride and groom, parents, grandparents, best man, and maid of honor.
This option is ideal for couples who want to keep their close relatives and bridal party members at the forefront during the reception.
It fosters a warm and familial atmosphere essential for the wedding celebrations.
Bridal Party Table with Spouses and Dates
If the bridal party members have significant others or guests, couples may opt for a bridal party table that includes everyone's partner or date.
This arrangement is considerate towards the bridal party members, allowing them to enjoy the festivities with their loved ones while keeping the wedding reception's vibe cohesive and inclusive.
It can lead to a more relaxed atmosphere as everyone can engage in conversations and enjoy the event.
Considering Relationships and Dynamics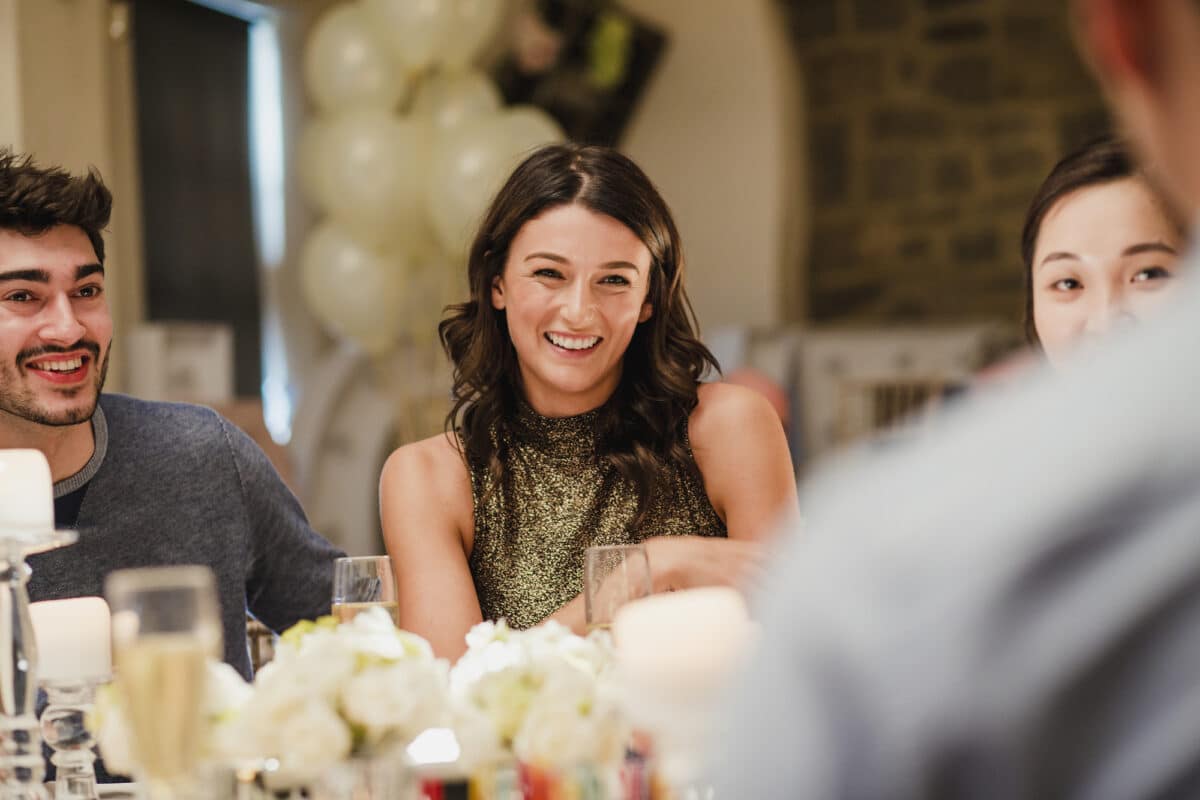 When planning your wedding seating chart, you need to consider the relationships and dynamics within your bridal party and guest list.
This section will explore various aspects of seating assignments, focusing on immediate family, extended family and friends, single friends, and plus-ones.
Immediate Family
For the bridal party, it's common for parents, grandparents, and siblings to sit together, especially the bride and groom's parents.
However, it's essential to consider family dynamics, such as divorced or remarried parents, to ensure everyone feels comfortable.
When assigning seats to grandparents and children, keep in mind their needs regarding accessibility and proximity to restrooms or other facilities.
Extended Family and Friends
Assigning seating for extended family members and friends can be tricky, but the key is to group people with similar interests or ages.
If you have a large wedding party, you might consider seating some groomsmen and bridesmaids with their respective families and friends.
Mixing guests from both the bride's and groom's sides is acceptable, as it can encourage interaction and create a more relaxed atmosphere.
It's also essential to consider the preferences of special attendees or VIPs, such as seating elderly relatives near the front for the ceremony.
Single Friends and Plus-Ones
When it comes to seating single friends and plus-ones, etiquette suggests keeping singles together in a table, which can help them feel more comfortable and make new connections.
However, if you choose to seat single friends with coupled friends, ensure they know at least some other guests at their table to avoid awkwardness.
Plus-ones who don't know many attendees should be seated with their significant other, who will likely be a member of the bridal party or close friends with the couple.
Place cards can be helpful in ensuring guests are seated according to your carefully considered plan.
Seating Arrangements and Plans
Assigning Seats
When planning a wedding reception, one important aspect to consider is the seating arrangements for the bridal party.
It's not mandatory for bridesmaids and groomsmen to sit together, but it can be a good option if you have a smaller bridal party under three bridesmaids and three groomsmen.
The bride and groom could choose to sit at a sweetheart's table together or at a bridal party table with all members of the bridal party.
If you sit the bridal party separately, consider seating their significant others nearby to ensure everyone feels comfortable and included.
Seating Chart
Creating a seating chart is common at weddings to help guests find seats and promote mingling among attendees.
You can assign specific seats or simply assign attendees to certain tables, allowing them to choose their spots within that table.
If you do opt for a seating chart that separates the bridesmaids and groomsmen, try to sit them close by each other, preferably at neighboring tables.
This allows the bridal party to engage with each other during the wedding reception while also spending time with other guests.
Escort Cards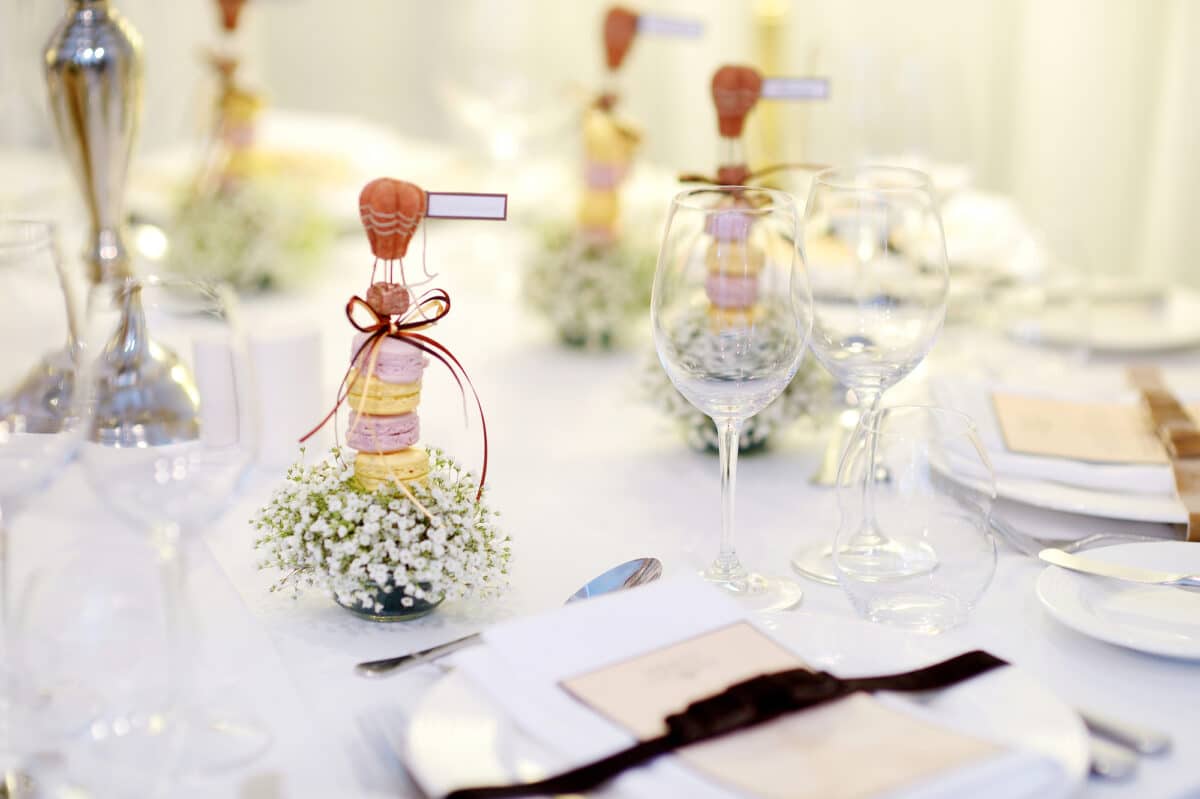 Escort cards are a helpful tool for directing guests to their assigned seats or tables.
These cards typically include the guest's name and table number, and can also feature a personal touch, like a small favor or decoration that coordinates with the wedding's theme.
Whether you are having the bridesmaids and groomsmen sit together or separating them by table, escort cards serve as an easy and organized way to guide guests to their seats.
The goal is to foster a friendly and welcoming atmosphere for all of your wedding guests.
The seating arrangements you choose should strike a balance between allowing the bridal party to celebrate as a group and allowing them to enjoy the company of other attendees.
Traditional Roles and Responsibilities
Best Man and Maid of Honor
The Best Man and Maid of Honor are essential members of the bridal party, responsible for providing emotional and logistical support to the spouses.
Their duties include organizing parties, assisting in decisions for the wedding, and helping the couple throughout the big day.
The Best Man traditionally coordinates with groomsmen to ensure their attire is consistent and arranges a bachelor party.
During the wedding, he holds the rings, offers a toast, and supports the groom.
The Maid of Honor similarly organizes a bachelorette party and provides general assistance to the bride, attends dress fittings, and holds the bride's bouquet during the ceremony.
Bridesmaids and Groomsmen
Bridesmaids and Groomsmen are typically close friends or family members of the couple.
Their roles include helping the couple with tasks such as addressing invitations, assembling favors, and offering emotional support.
On the wedding day, they participate in the processional and stand by the couple during the ceremony.
Bridesman and Man of Honor
In some cases, a bride may choose to have a Bridesman or a groom may select a Man of Honor to be part of the wedding party, signifying the importance of their friendship regardless of gender.
They still fulfill the same essential roles as bridesmaids or groomsmen, showing the couple's appreciation for their support and involvement in the wedding planning process.
During the reception, the bridal party often sits together, and their names and roles can be displayed on escort cards to help inform guests of their positions.
A wedding planner can help manage these seating arrangements and ensure the bridal party's proper placement.
Managing Awkward Situations
When it comes to the seating arrangement at a wedding reception, awkward situations can arise if not handled carefully.
This section discusses how to address these situations, specifically: Divorced Parents, New Relationships, and Ensuring Comfort and Inclusion, to make your big day as smooth as possible.
Divorced Parents
Divorced parents can lead to some tricky moments on the wedding day, especially when it comes to seating arrangements.
To avoid exacerbating tension, consider seating them at separate tables but still close to each other.
Having family members or close friends sit with each parent can help keep the atmosphere congenial. When creating escort cards, ensure one for each parent, even if they have remarried.
Ensuring Comfort and Inclusion
To minimize awkwardness, catering to everyone's comfort at a wedding reception is essential.
When assigning seats, try to seat people with others they know or with whom they have common interests.
Couples should think about each guest's relationship to the bridal party and the couple when creating a seating plan.
For the bridal party, having them sit together is not mandatory. Many couples opt for having the wedding party sit with their families and friends during the reception.
This approach can also help alleviate any potential awkward situations among wedding party members or their plus ones.
Coordinating Reception Logistics
Space and Layout
Think about how the tables will be arranged, where the dance floor will be, and where the head table for the newlyweds will be placed.
If you prefer not to have a separate head table for the bridal party, you can arrange for them to sit with their families and friends.
Toasts and Speeches
Toasts and speeches are a key moment during the reception, as they allow for close friends and family to share heartfelt words with the newlyweds.
Consider how and where you'd like the speakers to stand when coordinating logistics.
Make sure there's a microphone available, if needed, and coordinate the speech order with your wedding planner or coordinator.
This will help ensure that everything runs smoothly and everyone has a chance to speak.
Dance Floor and Party Dynamics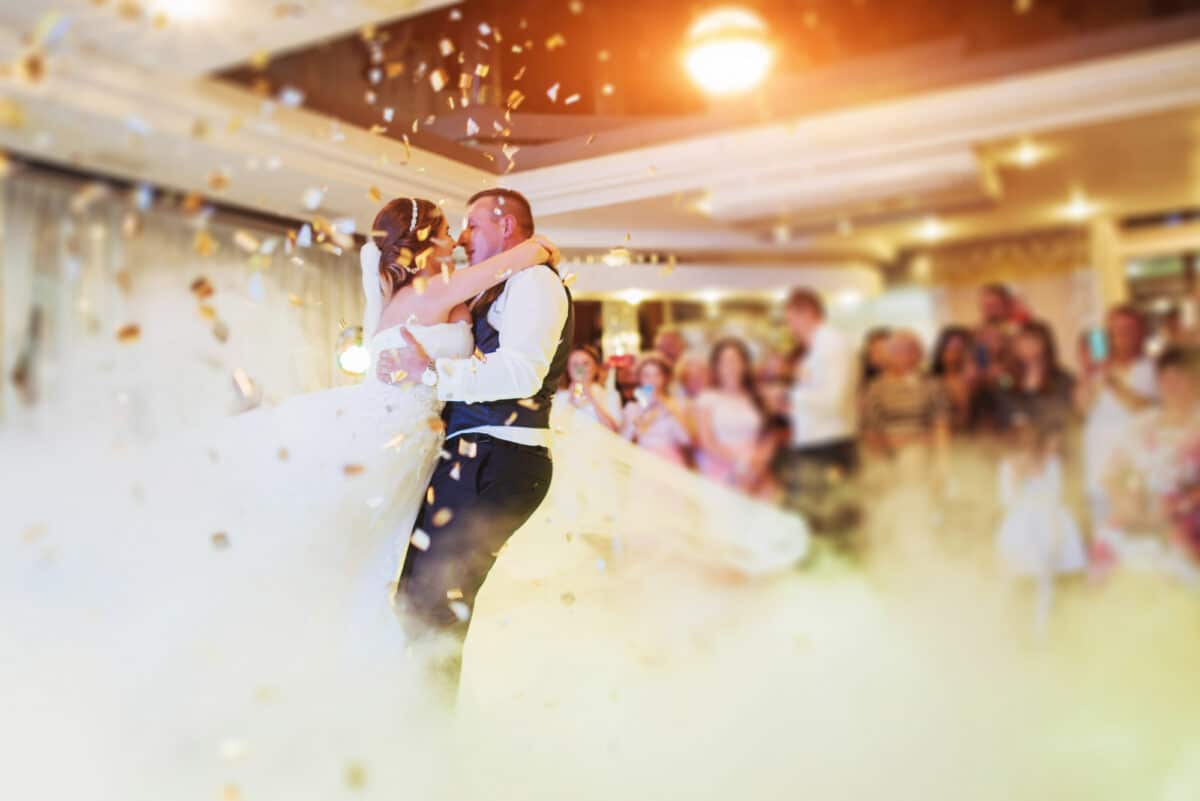 The layout of the dance floor can impact the overall party dynamics.
Make sure to allocate enough space for guests to dance comfortably and consider where it will be in relation to the tables.
If the bridal party isn't seated together, remember that some guests might prefer to sit closer to the dance floor.
Collaborate with your wedding planner to create an optimal layout, encouraging your guests to have fun and celebrate your special day.
Final Thoughts
The seating arrangement for the bridal party during the wedding reception is ultimately up to the couple's preferences and the dynamics of their wedding.
There is no hard and fast rule that requires the bridal party to sit together.
Couples can choose from options such as a traditional head table, a sweetheart table for just the bride and groom, a family table, or seating the bridal party with their significant others.
It's important to consider relationships, family dynamics, and the overall atmosphere you want to create for your guests.
Remember, it's your special day, and the seating arrangement should reflect your vision and make everyone feel comfortable and included.