Ah, the sweet smell of love is in the air as you prepare for the most magical day.
Amidst the whirlwind of wedding planning, it's easy to get caught up in the grandeur and elegance of it all. 
But let's face it, weddings can be expensive, and it's not always feasible to splurge on every aspect of your big day.
So, how can you express your heartfelt gratitude to your guests without breaking the bank? 
In this blog post, I'll explore an array of affordable yet stylish options, creative DIY projects, and smart shopping strategies that will leave your guests in awe and your budget intact. 
Setting a Realistic Budget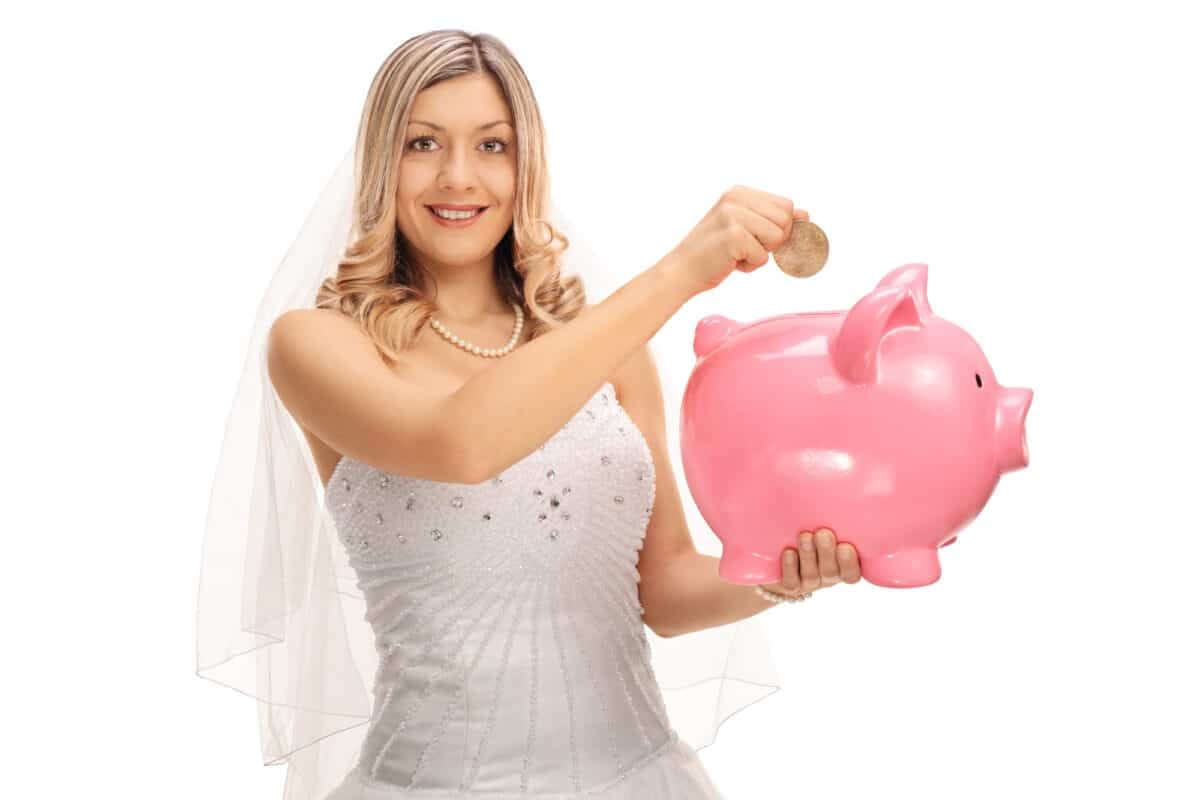 It's important to allocate appropriate funds towards this aspect of the wedding without compromising on other important details.
To start, look at your overall wedding budget and determine what percentage you're willing to spend on favors.
Once you have a set budget allocation, it's time to begin vendor negotiation. Don't be afraid to shop around and compare prices from different vendors before making any decisions.
Remember that while it can be tempting to splurge on extravagant favors, plenty of affordable options are available that still make a lasting impression on guests.
Consider DIY projects or personalized treats that won't break the bank but will leave attendees feeling appreciated.
Couples can find cost-effective ways to provide memorable wedding favors by setting a reasonable budget and negotiating with vendors without sacrificing other aspects of their special day. 
Personalized Favors
Now that we've explored some cost-effective and eco-friendly DIY favors let's focus on another practical option: personalized favors.
These gifts can be tailored to fit the theme of your wedding while also providing a valuable item for guests to enjoy.
The customization options for these types of favors are endless. Personalized wine glasses or shot glasses make great keepsakes that guests will use long after the wedding day.
You could also create custom playing cards with images of you and your partner as the face cards.
For a more hands-on approach, consider hosting a DIY station at your reception where guests can customize their favors, such as keychains or picture frames.
This provides entertainment and ensures each guest leaves with a unique gift they created themselves.
By incorporating personalized favors into your wedding plans, you'll provide thoughtful gifts that reflect your personality as a couple while still being practical and useful for guests.
Plus, with so many customizable options available, you're sure to find something that fits within your budget and adds an extra special touch to your big day.
Group Gifting Options
Now that we've covered some practical and useful favors, let's discuss another budget-friendly option – group gifting.
Collaborative contribution is a great way to save money while giving your guests something they'll appreciate.
One popular method of collaborative contribution is digital group gifting. This allows guests to pool their resources online and contribute towards one big gift for the couple.
Another option is to have each table or group of guests go in on a larger favor together.
For example, you could provide a basket of goodies like locally-made jams, chocolates, and candles for each table to share. 
Or if you're having an outdoor wedding, consider providing blankets or cozy shawls for groups of guests to snuggle up under during the reception.
If you're looking for something more experiential, why not organize a group activity as your favor?
Hire a photo booth or caricature artist that everyone can enjoy throughout the night.
Or plan an outing like wine tasting or mini golfing for your guests to participate in before or after the wedding day.
Group gifting options are a fun way to involve your guests in your celebration while keeping costs down.
Buying In Bulk
Bulk shopping is a great way to save money when purchasing wedding favors. When buying in bulk, you can often get a lower price per item than if you were to buy them individually.
Many vendors also offer discounts for larger orders.
One advantage of buying in bulk is the ability to customize your packaging options at a budget-friendly cost.
For example, you could purchase plain bags or boxes and add your own ribbon or personalized stickers to make them unique.
This allows for greater flexibility and creativity while still staying within your budget.
Another benefit of bulk shopping is that it enables you to purchase enough favors for your guests without breaking the bank.
Buying individual items may seem cheaper upfront but can quickly add up once you factor in the total number of guests attending your wedding.
Timing and Ordering Tips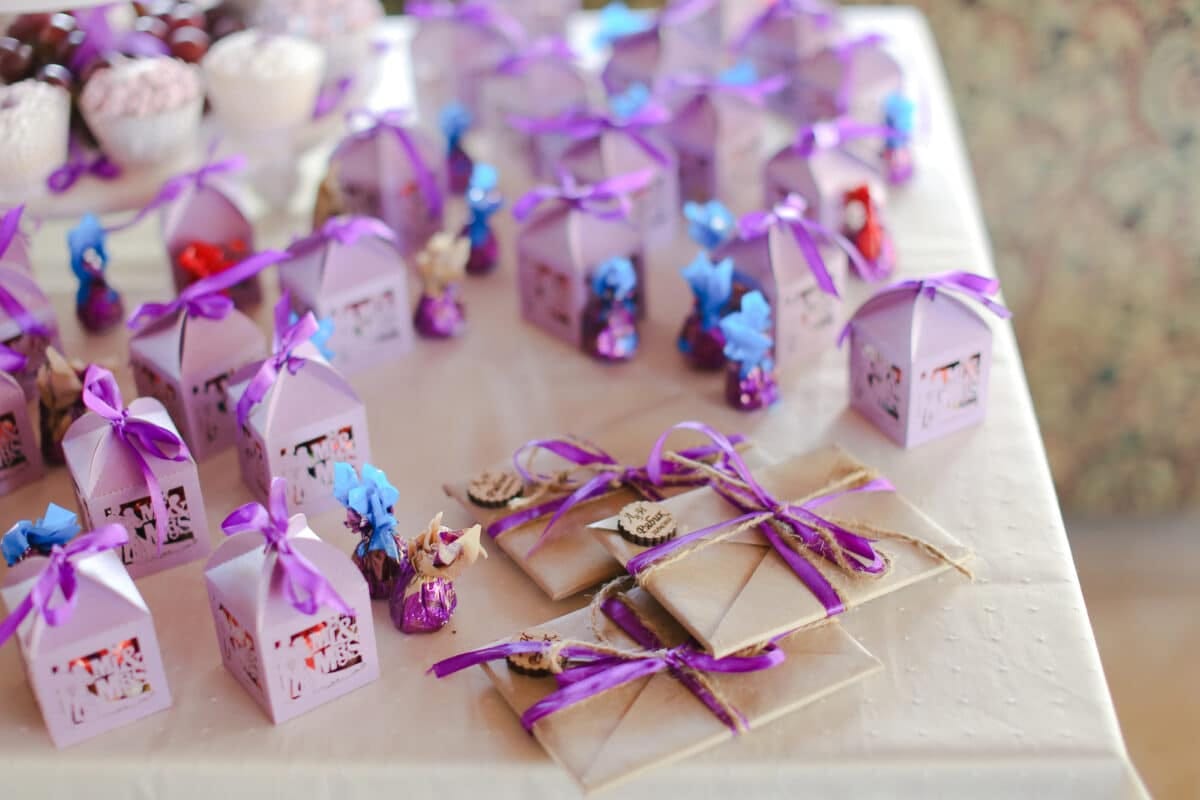 Ensuring you have enough time to order or create your favors without rushing will save you stress and help keep costs down.
When deciding between DIY vs. pre-made favors, timing plays a significant role in your decision-making process.
If you make them yourself, make sure to give yourself plenty of time before the wedding date to avoid feeling overwhelmed. 
On the other hand, if you decide on pre-made favors, place your order well in advance to ensure timely delivery and avoid any last-minute rush fees.
Whether you choose traditional or modern wedding favors can affect how far ahead of time you need to start planning.
Traditional options like personalized candles or Jordan almonds can typically be ordered closer to the wedding date as they are easier to find and have quicker production times than more unique modern ideas like succulent planters or customized cookies, which may require extra time for sourcing materials.
Frequently Asked Questions
How Can I Make My Wedding Favors Stand Out Without Breaking the Bank?
Consider DIY favor ideas and personalized packaging options to make your wedding favors stand out without breaking the bank. 
For example, if you're having an outdoor wedding, create seed packets or potted plants as favors.
Another idea is to include a small thank-you note or message on each favor to show appreciation for your guests' attendance. 
Personalized tags or ribbons can also add a special touch without costing too much.
Is it Necessary to Provide Wedding Favors for Every Guest or Can I Limit it to Just Couples or Families?
The decision on how many and what type of favor to give ultimately rests with the couple.
However, remember that thoughtful gestures go a long way in making guests feel special on your big day.
What Are Some Unique and Affordable Favors That Guests Will Actually Use and Appreciate?
These unique and affordable favors will save you money and provide guests with something they can use and appreciate long after the big day.
For example, consider creating homemade jams or candles with personalized labels for each guest. 
Or, opt for practical items like bottle openers or wine stoppers that can be customized with your name and wedding date.
How Far in Advance Should I Order My Wedding Favors to Ensure They Arrive on Time?
Be sure to check with the vendor about their estimated shipping times and any potential delays due to holidays or unforeseen circumstances.
Are there Any Eco-Friendly Options for Wedding Favors that won't Cost a Fortune?
One option is to choose favors made from sustainable materials, such as bamboo or recycled paper.
You could also consider giving guests small potted plants instead of traditional favors. 
Another idea is to package edible treats in reusable containers, like mason jars or cloth bags.
Final Thoughts
When choosing your favors, think outside the box of chocolates or personalized trinkets.
Consider practical items like succulents, mini bottles of hot sauce, or even customized matchboxes.
And don't forget about eco-friendly options such as seed packets or reusable tote bags.
Ordering your favors in advance is crucial to ensure they arrive on time for your big day. Make sure to give yourself enough time for shipping and potential delays.
Your guests will leave feeling grateful for the thoughtful gesture that reminds them of your special day every time they use their keepsake!