Who says a date has to be expensive before it's fun?
While we all love to splurge, the sad truth is many of us cannot afford to splurge as much as we would love to.
After spending so much on your wedding, it makes sense that you're more concerned about saving up to build your life together than spending a lot on a date night.
Fortunately, we've put together 25 beautiful dates that'll cost you little to nothing at all.
Thanks to this, you won't have to put date night on hold because you're running on a tight budget.
Take a look:
Draw Up A Bucket List Together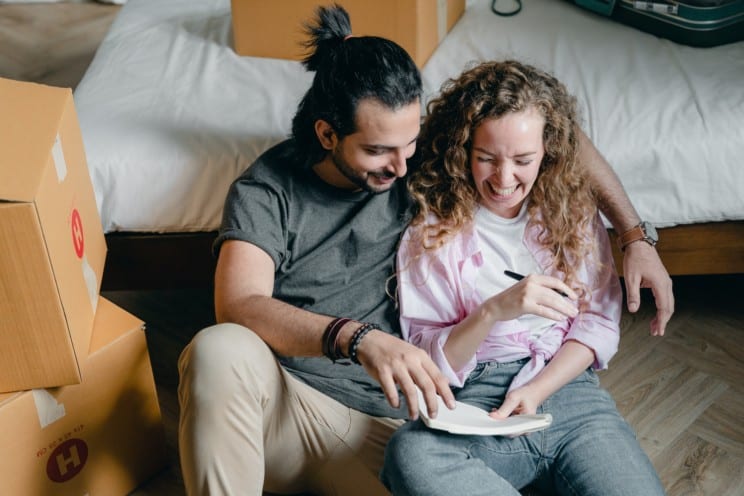 You just got married, and you literally have a lifetime together. Why not draw up a bucket list of everything you'd love to do as a couple?
Whether your list includes extreme sports skydiving or more laid-back activities like watching the sunrise on your 20th wedding anniversary, compiling a bucket list together will leave both of you feeling hopeful and expectant of the future.
Cook Up Something From Your Childhood
Childhood memories have a way of leaving us feeling warm and fuzzy inside.
Preparing something from your childhood together will allow you to bond over conversations about your favorite childhood memories.
Go Dancing… In Your Living Room
Turn off the lights, light some candles, and serenade your spouse as you dance to your favorite tunes.
Add your favorite wine and a cheese platter to the mix as well.
As you completely forget yourself in the intimate feel of your arms around each other, you'll find yourselves laughing in no time.
Take A Trip Down Memory Lane
Pull out some old pictures and videos and walk down memory lane.
Share your versions of your first date, travel back to your first kiss, laugh over your first holiday together and gush over the proposal.
Reminiscing these memories together is sure to inspire some warm feelings and make for a fantastic night.
Go Cycling Together
Fan of the outdoors? How about you and your spouse rent a couple of bikes and go cycling together.
Besides the pure joy biking gives, you also get to check out the scenery and burn some calories as you enjoy each other's company.
Visit An Arcade
A bit of friendly competition is always healthy. Consider visiting an arcade around you and taking turns playing your favorite games.
To make it better, raise the stakes a little: the loser does the chores for a week.
Create A Faux Lights Out Date
Turn off the lights, light some candles, snuggle up and play some cool music.
You can have dinner by the fire and spend the rest of the evening in deep conversation. Don't forget to turn off your phones and TVs to avoid distractions.
Make Your Favorite Desserts Together
Do you or your partner have a sweet tooth? Why not try your hand at making some of your favorite desserts together!
You could get the recipe from the internet, go grocery shopping together and try your hand at something new.
And of course, the best part, enjoy your handiwork.
Visit The Beach
Spend the afternoon at the beach closest to you. Warm sun, beach sand, cool water, and of course, lots of skin; it doesn't get better than this.
You can spend the day sunbathing or go for a dip in the ocean.
Go Camping
Camping is a great way to reconnect with nature and each other. You could start with a hike and then spend the night camping on the trail.
Want to make it extra? Get a double sleeping bag and cuddle up to each other —clear skies, beautiful stars, what a night.
Start A Bonfire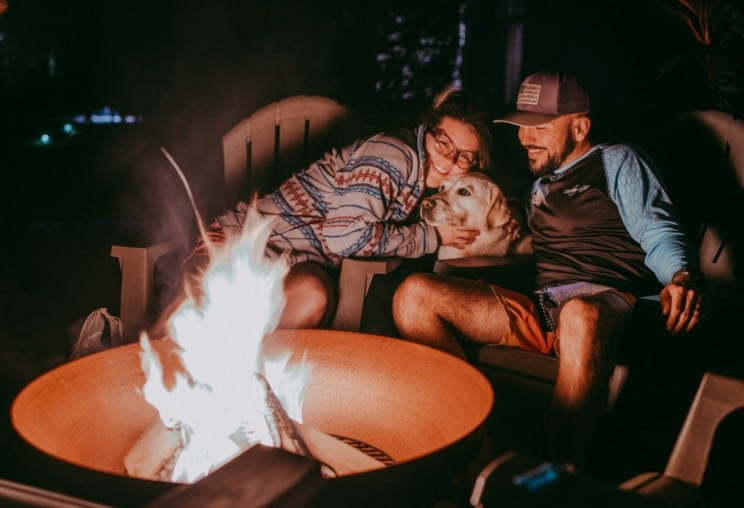 Bonfires set the mood for romance. A warm fire, your favorite songs—extra points if one of you can play an instrument and the other can sing.
You can tell scary stories or relive old memories while munching on your s'mores.
If starting a bonfire in your backyard isn't allowed, consider using your fireplace instead and making s'mores using your microwave.
Check Out the Tourist Attractions In Your City
Whether you've been living in the city all your life or just moved there, odds are there are some tourist attractions that you're yet to visit.
Pick an afternoon to bust these centers and maybe stop for coffee at your favorite cafe. Don't forget to take pictures.
Make A Picnic Basket From Your Leftovers
Have leftovers from last night's dinner? Don't throw them away just yet.
The internet is awash with different finger foods and dishes you can make from leftovers. Try them out and pack them for a picnic.
You could go to your favorite park or have it right in your backyard.
Break Out the Board Games
Scrabble, chess, snakes, and ladders, what's your poison?
A little competition is always fun. Have fun challenging each other at your favorite board games.
Play Strip Poker
Watch things get steamy as you or your spouse forfeits a piece of clothing at a lost turn.
Attend An Open Mic Event
Open mic events are an opportunity to listen to upcoming local poets, musicians, or comedians for free.
They're usually free or, at most, require a small entry fee, and you can easily find them by asking around.
Best part? Open mic events sometimes allow members of the audience to perform as well.
Visit A Karaoke Bar
You and your significant other can spend the evening belting out your favorite tunes while sipping your favorite drinks.
Karaoke bars are usually free or, at most, require a small entry fee.
As an added entertainment, karaoke bars are a great place to hear them all; both great and not-so-great singers can be entertaining.
Have A Movie Night
Instead of going to the movie theatre, why not bust out a classic and spend the evening on your couch.
Order your favorite take-out, get a blanket, turn off the lights, snuggle in and enjoy.
Visit A Flea Market
Flea markets are great places to get all kinds of cool stuff at bargain prices.
You could even make it into a game to see who gets the best deal with a certain amount. Say $10? Who knows?
You might stumble upon some lovely pieces for your new home.
Organize A Casino Night
Organize an in-house casino night by placing bets on chips and cards.
You could play for money, who does the chores, grocery duties, or even foot massages and back rubs.
Volunteer Together
Volunteer work like helping out at a shelter is a great way to give back to the community and connect with each other on a deeper level.
You could look around for organizations in your area that need some help and settle on the one you most identify with.
Exercise Together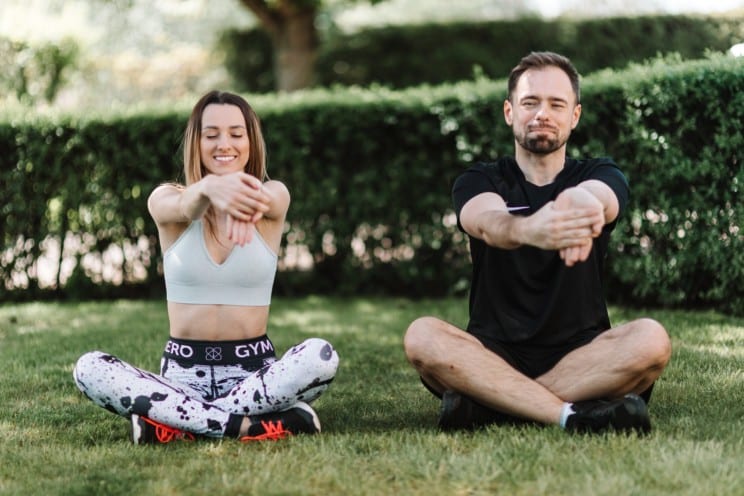 Exercising together is a great way to save money and burn carbs simultaneously.
Go jogging together in a nearby park or work out on the track of a local school near you. From aerobics to couples yoga, your options are endless.
Visit A Farmers Market Near You
If you or your partner are fans of fresh fruit and produce, this is the perfect date.
Take your time to check out the stalls and bathe in the season's warmth as you pick up fresh off the farm produce.
Start A Book Club
Pick a book that you'd both love — it could be a classic or a more recent title — and set out time to read and discuss it.
You could even take turns reading it to each other.
You might be surprised at how much better you'll get to know your partner via their analysis of the book's themes.
Binge-Watch Your Favorite TV Shows
Preparing for a wedding is hectic; odds are you missed out on some of your favorite TV shows while trying to get things in order.
Now the wedding's over, and you can make time to catch up on pop culture and all your favorite shows.
Pick a day for you and your spouse to binge-watch all you've missed, and don't forget to stock up on snacks before diving in.
Frequently Asked Questions
Do I have to dress up for an indoor date night?
Yes, you do. Cheap or not. Indoors or outdoors. It's advisable to look your best for your spouse.
You don't have to go overboard. Depending on the date's nature, something comfortable yet appealing should work.
You should always make an effort to look good and attractive to your spouse. 
Are date nights compulsory?
Although date nights aren't compulsory, experts recommend that married couples go on dates frequently to add excitement and spice to their union.
Regularly going on dates improves communication and reinforces your affection for one another. 
Final Thoughts
While date nights are essential for an exciting marriage, they don't always have to be expensive.
Remember, grand gestures are good, but the heart is most important. What makes a great date is the company, conversation, and ambiance.