Imagine the perfect wedding: the love of your life standing beside you, friends and family gathered to celebrate, and a magical atmosphere that leaves everyone in awe.
What could possibly elevate this unforgettable day? A truly exceptional wedding feast, of course!
Choosing the right wedding caterer is the pièce de résistance of your special day, ensuring a meal that will leave your guests raving about the flavors and presentation for years. 
Are you ready to embark on this gastronomic adventure?
I'll take you through the delightful and tantalizing process of selecting the culinary dream team that will make your wedding an unforgettable gastronomic experience. 
So, grab a glass of bubbly and let's dive into the world of exquisite cuisine, masterful artistry, and the magic of making your wedding feast an epicurean triumph!
Setting a Budget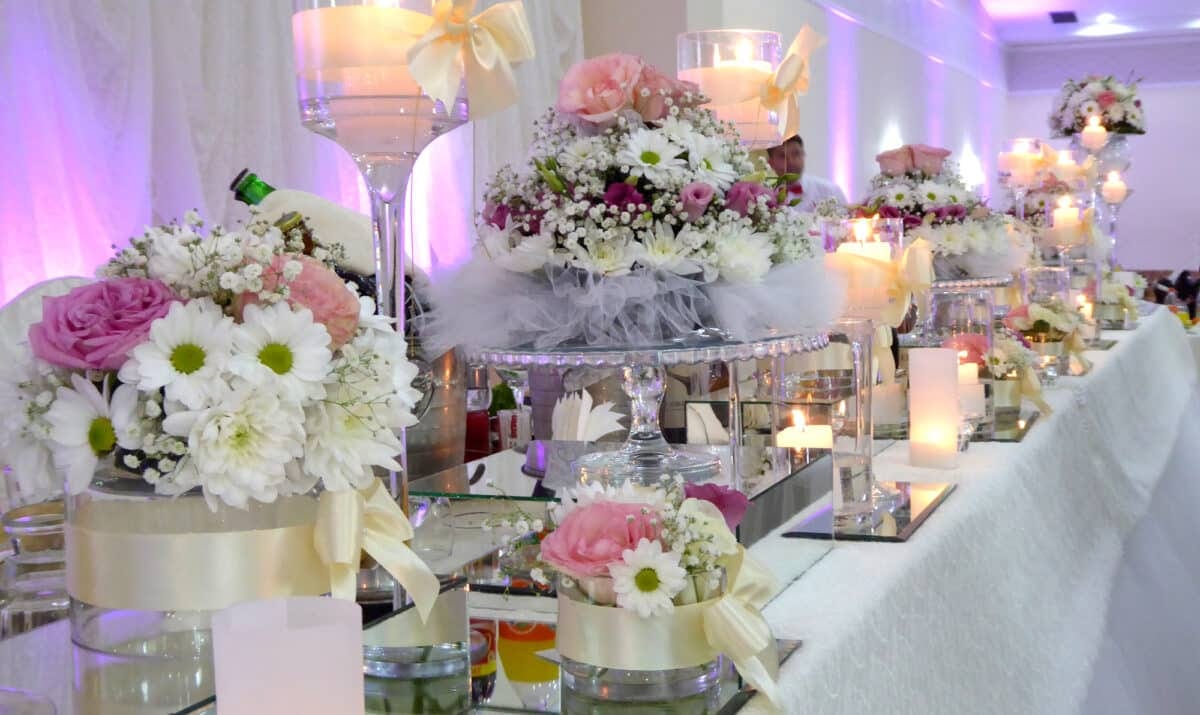 When setting your budget for wedding catering, it's important to consider factors such as guest count, menu options, venue restrictions, and equipment needs.
Determine how many guests will be attending your wedding. This number will greatly affect your overall catering costs.
Then think about what type of food you want to serve. Will it be a sit-down dinner or buffet style? Do you want hors d'oeuvres during cocktail hour?
These decisions will impact the price per person.
Venue restrictions and equipment needs are also crucial when setting your budget. Some venues have their own preferred list of caterers or restrict outside vendors altogether.
If you've already secured a venue, make sure to ask about any guidelines before selecting a caterer. 
Wedding catering budgets must include guest numbers, menu alternatives, venue limits, and equipment demands.
Defining Your Catering Needs
One of the first steps when it comes to your wedding catering needs is to determine your budget. This will help you decide what type of menu options are available to you.
Once you know what you can spend, you'll be able to narrow down the choices to the ones that fit your budget.
Determining Budget
Your wedding caterer should be able to provide different options based on your needs.
When determining your budget, one of the first things to do is to decide how much per person you're willing to spend on food and drinks.
This will help narrow down your choices and avoid overspending in certain areas. 
Keep in mind that some venues may have restrictions or additional fees for outside catering, so it's important to factor those into your calculations.
The guest count also plays a significant role in deciding how much money you'll need to allocate towards catering.
More guests mean more mouths to feed, which translates into higher costs. 
Be sure to give an accurate estimate of the number of attendees during the planning process, as this will impact everything from menu selection to equipment rentals.
Setting a realistic budget is about being honest with yourself about what you can afford while still ensuring that everyone has an enjoyable experience.
Don't be afraid to ask questions or negotiate prices with potential vendors – many are open to working within your budget if given enough notice and flexibility.
Hiring a professional wedding caterer isn't just about providing delicious food. It's also about creating memorable experiences for you and your guests.
Evaluating Menus and Tastings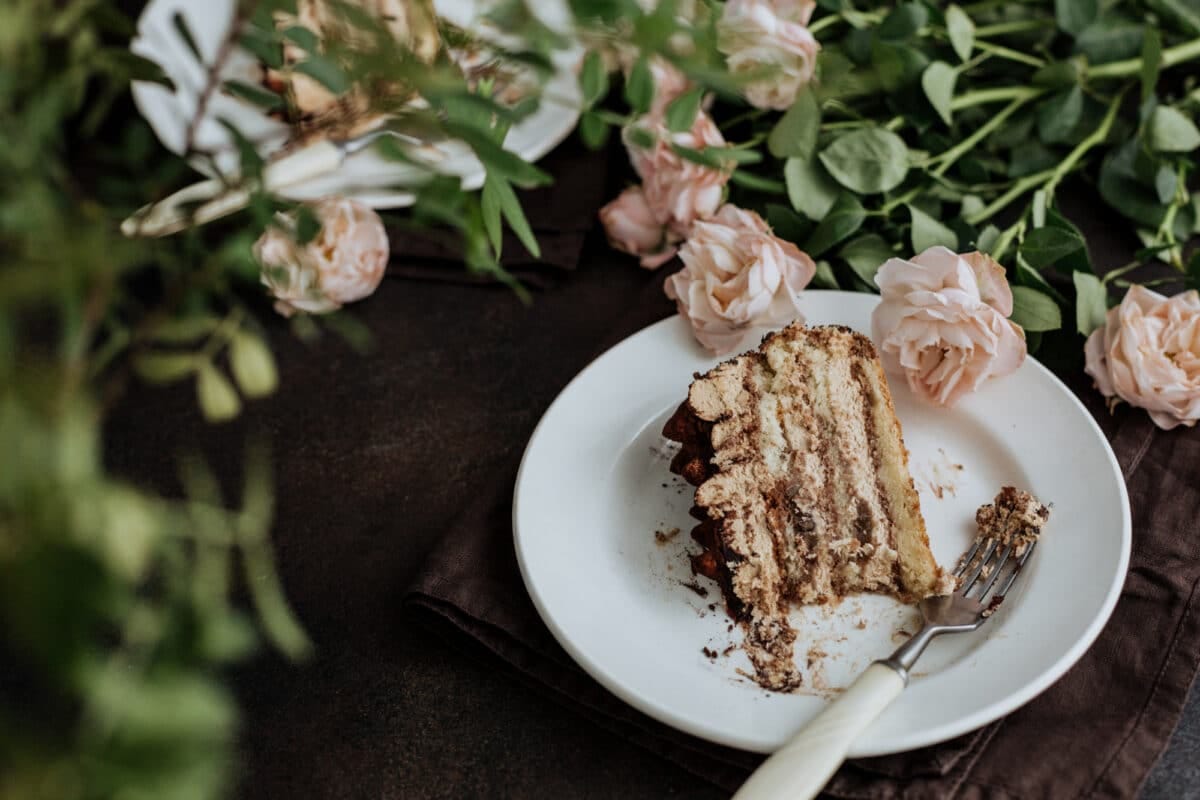 Pay attention to the food presentation. Your guests will not only appreciate delicious food, but they'll also want it to look visually appealing.
Be sure to ask your potential caterers about their plating style and how they plan on presenting each dish.
Consider wine pairing options as well. A good caterer will be able to suggest wines that complement the flavors of the dishes being served.
Don't be afraid to ask for recommendations or even request a tasting with different wine pairings before making final decisions.
Don't just focus on taste alone when attending tastings with potential caterers.
Consider portion sizes, the temperature of the dishes, and overall execution of the menu items as well. Are there any dietary restrictions or allergies among your guests? 
Ensure the catering company is willing and able to accommodate those needs without compromising flavor and quality.
Trust your instincts when evaluating menus and tastings.
While it's important to consider all factors, such as price point and experience level of the caterer, you ultimately want someone who understands your vision for your special day and can deliver an exceptional dining experience for you and your loved ones.
Reviewing Contracts and Policies
This is one of the most critical aspects that requires particular attention from you as a couple. It would help if you reviewed all details in your contract before signing anything.
Contract negotiation is an essential part of working with any vendor for your big day, including your caterer.
The terms outlined in your contract should be clear, concise, and easy to understand.
You need to ensure that everything agreed upon has been included in writing before finalizing the agreement. One crucial point to consider while reviewing contracts is payment terms.
Ensure that they are specified clearly in the document so there are no misunderstandings or disputes later on down the line.
Some caterers may require partial payments upfront, while others full payments at once. Do not forget to read through all policies mentioned by the catering company thoroughly.
Policies regarding cancellations, postponements, rescheduling, and refunds must be documented correctly to avoid confusion about their rights and responsibilities. 
Considering Dietary Restrictions
I'd suggest asking about their allergy awareness to ensure they can accommodate guests with different sensitivities.
That way, no one has to miss out on the delicious food!
It's also a good idea to ask for samples of the dishes you're considering to ensure they meet your expectations.
Vegetarian/Vegan Options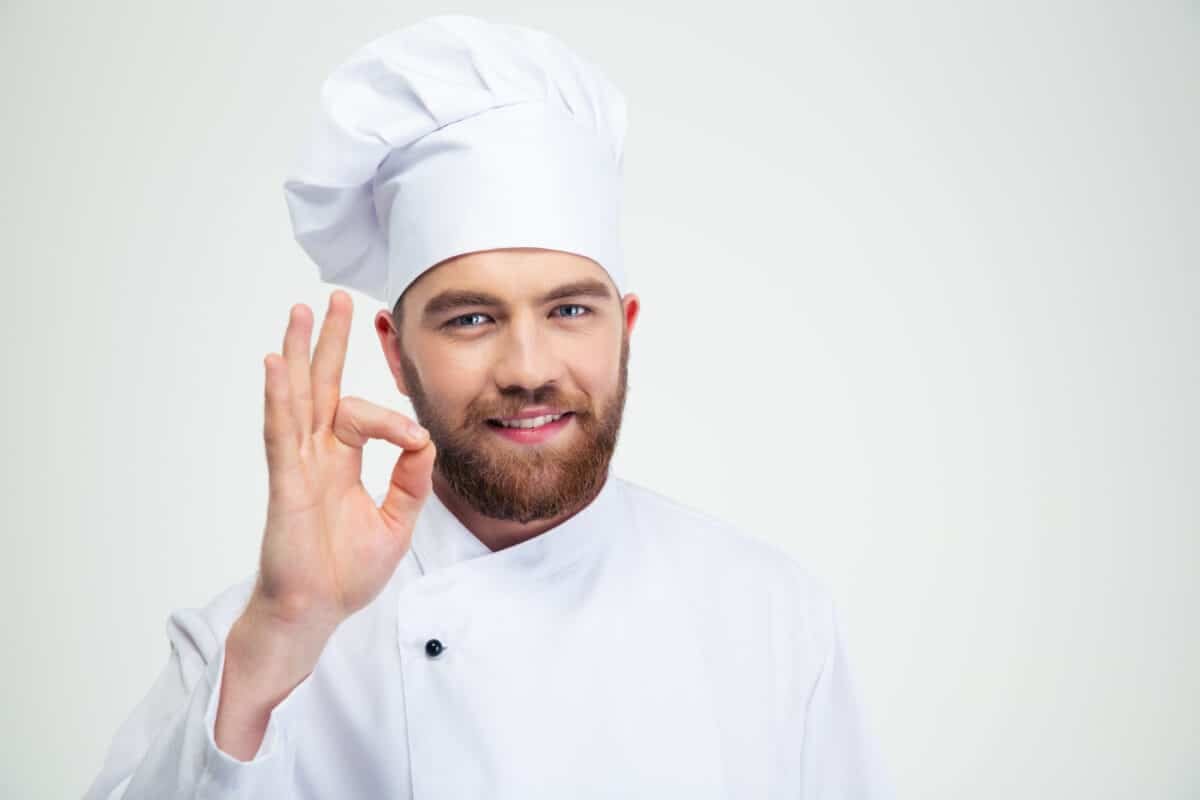 For those guests who follow a vegetarian or vegan diet, having options that fit their needs can make all the difference in their enjoyment of the event.
It is always recommended that couples work with their chosen caterer to ensure plenty of plant-based options.
When sourcing ingredients for vegetarian and vegan dishes, choosing fresh produce and high-quality proteins is essential to satisfy even the most discerning palates.
This means working closely with local suppliers to find the best seasonal offerings and incorporating creative approaches like using tofu or tempeh as substitutes for meat in traditional dishes.
Couples can create menus that showcase delicious vegetarian and vegan options alongside more classic fare by putting thought into ingredient sourcing.
Another key consideration when planning a vegetarian or vegan-friendly menu is making sure that these dishes feel just as special and celebratory as any other items on the menu.
A skilled caterer can elevate plant-based ingredients through thoughtful preparation techniques and beautiful presentation. 
Whether creating an elegant vegetable tart or serving up hearty lentil soup, every dish should be carefully crafted so guests can truly savor each bite.
Allergy Awareness
One of the most important considerations in menu planning is accommodating guests' dietary restrictions.
Creating a customized menu that caters to everyone's needs and preferences, including allergies is essential. 
Allergy awareness is crucial when it comes to creating a safe and enjoyable dining experience for all guests.
When sourcing ingredients for dishes, choosing high-quality produce and proteins free from common allergens like nuts, dairy, gluten, or shellfish is essential.
This means working closely with local suppliers and carefully scrutinizing ingredient labels. 
This way, couples can avoid cross-contamination issues and ensure that their food offerings are delicious yet safe for those with allergies.
A skilled caterer knows how to prepare dishes without using any potentially harmful ingredients while still maintaining flavor and texture.
Whether creating vegan mushroom risotto or gluten-free pasta primavera, every dish should be crafted with care so that guests with allergies can enjoy them worry-free.
By prioritizing allergy awareness during wedding menu planning, couples show respect for their guests' safety concerns while also demonstrating flexibility and creativity in their culinary offerings. 
Finalizing Details and Logistics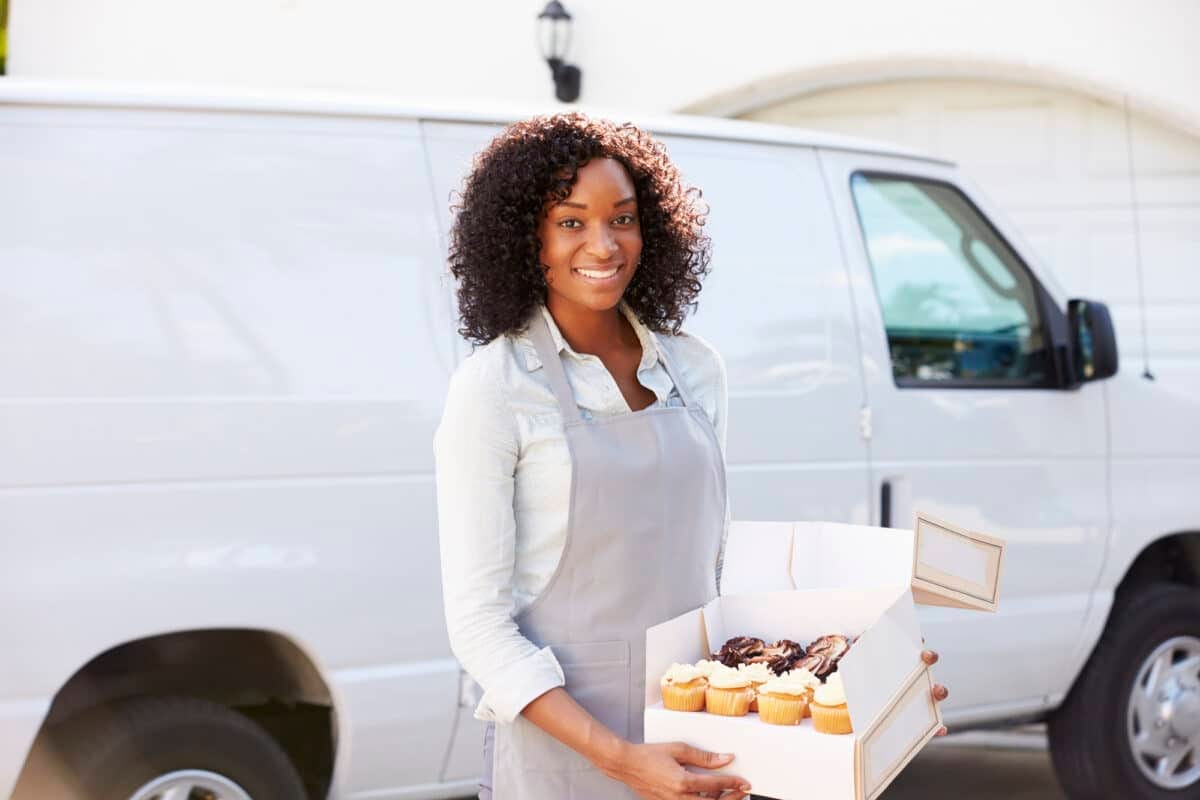 Now that you've chosen your wedding caterer, it's time to finalize the details and logistics.
This is where things can get tricky, but with proper planning, everything will go smoothly on your big day. The first thing you need to consider are any venue restrictions. 
Some venues have strict rules about what kind of food can be served or how it should be prepared.
Make sure to communicate these restrictions clearly to your caterer so they can plan accordingly.
Next, take into account any guest preferences when finalizing the menu. Do you have a lot of vegetarian guests? Are there any dietary restrictions or allergies that need to be accommodated?
Your caterer should work closely with you to create a menu that reflects your tastes while also catering to the needs of your guests.
When it comes to logistics, timing is key. Confirm with your caterer what time they'll arrive at the venue and when they expect to start serving food.
You want to make sure everything is timed perfectly so that guests aren't waiting too long for their meals. Make sure tables are set up in advance and dinnerware is ready for use.
Finally, don't forget about presentation! Your wedding meal should not only taste delicious but look stunning as well.
Discuss table settings and decor options with your caterer ahead of time so they know exactly what style you're going for.
Coordinating With Other Vendors
Make sure to discuss expectations early and be clear with any instructions.
Scheduling is also essential – ensure you know when the other vendor will be arriving and what services they will be providing. 
Budgeting is also important, so make sure to discuss payment options and any additional costs upfront.
Don't forget to let them know what you are expecting – that way everyone is on the same page. Lastly, don't be afraid to ask questions.
It's better to be clear on what is needed than to be disappointed with the results. 
Communication
It's important to build rapport with them and establish trust right from the start. This will make working together much easier and more enjoyable for everyone involved.
When communicating with other vendors, managing expectations is crucial. Be clear about your needs and deadlines so they know what to expect from you.
At the same time, be open to their input and suggestions as well.
Remember that everyone wants the wedding day to be perfect, so being flexible and understanding goes a long way in making that happen.
One of the best ways to ensure good communication is by holding regular meetings or check-ins with all the vendors involved in the wedding planning process.
This helps keep everyone on the same page and ensures that any issues are addressed before they become major problems.
Make sure these meetings are scheduled well in advance so everyone has ample time to prepare.
Building strong relationships with other vendors through effective communication is essential for creating an unforgettable wedding experience for couples and guests alike. 
Scheduling
Before setting any dates or times for your services, you'll need to make sure the venue is available and can accommodate your needs.
This includes not only the date and time of the ceremony and reception but also any setup or teardown requirements you may have.
Another consideration when scheduling is guest count restrictions.
Depending on the size of the wedding, there may be limitations on how many guests can attend certain portions of the day, such as the cocktail hour or dinner service. 
You'll need to coordinate closely with other vendors – especially those providing food or drinks – to ensure everyone stays within these limits.
To make scheduling easier and more efficient, I recommend using a shared calendar or project management tool.
This allows all vendors involved in the wedding planning process to see what tasks are due when and who is responsible for them.
It also makes it easy to adjust schedules if needed based on changing circumstances or unforeseen challenges.
Keep track of venue availability and guest count restrictions while utilizing tools like shared calendars to help ensure everything runs smoothly leading up to the big day.
Budgeting
One cost-saving strategy when working with other vendors is to prioritize which items are most important to splurge on and where you can cut back.
For example, if the couple values high-quality food above all else, they may be willing to spend more on catering and less on decor or entertainment.
It's essential to communicate openly with both your clients and other vendors about pricing and any potential additional costs upfront. .
This ensures everyone is on the same page and avoids any surprises down the line.
To make budgeting easier and more efficient, I recommend using a spreadsheet or financial planning tool.
This allows all vendors involved in the wedding planning process to see what costs are associated with each item and where adjustments can be made without sacrificing quality.
Tips For A Successful Catering Experience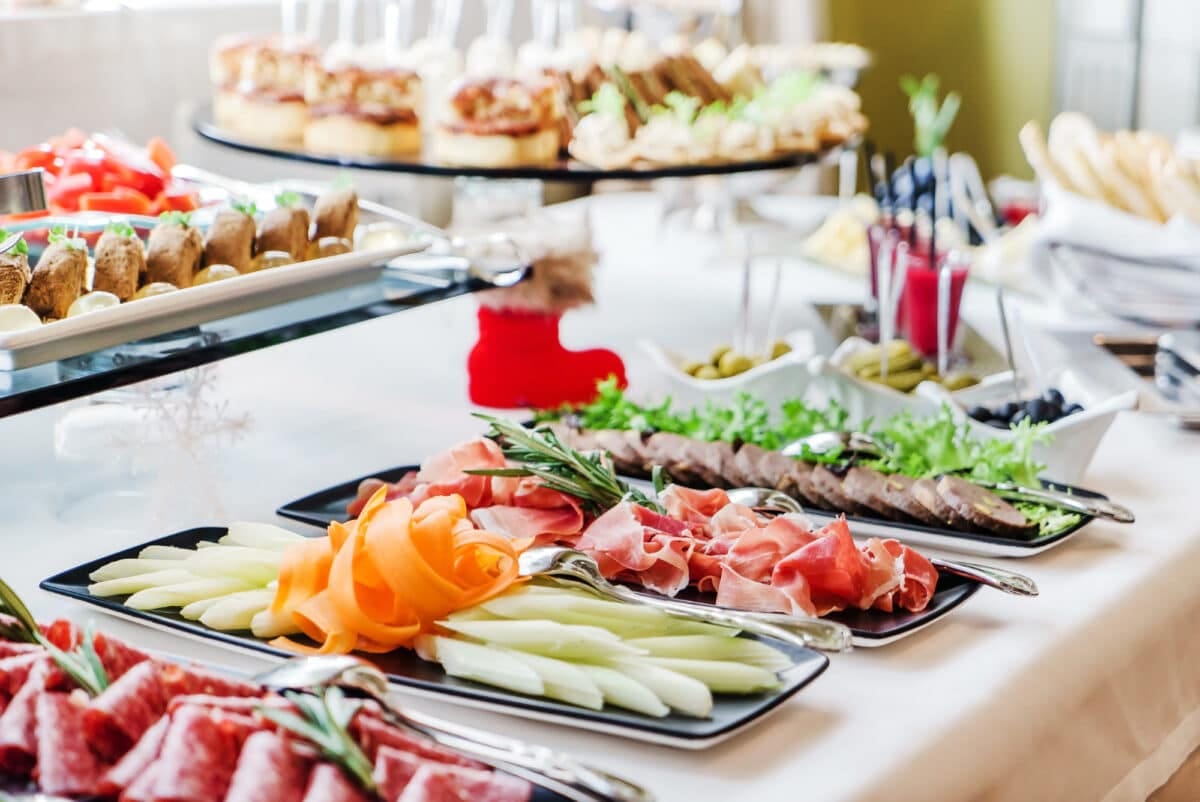 Every couple has unique tastes and preferences, so it's essential for your caterer to offer a variety of options that can be tailored to fit your specific needs.
Find a caterer who will work with you to create a personalized menu that reflects your style and vision for the big day.
Another key factor in ensuring a smooth catering experience is service flexibility.
Weddings are often filled with unexpected surprises, from weather changes to last-minute guest cancellations. 
Your caterer should be able to adapt quickly and provide solutions on-the-spot without compromising the quality of their services.
A good catering team will have contingency plans ready and waiting for any potential issues that may arise.
Communication is also crucial when working with your wedding caterer.
Make sure you keep them informed about any changes or updates related to your event, such as guest counts or dietary restrictions. 
Be clear about what you expect from them in terms of timing, presentation, and overall execution.
The more details they have, the better equipped they'll be to deliver an exceptional dining experience.
Don't forget to show appreciation for all their hard work!
A simple thank-you note or review can go a long way in showing gratitude for the effort put into making your special day unforgettable. 
Frequently Asked Questions
Can I Provide My Own Ingredients for the Caterer to Use?
It's important to discuss any potential cost savings or added expenses upfront with your caterer and come to an agreement that works for both parties. 
If you're set on providing some of the ingredients yourself, consider asking your caterer if they offer a discount on their services in exchange for using your supplies.
It's all about finding a balance between cost and quality when it comes to wedding catering.
How Far in Advance Should I Book My Wedding Caterer?
Generally speaking, most couples book their wedding catering services at least six months in advance, but if you're planning a peak season wedding or have a specific caterer in mind, it's best to book even earlier than that.
Keep in mind that availability can vary widely depending on the time of year and location, so don't wait too long to lock down your caterer!
Can I Request a Specific Chef to Prepare the Food?
Chefs work in tandem with event planners, servers, and bartenders to ensure your big day goes off without a hitch.
That being said, most caterers are happy to discuss menu customization options with you and work together to create the perfect culinary experience for your wedding guests.
Are There Any Additional Fees I Should Be Aware of When Hiring a Wedding Caterer?
Some caterers may charge extra for special requests or additional services such as cake cutting or corkage fees.
It's crucial to have open communication with your caterer and make sure you understand all fees before signing the contract.
This way, you can avoid any unexpected surprises on your big day and ensure that your wedding catering experience is seamless and stress-free.
Can the Caterer Provide Alcohol and Bartending Services?
Before hiring a caterer for these services, be sure to check their licensing requirements in your state or region.
Some caterers may have restrictions on what they are legally able to offer.
Ask about beverage options and pricing also, so that you can plan accordingly within your budget. 
Final Thoughts
Remember to consider all of your options, and don't be afraid to ask questions! It's important that you feel comfortable with the caterer you choose.
Think of hiring a wedding caterer as building a puzzle – each piece needs to fit perfectly together to create a beautiful picture.
Your chosen caterer should complement the theme and style of your wedding, provide delicious food, and offer excellent service. 
With careful consideration and attention to detail, your dream wedding will come together like a completed puzzle masterpiece.