The moment has arrived, the proposal has been made, and the wedding planning has begun.
Among the countless details and decisions to make, one stands out as perhaps the most personal and emotional of all: choosing the perfect wedding dress.
This symbol of love and commitment is not just an outfit – it's the culmination of your dreams and aspirations, a reflection of your unique style, and a celebration of the love story that has led you to this magical day.
Let's take you by the hand and guide you through the enchanting world of bridal fashion, helping you unveil the gown of your dreams.
It's important to remember that your wedding day is all about you. Your dress should reflect your personal style and make you feel confident and beautiful as you walk down the aisle.
Whether you're dreaming of a classic ballgown or something more modern, this guide will help you navigate the bridal fashion world and find the gown of your dreams.
So, grab a cup of tea, gather your closest friends and family, and let's embark on this exciting journey together. Your fairy-tale dress awaits!
Setting Your Budget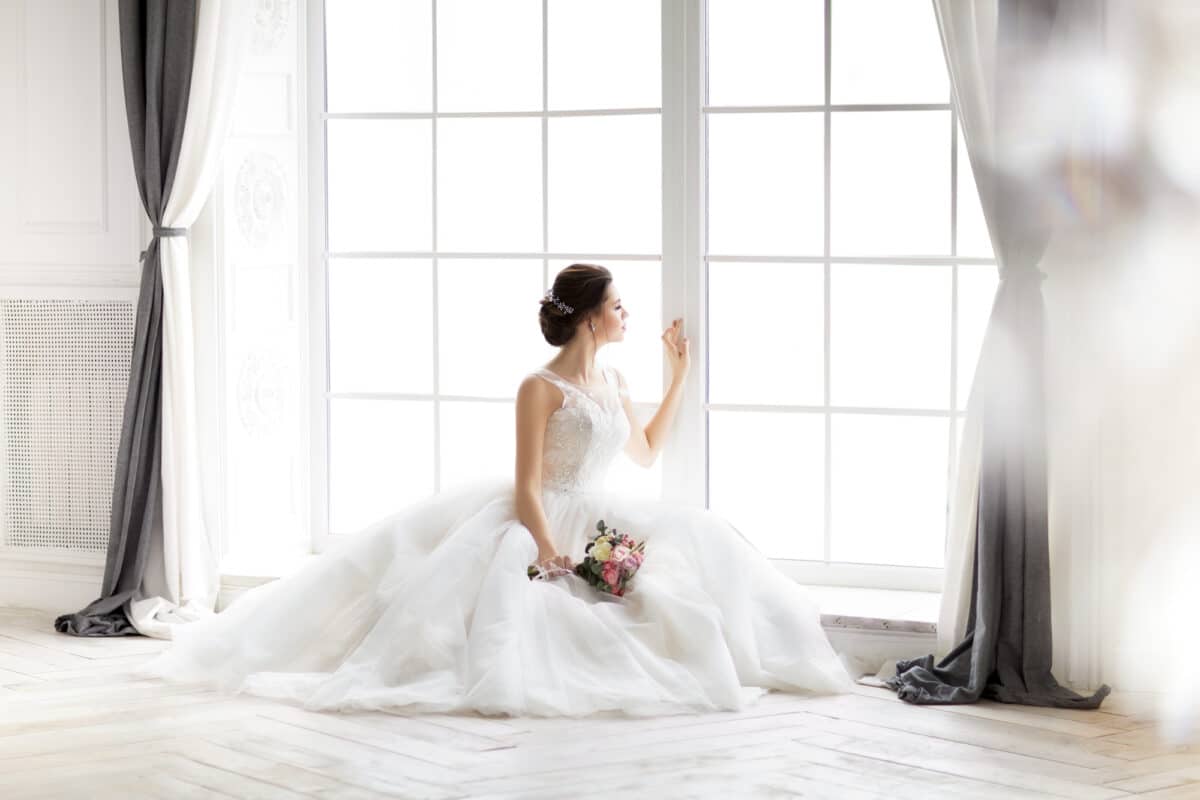 Finding the right gown can be overwhelming. However, with careful planning and consideration of various factors, you will find a gown that suits your style and budget.
When setting your budget, it is essential to consider all the costs associated with buying a wedding dress. We've written a guide about wedding dresses on a budget.
Factors to consider include alterations, accessories, taxes, shipping fees, and possible customizations.
Knowing what you can afford upfront will help narrow your choices and avoid financial stress later on.
Tips to save when shopping for a wedding dress include starting early in your search, as rush orders often come at an additional fee.
You also want to look out for sales or trunk shows where discounts may apply. Consider purchasing pre-owned gowns or renting instead of buying outright.
Remember that while sticking to a budget is important, don't compromise on quality or fit just because of price alone. A well-made gown that flatters your body shape will make you feel confident and beautiful on your special day.
We've put together an excellent guide on plus-size wedding dresses.
By keeping these tips in mind when setting your budget for a wedding dress purchase, you'll have more control over expenses and increase the chances of finding the perfect gown within your means.
Determining Your Wedding Style
When choosing your wedding dress, one important factor to consider is your wedding theme.
Your gown should complement the overall aesthetic of your big day; for example, a bohemian-inspired dress would be perfect for an outdoor garden wedding, while a sleek and modern gown would be more fitting for a city hall ceremony.
However, at the end of the day, personal preference trumps all. You may have always envisioned yourself in a ballgown with layers upon layers of tulle or perhaps you prefer something more understated like a sheath dress with delicate lace detailing.
You must feel comfortable and confident on your special day so don't compromise what makes you feel beautiful just to fit into a certain theme.
Don't forget about practicality; if you're planning an outdoor wedding in the summer heat, steer clear of heavy fabrics like satin or velvet.
Instead opt for materials such as chiffon or organza, which are lightweight and breathable. Similarly, if you're getting married during winter, consider long sleeves or heavier fabrics to keep warm.
Determining your preferred wedding dress style ultimately boils down to finding the perfect balance between what complements your theme and what speaks to you personally. 
Remember that this is YOUR day and there are no hard rules for bridal fashion – choose a dress that reflects who you are and makes you feel absolutely radiant walking down the aisle!
Have you considered the right wedding dress for your venue?
Researching Designers and Boutiques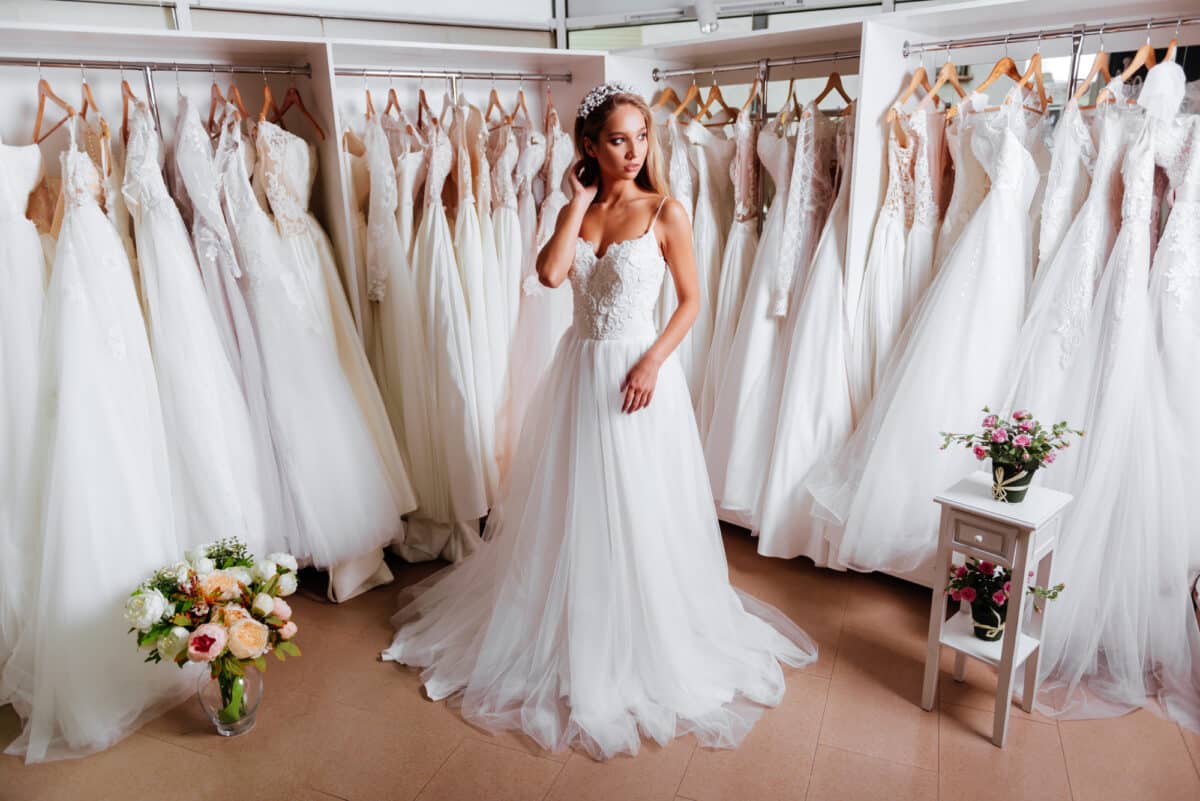 When it comes to choosing a wedding dress, researching designers and boutiques is an important step in the process.
Finding inspiration from bridal magazines, blogs, or social media can help narrow your search.
Once you've identified a few styles that catch your eye, look for designers specializing in those dresses.
Comparing prices among different boutiques is also crucial if you're working with a budget.
Remember that some designers may be more expensive than others because they use higher-quality materials or have intricate designs.
However, don't assume that just because a boutique has high prices, they offer better service – research customer reviews and testimonials before making any appointments.
When visiting potential boutiques, come prepared with photos or ideas of what you're looking for. This will help stylists understand your vision and suggest dresses that fit within your criteria.
Don't be afraid to try on different styles either – sometimes the dress you least expected ends up being "the one."
Researching designers and boutiques takes time but is worth it when finding your dream wedding dress. 
By staying organized and keeping track of pricing information and feedback from previous customers, you'll feel confident in making an informed decision about where to purchase your gown without breaking the bank.
Booking Appointments
With the excitement of wedding planning, booking an appointment for your bridal gown can be one of the most exhilarating appointments you'll make.
However, it's crucial to choose the right time for your appointment. Keep in mind that weekends tend to book up fast, and weekdays may offer more flexibility.
If possible, try to schedule your appointment at least six months before your wedding day to avoid any unnecessary stress.
Preparing for your appointment mentally and emotionally is just as important as choosing the right time.
Determine who you want by your side during this exciting moment; too many opinions can become overwhelming.
You will also need to have a clear idea of what type of dress you're looking for or styles that catch your eye. This will help streamline the process and ensure you find "the one."
Research designers and boutiques that align with your style needs first.
Once you've narrowed down your options, check out their websites or social media accounts to get an idea of what they offer.
Then call them to schedule an appointment so they can assist you in finding the perfect dress. Just remember that booking an appointment should be enjoyable!
Take advantage of this special time with loved ones and embrace every moment leading up to walking down the aisle feeling like a queen in the dress of your dreams.
Bringing the Right People to Your Appointment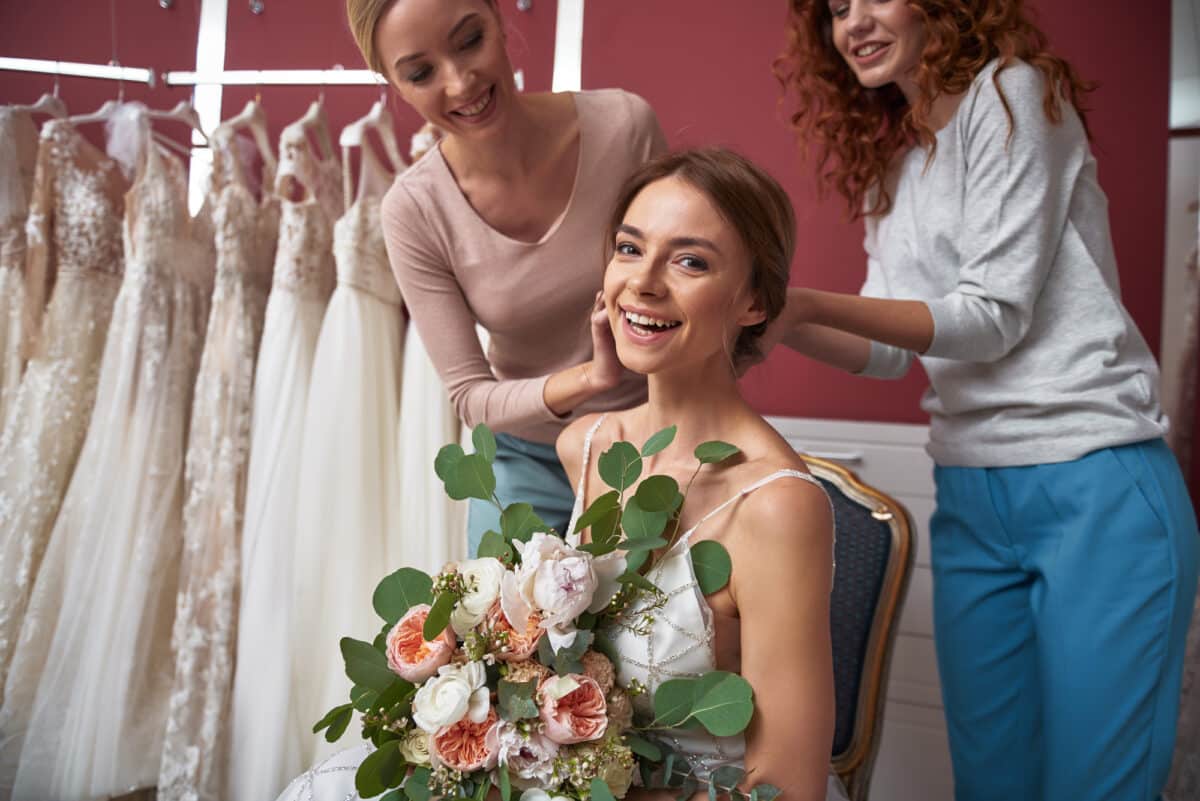 Choosing the right entourage can be crucial in finding your dream dress.
While some brides prefer to bring only one or two trusted friends or family members, others opt for a larger group. It is ultimately up to you and what makes you feel comfortable.
However, managing conflicting opinions within your entourage can be a difficult task. Remember that this day is about you and your vision for yourself as a bride.
It's important to communicate clearly with your loved ones about what styles you are interested in trying on and what elements of a dress are most important to you.
This way, everyone can come prepared with constructive feedback rather than personal preferences.
When bringing people to your appointment, consider their personalities and how they may react under pressure or stress. If someone tends to be overly critical or dramatic, it might be best not to invite them.
On the other hand, if there is someone whose opinion means the world to you but lives far away, consider setting up a video call during the appointment so they can still offer their input.
Choosing the right entourage can make all the difference in creating a positive and productive wedding dress shopping experience.
By being clear about your expectations beforehand and considering each person's personality and role in your life, you'll increase the chances of having an enjoyable day filled with love and support from those closest to you.
Trying On Different Styles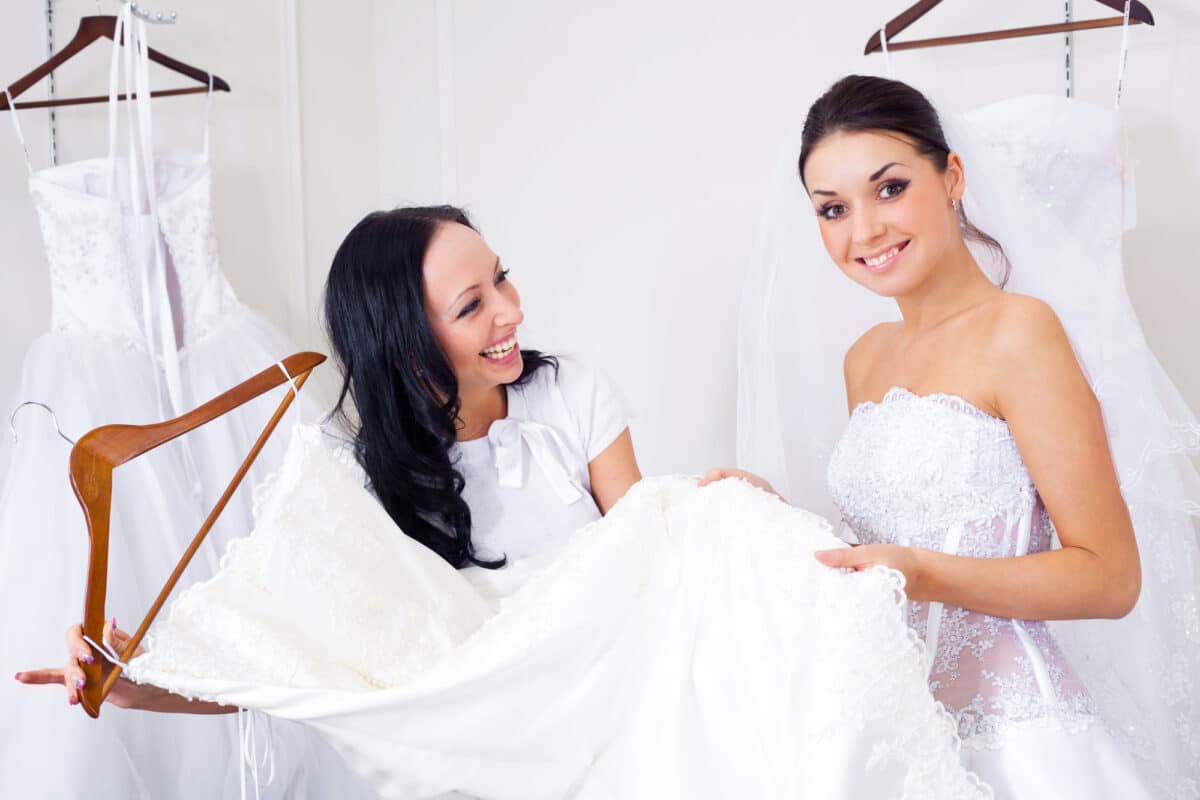 Trying on different styles is a crucial step. It's important to experiment with various silhouettes and designs to find the one that suits you best.
Many brides make the mistake of sticking to just one style without considering other options.
Start by looking at color choices that complement your skin tone and personality. While white is still the most traditional choice for weddings, many other colors are available today, such as blush pink, champagne, or even bold reds!
Don't be afraid to step outside of tradition if it means finding your dream gown. If you're thinking vintage, then definitely read our guide to vintage wedding dresses.
Consider your body type when trying on different styles. Every bride has unique features they want to highlight or downplay.
For instance, an A-line silhouette can help create an hourglass shape while a ballgown can give more volume around the hips.
Seasonal considerations should also play a role in selecting a wedding dress. Long-sleeve gowns made from heavier fabrics like satin or velvet might be more appropriate if you're getting married during winter.
Meanwhile, summer weddings call for lighter materials such as chiffon or lace.
Cultural traditions may also influence what type of dress you choose.
Some cultures prefer modesty and require covered shoulders or sleeves while others embrace bolder designs with intricate beadwork and embroidery.
Remember that trying on different styles is all about discovering what makes you feel confident and beautiful on your big day.
Considering Fabric and Details
Choosing the perfect fabric and details for your wedding dress is one of the most important decisions you will make during the planning process.
Regarding fabrics, silk or lace are always a classic choice.
Silk drapes beautifully on the body while being lightweight and breathable, making it ideal for any season. Lace adds texture and intricate detailing that can be both elegant and romantic.
When considering details such as beading or embroidery, less is often more. These embellishments can add sparkle and dimension to your gown but too many can overwhelm your overall look.
Be sure to choose a design that complements your personal style and enhances your silhouette. Simple touches like delicate beaded straps or embroidered floral accents can take your dress from beautiful to breathtaking.
Incorporating personalized details into your wedding dress design is another way to make it uniquely yours.
Consider adding sentimental elements such as lace from a family heirloom veil or incorporating hand-sewn initials in a hidden location within the gown.
This adds an extra layer of meaning to your special day and creates a timeless piece you can cherish for years to come.
Remember that choosing fabric and details for your wedding dress is all about finding the balance between timeless elegance and personal style.
Take inspiration from current trends but ultimately trust your instincts and choose what makes you feel confident and beautiful on your big day.
Making Alterations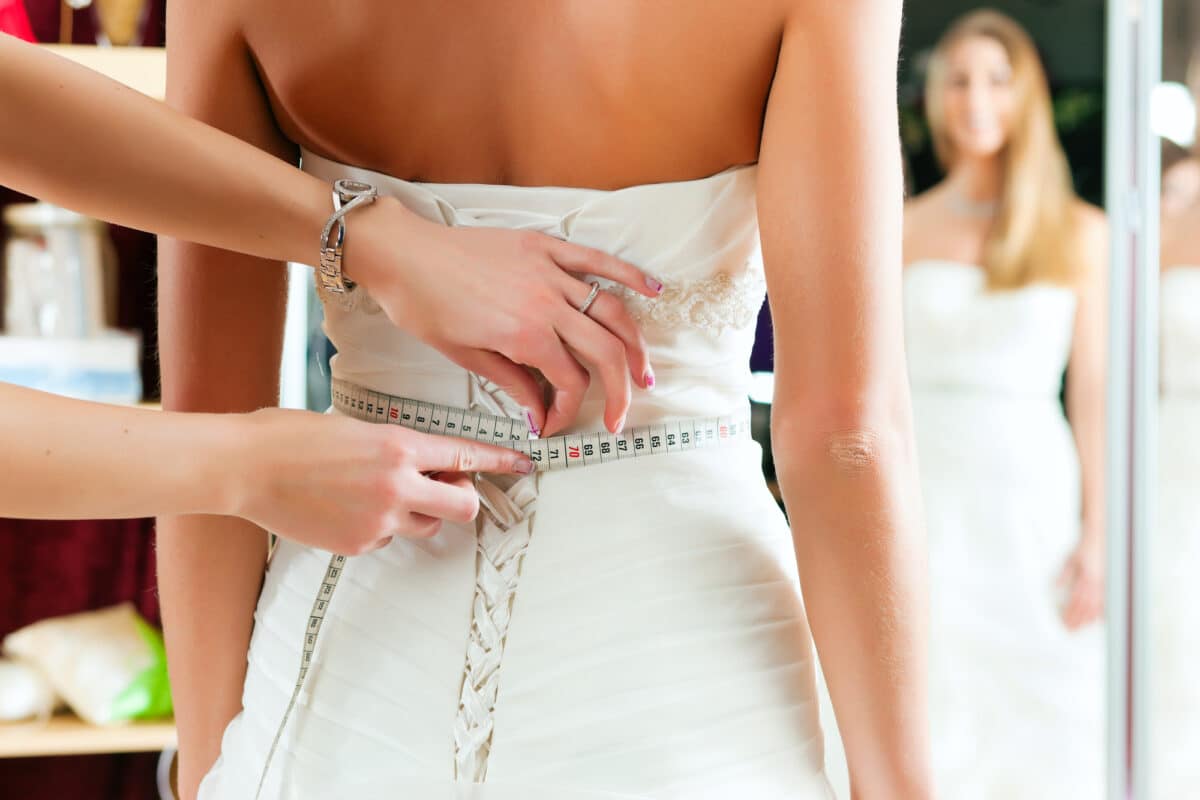 Finding the perfect wedding dress is an exciting journey, but it doesn't end with just finding "the one." In fact, alterations to your chosen gown can be just as important in achieving that flawless look on your big day.
That's why finding a tailor who specializes in bridal wear is crucial. A skilled tailor can help you achieve the perfect fit and make sure every detail of your dress flatters your figure.
When selecting a tailor, research and ask for recommendations from friends or family members who have recently tied the knot.
Once you've found someone whose work you admire, schedule a consultation appointment to discuss what alterations must be made.
Be sure to bring along any accessories or undergarments you plan on wearing so they can get an accurate idea of how everything will come together.
During this initial meeting, don't hesitate to voice any concerns or questions you may have about the alteration process.
A good tailor should be able to provide helpful suggestions and guide you towards creating a cohesive overall look.
From hemming the length of your gown to adjusting its silhouette, selecting the right tailor means ensuring that all adjustments are done seamlessly.
Working with a trusted professional is key when it comes down to altering your dream wedding dress into something truly magical.
By following these tips and doing thorough research beforehand, you'll feel confident knowing that every aspect of your bridal attire has been taken care of – leaving nothing but pure joy and excitement for walking down the aisle!
Accessorizing Your Look
Accessorizing your wedding dress is the perfect way to make it uniquely yours and showcase your personal style on your big day.
Choosing the right jewelry can elevate any bridal look from beautiful to breathtaking.
When selecting pieces, consider the neckline of your dress and ensure that the jewelry complements rather than competes with it.
For instance, if you have a high neck gown, opt for statement earrings instead of a necklace. Don't forget about bracelets and hair accessories too – they can add an extra touch of glamour.
Finding the perfect veil is another crucial element in completing your bridal ensemble. The length and style should complement both your dress and overall aesthetic.
A cathedral veil adds drama while a fingertip veil offers elegance without overpowering the dress. Consider incorporating lace or beading details for added interest.
Remember that less is sometimes more when it comes to accessorizing.
Choose pieces that reflect who you are as a bride but also keep in mind that these elements should enhance rather than detract from the real star of the show: Your stunning wedding dress!
With all these tips in mind, you're ready to create a cohesive bridal look that perfectly showcases your unique style and personality. Happy accessorizing!
Final Fittings and Preparation for the Big Day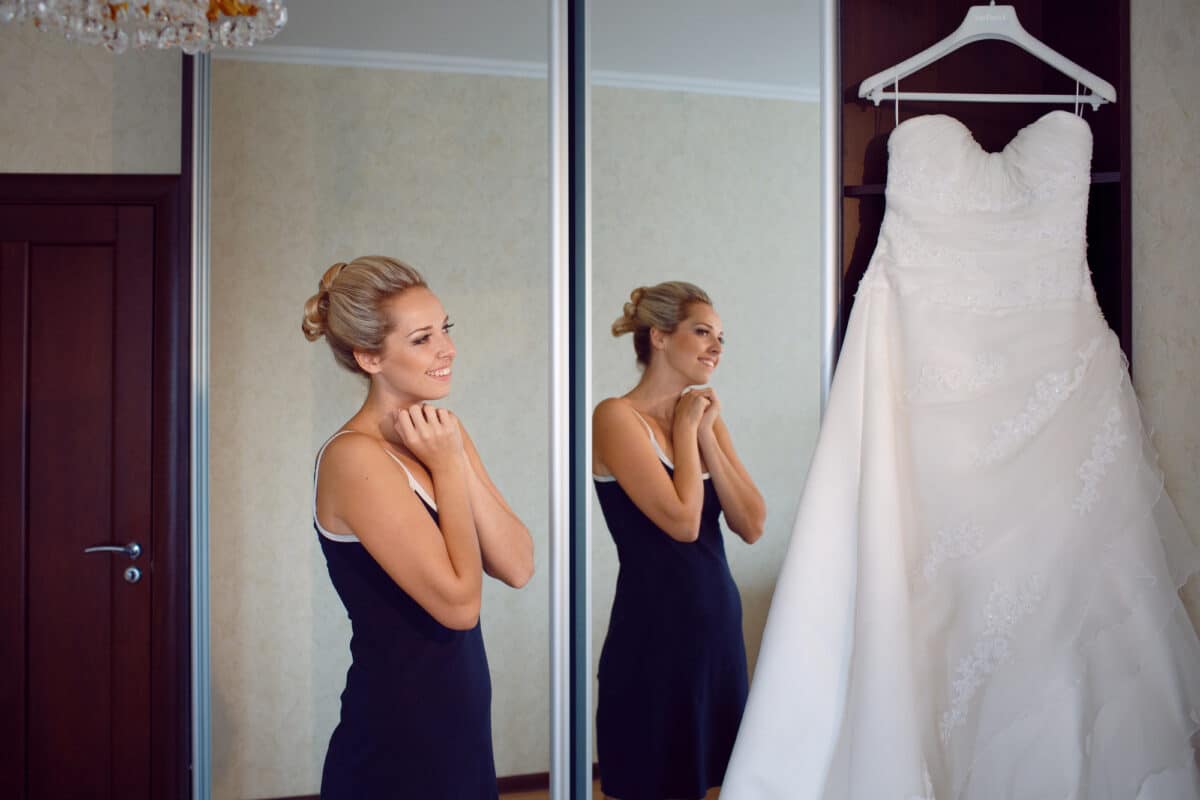 Once you have chosen your dream wedding dress, it's time to focus on the final fittings and preparation for the big day.
This crucial stage ensures that everything is perfect, and you feel confident and comfortable in your dress.
First you have to make sure you schedule at least two fittings with your seamstress or tailor. During these appointments, they can adjust any minor details such as hemlines, straps or added embellishments.
It's important to bring along all accessories like shoes and undergarments so that the fit is precise.
As your wedding approaches, it's normal to experience some last-minute changes – whether it be weight loss or gain, unexpected weather conditions or simply a change of heart about certain elements of your gown.
If this happens, speak with your designer immediately; they will offer advice and help to resolve any issues.
Once alterations are completed, store your dress carefully until the big day arrives.
Wedding dress preservation is essential – choose a cool dry place away from direct sunlight where it won't get crushed or damaged.
A good tip is to hang it up by its loops rather than on a hanger which could result in stretching or snagging.
Frequently Asked Questions
How Do I Choose a Dress That Complements My Body Shape?
Don't get caught up in traditional ideas of what a bride "should" look like. Embrace body positivity and choose a dress that makes you feel beautiful.
From A-line gowns that cinch at the waist to fitted mermaid dresses that hug your curves, there's no shortage of options for brides with all kinds of body types. 
It's about finding the right fit and style that makes you feel comfortable and confident as you walk down the aisle on your big day.
Can I Wear a Dress in a Color Other Than White?
Brides nowadays are embracing alternative colors for their wedding dresses and it's becoming quite the trend.
Blush pink, soft blue, champagne, or even a bold red can add personality and style to your look.
However, keep in mind that not all colors may complement your skin tone, so choose wisely. 
When styling an alternative-colored dress, you can opt for classic accessories such as pearl earrings or go for something more unique like statement jewelry pieces.
The key is to balance out the color by choosing complementary accents while still making sure you stand out on your big day.
How Far in Advance Should I Start Looking for a Wedding Dress?
Of course, this timeline can vary depending on factors such as the designer's lead time and customizations requested.
Setting a realistic budget before starting your dress hunt will help narrow down options and prevent overspending. 
Start the process sooner rather than later. After all, finding your perfect wedding dress is one of the most exciting parts of planning your special day!
What Should I Consider When Selecting a Dress for an Outdoor Wedding?
Think about the theme of your event; whether it's garden chic or beachy bohemian, you'll want to choose a gown that complements the overall vibe. 
Fabric selection is key when dressing for the elements, too.
Lightweight fabrics like chiffon or organza will keep you cool in the sun, while heavier materials like satin may cause overheating.
Opt for dresses with breathable linings and minimal layers to ensure maximum comfort throughout the day.
How Can I Incorporate Cultural or Personal Traditions Into My Wedding Dress?
Incorporating cultural or personal traditions into your wedding dress is a fantastic way to make it truly unique and special.
You can add an extra layer of meaning to your ensemble with the right accessories, such as authentic jewelry or embroidered fabrics. 
From colorful sashes representing your heritage to customized embroidery featuring intricate designs inspired by your family history, there are countless ways to incorporate meaningful elements into your bridal look. 
Final Thoughts
Choosing the perfect wedding dress can be both an exciting and overwhelming experience. Start your search early to allow enough time for alterations and fittings.
Consider your body shape when selecting a gown, and don't be afraid to try different styles.
As for color, if you want to wear a non-traditional hue or incorporate cultural traditions into your attire, go for it! Remember that the most important thing is feeling confident and beautiful on your big day.
Consider lightweight fabrics and dresses with shorter trains for outdoor weddings that won't get caught in the grass.
And if you want to add personal touches or honor family traditions, work with a designer who can help incorporate those elements into your dress design.
Let your wedding dress reflect your unique style and personality because this, after all, is your special day!