Imagine a lush garden of fragrant blossoms surrounding you as you say "I do," or perhaps a chic, minimalistic floral design that adds a touch of sophistication to your special day?
Whatever your dream wedding looks like, finding the perfect wedding florist is vital to bringing that vision to life. 
Discover the secrets of selecting the perfect team for your big day in our guide on how to choose the right wedding vendors.
From romantic roses to enchanting orchids, choosing a wedding florist guide can set the mood and leave a lasting impression on you and your guests.
In this ultimate guide, we'll walk you through the essential steps to choosing a wedding florist who can transform your ideas into a stunning, unforgettable reality.
So, let's dive into the world of wedding blooms and find your floral soulmate!
Determine Your Wedding Style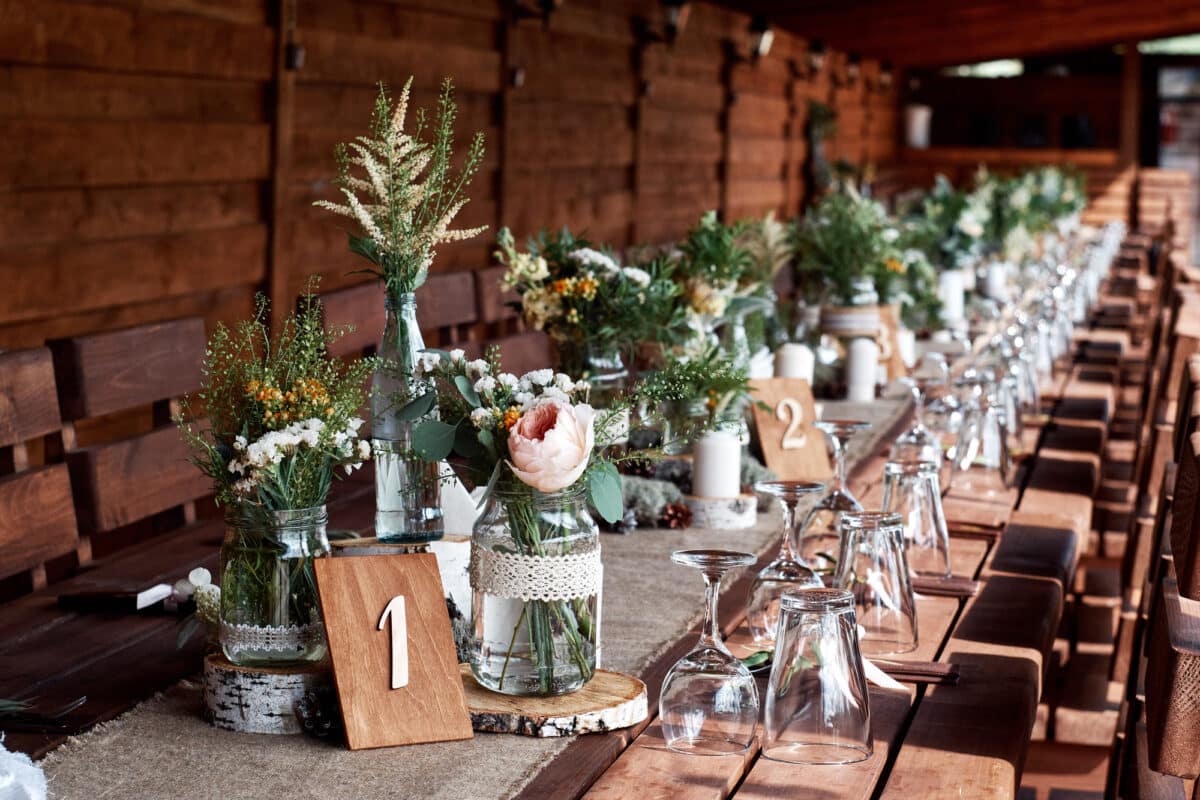 When choosing a wedding florist, the first thing you need to do is determine your wedding style.
Your wedding theme and color scheme will play an essential role in this decision-making process.
Whether you're going for a rustic chic look or a modern minimalist vibe, your floral arrangements should complement and enhance the overall aesthetic of your big day.
Take some time to think about what kind of atmosphere you want to create on your wedding day. Are you envisioning an intimate garden party with soft pastel hues?
Or maybe a bold and vibrant celebration with bright pops of color? Whatever your vision may be, ensure it's reflected in your choice of flowers.
Set a Budget for Wedding Flowers
When it comes to planning a wedding, setting a budget is essential. This holds for wedding flowers as well.
Before looking for a florist, determine how much you can afford to spend on your floral arrangements.
At this point in the process, go over all aspects of what you want with your partner to avoid surprises or miscommunications later.
Negotiating prices with your chosen florist is also an option, but remember that their skillset has value – don't undervalue them!
Investing in beautiful floral arrangements will ultimately enhance the ambiance of your special day and leave lasting memories for both you and your guests to cherish forever.
Research Potential Florists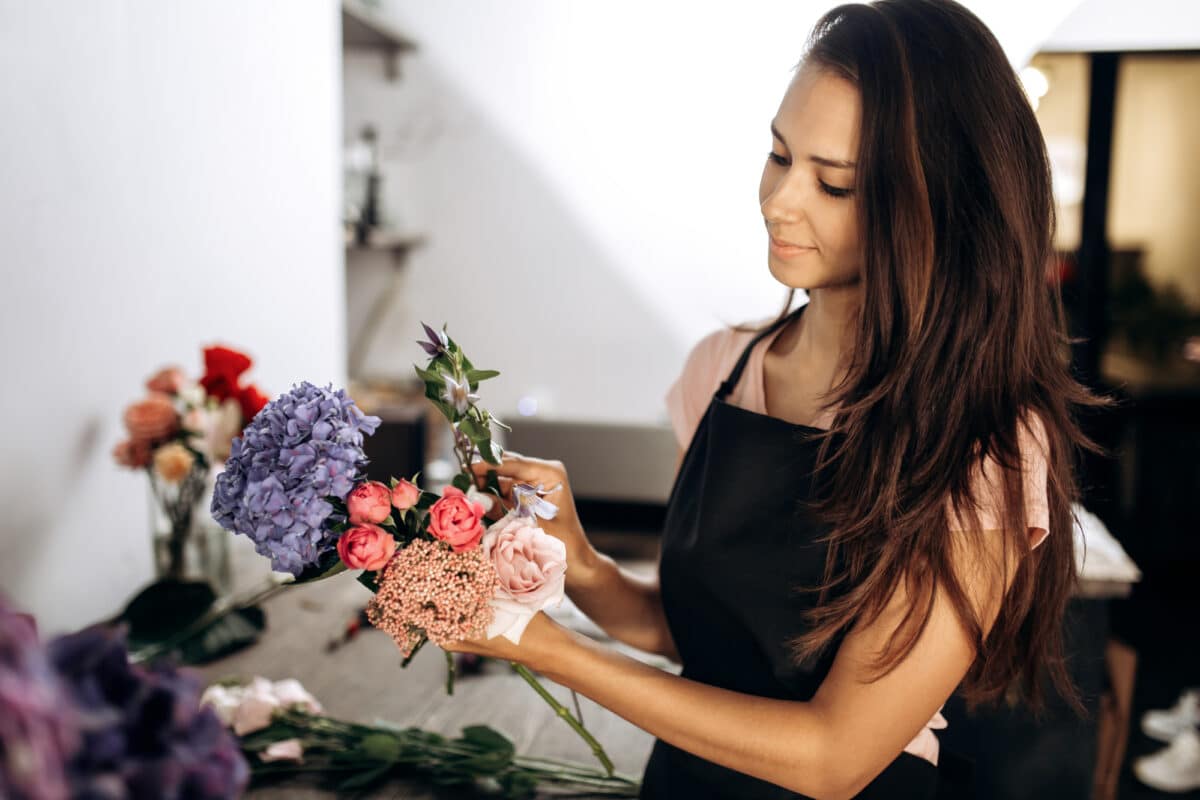 When researching potential florists, it's essential to check references, compare prices, and interview the florists.
Don't be afraid to ask for references, as a reputable florist will gladly provide them.
Regarding price, compare packages and individual components to get the best value for your wedding budget.
You may also interview potential florists to get a feel for their style, vision, and experience. With these steps, you'll be sure to find the perfect wedding florist for your special day!
Compare Prices
After checking references and narrowing your selection of wedding florists, compare services and negotiate rates. This ensures you receive the best deal on high-quality flowers.
Compare vendors' portfolios to discover whether their aesthetic matches your wedding concept. Ask about setup and delivery, vase rental, and other extras.
Choosing a wedding florist should not be based just on pricing. However, comparing services and negotiating rates can help you choose a vendor to deliver stunning flowers within your budget.
Communicate about expectations and prices before signing any contracts.
Look at Florist Portfolios and Reviews
Now that you have researched potential florists, it's time to dive into their portfolios and reviews. This is where you will get a sense of their style and creativity.
Look for consistency in the arrangements they create and whether or not they can execute your vision.
The importance of communication cannot be overstated when choosing a wedding florist.
Ensure that the florist you choose listens to your needs and understands your overall aesthetic. They should also be able to offer suggestions on how to enhance your ideas with their expertise.
When looking at the portfolio of a florist, there are additional factors to consider outside only expertise and personalization.
Be sure that the florist you choose has expertise in designing arrangements comparable to the ones you envision for your wedding day, even if it's excellent to examine various types and ideas.
At the same time, do not be afraid to add one-of-a-kind touches to your floral arrangements to make them more personalized and reflective of who the two of you are as a couple.
Schedule Consultations With Florists
When choosing a wedding florist, scheduling consultations is an essential step. This allows you to meet with potential florists and discuss your vision for the big day.
It also gives you a chance to see their work in person and determine if they are the right fit for your needs.
Before scheduling consultations, make sure to consider any scheduling flexibility that you may need.
Depending on your schedule, you may need a florist to accommodate evening or weekend appointments. Communicate these needs upfront to find a florist who can work within your timeline.
Overall, scheduling consultations is important in finding the perfect wedding florist for your special day.
By considering scheduling flexibility and virtual consultation options, you can ensure that you find a florist who meets all of your needs and helps bring your dream wedding to life.
Consider Flower Availability and Seasonality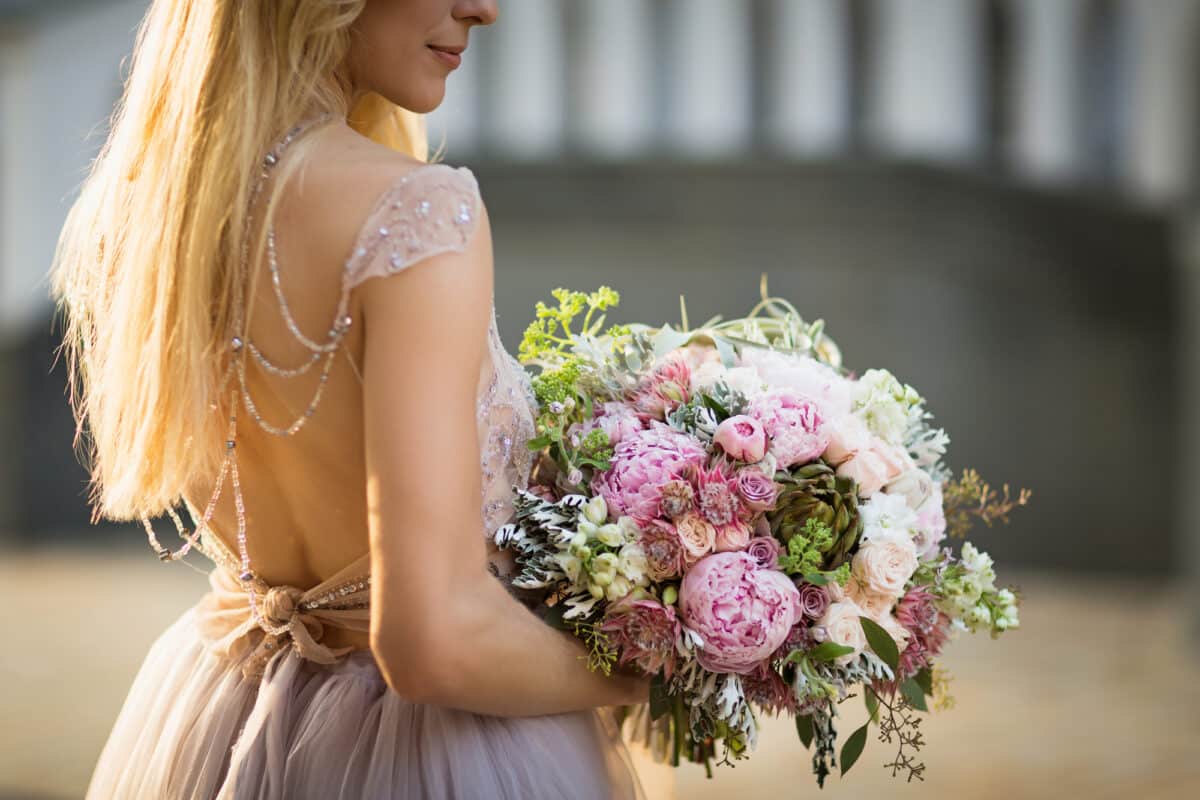 When choosing a wedding florist, it is crucial to consider the availability and seasonality of flowers.
Flowers that are in season during your wedding date will be more affordable and easier to source. However, this doesn't mean you must compromise on having your dream bouquet or floral arrangements.
Remember that finding the perfect wedding florist takes time and research. Consider flower availability, seasonality, and what arrangements best fit your preferences.
With careful planning and collaboration with a talented florist, you'll be able to bring life to the vision you've imagined for one of the most important days of your life without breaking the bank!
Decide on Floral Arrangements and Bouquets
Season matters when choosing flowers and bouquets. Seasonal flowers save money and are fresh and accessible.
Sunflowers and dahlias are charming summer wedding flowers. Winter weddings might include amaryllis or evergreen branches.
Bouquet styles vary. Cascading bouquets seem like waterfalls with varied lengths of foliage and flowers, whereas spherical bouquets have uniform blossoms.
Hand-tied bouquets have more natural stems than nosegay bouquets, which are tightly packed and wrapped in ribbon.
Incorporating personal touches into your floral arrangements, such as family heirlooms or favorite colors, can truly make them feel one-of-a-kind.
Remember: Your floral designer should work closely with you throughout the process to ensure that every detail aligns with your vision for the big day!
Finalize the Details With Your Chosen Florist
Now that you have decided on your floral arrangements and bouquets, it's time to finalize the details with your chosen florist. This is where you will discuss the delivery logistics and setup for your big day.
When discussing delivery, provide the florist with all necessary information, such as the location, date, and time.
If there are any restrictions or limitations at the venue, please let us know beforehand so we can plan accordingly.
Frequently Asked Questions
How Far in Advance Should I Book My Wedding Florist?
If you have a favorite florist or floral designer, inquire early, as they may book up.
Don't wait until the last minute to order flowers, or you may miss out.
Don't hesitate to ask any booking-related questions—communication is crucial.
Can I Incorporate Non-Traditional Flowers Into My Wedding Arrangements?
Incorporating non-traditional flowers like proteas or succulents can create stunning centerpieces or bouquets that reflect your style.
Don't be afraid to think outside the box when choosing your wedding flowers – let your imagination run wild!
How Do I Handle Last Minute Changes to My Floral Arrangements?
If specific flowers are unavailable or subpar, replacement may be necessary.
Trust your florist to find a suitable substitute and focus on retaining your wedding's design. 
Even with careful preparation, unforeseen issues might happen, but working closely with your florist ensures everything goes well!
How Do I Ensure My Wedding Flowers Stay Fresh Throughout the Day?
First and foremost, avoid direct sunshine and heat sources. 
You will also have to spray and water them frequently.
Also, opt for roses or hydrangeas that may last longer without water.
Final Thoughts
So there you have it, the ultimate guide to choosing your wedding florist.
Book in advance; don't be afraid to incorporate non-traditional flowers into your arrangements. But what happens if last-minute changes need to be made?
Don't worry—a wedding florist will manage any unexpected issues. Did you know that some professional florists provide lighting and draping? Check out your florist's additional services.
At the end of the day, your wedding flowers should reflect your unique style and personality.
So take your time choosing a florist and trust their expertise to create the perfect floral arrangements for your special day. Happy planning!