One of the most crucial things you can do on your wedding day is take as much stunning and memorable photographs as possible, to look back on in the future.
However, there are so many talented wedding photographers to choose from. So, how can you choose the best one?
It's pretty straightforward: choose a photographer whose aesthetic preferences and character traits are compatible with your own. 
After all, you will be spending a lot of time with your photographer on the day of your wedding, so you'll want to ensure you can communicate clearly with them and have complete faith in their abilities.
Let's go over a list of some advice that might be helpful when selecting a wedding photographer who complements your sense of style and your personality.
Determine Your Photography Style Preferences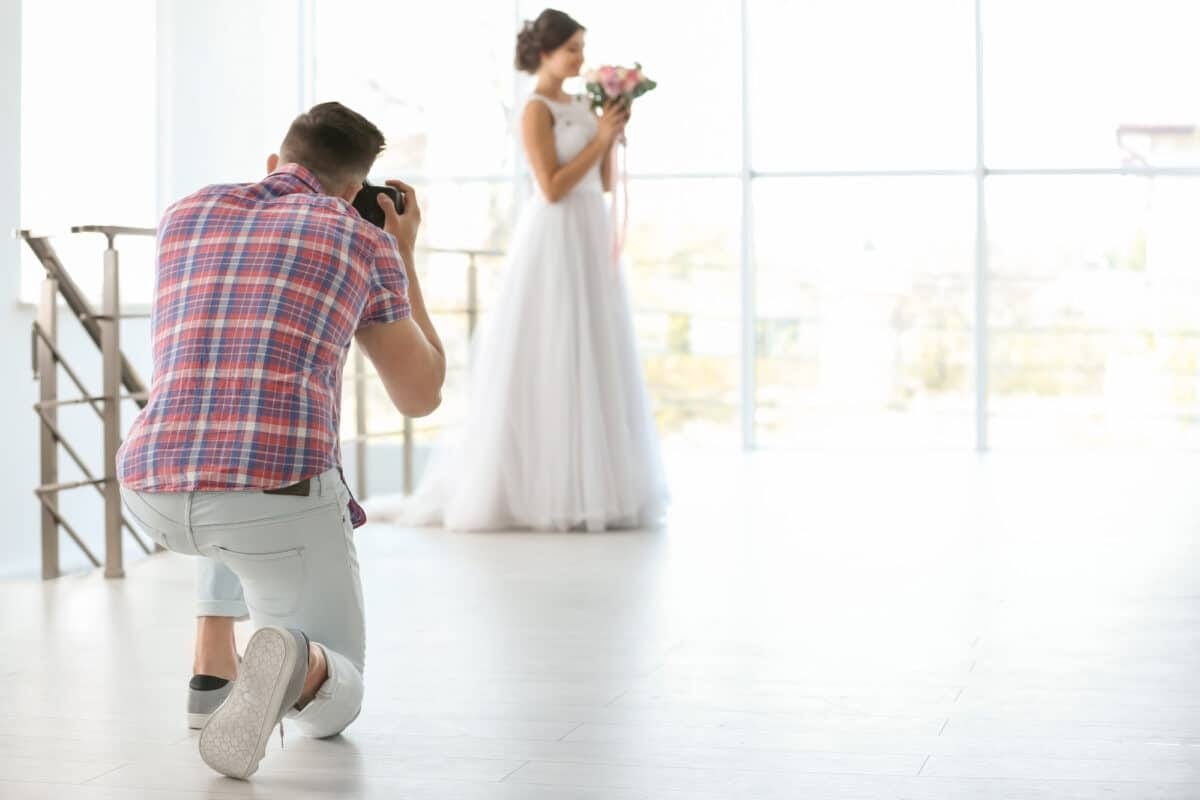 Do you prefer outdoor or indoor photography? Traditional or candid shots?
Outdoor photography can be great for couples who love nature and want their photos taken in natural light, while indoor photography may be better suited for those who want a more formal look to their pictures.
With traditional versus candid shots, it depends on what kind of memories you want to capture.
Traditional poses are perfect if you're looking for classic portraits, while candid shots capture spontaneous moments throughout the day. 
Don't hesitate to ask questions about their shooting style and techniques – this will help ensure they're the right fit for you.
Meet With Potential Photographers in Person or Virtually
Whether you opt for an in-person meeting or a virtual consultation, this personal interaction will give you a feel for their style and personality. 
During these meetings, note how they communicate with you – are they attentive and responsive? Do they seem genuinely interested in your wedding day?
If you decide on an in-person meeting, make sure that you choose a convenient location that suits both parties. This could be at their studio or even over coffee.
Take the time to look through their portfolio together and discuss any questions or concerns that may arise.
This face-to-face connection can help establish trust between you and your photographer.
If scheduling conflicts or distance makes it difficult to have an in-person meeting, consider scheduling a virtual consultation instead.
Video conferencing apps like Zoom or Skype allow real-time conversations that mimic an in-person meeting experience.
Prepare beforehand by compiling a list of pertinent questions so nothing gets overlooked during your conversation.
Whether you meet in person or virtually, remember that this is your chance to find someone who understands your vision and has the skills necessary to bring it to life.
Don't hesitate to ask questions about their process, pricing structure, and availability. 
Read Reviews and Testimonials From Previous Clients
You'll find heartfelt accounts of weddings captured in ways that exceeded expectations or stories about photographers who went above and beyond for their clients.
These words are more than just glowing praise; they're testaments to the importance of authenticity when choosing a photographer who fits your style and personality.
To help make sense of all the feedback out there, here are four things to look for when reading through reviews:
Consistency: Do reviewers consistently mention certain aspects of the photographer's work that impressed them? This could be anything from attention to detail during posed shots to capturing candid moments without intruding.
Communication: Were clients happy with how easy it was to communicate with the photographer before, during, and after the wedding?
Professionalism: Did the photographer show up on time, dress appropriately, and conduct themselves professionally throughout the day?
Flexibility: Did the photographer demonstrate flexibility in working around last-minute changes or unexpected challenges?
Finalize Your Decision and Book Your Photographer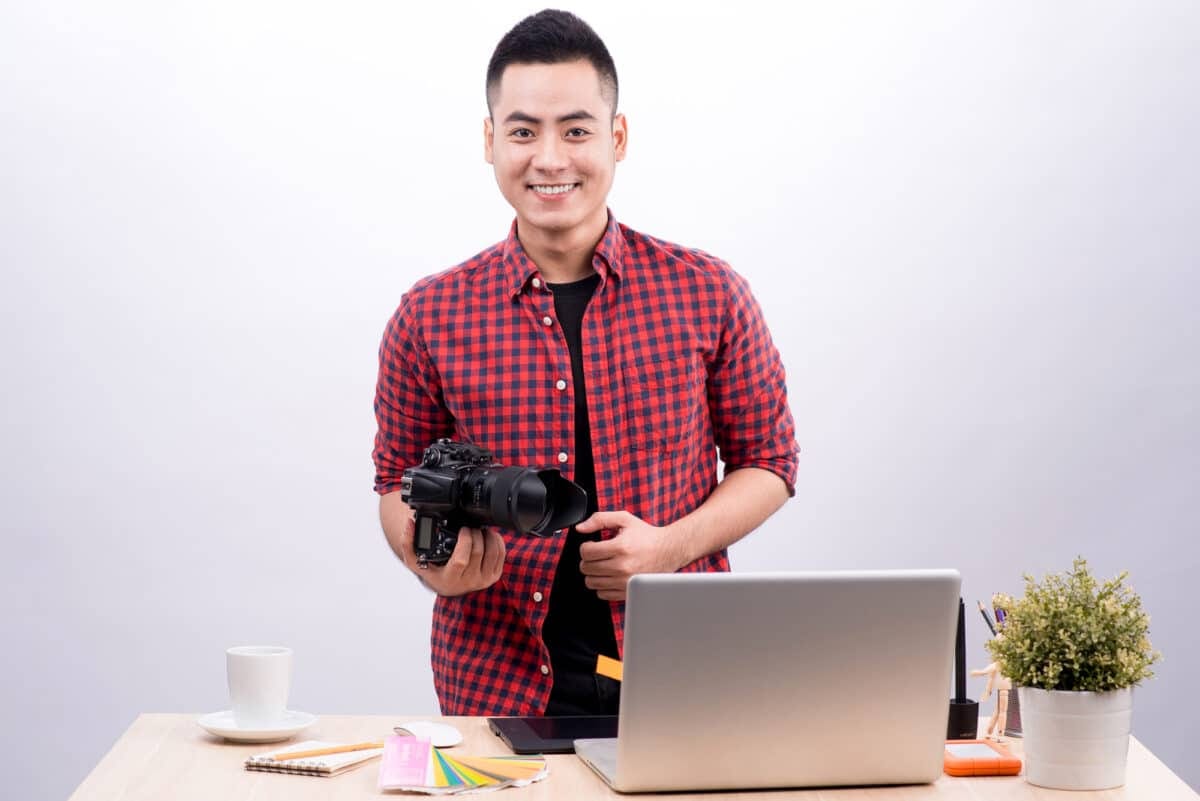 Before booking them, carefully review the photography contract they provide.
This document should outline all of the details regarding their services, including the number of hours they will work on your wedding day, how many photos you can expect to receive, and when you can expect to receive them.
If there are any questions or concerns about the contract, don't hesitate to ask your photographer for clarification.
It's important that both parties fully understand what is expected of them before signing anything. 
Once everything has been agreed upon and signed, you can breathe a sigh of relief knowing that one more item on your wedding planning checklist has been taken care of.
Before saying goodbye to your chosen photographer until the big day arrives, discuss with them what kind of wedding photo album you would like created from the pictures they take.
Some photographers offer this service as part of their packages, while others may charge extra. Decide what works best for you and ensure all expectations are communicated beforehand.
Frequently Asked Questions
How Much Time in Advance Should You Book a Wedding Photographer?
If you're planning a wedding during peak season (usually between May and October), booking your photographer at least 6-12 months in advance is best. 
There are several reasons for this. One being that the most talented photographers tend to get booked quickly, so you don't want to miss out on your top choice. 
Booking early ensures that your photographer will be available on your wedding day.
Should You Ask for a Contract Before Booking a Photographer?
Before signing anything, review the contract thoroughly and negotiate prices or refund policies if necessary.
Prioritize clear communication and contractual agreements when working with vendors for their special day.
Do Most Photographers Offer Engagement Photo Sessions as Part of Their Packages?
Some photographers specialized in natural light and had stunning photos that reflected exactly what most clients sought.
It's worth asking about engagement session benefits when booking your wedding photographer so you can feel confident in your choice and get the most out of your photography experience.
How Many Photos Should You Expect to Receive From Your Wedding Photographer?
While this ultimately depends on several factors, such as the length of your event and the package you choose, most photographers will provide anywhere from 200-800 images. 
It's essential to keep in mind that quantity doesn't always equate to quality.
Instead of focusing solely on the number of pictures, consider album options and whether you prefer digital or print copies. 
A good wedding photography consultant should be able to guide you through these decisions and help create a personalized package that fits your needs and style preferences.
Is it Common for Photographers to Charge Extra for Travel Fees or Additional Hours of Coverage?
To negotiate rates, think about it like bargaining at a market. You wouldn't pay the first price given without trying to lower it, right?
Ask your photographer if there are any package deals that could help offset these costs, and be upfront about your budget from the beginning.
Final Thoughts
Remember to book to ensure availability and ask for a contract before booking to avoid misunderstandings.
One interesting statistic is that according to The Knot's 2019 Real Weddings Study, couples spend an average of $2,400 on their wedding photography. This highlights the importance placed on capturing memories of this special day.
So, don't be afraid to ask questions about engagement photo sessions, the number of photos included in packages, and additional fees such as travel expenses or extra hours of coverage.