Your wedding day will truly count as one of the most memorable days of your life.
You want to ensure you are perfect, from the venue to the food to the flowers. But one of your most important decisions is who to hire to photograph your big day.
A good wedding photographer can capture all of the special moments of your wedding and create memories that will last a lifetime.
But with so many photographers out there, how do you choose the right one? That's where this guide comes in.
I'll walk you through everything you need to know to choose the perfect wedding photographer, so let's dive right into my top tips for selecting the best wedding photographer for you.
Defining Your Photography Style Preferences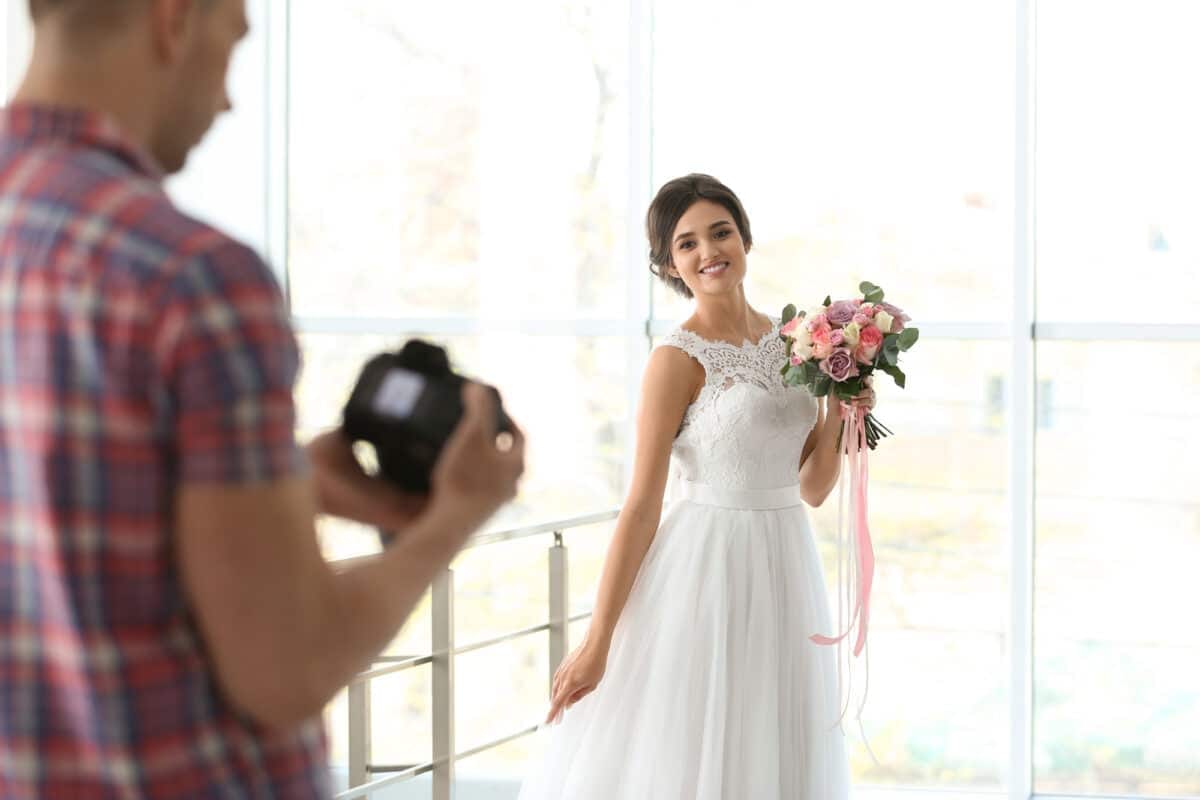 Traditional vs. Modern debate has been around since cameras were invented.
Traditional styles usually consist of posed portraits, group shots, and formal poses during important moments such as cutting the cake or exchanging rings. 
These photographs are typically well-lit and perfectly orchestrated.
On the other hand, modern photography often incorporates candid shots, unconventional angles, and artistic editing techniques to create more creative images.
Candid vs. Posed is another aspect to consider when defining your photography style preferences.
Candid photos capture natural moments throughout your special day without any direction from the photographer. They show authentic emotions and interactions between people in real time. 
However, some couples prefer more posing in their photos because it allows them to feel more comfortable and confident in front of the camera.
Define which style resonates most with you before selecting a wedding photographer.
If you're looking for timeless portraits that will last generations, then perhaps a traditional approach suits best. 
You may also opt for modern wedding photography if creativity and individuality are crucial to your big day.
Researching and Browsing Photographer Portfolios
With so many photography trends constantly emerging, it's vital to choose someone who can capture your special day in a way that reflects your vision.
Take some time to peruse different photographers' websites or social media accounts.
Look for consistency in their work as well as versatility when it comes to shooting various lighting conditions and settings. 
Pay attention to how they edit their photos – do they prefer bright and airy images or something more moody and dramatic?
It's also essential to consider your own personal aesthetic preferences.
Do you want traditional posed portraits or candid shots that capture the energy and emotion of the day? Are there specific details or moments most important for you to have documented?
Keep these things in mind as you browse through portfolios and make a note of any photographers whose work resonates with you.
Choosing a wedding photographer requires careful consideration and research.
Take the time to look through multiple portfolios, ask questions about their process and experience, and trust your instincts when deciding. 
These photographs will be cherished memories for years to come, so it's worth investing in someone who can capture them beautifully without sacrificing your unique style.
Setting a Realistic Budget
Pricing expectations can vary widely regarding wedding photography, so it's important to do your research.
Estimating costs can be difficult, as many factors must be considered.
I'd recommend being realistic with your budget, and always factoring in extra costs to avoid any unpleasant surprises.
Negotiating rates with your photographer can help you stay within your budget and get great value for your money. 
Don't be afraid to ask for discounts if you're on a tight budget, but always respect the photographer's time and expertise.
Pricing Expectations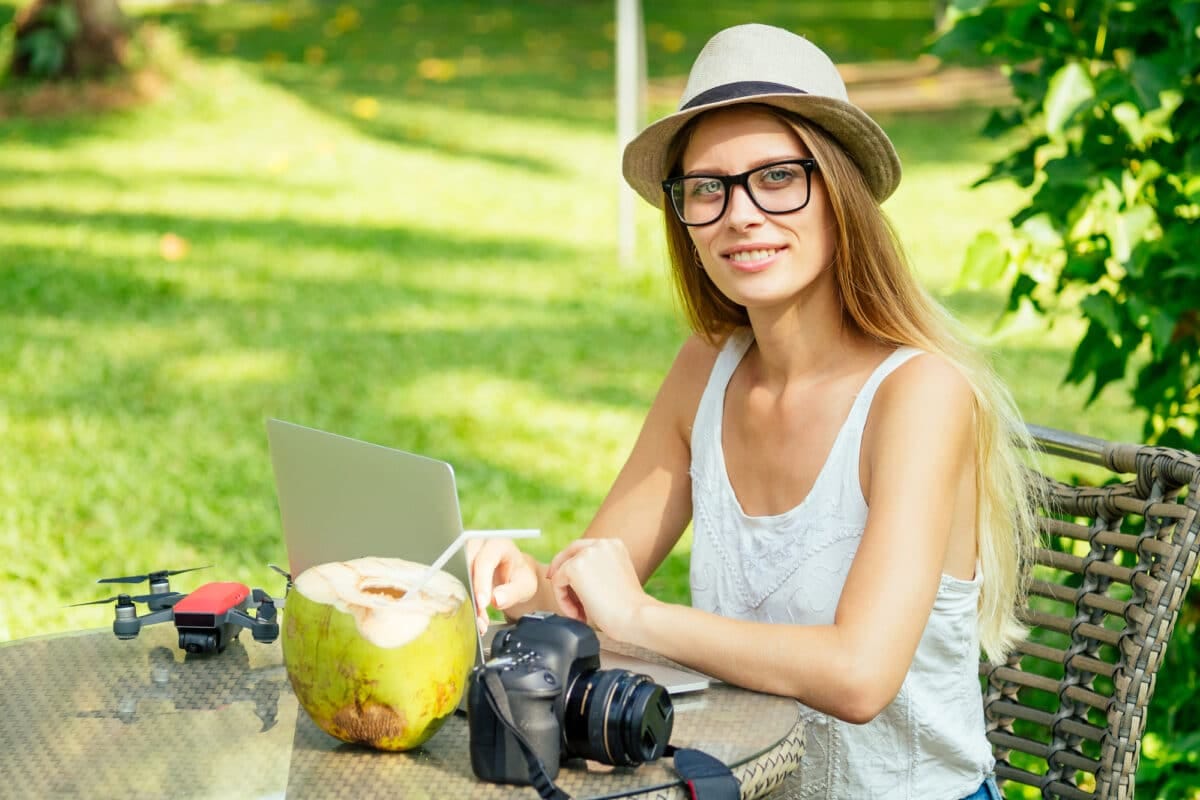 When it comes to setting a realistic budget for your wedding photography, it's important to have reasonable pricing expectations.
While negotiating prices with photographers is common practice, it's also essential to be aware of any hidden costs that may arise. 
Finding a photographer that can capture your big day in a manner that is unique to you and represents your sense of style and personality is more important than just searching for the most affordable option.
When discussing price with possible photographers, do not be afraid to ask clear questions about what their packages cover and whether or not there are any extra expenses you should anticipate paying.
Be sure to read contracts thoroughly before signing anything, as this will ensure no surprises further down the road.
If you do this, you will not only save yourself from being surprised by additional costs after the fact but also guarantee that you receive precisely what you paid for.
It is important to keep in mind that even though some photographers may advertise cheaper costs initially, this does not always mean that they provide the same level of quality or services as their competitors.
In contrast, higher-priced photographers often have more experience, expertise and equipment, making them better suited to handle various lighting conditions and situations on your big day.
Investing in an experienced professional will also result in stunning photos that will last a lifetime.
Asking About Experience and Credentials
While formal education isn't always necessary, it can be an indication of their commitment to the craft.
Check the company's history with other customers. Inquire about their previous clients and investigate their portfolio.
Do they limit themselves to shooting weddings, or do they cover a wide range of events? Have they already worked with other couples that are similar to you?
This will give you an idea of what to anticipate from them and whether or not they are a suitable match for your demands.
An additional indicator that might indicate a photographer's level of proficiency is the accumulation of industry accolades.
Have they received any awards or recognition or been featured in any publications? These awards demonstrate that their work is exceptional compared to others in the business.
However, you shouldn't depend entirely on accolades. You should also ensure that their style is consistent with your search.
Inquire about their creative approach. How do they plan on capturing your wedding day? Do they have unique ideas or techniques that set them apart from other photographers?
A great wedding photographer should not only have technical skill but also creativity and vision.
Inquiring About Equipment and Backup Plans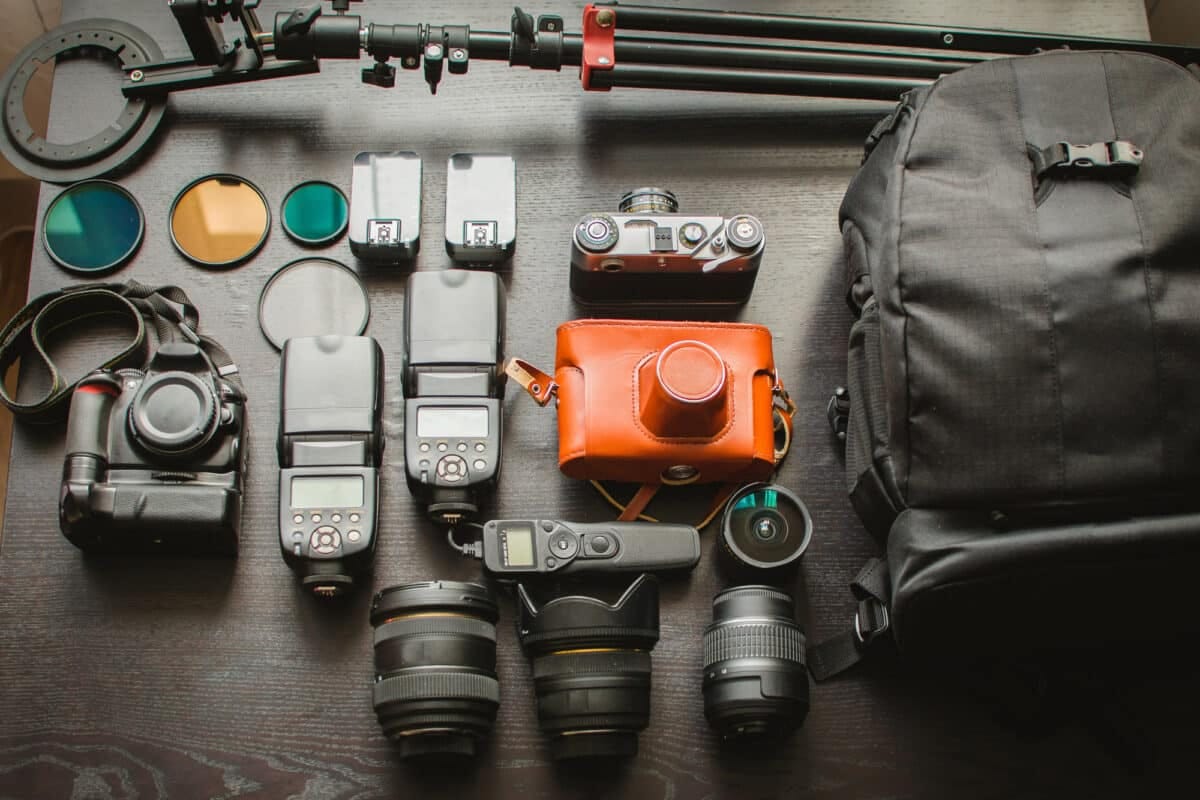 We advise couples to ask their wedding photographer about their equipment and backup plans.
Be sure to inquire about insurance, technology, setup, gear maintenance, online resources, and camera equipment.
It's also important to know if they have a support system, equipment rental, lighting, storage, spare parts, and an emergency plan. 
Having all of these in place will ensure your photographer is prepared for any unexpected challenges.
I recommend couples ask for references and to get a feel for the photographer's level of professionalism.
And finally, do your research or make sure to check out any available online resources.
Equipment
When inquiring about a wedding photographer's equipment, it is important to understand the camera types and lens options that they use for capturing your special day.
A professional wedding photographer should have high-quality equipment that can produce stunning images even in difficult lighting situations. 
Ask them what type of cameras they use and if they have backup equipment available.
Photographers use two main types of camera systems: DSLR (digital single-lens reflex) and mirrorless.
Both camera types offer excellent image quality, but each has its own strengths and weaknesses. It's essential to ask your photographer which system they prefer using and why.
As for lenses, there are various options- wide-angle, standard zooms, telephoto, prime lenses and more – all with different focal lengths suitable for different occasions.
When choosing your photographer, don't overlook their backup plans in case something goes wrong with their primary gear or memory cards during the event.
Professional photographers will always come equipped with spare batteries, memory cards and additional cameras/lenses at hand so you can be sure that any unexpected issues won't ruin your big day.
Make sure to discuss this aspect thoroughly before signing on the dotted line.
Inquire about their camera systems and lens options as well, to ensure that their style matches what you're looking for. 
Backup Plans
Even with high-quality gear and experienced professionals, accidents can still happen during an event as significant as a wedding. 
That's why discussing any contingency options or emergency contacts your photographer may have is crucial.
In case of unforeseen circumstances such as illness, car trouble, natural disasters or other emergencies that might prevent them from attending your wedding day, make sure to ask what their plan B would be.
Professional photographers will always have backup plans in place to ensure your special moments are captured no matter what happens.
One essential aspect of their backup plans is always having spare batteries and memory cards on hand.
Losing power or running out of storage space during critical moments could mean missing out on capturing those once-in-a-lifetime shots. 
Communication is key when discussing backup plans for your photography service provider.
Make sure you know how to reach them before the big day and establish clear lines of communication so that everyone involved knows what to expect if things don't go according to plan. 
Discussing Packages and Contract Details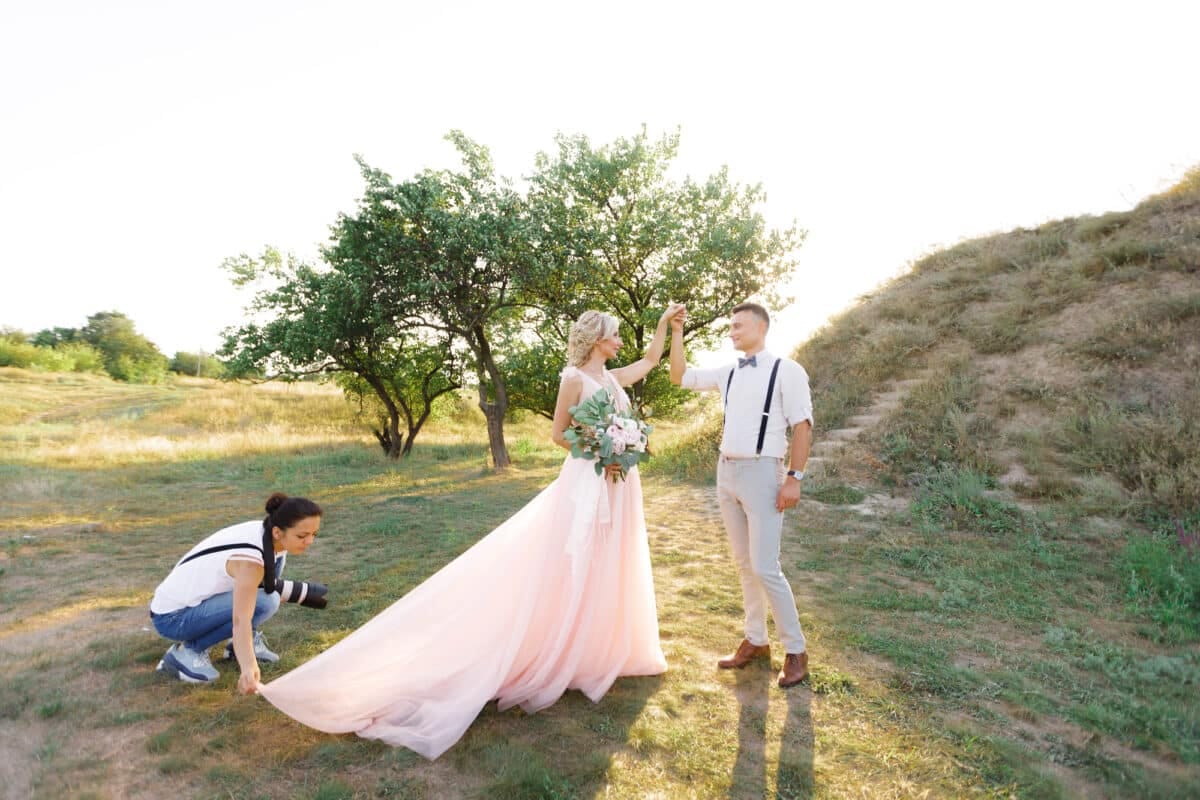 These are crucial aspects of hiring a wedding photographer, as they will determine the scope of services provided and how much everything will cost.
Before delving into specifics, make sure to express your budget upfront. This is important because pricing negotiation can be difficult if you don't have a starting point.
Don't be afraid to ask for custom package options or payment plans that can work with your financial situation.
Take a close look at what each package offers.
Some photographers may include engagement sessions or albums in their standard packages, while others might charge extra for these add-ons.
Make sure you understand exactly what you're getting before signing anything.
Review the contract carefully. It should outline all the terms discussed during your meeting such as dates, times, locations, and any other special requests.
If something in the contract doesn't sit well with you or seems unclear, speak up and clarify it before signing.
Finding the right wedding photographer means more than just taking pretty pictures – it's also about feeling comfortable with them throughout the process.
By asking questions about pricing negotiation and payment plans early on in the conversation, you'll be able to find someone who meets your needs and fits within your budget too!
Reviewing Testimonials and Referrals
Reading about past clients' experiences will give you an insight into what kind of service you can expect from a particular photographer.
Client satisfaction should be at the top of your priority list when selecting a wedding photographer.
Positive reviews indicate that the photographer has provided excellent services in the past and is likely to do so for you as well. 
Look out for comments on punctuality, professionalism, quality of work delivered, and communication skills.
These aspects often make all the difference between an average experience and a memorable one.
Word-of-mouth marketing is another powerful tool for selecting a wedding photographer.
Talk to friends and family who have recently tied the knot or other vendors in the industry, such as planners, caterers, florists, etc.; they may know someone whose work stands out. 
Recommendations from trusted sources will help save time and provide peace of mind knowing that you're working with someone reputable.
Taking some extra steps while researching photographers could mean finding someone who meets all your needs while providing exceptional service on your special day.
Keep in mind that good reviews aren't just evidence of great pictures.
They indicate how easy or difficult it was to work with this vendor, which plays a significant role in reducing stress during the planning stages leading up to your big day. 
Communicating Your Expectations and Vision
Communication is the key to ensuring you get the photos you want on your big day.
Whether it's discussing specific shots or going over the timeline for the day, sharing as much information as possible will help your photographer capture every precious moment.
Couples are encouraged to share their ideas and creative input.
This helps the photographer understand their unique style and personalities so that they can create photographs that truly reflect them. 
Your photographer should be willing to pay close attention to your requirements while giving expert guidance based on their previous work.
While discussing with the photographer about your expectations for the picture shoot, it is imperative that you do not overlook the tiniest of things.
For instance, if there are any particular customs or features of the culture that you would want to see preserved, you should inform them about it.
When you and your spouse are older and reading through your wedding book, small details like these may make a big impact.
Incorporating collaborative planning and open communication into your relationship with your wedding photographer sets you up for success from the start.
Remember that this is one of the most important days of your life, and having beautiful photographs to cherish forever is priceless. 
Establishing a Relationship and Preparing for the Big Day
The initial consultation serves as the foundation for establishing a bond. During this meeting, it's not only about discussing photography expectations but also connecting on a personal level.
Share your interests, hobbies, or even favorite restaurants to get to know each other better.
Apart from communicating what you expect regarding imagery style and editing preferences, be open to feedback from your photographer.
They're professionals who have worked numerous weddings before yours and can provide valuable insights into making your day even more special.
After several discussions and getting-to-know-you sessions, both parties should feel comfortable around each other.
This comfort will translate into natural-looking photographs that truly capture the essence of the event without being forced or staged.
Building a strong relationship based on mutual communication and respect leads to beautiful memories captured forever in print.
Frequently Asked Questions
Do Wedding Photographers Typically Offer Engagement Photo Sessions in Their Packages?
Yes, engagement photo sessions are often included in wedding photography packages.
These photos can serve as a way to get comfortable with your photographer's style and also provide a great opportunity to capture some sweet moments between you and your partner before the big day. 
Many photographers offer these sessions at no extra cost or may include them as an add-on option.
It's always a good idea to ask about this when choosing a wedding photographer, so you can make sure it fits within your budget and timeline for planning.
How Far in Advance Should I Book My Wedding Photographer?
We recommend starting your search at least 12-18 months before your big day to ensure you have plenty of options and can secure the photographer you want. 
However, it's best to start even earlier to avoid disappointment if you're getting married during peak season or on a popular date (such as a holiday weekend).
Can I Request Specific Shots or Poses for My Wedding Photos?
Keep in mind that while specific requests can be accommodated, the best results often come from a collaborative effort between the couple and the photographer's expertise.
Don't be afraid to express yourself, and let your personality shine through in your photos!
Are There Any Additional Fees for Travel Expenses or Overtime?
If you're planning a destination wedding and want your photographer to travel with you, expect to pay extra for transportation, lodging, and meals.
Similarly, an overtime fee may be involved if the reception extends beyond the agreed-upon time frame.
Make sure to discuss these potential costs upfront with your photographer so that you can budget accordingly and avoid any surprises on your big day.
Is it Necessary to Provide a Meal for the Photographer During My Wedding Reception?
Remember that they will likely be working long hours on your big day, so it's important to accommodate their needs as well.
It doesn't have to be anything extravagant. Just make sure there is something available for them to eat and drink while they take a break from capturing all those beautiful moments.
I always suggest discussing meal accommodations with your photographer beforehand so everyone is on the same page.
Final Thoughts
At the end of the day, your wedding photos will be cherished memories for years to come.
So take your time, research, and don't be afraid to communicate with your chosen photographer about your vision for the perfect shots.