Picture this: you're standing in Earth's most breathtaking, heart-stopping gorgeous location.
Your dream wedding venue that makes everyone's jaws drop and leaves a lasting impression for years to come.
It's so perfect that it almost feels like something from a fairy tale!
The only problem? You have yet to find it.
Don't panic; I've got your back!
Read on as I unveil top tips and tricks for selecting a location that will make even Cinderella green with envy.
1. Indoor vs. Outdoor Weddings: Pros and Cons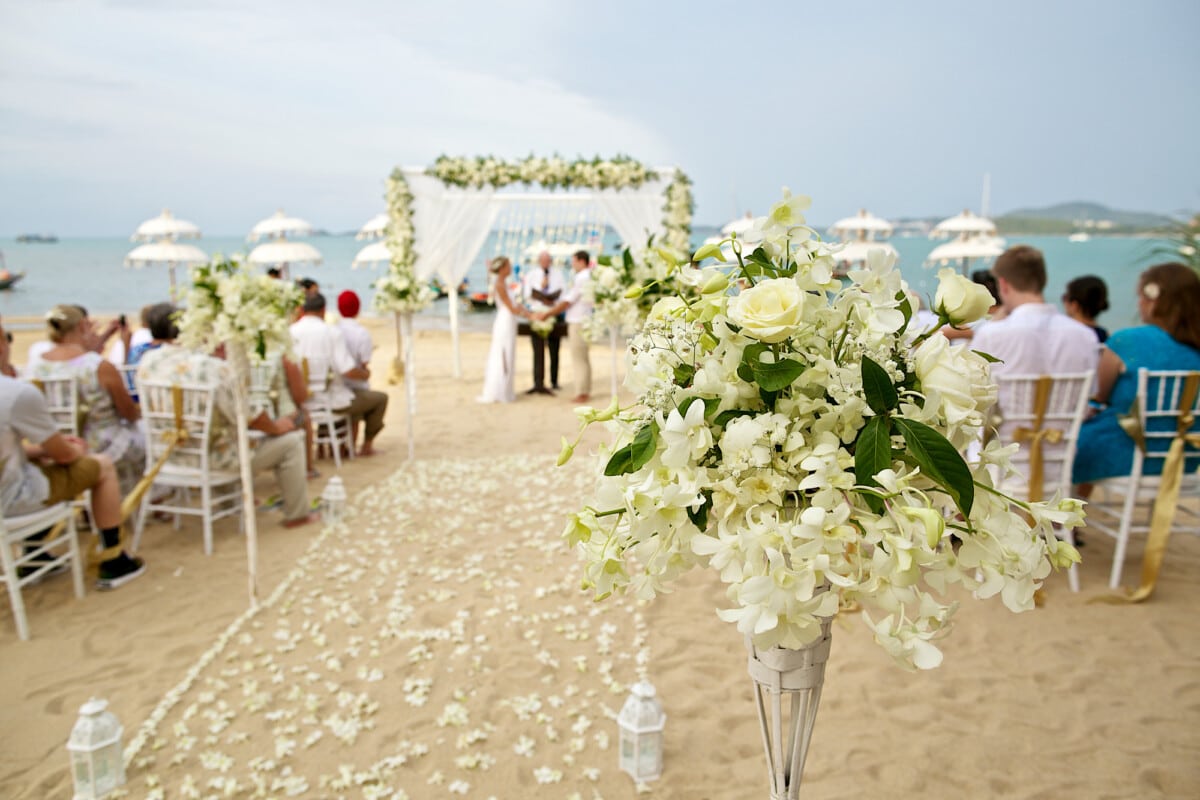 When planning your wedding, one of the first decisions is having an indoor or outdoor ceremony and reception. 
Both options have advantages and disadvantages that should be carefully considered before making a final decision.
Indoor
Indoor weddings offer a controlled environment where weather-related concerns will not pose any issues during your special day.
No matter what time of year it is, you won't have to worry about rain, snow, wind, or extreme temperatures causing discomfort for you and your guests.
Many indoor venues feature stunning architecture and design elements that can provide an elegant backdrop for your event without needing extensive decorations.
On the flip side, they also restrict creativity in decor, as certain items may be prohibited or limited within specific spaces.
Outdoor
Outdoor weddings allow couples to celebrate their love amidst nature's beauty while basking in natural light – perfect for those dreamy sunset photos!
This setting lends unique themes such as rustic chic or garden party elegance that cannot be replicated indoors.
However, remember that relying on Mother Nature comes with risks; unpredictable weather conditions could result in last-minute changes like moving the festivities under a tent or even postponing the big day altogether if things worsen.
2. Church Weddings: Everything You Need to Know
As the saying goes, 'Home is where the heart is,' and many couples' hearts belong in a church.
If you're considering a religious ceremony or love the traditional atmosphere of a sanctuary, then a church wedding might be your perfect choice.
First and foremost, it's essential to consider which church holds special meaning for you as a couple.
It could be the local parish where one of you grew up attending services with family, or it could be an awe-inspiring cathedral that captured your heart during travels.
Regardless of its significance, book well in advance—some famous churches have waiting lists spanning months or even years!
Additionally, remember that certain denominations may require pre-marital counseling before allowing the use of their facilities.
Décor
While some churches boast stunning architecture and ornate details that serve as built-in decorations (think stained-glass windows and hand-carved pews), others may present more of a blank canvas for personalization.
Consult with your chosen house of worship regarding any restrictions they may have; some may not allow candles or flower petals on the floor due to safety concerns.
Remember that less can often be more when working within sacred spaces—embrace the natural beauty and focus on accentuating critical elements like the altar or aisle.
3. Negotiating With Wedding Venues: Tips and Tricks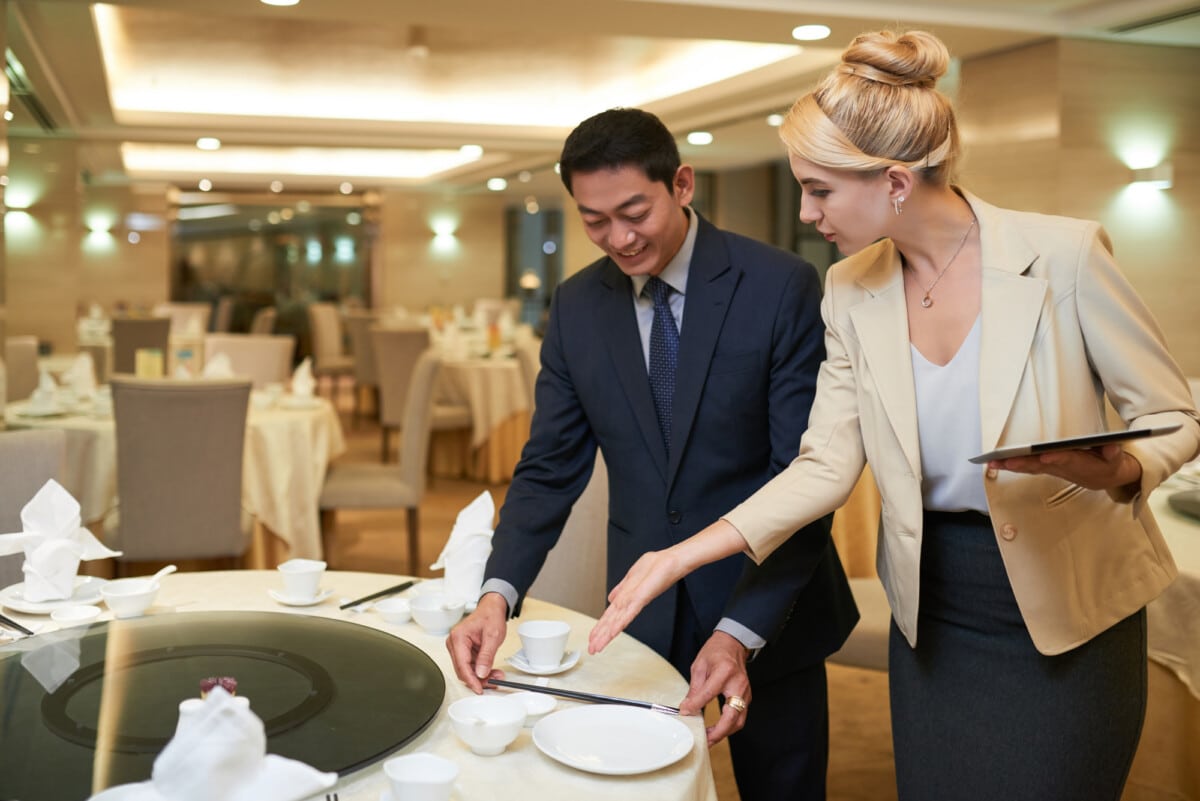 Remember, negotiation isn't about being pushy or demanding; it's about finding a mutually beneficial agreement between both parties.
Firstly, feel free to ask questions and gather all necessary information before going into negotiations.
This includes asking for detailed quotes from each venue on your list and any additional fees that may apply (such as service charges or taxes).
This knowledge will give you leverage during negotiations and help you compare apples-to-apples when assessing different proposals.
Consider visiting the venue at various times throughout the day to get a sense of lighting conditions and noise levels so you can address these concerns if needed.
Timing is everything!
If you are flexible with your wedding date, use this advantage during negotiations.
Venues often have slower periods throughout the year where bookings might not be as plentiful – think weekdays or off-peak seasons depending on location – which can make them more willing to offer discounts or added value packages if they know it means filling their calendar during those quieter times.
Another tip is booking farther in advance since many venues offer lower rates for clients who secure their spot early enough.
One last piece of advice: always approach negotiations with kindness and professionalism while keeping an open mind.
It's important to remember that while getting a great deal is essential, maintaining good relationships with vendors makes for smoother planning processes down the line – after all, everyone wants the same outcome: a fantastic event celebrating your love story!
4. Wedding Venues and Guest List: How to Match Them
The number of guests you invite will significantly impact your choice, as different venues have varying capacities and layouts that can accommodate them.
To ensure a seamless experience for you and your guests, consider these essential factors when matching your wedding venue with your guest list.
a. Determine the Size of Your Guest List
Firstly, before touring any venues or even creating a shortlist, determine the approximate size of your guest list.
This initial step allows you to eliminate unsuitable locations right away.
An estimated headcount ensures that you only visit venues capable of hosting all attendees comfortably.
Remember that only some people on your list may attend; however, it's always better to overestimate rather than underestimate when considering space restrictions.
b. Consider Potential Layout Options
Next, envision various layout possibilities within each prospective venue based on the type of event you want – whether it be a seated dinner reception, cocktail-style mingling, or something unique to your celebration.
Take note of existing features such as built-in stages, dance floors, and bar areas while contemplating how they would affect seating arrangements and flow throughout the festivities.
Discuss possible configurations with venue representatives during site visits so they can offer suggestions explicitly tailored to their location.
c. Evaluate the Overall Ambiance
Some couples prefer intimate settings where friends and family members feel closely connected; others might opt for grandeur reminiscent of fairy tales filled with luxury and drama.
Regardless of personal preferences, ensuring harmony between chosen aesthetics and available spaces leads to a more cohesive occasion enjoyable by all involved.
As previously noted, factors contribute considerably towards choosing the ideal wedding venue corresponding perfectly with one's envisioned guest list – from approximating attendance numbers to evaluating atmospheric qualities at each location.
5. Popular Types of Wedding Venues: Which Is Right for You?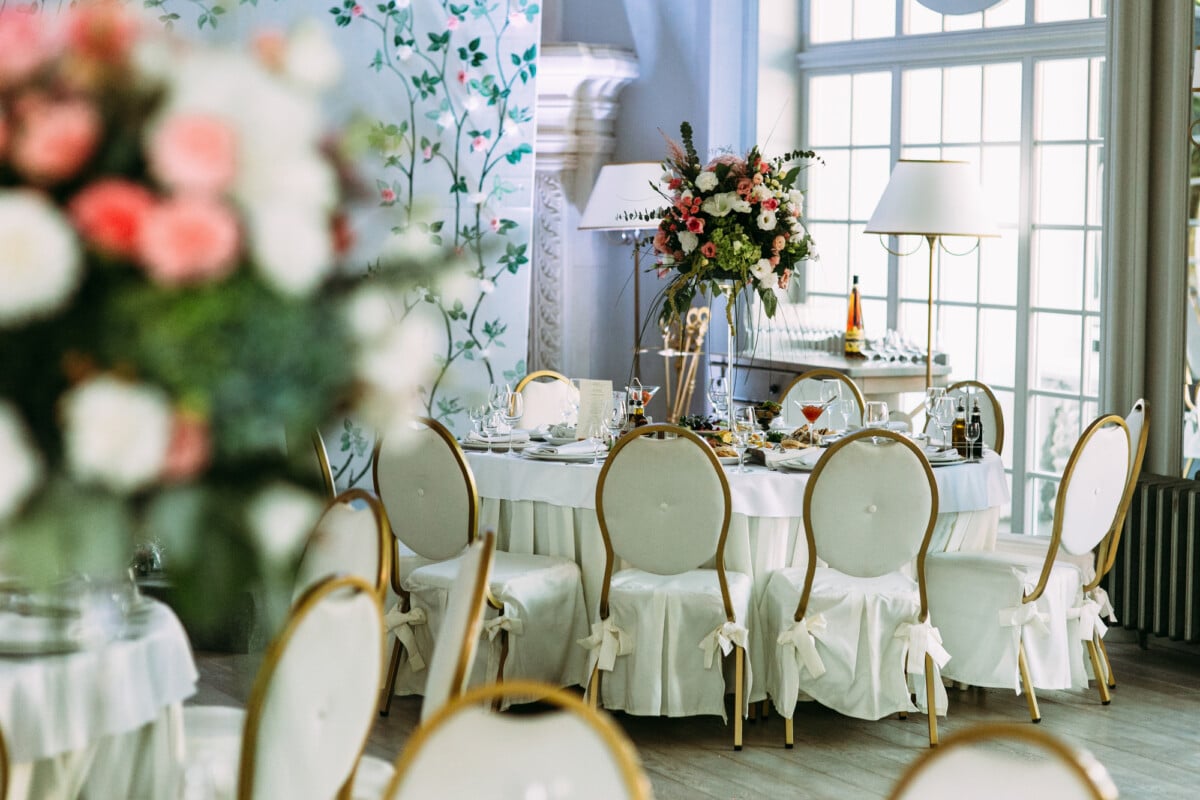 With so many options, deciding which suits you and your partner can be overwhelming. It will essentially come down to choosing a wedding venue for your style and budget preferences.
First up are traditional ballrooms or banquet halls.
These spaces offer an elegant setting for formal affairs and typically come with all the necessary amenities like catering services, tables, chairs, linens, and more.
Ballrooms often have high ceilings with opulent chandeliers, making them ideal for couples who want an elegant atmosphere without worrying about coordinating various vendors.
This venue also provides ample space for dancing and mingling among guests.
For those seeking a more intimate feel or something unconventional, consider alternative venues such as art galleries, museums, or even breweries.
These non-traditional settings create memorable experiences by combining their unique features with your wedding celebration.
For instance, imagine saying 'I do' surrounded by beautiful artwork in a gallery or exchanging vows amidst historical artifacts at a museum.
Your guests will surely appreciate the distinct ambiance these locations provide while still allowing room for personal touches from the bride and groom.
Outdoor weddings continue to be quite popular amongst modern couples looking to embrace nature during their special day.
Options abound when considering outdoor venues – think botanical gardens filled with lush greenery and colorful blooms; vineyards boasting picturesque views; beaches offering sunsets over sparkling waters; parks nestled under towering trees…the possibilities indeed are endless!
Outdoor events require extra planning (weather contingencies are crucial) but can result in unforgettable celebrations against stunning natural backdrops.
As you ponder these varied options for your nuptials' location, remember that what matters most is selecting a place that speaks to who you are as a couple and your vision for your wedding day.
You can read more on popular wedding venue types here.
6. Wedding Venues on a Budget: How to Save Money Without Sacrificing Style
Did you know that the average couple spends approximately 50% of their wedding budget on the venue alone?
While it's true that a stunning location can set the stage for an unforgettable event, there are ways to save money on your wedding venue without sacrificing style.
First, consider non-traditional spaces that are more affordable than established wedding venues.
Think outside the box: Art galleries, community centers, public parks, or even a family member's backyard can all serve as unique backdrops for your special day.
When comparing prices, remember to factor in additional costs, such as renting tables and chairs or obtaining permits.
Remember that sometimes less is more when creating a stylish atmosphere at your wedding venue. 
Simple but elegant decorations can create a more significant impact than lavish displays while keeping costs down.
Look for inspiration from nature—flowers in season locally are usually less expensive—or repurpose items you already own as centerpieces or accent pieces.
By focusing on just a few key elements rather than trying to recreate every Pinterest idea you've ever seen, you'll be able to achieve beauty on a budget without breaking the bank.
7. Beach Weddings: Choosing a Wedding Venue Guide
Beach weddings have become increasingly popular in recent years, and it's not hard to see why.
There's something undeniably romantic about exchanging vows with waves crashing behind you and a stunning coastal backdrop.
Location is the most critical aspect when selecting your perfect beach wedding venue. 
Do you want an intimate ceremony on a secluded island or prefer a bustling tourist hotspot?
As well as considering accessibility for guests, consider local climate patterns during your chosen season.
Some beaches may experience strong winds or extreme heatwaves, making them unsuitable for outdoor events.
Additionally, check for any restrictions concerning private functions on public beaches – some areas require permits which may come with additional fees.
The type of beach setting will also play a significant role in determining your overall style and theme.
A serene cove surrounded by lush greenery might lend itself perfectly to a tropical-inspired celebration.
In contrast, wide-open sands under expansive skies could call for nautical touches and crisp white decor.
When visiting potential venues, pay close attention to natural features such as rock formations, sand coloration, and surrounding vegetation; these elements will provide valuable inspiration when planning decorations and backdrops.
Selecting vendors specializing in beach weddings can make all the difference in ensuring everything runs smoothly on your big day.
They understand how weather conditions can affect various aspects like catering equipment and floral arrangements while being adept at creating beautiful designs that complement their surroundings seamlessly.
Furthermore, they're likely familiar with local regulations regarding noise levels or environmental preservation efforts so that surprises will stay calm.
8. Rustic Wedding Venues: How to Create the Perfect Atmosphere
Like a warm embrace from nature, these charming locations provide a picturesque backdrop that will make your heart sing and create lasting memories for you and your guests.
The key to creating the perfect atmosphere in a rustic wedding venue is finding harmony between natural beauty and thoughtful décor.
To help achieve this balance, consider incorporating some of these elements into your celebration:
Wooden accents
Reclaimed wood signage
Tree trunk centerpieces
Rustic wooden chairs or benches
Earthy tones and textures
Burlap table runners
Linen napkins
Twine-wrapped bouquets
When selecting a rustic wedding venue, keeping functionality and aesthetics in mind is essential.
Look for spaces with exposed beams, weathered brick walls, or aged barnwood floors.
These features evoke an authentic rural charm and offer ample opportunity for personalization through creative lighting schemes, drapery installations, or floral arrangements.
9. Historic Wedding Venues: Adding a Touch of Elegance to Your Big Day
There's something magical about celebrating your love story in a place steeped in history.
Historic wedding venues provide an elegant and timeless atmosphere for your big day and allow you and your guests to be transported back in time, creating unforgettable memories.
These unique settings offer endless opportunities for breathtaking photographs and enchanting celebrations, from grand castles to charming country estates.
When selecting a historic venue, it's essential to consider the overall ambiance that you desire for your wedding day.
Would you prefer a romantic candlelit ceremony within the walls of an ancient chapel, or does the idea of exchanging vows beneath centuries-old oak trees on picturesque grounds capture your imagination?
The architectural style of the building itself can significantly impact the atmosphere; think Gothic cathedrals with soaring ceilings versus quaint Tudor-style cottages with exposed wooden beams.
Take the time to explore various options and envision how each setting would complement your chosen theme.
10. Destination Weddings: Planning Your Dream Wedding Abroad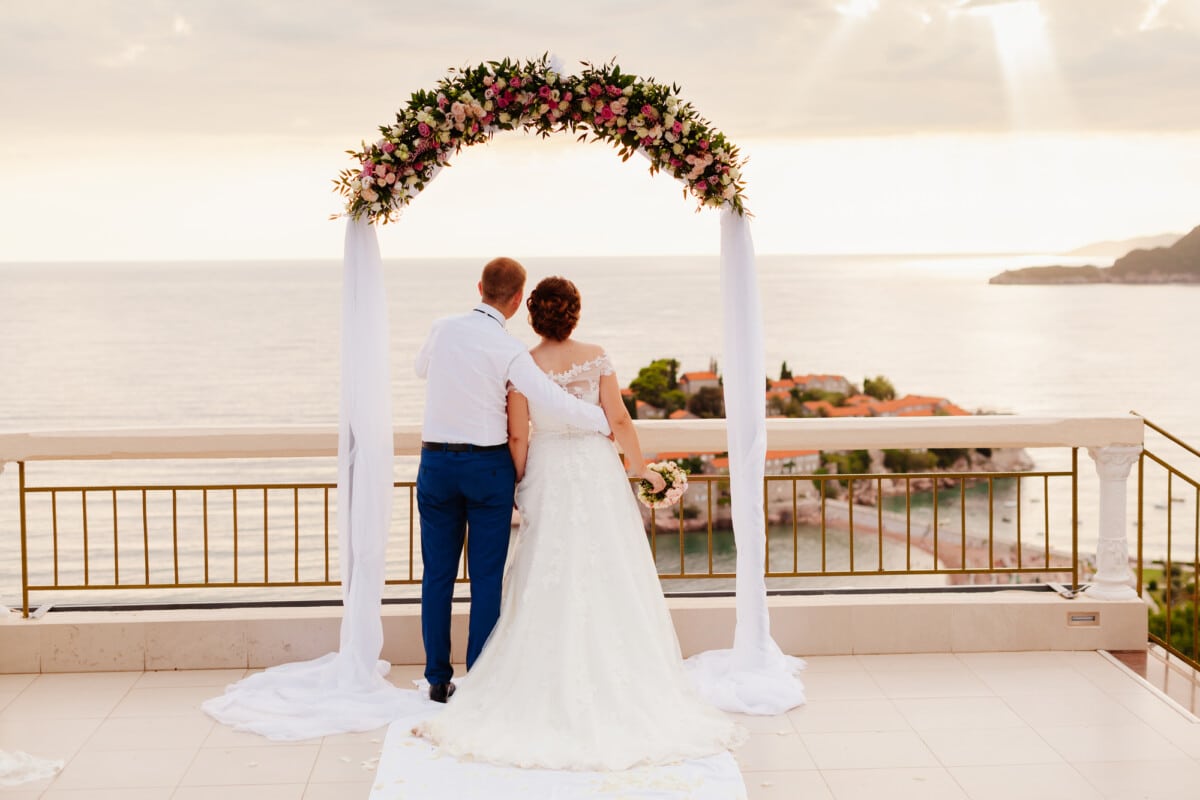 As the sun sets on the horizon of luxury wedding venues, a new day dawns with endless possibilities for your special celebration: destination weddings.
These faraway locales are perfect for couples seeking an unforgettable experience that they'll treasure forever.
Imagine exchanging vows in a centuries-old European castle or saying 'I do' with sand between your toes on a pristine tropical beach.
Destination weddings provide memorable backdrops, unique cultural experiences, and opportunities to create lifelong memories beyond the ceremony.
When choosing a location for your destination wedding, consider factors such as travel logistics, accessibility for guests, language barriers, and local customs.
Researching these aspects ahead of time will help ensure smooth sailing when it comes to coordinating vendors and finalizing details from afar.
Visit the venue at least once before booking to meet with local contacts who may be assisting you during the planning process.
This way, you'll have a better understanding of what to expect while navigating through unfamiliar territory.
To make sure every aspect of your destination wedding goes off without a hitch, enlisting professional assistance could prove invaluable.
Frequently Asked Questions
1. How Can I Ensure My Chosen Wedding Venue Is Inclusive and Accessible for Guests With Disabilities or Special Needs?
To ensure that your chosen wedding venue is inclusive and accessible for guests with disabilities or special needs, it's essential to consider a few key factors.
First, inquire about the venue's accessibility features, such as ramps, elevators, and wide doorways to accommodate wheelchairs.
Additionally, check if there are accessible restrooms available and ample parking spaces designated for guests with disabilities.
It's also crucial to evaluate the venue's layout – make sure there are no obstacles in high-traffic areas and enough space for easy navigation.
Lastly, communicate openly with your venue coordinator about any guests' requirements.
They can create an environment where everyone feels comfortable and included on your big day.
2. What Are Some Eco-Friendly Venue Options, and How Can I Plan a Sustainable and Environmentally Conscious Wedding?
Going green is the new black for weddings, and finding an eco-friendly wedding venue is a piece of (organic) cake!
Consider options such as botanical gardens, organic farms, or national parks for your big day.
Not only do these venues offer stunning natural backdrops, but they also have environmentally conscious practices in place.
Opt for locally sourced food and flowers, reusable dinnerware, and digital invitations to elevate your sustainable celebration further.
By choosing Earth-loving elements for your nuptials, you'll create lasting memories while being kind to Mother Nature herself.
3. How Do I Coordinate Transportation and Logistics for Guests Between the Ceremony and Reception Venues if They Are Not in the Same Location?
To coordinate transportation and logistics for guests between separate ceremony and reception venues, consider arranging shuttle services or group transportation options like buses or vans.
This ensures everyone arrives at the right place on time and reduces carbon footprint by minimizing individual car usage.
Communicate these arrangements clearly in your invitations, wedding website, or through a dedicated point person to keep guests informed.
Additionally, consider any special needs of elderly or disabled attendees when planning transport accommodations to ensure their comfort throughout the day.
Final Thoughts
Don't stress about finding the perfect wedding venue; consider it a chance to create a romantic and unforgettable experience for you and your guests!
Let your love story shine by choosing a venue that matches your style and values.
With a bit of research and consideration, you'll be sure to have a party that's unforgettable and full of memories that'll last a lifetime.
So take a deep breath, trust your instincts, and remember what matters – your love and celebrating it with your nearest and dearest!