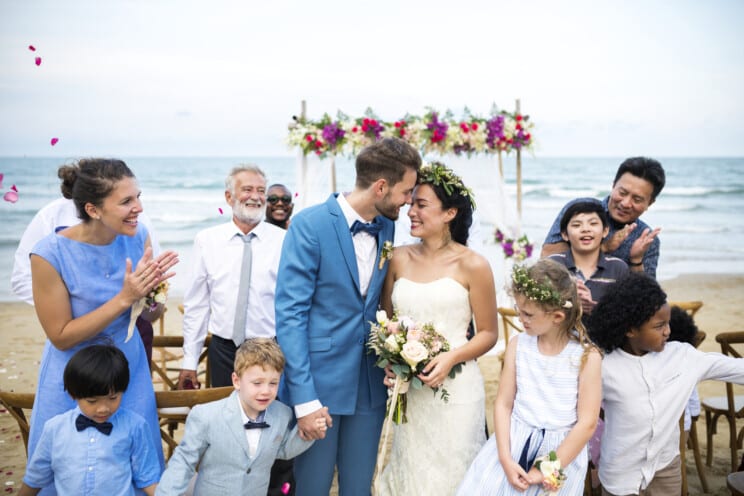 One common misconception about wedding planning is that you should choose a venue based solely on your personal preferences and style.
While this may seem the easiest option, it can lead to significant issues, especially when accommodating your guest list.
The truth is, selecting a wedding venue should be done with your vision and guests in mind. After all, they are an integral part of your celebration!
In this article, we'll explore how to choose a wedding venue that fits your guest list so that everyone feels comfortable, included, and celebrated on your special day. 
From creating a guest list to considering accessibility needs, we'll cover everything you need to know to make sure that everyone who attends leaves feeling happy and satisfied.
Creating your Guest List
Before you start touring venues, having an accurate guest count in mind is vital. This number will help determine which venues are suitable for your celebration.
Once you have an estimated headcount, consider whether guests will be seated at tables or in rows. Seating arrangements can significantly impact how many people fit comfortably inside a space.
Round tables typically seat 8-10 guests, while rectangular ones may accommodate up to 12. Rows take up less space, limiting seating capacity and restricting table decor options.
It's also essential to keep in mind any additional pieces of furniture, such as dance floors, stages, bars, and buffets, when calculating floor space requirements. These items can take up significant square footage and impede movement around the room if not planned correctly.
Establishing your Venue Budget
Once you decide on your guest list, determining costs will be the next crucial step in choosing your wedding venue.
1. Determining Costs
Imagine standing before a grand ballroom, envisioning your wedding reception with all your loved ones. But before diving into the dream sequence of decorations and entertainment, let's discuss one vital aspect: determining costs.
It is always advisable to compare prices from different venues that fit the guest list.
This way, you can narrow down options that meet your aesthetics and budgetary requirements. Don't forget to ask for an itemized breakdown of expenses such as catering, service fees, rentals, and taxes. These details will help you estimate additional costs accurately.
2. Setting a Budget
The first thing to consider when setting a budget is your guest count because this will dictate how much space you need and ultimately impact the pricing.
Regarding venue pricing, there are many factors to consider beyond just the rental fee. As mentioned earlier, catering, service fees, rentals, and taxes contribute to the overall cost.
You must take these expenses into account when creating your budget so that you can allocate funds appropriately.
Another critical factor is any additional amenities or services the venue provides, such as decoration setup or equipment rental.
Once you know what costs are involved in securing a wedding venue for your guest count, it's time to set a realistic budget.
Avoid overspending by sticking to your allocated amount while still allowing room for unexpected expenses.
Remember that being flexible with your date or having a weekday wedding may also result in lower rates from some venues.
3. Determining your Venue Style
Now that you have a rough idea of how many guests will be attending your wedding, it's time to determine the style of venue that suits your preferences. Will it be an outdoor or indoor event?
An outdoor wedding is perfect for those who love nature and the outdoors. It provides breathtaking views and natural lighting, which makes for beautiful pictures.
However, unpredictable weather conditions, such as rain or substantial winds, might affect your big day. On the other hand, indoor weddings offer more control over factors like temperature and noise levels.
If you're looking for a laid-back atmosphere with a touch of charm, then rustic venues are ideal.
These venues often feature wooden beams, exposed brick walls, and vintage furniture making them cozy yet stylish at the same time. For couples who prefer sleek and contemporary designs, modern venues would suit their taste better with clean lines, plenty of space, and minimalist decor.
4. Considering Venue Capacity
Maximizing space should be another one of your top priorities when selecting a venue. You want your guests to feel comfortable and have enough elbow room during dinner and dancing.
A crowded reception area can lead to discomfort and even accidents. When visiting potential venues, visualize how many tables, chairs, bars, or dance floors would fit inside comfortably without feeling cramped.
Analyzing Venue Amenities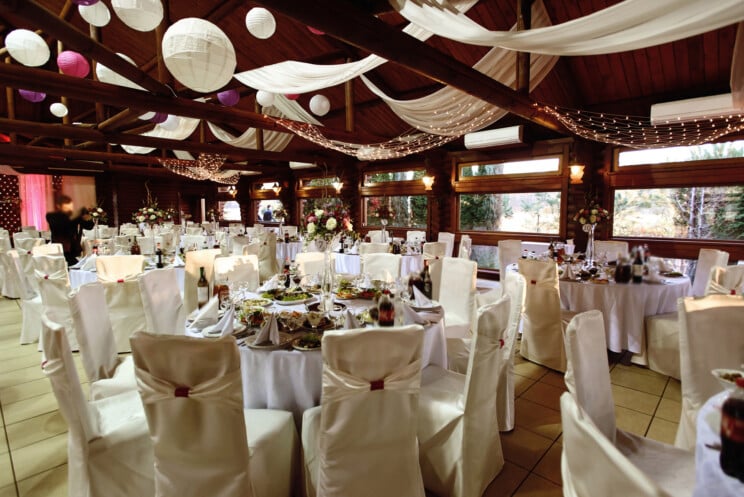 It is important to analyze each potential location's amenities. This will help you determine which venues best accommodate your guest list and provide the desired experience for your special day.
One essential amenity to consider is decor options. Some venues may restrict what decorations you can bring in or how much customization you can do.
Others may offer more flexibility, allowing you to make the space your own with unique centerpieces, lighting, and other touches.
Discussing these options with each venue is important so you can choose one that matches your vision.
Another crucial factor is catering services. Many venues have their in-house catering teams, while others require outside vendors.
Suppose food is an essential part of your wedding experience. In that case, it's important to find out what cuisine each venue specializes in and whether they can accommodate any dietary restrictions among your guests.
Evaluating Venue Accessibility
Determine whether the location is easy to find and if there are any nearby landmarks or significant roads that can help guide guests.
Guest transportation is another factor to consider when assessing venue accessibility. Will out-of-town guests need to rent cars or rely on public transportation? If so, choose a location near major airports or train stations with accessible shuttle services.
Evaluating parking options at each venue you're considering is also essential. Are there enough parking spaces for everyone in attendance? What about valet services? Consider hiring additional traffic directors to ensure smooth guest arrival and departure.
Lastly, don't forget accommodations for those with disabilities. Ensure the venue has ramps, elevators, or other handicap-accessible features for elderly or disabled guests.
Imagine the ease of mind of knowing all your guests will arrive safely
Don't let transportation woes ruin your special day
Accessibility isn't just good manners – it shows thoughtfulness toward your attendees
Give yourself peace of mind by ensuring every detail has been taken care of
Guests who feel safe and secure make more lasting memories
Planning for Accommodations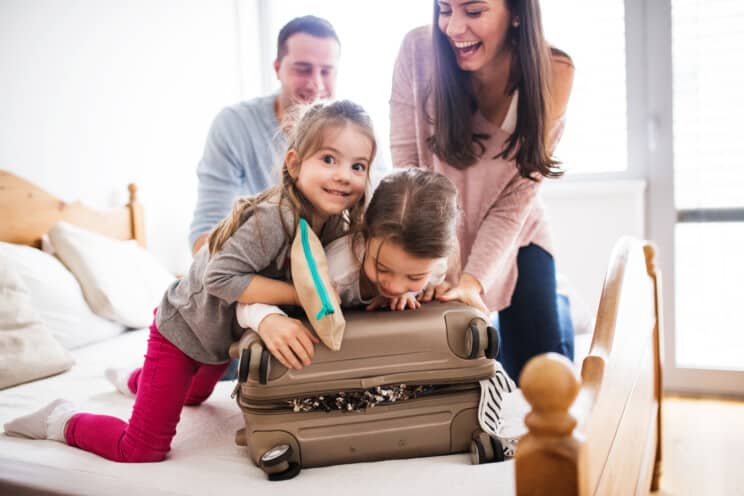 Did you know that approximately 40% of wedding guests travel more than 50 miles to attend a wedding?
As a couple, it's crucial to consider accommodation arrangements for your out-of-town guests. Not only will this ease their travel woes, but it will also make them feel valued and appreciated.
To ensure your guests have an enjoyable experience, provide them with various accommodation options near the venue.
You can negotiate room blocks with hotels or recommend Airbnb rentals. When selecting accommodations, consider proximity to the venue, safety, comfort, and affordability.
Frequently Asked Questions
What Unique Wedding Venues can Accommodate a Large Guest List?
Consider the pros and cons of an outdoor vs. indoor space and a destination vs. local location. u003cbru003eu003cbru003eOutdoor venues offer picturesque backdrops and natural lighting but may be subject to weather conditions. Indoor spaces provide climate control and reliable lighting options but may lack the same level of charm. u003cbru003eu003cbru003eDestination weddings offer an opportunity for adventure and new experiences, while local venues may be more convenient for guests with limited travel time or budget constraints. 
How Can I Ensure that my Wedding Venue is Child-Friendly?
It's essential to look for venues that offer kid-friendly activities and play areas and parental accommodations such as changing stations and comfortable seating. u003cbru003eu003cbru003eSome venues even provide childcare options so parents can enjoy the festivities worry-free. When searching for a venue, don't forget to ask about these amenities to ensure a stress-free day for you and your little guests.
Some venues may have additional fees for things like the use of equipment or decorations, while others may require you to work with specific vendors who charge higher rates.u003cbru003eu003cbru003eBy being proactive and asking about these details early on, you can avoid any surprises and ensure that your dream wedding stays within your budget.
How can I Incorporate my Cultural or Religious Traditions into the Wedding Venue?
From incorporating symbolic colors or motifs in the decor to having specific rituals during the ceremony, there are many ways to infuse culture into your celebration. u003cbru003eu003cbru003eMake sure you discuss these details with your venue coordinator so they can assist in accommodating any special requests. Remember, this is your day and should reflect your unique love story!
Final Thoughts
Picture this: a stunning, one-of-a-kind space that can easily accommodate your entire guest list, no matter how large.
With thoughtful planning, you can secure the venue of your dreams that caters to your every need and desire, all while staying within your budget.
You can rest assured that even the little ones will have a blast with child-friendly amenities, all while soaking in the atmosphere of your cultural or religious traditions.
But here's the kicker – be sure to watch for any hidden costs that may pop up along the way. With some creativity, you can still keep your budget intact while tastefully decking out your space with gorgeous decorations.
So don't settle for a mediocre wedding venue. Carefully consider your options and individual needs as a couple.