In the enchanting world of wedding preparations, where love stories are woven into every delicate detail, the wedding invitation is the first enchanting touchstone of your magical journey.
In this comprehensive guide, I'll guide you through the myriad of choices, as intricate as the most delicate lace or as bold as the deepest love.
With the turn of each page, I will unravel the secrets of selecting the perfect invitation, illuminating the path to the unspoken promise that whispers through the hands of your eagerly awaiting guests.
Prepare to be swept away as we embark on this spellbinding adventure, where we will explore the artistry, symbolism, and unyielding allure of these essential pieces of matrimonial bliss.
So, take a deep breath, hold on to your heart, and let the enchantment begin!
Determining Your Wedding Style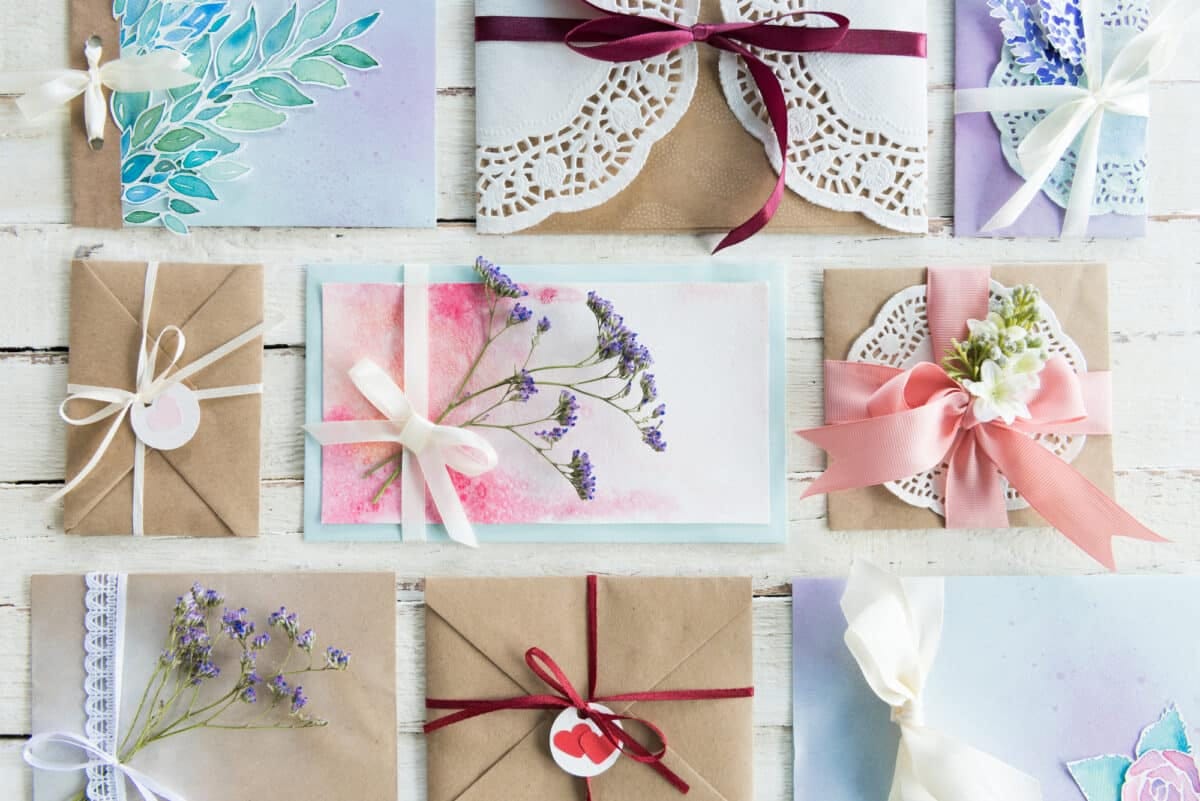 As the famous saying goes, "Your wedding invitations reflect your style and personality."
Therefore, before you choose the perfect invitation for your big day, it's important to determine what style best fits you as a couple. 
Are you drawn to rustic elements or modern simplicity? Do you prefer classic elegance or whimsical charm?
A rustic theme may be the way to go if you envision an outdoor ceremony with natural textures and earthy tones.
Rustic invitations often feature woodsy motifs like florals, leaves, and twine accents, creating a cozy and relaxed atmosphere.
On the other hand, if sleek lines and minimalist design catch your eye, consider opting for modern invites that showcase bold typography and geometric shapes.
For those who lean towards traditional aesthetics, classic invitations offer timeless sophistication. Think elegant script fonts paired with neutral colors such as cream or navy blue.
Meanwhile, couples who want to infuse their celebration with playfulness can explore whimsical designs featuring playful illustrations and bright hues.
Remember that your wedding is all about celebrating your unique love story.
So take some time to reflect on your personal tastes and the overall vibe of your special day when selecting your invitations.
With so many options available today, there's sure to be a style that perfectly captures your personality without sacrificing practicality or quality.
Setting Your Invitation Budget
It's important to determine your costs upfront when setting an invitation budget. Consider the cost per invitation, postage, guest list, and design.
Once you know your costs, you can set a budget that works for you. Remember to leave a bit of wiggle room, just in case.
Determining Costs
When estimating expenses, there are a few factors to consider. First and foremost, think about how many guests you'll be inviting.
The more people on your guest list, the more invitations you'll need, and the higher your overall cost will likely be. 
Remember any special features or customizations you may want, such as foil stamping or unique envelope liners. These details can add up quickly!
As for negotiating prices, don't hesitate to ask vendors if they can work within your budget. Many invitation designers offer package deals or discounts for larger orders.
However, remember that quality comes at a price – while it's important to stick to your budget, don't sacrifice good design or paper quality just to save a few dollars.
Setting a Budget
For cost saving strategies specifically related to invites, consider opting for digital RSVPs instead of paper ones or designing simpler layouts with fewer embellishments.
Remember that quality should not be compromised over price when setting your budget.
Cheap paper stocks and generic designs will not make a lasting impression on guests. Instead, look for deals and promotions from reputable vendors prioritizing affordability and quality.
Another important factor when considering your invitation budget is timing. Rush orders incur additional costs so plan ahead!
Start shopping around early enough so you have plenty of time to compare prices and negotiate with designers if necessary. 
Remember – setting a realistic budget carefully considers all these factors together.
Choosing the Right Printing Method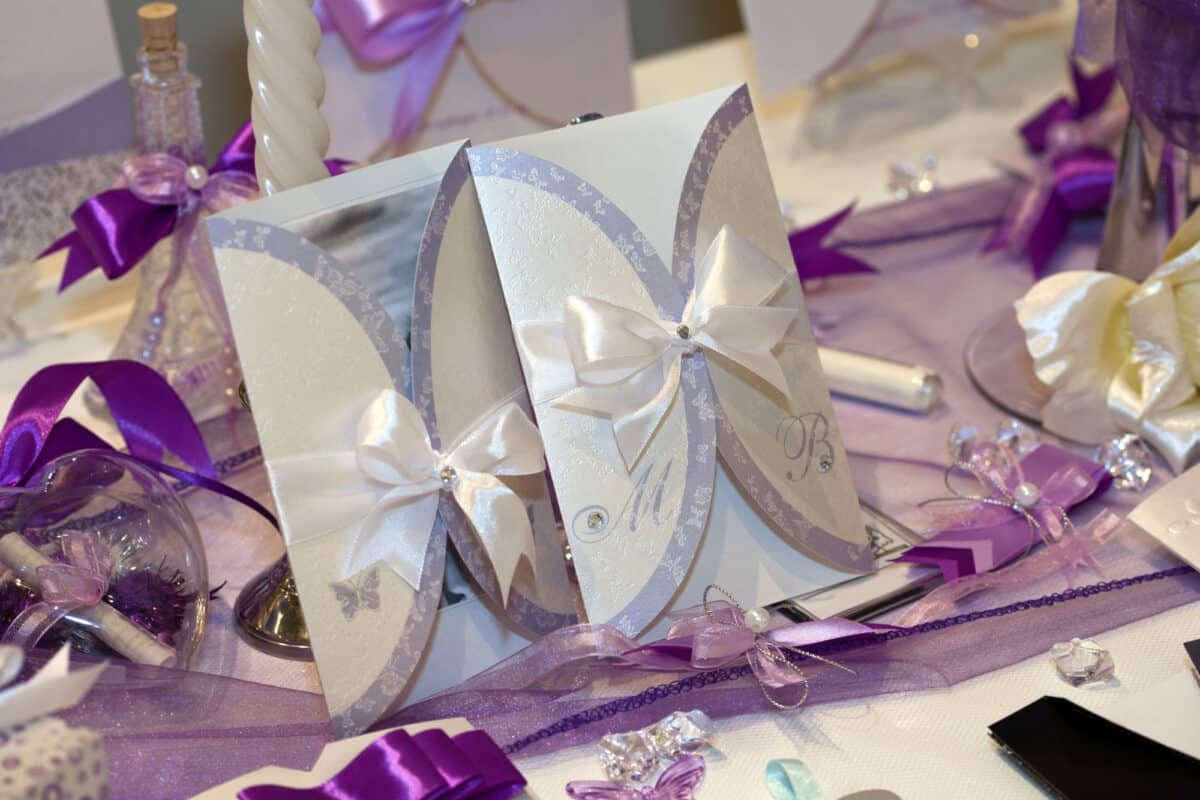 Your printing method will greatly impact how your invitation looks and feels. There are four popular types of printing methods: foil stamping, letterpress, digital printing, and offset printing.
Foil stamping is one of the most luxurious ways to print an invitation. It uses heat and pressure to transfer metallic or pigmented foil onto paper, creating a shiny finish.
This method can be costly but adds elegance to any design.
Letterpress is another high-end option where the inked plate presses against the paper, leaving an elegant indentation on its surface.
This process creates a sophisticated look with exceptional texture but comes at a higher price point.
Digital printing is ideal for couples who want affordable options without compromising quality. It involves using a printer similar to your home but with better color accuracy and speed.
Digital printers are perfect if you're looking for vibrant colors and detailed graphics in your design.
Offset printing also produces sharp images by transferring ink from plates onto rubber rollers before they roll directly into the paper material.
Each type of print has its own strengths and weaknesses when selecting wedding invitations.
Foil stamping and letterpress offer unique textures while digital and offset provide affordability with great detail quality on designs.
Selecting the Perfect Paper
Did you know that the paper weight of your wedding invitations can significantly impact their overall appearance?
In fact, according to recent studies, couples who choose heavier paper for their invitations tend to receive more positive feedback from guests. 
When selecting the perfect paper for your invites, it's important to consider the weight and texture options available.
Here are some things to keep in mind when choosing your wedding invitation paper:
Paper Weight: Consider using a higher-weight cardstock or paper stock. Not only does this give off an impression of quality and luxury, but it will also be less likely to get damaged during mailing.
Texture Options: The texture of your wedding invitation sets the tone for your entire event. Whether you opt for a smooth finish or something with a bit more grip, ensure it aligns with your chosen theme and style.
Personalization: Couples can easily add unique touches like monograms and special motifs while tying together all aspects of their big day by opting for custom-designed papers.
Sustainability: With eco-friendly options becoming increasingly popular among modern brides and grooms, consider choosing recycled materials or plant-based fibers.
Regarding making decisions about your wedding invitations, don't forget the importance of selecting the right type of paper!
By carefully weighing each option based on weight and texture, you'll ensure that every detail is perfectly tailored to create an unforgettable experience for you and your guests.
Designing Your Invitation Suite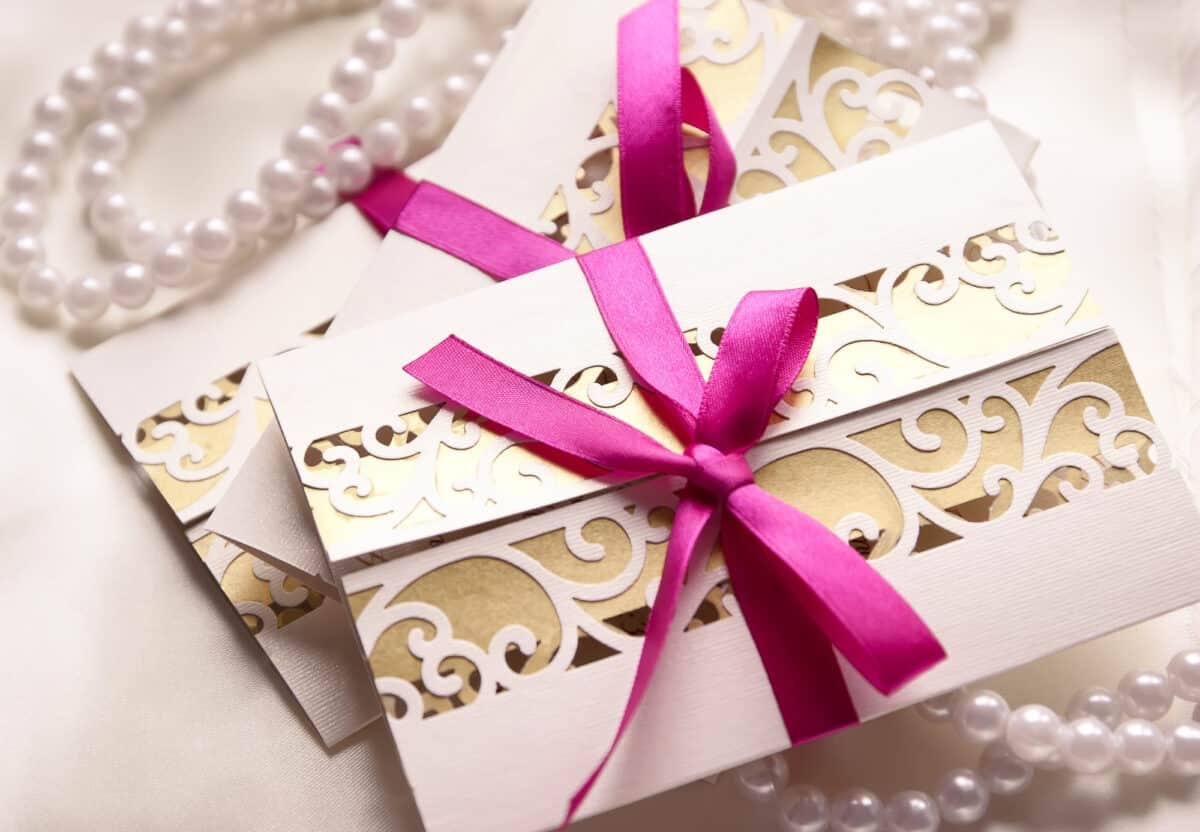 The key is to choose a design that reflects your personal style and the theme of your wedding.
One popular trend is incorporating calligraphy into your invitations, which adds an elegant touch.
If you're not confident in your own calligraphy skills, many stationers offer custom calligraphy services.
Another option is DIY invitations, which can save you money and allow for more creativity.
There are countless tutorials online for creating beautiful handmade invitations using materials like cardstock, ribbon, and stamps.
Just be sure to give yourself plenty of time if you decide to go this route – crafting each invitation by hand can be time-consuming!
Remember that consistency is key, no matter your invitation type. Your invitation suite should include all necessary details, such as the date, time, location, dress code, and RSVP information.
It's also important to ensure the design elements match all pieces – from the save-the-date cards to the thank-you notes.
Incorporating unique details like wax seals or envelope liners can add a special touch to your invitation suite.
And don't forget about addressing! Handwritten addresses on envelopes add a personal touch but can be time-consuming; alternatively, printed labels may be a faster option.
Careful consideration and attention to detail throughout each aspect of designing your invitation suite – including whether or not to incorporate calligraphy and considering available DIY options – ultimately creates a cohesive and personalized look.
Remember, your invitation suite should reflect you as a couple and the love you share!
Adding Personal Touches
From hand-painting each invitation to creating custom wax seals, there are endless ways to get creative with your invites.
Not only does this add a personal touch, but it can also save you money while still yielding stunning results.
Whether it's including symbols or colors representing your heritage or incorporating traditional wording from your culture's wedding customs, these details can help celebrate who you are as individuals and as a couple.
Remember, do not sacrifice readability and clarity for style when adding personal touches to your wedding invitations.
Your guests should still be able to easily read all pertinent information about your big day without being overwhelmed by too many design elements.
Including Important Information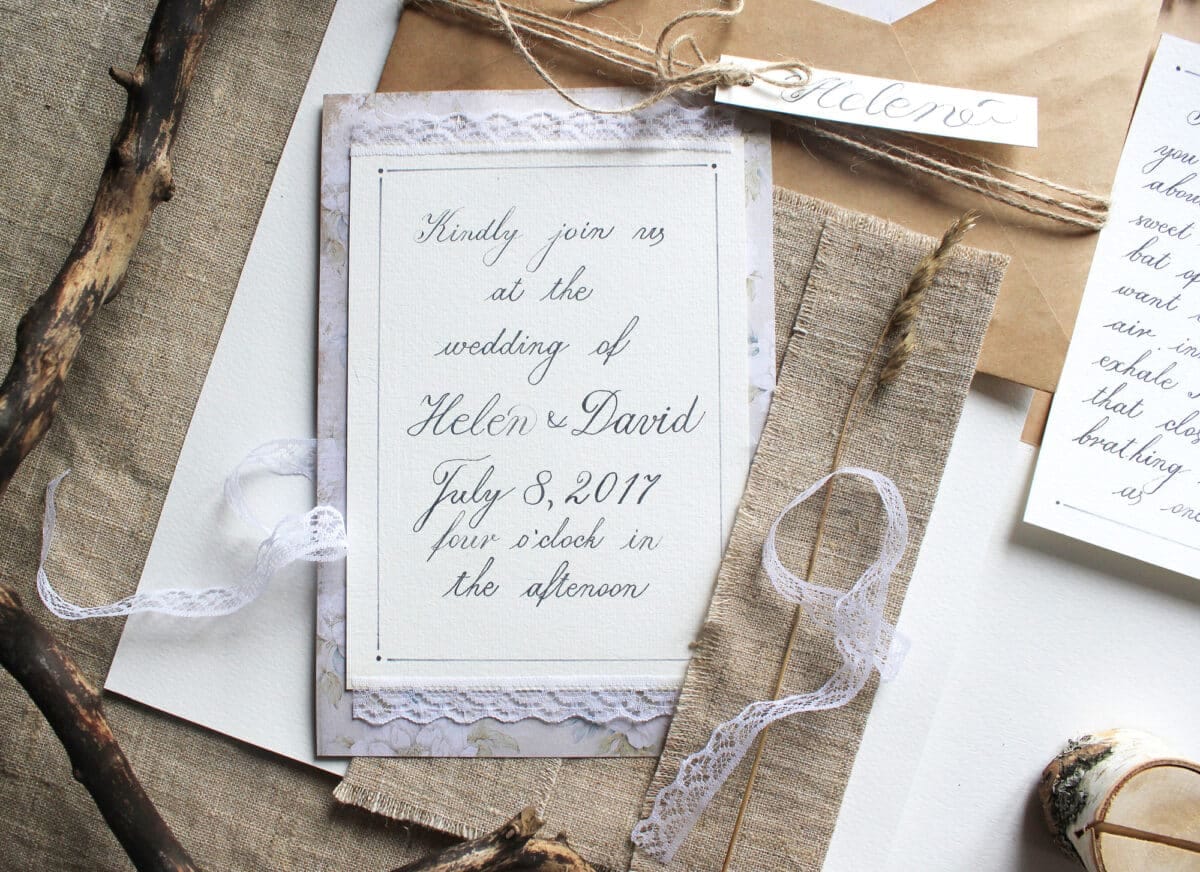 Design elements are essential, but the content of your invitation sets the tone for your event and provides guests with all the necessary details they need. Here's what you should include in your wedding invitation:
The names of the bride and groom: This may seem obvious, but make sure that both first and last names are included. It's also a good idea to put the bride's name before the groom's.
Date and time: Be sure to specify the date and time of your ceremony and reception as well as indicate whether it's an evening or daytime affair.
Location: Include the address of where your ceremony and/or reception will be held along with any additional directions if needed.
Attire instructions: If there is a specific dress code, such as black tie or cocktail attire, make sure to include this on your invitation so guests can plan accordingly.
While designing your wedding invitations, remember etiquette rules surrounding wording choices.
For example, traditionally only those who are hosting (i.e., paying for) the wedding would be listed on the invite.
However, modern couples often opt for more inclusive language that encompasses their families' involvement in planning their big day.
Incorporating all these key pieces of information into your wedding invitation requires careful consideration of design elements while still adhering to proper etiquette rules.
Work closely with professionals who can strike this balance seamlessly.
Your wedding invitation serves as a reflection of not just yourself as a couple but also sets expectations for what kind of celebration guests can expect when they attend.
Coordinating With Your Wedding Colors
Consider incorporating floral motifs that complement your color scheme when selecting an invitation design.
For example, if your primary color is blush pink, choose an invitation suite that features soft watercolor florals in shades of pink and cream.
This will create a cohesive look throughout all aspects of your wedding. You don't necessarily need to match every detail to your color palette – sometimes less is more!
Consider using neutral or metallic accents like gold foil or silver embossing to add a touch of elegance without overwhelming the eye.
These details can also help tie together different elements of your wedding decor.
Remember that coordinating with your wedding colors doesn't mean sacrificing personal style or preferences.
There are endless options available when it comes to invitation designs and customization choices. 
With a little guidance from an expert such as myself, we can create invitations that fit your color scheme and represent you as a couple.
Your wedding invitations should be a reflection of who you are as individuals and as partners. 
Addressing and Mailing Your Invitations
Let's talk about calligraphy options. How you address your envelopes can say a lot about the formality of your event, so it's important to choose wisely.
Traditional script calligraphy is always a classic choice, while modern brush lettering can add a unique twist.
You could also opt for printed labels or even handwrite them yourself if you have neat penmanship.
When considering postage, there are a few things to keep in mind. Firstly, be sure to weigh each envelope before adding stamps to avoid any returned invites due to insufficient postage.
Consider purchasing custom stamps featuring an engagement photo or design that matches your invitations – this adds a personal touch and makes for a great keepsake for both you and your guests.
Remember that addressing and mailing invitations takes time! Give yourself plenty of wiggle room when setting RSVP deadlines by factoring in potential delays or errors during delivery.
Planning for Day-of Stationery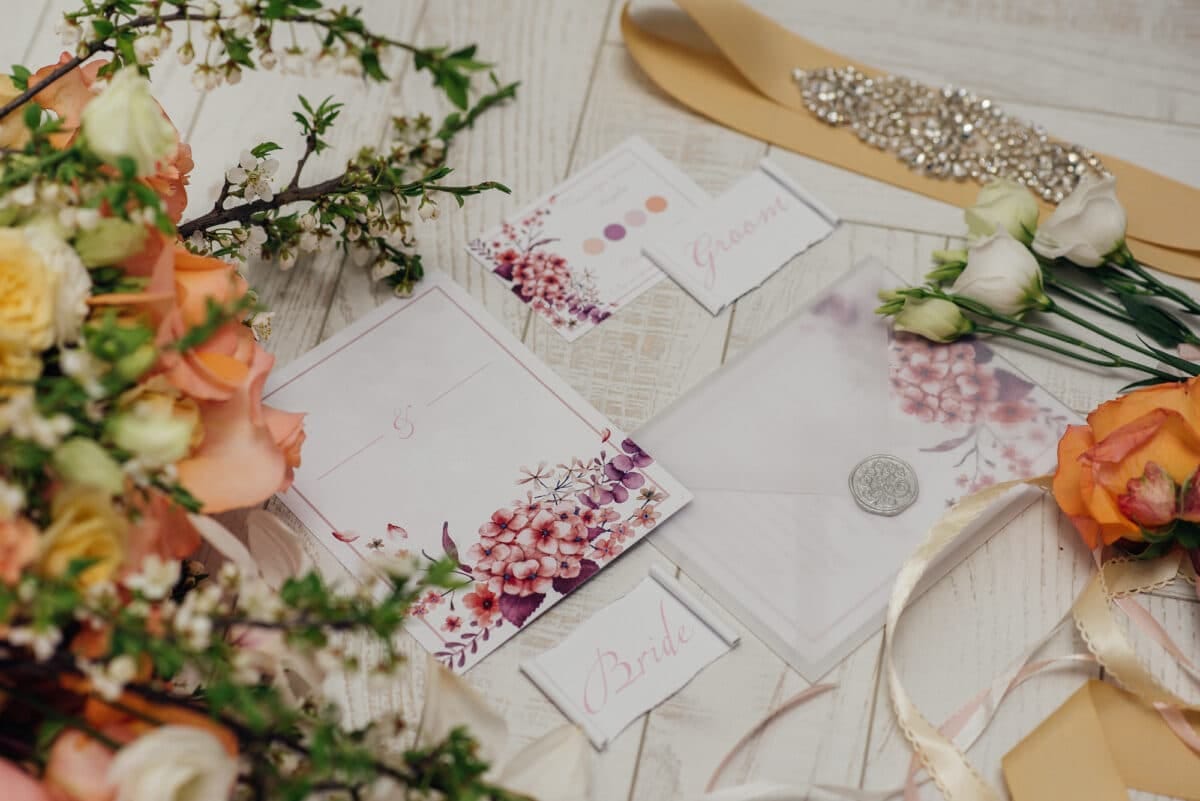 Escort cards are essential for guiding guests to their assigned tables at the reception.
They should match the style and design of your invitation suite while also being clear and easy to read.
Consider using unique materials or incorporating personalized details like calligraphy for an extra touch of elegance.
Menu cards provide guests with information about the meal they will be enjoying. These can be placed at each setting or displayed on a separate table for everyone to see.
When designing these cards, remember any dietary restrictions or allergies among your guests.
Frequently Asked Questions
Can I Include a Dress Code on My Wedding Invitations?
One way to do so is by including it on your wedding website or through word of mouth.
If you're having a formal affair and require black tie attire, mention it clearly so guests can plan accordingly. 
If you're opting for a more casual dress code, such as beachwear or cowboy boots, let your guests know ahead of time.
Is it Appropriate to Invite Guests via Email or Social Media Instead of Sending Physical Invitations?
While some may gasp at the thought of sending wedding invitations via email or social media, there are certainly pros and cons to this modern alternative.
It's eco-friendly and cost-effective. But on the other hand, it lacks the traditional elegance and sentimental value of physical invitations.
What is the Etiquette for RSVPs, and How Should They Be Included in the Invitation Suite?
Depending on how formal or casual you would like your wedding to be, you may consider offering multiple wording options for your RSVP cards.
For example, if you're having a more formal affair, you might use language such as "The favor of a reply is requested".
If you're having a more laid-back celebration, something like "Can't wait! Count us in!" might be more appropriate. 
Most importantly, your invitation suite includes clear and concise instructions for responding so that your guests feel informed and welcomed at your special day.
Can I Include A Map Or Directions To The Wedding Venue In My Invitation Suite?
When deciding on design options, make sure the map is legible and easy to follow.
As for wording etiquette, keep it simple and concise while still conveying all necessary information. 
Trust me as a wedding invitation specialist: including a helpful guide to the venue will impress your guests and ensure they arrive timely and stress-free.
How Far In Advance Should I Send Out Wedding Invitations?
If you're planning a destination wedding or getting married during peak season, consider sending save the dates as early as possible so guests can make travel arrangements and plan accordingly.
Save the dates are significant for international guests needing additional time to obtain visas or passports.
Final Thoughts
Don't be afraid to get creative with wording or add personal touches like a custom map or photo.
And most importantly, don't forget the etiquette of RSVPs – ensure they are included in your invitation suite!
Send them out at least 8 weeks before your big day. This will give guests ample time to plan accordingly and ensure everyone can attend.