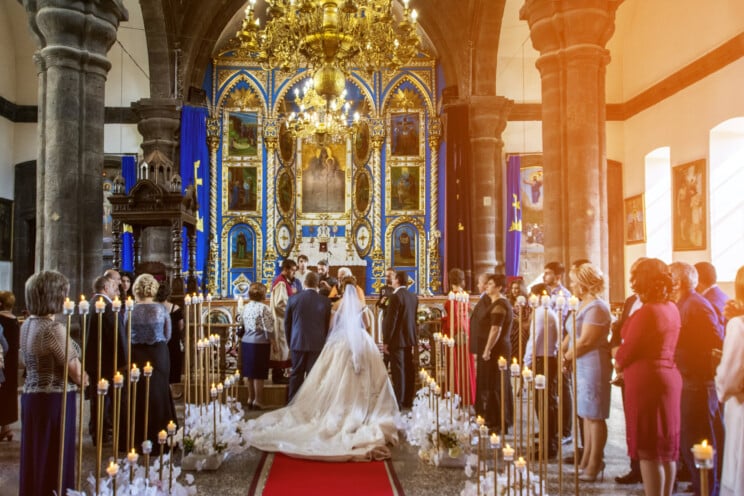 Church weddings have long been considered the epitome of a romantic and sacred union between two people.
Countless couples have exchanged their vows in these sacred spaces, excited to begin their lives together as husband and wife.
Although there's no denying that secular venues can provide beautiful backdrops for your big day, there's something exceptional about incorporating faith and tradition into your ceremony.
Let's go over the basics of what makes a church wedding both unique and unforgettable.
Choosing the Ideal Venue
Nearly 25% of weddings occur in a religious institution such as a church.
Selecting the perfect church for your wedding requires careful consideration of various factors, including venue capacity and accessibility considerations.
Venue capacity is essential when planning your guest list, as it determines how many people can comfortably attend without feeling cramped or overwhelmed.
When visiting potential churches, inquire about their maximum occupancy and any restrictions they may have regarding seating arrangements.
Remember that some guests might decline the invitation; however, it's always best to err on the side of caution by ensuring ample space for everyone who chooses to celebrate with you.
Understanding Religious Requirements
Each faith has its own set of traditions and customs that make its wedding ceremonies unique.
As a couple planning for this particular day, you should be aware of these aspects as they will help bring more authenticity and reverence to your sacred union.
One crucial element in many religious ceremonies is the attire worn by the bride, groom, and participants.
Religious attire varies significantly from one faith to another and can range from modest dresses or suits to elaborate ceremonial garments.
Researching your specific religion's expectations regarding wedding attire ensures that you respect tradition and allow you and your guests to experience the full beauty of a spiritual ceremony.
Incorporating wedding blessings is another vital aspect when planning a church wedding.
These blessings are often deeply rooted in scripture and express divine approval upon your marriage.
They usually involve prayers or readings performed by clergy members or other designated individuals during the ceremony.
Including such blessings enriches your nuptials with profound symbolism while reaffirming your commitment to God.
Selecting the Right Officiant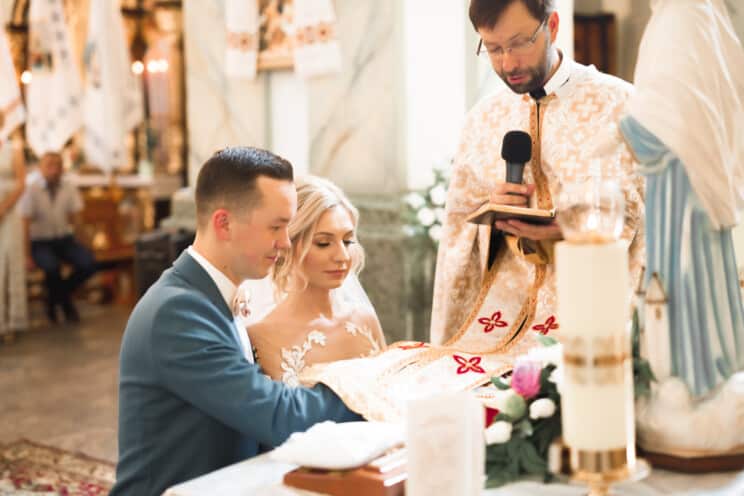 The officiant is the person who will not only guide you through this spiritual journey, but also be responsible for making your union official in the eyes of both God and the law.
This decision should not be taken lightly, as a good rapport with your officiant can make all the difference in ensuring a smooth ceremony.
One key factor to consider when choosing an officiant is their attire.
It is essential to discuss what they will wear during the ceremony, as this impacts the overall aesthetic of your wedding day.
Traditional church weddings often involve robes or vestments, while some couples may prefer more modern options like suits or dresses.
Your chosen officiant must respect and adhere to these preferences, as this reflects not only your faith but your personal style as well.
Another vital element to think about is pre-marital counseling.
Many churches require couples to attend sessions before tying the knot, which allows them to explore potential challenges within their relationship and learn valuable tools for navigating married life together.
Be sure to inquire if your prospective officiant offers such services or can refer you to someone else who does.
These meetings can provide invaluable insight into each other's values and expectations, laying a solid foundation for a successful marriage.
Deciding on Ceremony Style and Traditions
Deciding on a ceremony style and traditions for your church wedding is an essential aspect of planning that reflects both the personalities of the couple and their shared values.
Your chosen ceremony theme will set the tone for your big day, so discuss various options together. Here are three essential steps in deciding on the perfect ceremony style and traditions:
1. Research Different Ceremony Themes
Explore various cultural, religious, or even non-religious ceremonies to find inspiration. Understanding different customs and practices worldwide allows you to create a unique blend that speaks true to your relationship.
2. Reflect on Personal Connections
Think about any significant moments throughout your lives as individuals or as a couple that could be incorporated into your special day. This might include favorite childhood memories, cherished family traditions, or spiritual beliefs that hold particular importance for both of you.
3. Consult With Officiants and Professionals
Speak with clergy members who may be presiding over the wedding, along with other experts such as wedding planners or consultants. They can provide valuable guidance based on their experiences working with couples like yourselves and help refine your vision.
Navigating Wedding Etiquette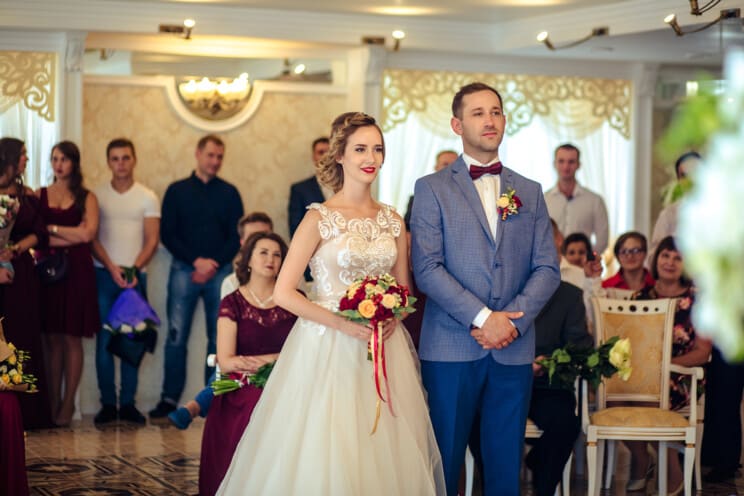 When tying the knot in a church, couples should be mindful of their church's etiquette rules.
You can start by keeping the guest list short and sweet with only your nearest and dearest, so as to consider the capacity of your chosen establishment to hold a crowd.
Keeping the guest list short also helps maintain the aesthetic and the ambiance of your wedding ceremony – because who wants their wedding photos to include hundreds of guest cramped in the background, right?
Gifts are always appreciated but are not expected from all invitees, so a registry is a great way to ensure that guests know what the couple would like.
Let's elaborate further these three vital aspects to consider when discussing wedding etiquette:
1. Invitees
Guest accommodations should be at the top of your priority list when planning. Reserving blocks of hotel rooms near the ceremony location for out-of-town guests is often recommended.
This thoughtful gesture will make their travel arrangements more accessible and show them how much you appreciate their presence on this momentous occasion.
Moreover, providing transportation options such as shuttles or carpooling from the hotel to the church can help alleviate any stress associated with navigating unfamiliar territory.
The dress code for a church wedding typically leans towards formal attire; however, it's essential to communicate your expectations clearly to avoid confusion among guests.
You don't want anyone feeling uncomfortable or underdressed during the ceremony! So be sure to include specific dress code guidelines in your invitations so everyone knows what's expected of them before arrival.
For instance, specifying 'black tie' or 'semi-formal attire' can give attendees a clear understanding of appropriate clothing choices.
As we all know, no wedding would be complete without those personal touches that reflect who you are as a couple.
Consider incorporating elements into the ceremony or reception that celebrate both families' traditions and cultures as well – from unique readings during the service, to featuring traditional dishes at dinner.
2. Attire
Bridal gown styles can vary greatly depending on personal taste, cultural traditions, or religious requirements; however, it's crucial to consider the formality of a church setting when selecting.
Timeless elegance is often favored at traditional ceremonies – think A-line gowns with lace detailing or mermaid silhouettes adorned with beading, although of course, brides should feel empowered to express their unique style while maintaining modesty within the church environment.
Groom's attire options are equally diverse and may include classic tuxedos, tailored suits, or even cultural garments reflective of family heritage.
Consider coordinating outfit details such as ties or pocket squares with bridal party ensembles for a cohesive look throughout your special day.
Whatever you choose, ensure it complements your ceremony's overall tone and aesthetic.
3. Gifts
Gift-giving and receiving can be delicate matters for couples and their guests.
To simplify this process, it's highly recommended that brides and grooms create gift registries at one or more stores.
Doing so provides attendees with guidance on desired items while minimizing the risk of duplicate presents.
It's also worth mentioning that many modern couples embrace the idea of DIY favors as tokens of appreciation for their guests' attendance and support.
Handmade keepsakes can add a personal touch to your celebration while showcasing your creativity and gratitude.
Whether you craft personalized candles or assemble gourmet treat bags, these gestures will speak volumes about your thoughtfulness.
As for guests attending the wedding, sticking to gift registries is always a safe bet; however, if you prefer going off-registry, consider choosing something sentimental or practical in line with the couple's interests.
Coordinating the Ceremony Music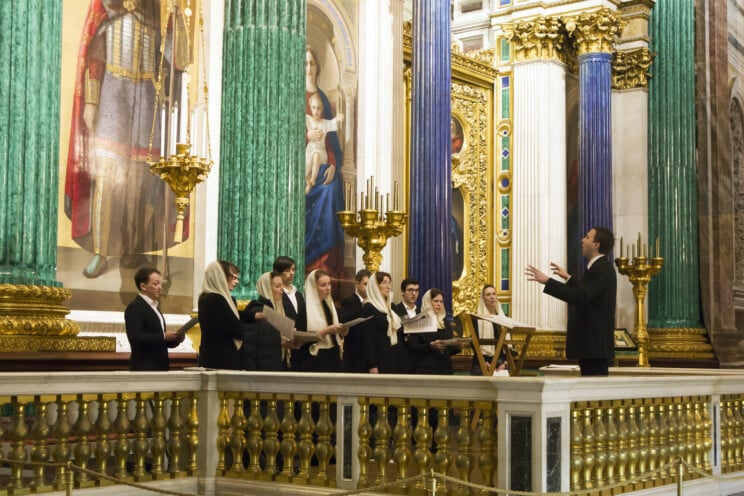 The same rules of etiquette that apply to your wedding invitations and seating arrangements also come into play when coordinating the music for your ceremony.
Church weddings often have unique acoustics that can significantly impact the overall atmosphere, so carefully selecting musicians and adjusting their volume levels is crucial.
Churches are known for having high ceilings and spacious interiors, which can create echoes or cause-specific instruments to be overpowering. When choosing musicians for your big day, it's essential to keep these factors in mind.
If possible, visit potential musicians to test how their sound carries within the space. This will help you make an informed decision on whether they're suitable for your venue.
Consult with your officiant about any restrictions or guidelines regarding music choices at your specific place of worship, because not all musical styles may be appropriate for a religious setting.
From there, you can then seek out talented artists who specialize in performing sacred music or select instrumentalists whose melodies complement the occasion's solemnity.
Planning the Order of Service
As you put together this lovely arrangement, consider each component's significance and how it contributes to the overall experience for you and your guests.
The first step in creating a seamless ceremony timeline is determining which traditional or personal customs you wish to include in your church wedding.
These may vary based on religious practices or cultural preferences but generally consist of the following:
Processional – The entrance of family members, bridal party, and bride
Welcome & Opening Prayer – A brief introduction by the officiant followed by an opening prayer
Readings & Sermons – Selected passages from scripture or literature accompanied by brief sermons reflecting on their meaning
Vows & Exchange of Rings – The couple recites their vows and exchanges rings, symbolizing their commitment
Next, consider how guest seating arrangements can enhance the atmosphere during the ceremony itself.
Thoughtfully placing close family members at the front allows them to fully immerse themselves in this momentous occasion while providing unobstructed views for those memorable photographs that capture heartfelt emotions forever etched in time.
Frequently Asked Questions
What is the Typical Cost of a Church Wedding, and What Fees are Involved?
Venue selection plays a significant role in this process, as churches may vary significantly in their pricing structures depending on location, size, and popularity.
Generally speaking, you can expect to pay anywhere from $400 to over $2,000 for a church ceremony alone. 
This fee might include using the sanctuary or chapel and necessary facilities like restrooms and dressing rooms.
Additional costs could arise from hiring an officiant (if not provided by the church), musicians or vocalists, sound system technicians, decorations, and floral arrangements specific to the chosen theme or color scheme.
How Far in Advance Should We Book the Church for Our Wedding Date?
Couples should book their chosen venue at least 12-18 months in advance, especially for popular or peak-season weddings.
This timeframe allows ample opportunity to coordinate schedules with the church and potential officiants, ensuring you have enough time to plan other aspects of your special day without added stress or disappointment.
Are there Any Restrictions on Photography and Videography During the Ceremony?
Church photography etiquette must be observed to maintain a solemn atmosphere. 
Most churches have specific guidelines on photography and videography that couples need to follow.
These may include restrictions on flash use, designated areas for photographers and videographers, or even limitations on movement.
Can Non-members of the Church Get Married There, and are there Any Additional Requirements for Non-members?
Generally, many churches permit non-members to have their wedding ceremonies there, but they may require additional steps or fees for the couple.
These requirements could include pre-marital counseling sessions, consent from the officiating minister, or attending regular church services before the big day. 
It's essential to communicate with the church you're interested in and inquire about their guidelines for non-members wishing to get married within their walls.
Final Thoughts
Each couple's journey is unique, but the fundamental principles remain the same.
As you prepare for your special day, remember to embrace the beauty and sanctity of the church, knowing that you are not just exchanging vows but also committing your hearts to each other in the presence of a higher power.
Notably, a quarter of all couples opt to say their "I do's" in religious institutions like churches.
This is a testament to the significance and reverence that such places hold in the hearts of many.
So, as you plan your church wedding, let the ambiance of the holy surroundings envelop you and your guests.