Planning your dream wedding can be daunting. With a lot in hand, it seems like every decision you make has the potential to make or break your big day.
So when it comes to something as important as your dress, do you need to steam it? And if so, how can you go about doing that?
Do I Need to Steam My Wedding Dress?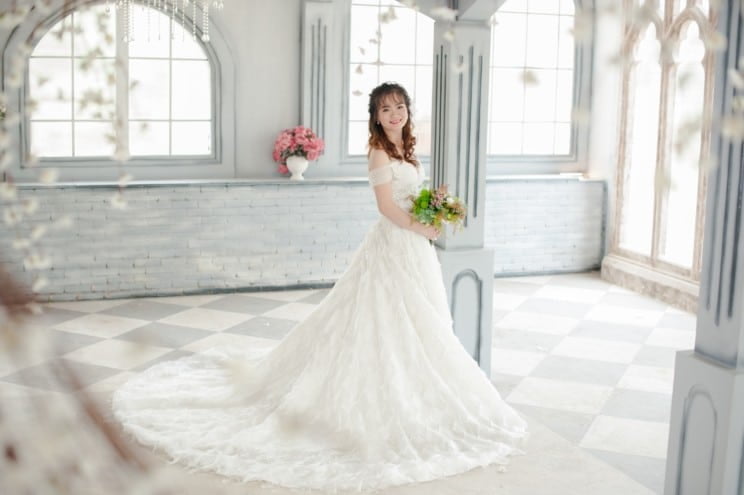 Yes, if your wedding dress is wrinkled, you may need to steam it.
Your wedding dress can get wrinkled whether you are traveling with it to a close or distant place, and you may not want to appear with it wrinkled on your wedding day.
It would be best to enhance proper research before steaming your wedding dress to ensure you don't damage it.
Still, you can also improve professional steaming by taking it to the bridal parlor where you bought the wedding dress or where it was designed.
Factors to Consider Before Steaming Your Dress
The Fabric of Your Dress
You should consult your tailor about whether the fabric used to design your wedding dress can be suitable for steaming or not.
Some materials like shantung and taffeta can become more folded after steaming.
Fabrics like cotton, silk, and polyester fabrics are convenient for steaming because they can withstand the heat from the machine during the steaming process.
Cost of Steaming
If the cost of hiring a professional steamer fits your budget, then you should consider it the best option.
Steaming your wedding dress by trained personnel will ensure that your dress is effectively handled.
Sometimes you may see it as an unnecessary cost, or the service may not be available within your location.
Therefore, you may involve one of your trustworthy friends or family members to steam your dress before the wedding begins.
Condition of the Steaming Machine
You should ensure that the machine about to be used to steam your dress is in good condition.
You may have borrowed a steamer that has not been used for a longer time, and it may discharge dirty water to your wedding dress during the steaming process causing your dress to be damaged.
Sometimes investing in a steamer may be the best because you will be able to have complete control over it as the owner.
You can always make sure it is in good condition and can be ideally used anytime.
Process of Steaming Your Wedding Dress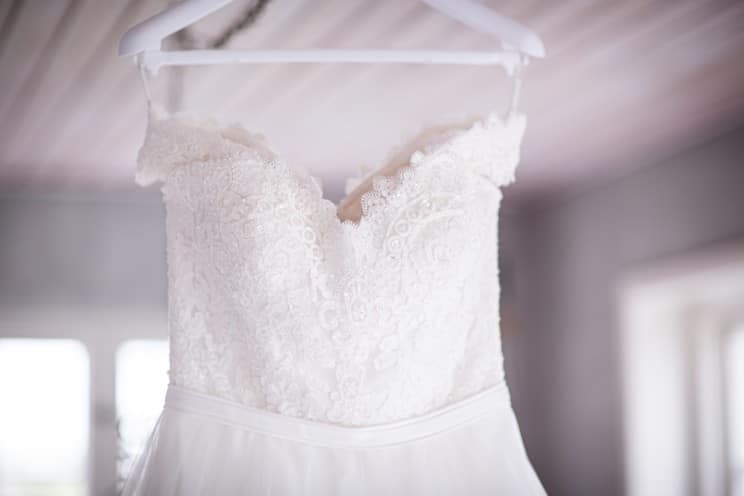 Stick Your Dress on a Hanger
On receiving your dress, you should put it on a hanger so that you can identify the folds on it.
It would be best to stick the hanger with your dress in a spacious place to enable the steam vessel to move around the dress quickly during steaming.
You should also ensure the hanger you are using to hang the dress is protracted to prevent the shoulder of your wedding dress from adjusting.
Get Your Steamer Ready
You can top up your steamer with distilled water and close the lid. Make sure it is tightly sealed such that no water can drip out.
You should also make sure that the hose extension of the steamer is completely sealed.
A good steamer has an indicator light to inform you when it is set for use.
It would help if you carried the hose a few inches far from the dress when it was time to begin steaming it.
If your wedding dress is made of a heavier material, it may need more moisture than the one made of a lighter fabric.
Warm Up Your Steamer
A steamer is always cold when you switch it on for the first time, and there may be some water droplets at its nozzle.
Therefore, you can allow it to warm up for at least 30 seconds to reach its ideal temperature.
It would be best to always point the nozzle towards the ground a couple of times before pointing it on your wedding dress.
This action will eliminate the condensed droplets that may stain your clothing.
Steam Through a Clean Linen
You may manage to keep the nozzle a few inches apart as expected, but still, there may be possibilities of condensed water splashing accidentally onto your wedding dress.
Therefore, it is good to steam your wedding dress through clean white linen.
Remove the Wrinkles
You can begin moving your steamer from the top of your dress and then move it slowly down to the bottom of the dress.
You can carry out the process as many times as possible to ensure the light layer of heat is evenly distributed throughout the gown.
You should also ensure that the nozzle is kept horizontally during steaming to enable the condensed droplets to move back to the hose instead of dripping on your wedding dress.
When your wedding dress is long sleeve, you may begin by steaming each of its arms to make it look lovely again.
Steam the Veil
Veils can get ceased quickly, and they can get diminished from your wedding dress. Therefore, a steamed cover may make your wedding dress look attractive.
Steaming the veil may be easy but can take longer because light covers may melt if projected to high temperatures.
Therefore, you should turn your steamer to a minimum temperature setting when steaming the veil.
Allow Your Wedding Dress to Dry
When the steaming process is over, you may allow your dress to dry before putting it on.
A steamed dress can get sticky when put on before it is thoroughly dried, making it wrinkled again faster than the typical situation if it is not given time to dry first.
Frequently Asked Questions
When Should You Steam Your Wedding Dress?
Steaming of your wedding dress should be done a few days close to your wedding day.
How Long Does it Take to Steam Your Wedding Dress?
The process will take 1-3 hours based on how long the train of your gown entails. It would be best if you weren't doing it yourself because of the time commitment needed.
Final Thoughts
Steaming your wedding dress helps remove wrinkles that may not make it look nice on your wedding day.
Before you begin the steaming process, you can check the fabric of your dress and the machine's condition.