Picture yourself stepping onto the aisle, shimmering under the soft lights, as gasps of admiration and awe fill the room.
The perfect wedding dress for the venue, wrapping you in a cloud of enchantment and elegance, becomes the ultimate expression of your love story.
Navigate the world of bridal fashion effortlessly with our Ultimate Guide to Finding the Perfect Wedding Dress.
But how do you find this dreamy creation that will become a once-in-a-lifetime memory?
Together, we'll explore the secrets of dress silhouettes, fabric selections, and personal style, ensuring that your bridal attire is nothing short of a fairytale come to life.
So, take a deep breath and prepare to embark on an unforgettable journey towards your dream wedding dress, with our trusty compass to guide you every step of the way.
Know Your Personal Style
When considering your personal style, think about what makes you feel confident and comfortable. Do you prefer classic or modern styles? Are there certain colors that make you feel more beautiful than others?
Knowing these color preferences will help narrow down your options when shopping for dresses.
Another aspect to consider when defining your personal style is accessory choices. Will you wear traditional pearl earrings or opt for something more daring like statement earrings?
Accessory choices can impact a gown's overall look and feel, so it's important to consider them when trying on dresses.
Consider Your Body Shape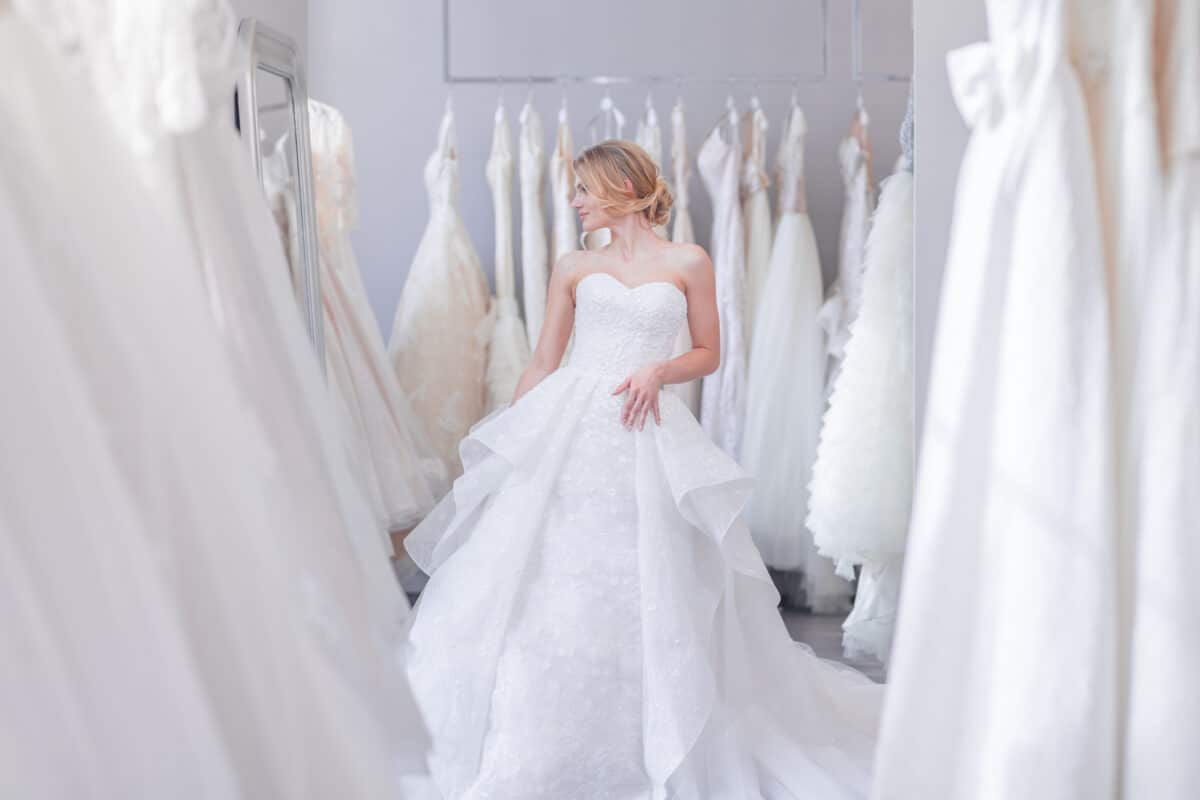 Each bride has unique features that should be highlighted, and the right dress can do just that. Dress silhouettes are a great place to start when finding the perfect fit.
For apple-shaped brides, A-line dresses and empire-waist gowns work well, as they cinch at the smallest part of the waist and flow outward.
Hourglass figures look stunning in mermaid or trumpet styles that hug their curves in all the right places.
Rectangular shapes benefit from ballgown dresses with full skirts to create volume and definition.
Accessories also play a crucial role in completing your bridal look. Consider adding a belt or sash to accentuate your waistline or wearing statement earrings to draw attention upwards toward your face.
The right veil can also complement your chosen silhouette and add a touch of elegance.
Think About Your Wedding Venue
The venue is an important factor to consider when choosing your dream wedding dress. Your gown should complement the setting of your big day, whether outdoor or indoor.
If you have an outdoor wedding, remember the weather conditions and terrain.
A lightweight fabric may work best for a beach ceremony, while a ballgown with layers of tulle could create a stunning entrance down a grand garden aisle.
You can opt for more formal dresses like long trains or ornate details for traditional venues such as churches or ballrooms.
However, if you're planning a destination wedding at a tropical resort, think breezy fabrics and shorter hemlines that will allow you to move comfortably in the heat.
No matter where your nuptials occur, ensure your dress complements but doesn't clash with its surroundings.
Destination weddings have become increasingly popular, often calling for more relaxed attire than traditional ceremonies.
Consider airy silhouettes made from soft chiffon or lace that will look just as beautiful on the sandy shores of Hawaii as they do walking down the aisle at home.
Remember to consider any cultural customs specific to your destination so that you feel comfortable on your special day.
Finding your dream wedding dress comes down to personal preference and what makes you feel confident and beautiful.
Consider all aspects of your wedding venue – indoors or outdoors, destination or not – and let it inspire but not constrain your final choice.
Have Fun!
Wedding dress shopping can be an exciting and emotional experience. However, with so many options out there, it can also feel overwhelming.
Involving your bridal party is one way to make wedding dress shopping more enjoyable. Your bridesmaids are sure to have different tastes and styles from one another, which can help broaden your search for the ideal dress.
You could even make a day of it by scheduling lunch or dinner after trying on gowns together.
Another creative way to add some excitement to wedding dress shopping is by incorporating something meaningful into your attire.
For instance, you could wear jewelry passed down through generations or sew a patch from your parent's wedding attire inside your gown. These personal touches will make you feel special and provide cherished memories for years to come.
Frequently Asked Questions
Should I Bring My Wedding Shoes to My Dress Appointment?
Will you be wearing flats or heels? Open-toe or closed-toe? Your choice of footwear can greatly impact the overall look and feel of your gown.
And when it comes to dress styles, keep in mind that certain designs will pair better with specific types of shoes. 
For instance, a flowy bohemian-inspired gown may call for strappy sandals while a classic ballgown might require more traditional pumps.
How Long Before My Wedding Should I Start Looking for a Dress?
When it comes to finding your dream wedding dress, timing is everything.
Start the search at least 8-10 months before the big day, especially if you have a specific style in mind or require any custom alterations. 
This gives you plenty of time to explore different bridal boutiques and try on various wedding dress styles until you find the perfect one. 
Don't be afraid to step out of your comfort zone and try on dresses that may not seem like your typical style. Sometimes those unexpected picks end up being the ones we fall in love with!
Can I Alter a Dress to Fit My Unique Body Shape?
Whether you need to adjust the hemline or take in the waist, a skilled tailor can work wonders on any dress silhouette selection.
Trust that with some expert alterations, it will look as if it was made just for you!
What Are Some Common Mistakes Brides Make When Choosing a Dress?
One of the biggest is not considering their body shape and choosing a style that doesn't flatter them.
Another mistake is bringing too many people along for opinions, which can lead to feeling overwhelmed and pressured into making a decision.
Don't rush into buying a dress or settle for one that isn't quite right. Take your time and trust your instincts.
By avoiding these pitfalls, you'll ensure a stress-free experience with no regrets regarding your dream wedding dress.
And always remember proper dress shopping etiquette by being courteous towards boutique staffs as they will help you find the perfect gown!
Should I Buy My Dress Online or In-Store?
One advantage is that you can access a wider range of styles and designers without leaving your home. However, safety measures should be taken into account as well.
Make sure to only purchase from reputable websites with secure payment options and read reviews from other brides who have purchased from the same site. 
The decision comes down to personal preference but remember to weigh all factors before making a final choice.
Final Thoughts
Bring your wedding shoes, start early, and don't be afraid to alter a dress to fit your unique body shape.
It's also important to avoid common mistakes like catching up in trends or letting others' opinions sway you too much.
And while online shopping may seem convenient, nothing beats the experience of trying on dresses in-store with the help of knowledgeable staff who can guide you toward your dream dress.