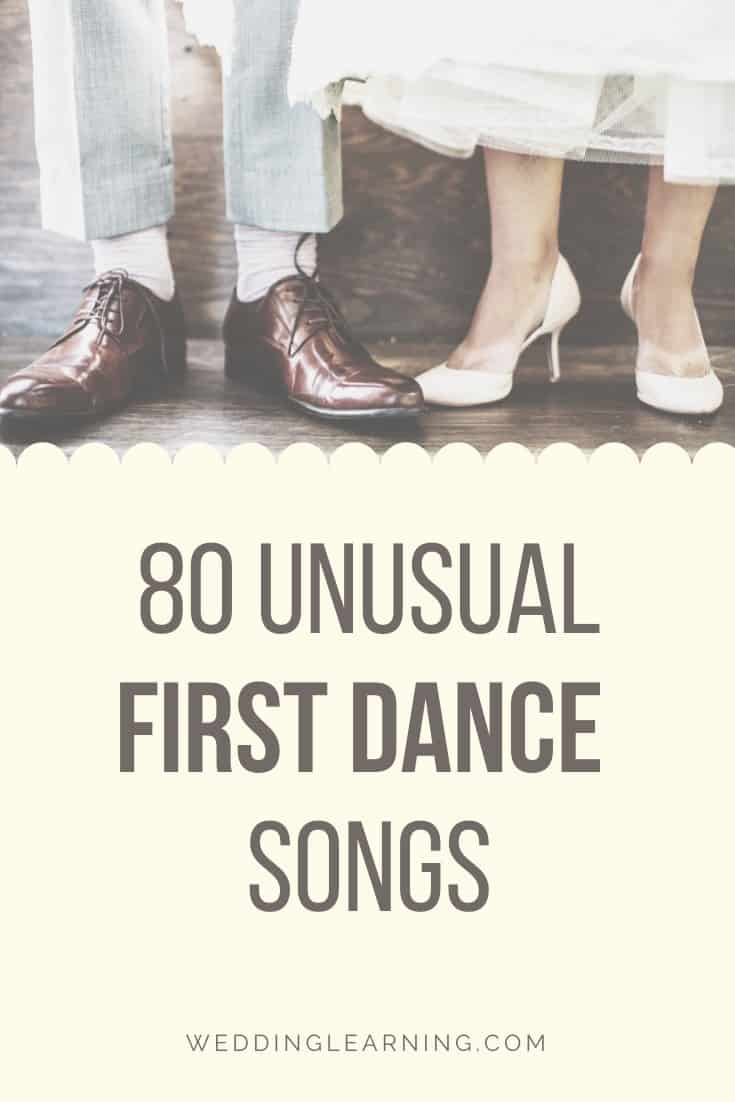 Choosing the right song for your first dance can be really overwhelming. There are so many great tracks to choose from. Most couples want to select a song that is meaningful to them and easy to dance to. Their ideal song will also be appropriate for a wedding environment and help to create the right "feel good" mood.
The first dance is one of our favorite moments of the wedding day. It really is a special moment for the couple, their families, and close friends.
We just love it when couples choose a song that is that little bit different, unusual, and unique. These first dances are often the most memorable that we encounter.
We've worked at literally hundreds of weddings over the years and witnessed the same number of first dances. We've compiled a list of our favorite and unusual first dance songs that we've heard. At the bottom of the list, we've provided a playlist for Spotify.
Some songs will make you smile, others may make you cry. Heck, some might even make you cringe. However, we're willing to bet that you'll find a song in the list below that will instantly speak to you both.
So without further adieu, let's be having it. Our recommended list of unique and unusual first dance songs for your wedding. Enjoy!
Unusual First Dance Songs for 2021
A Gift From Above – Johnny Brady
A Million Dreams – Pink
Addicted To You – Picture This
All About Lovin' You – Bon Jovi
All My Life – K-Ci & JoJo
All You Need Is Love – The Beatles
Another One Bites The Dust – Queen
Anything Quite Like You – The Script
Beautiful In White – Westlife
Better – Tom Baxter
Better Than A Dream – Marty Mone
Caledonia – Nathan Carter
Can't Help Falling In Love – UB40
Catch Me If You Can – Walking On Cars
Cause I Love You – Johnny Cash
Chasing Cars – Snow Patrol
Crazy Little Thing Called Love – Queen
Dancing In The Dark – Paisley Blue
Everywhere – Fleetwood Mac
Fallen – Lauren Wood
Falling For You – The 1975
Falling Like The Stars – James Arthur
Fix You – Coldplay
Flying Without Wings – Westlife
Fooled Around And Fell In Love – Elvin Bishop
From The Ground Up – Dan + Shay
Good Morning Beautiful – Nathan Carter
Grow Old With You – Adam Sandler
Heroes or Ghosts – The Coronas
Hey Ho – The Lumineers
How Long Will I love you? – Ellie Goulding
I Do – Westlife
I Get To Love You – Ruelle
If I Had A Gun – Noel Gallagher's High Flying Birds
I'll Love You Till The End – The Pogues
I'll Name The Dogs – Blake Shelton
I'm Yours – The Script
Incredible – James TW
Kygo – Firestone ft. Conrad Sewel
Latch – James Arthur
Love Rescue Me – U2
Love Will Keep Us Alive – The Eagles
Memories – Maroon 5
My Best Friend – Tim McGraw
Never Change – Picture This
Next To Me – Imagine Dragons
No Matter Where You Are – Us The Duo
Nothing Else Matters – Metallica
Oh You Lucky Duck – Becky Kelly
On Top of the World – Imagine Dragons
Only You – Elvis Presley
Photograph – Ed Sheeran
Sail Away – David Gray
Say You Won't Let Go – James Arthur
Should I Fall Behind – Bruce Springsteen
Shut Up and Dance – Walk The Moon
Something I Need – One Republic
Songbird – Fleetwood Mac
Songs of Love (AKA Father Ted Theme) – The Divine Comedy
Stuck on You – Lionel Richie
Teenage Dream – Boyce Avenue
Tennessee Whiskey – Chris Stapleton
The Dance – Garth Brooks
The King Beetle on a Coconut Estate – mewithoutYou
The Lucky Ones – Jack and Tim
The Vow – RuthAnne
Tougher Than The Rest – Bruce Springsteen
Twist and Shout – The Beatles
Umbrella – Rihanna
Warm – The Coronas
Whole Of The Moon – The Waterboys
Wings – Birdy
With You – Chris Brown
World Of Our Own – Westlife
Yesterday – The Beatles
You and I – Picture This
You and I – Tom Walker
You Are The Reason – Callum Scott
You Do Something To Me – Paul Weller
You're Still The One – Shania Twain
We've created a Spotify playlist with our top picks of unusual first dance songs.
Make yourself a coffee, sit back and relax and listen to the playlist of our favorite, unusual first dance wedding songs. You'll find upbeat first dance songs as well as emotional and alternative ones in there.