Honeymoon—the mere mention of the word can elicit images of sun-soaked beaches, romantic candlelit dinners, adventurous treks through tropical rainforests, or serene moments in quaint, hidden corners of the world.
As the icing on your wedding cake, your honeymoon should be as unforgettable as your love story.
Yet, choosing the perfect location can sometimes feel as daunting as trying to find the perfect wedding dress!
With a world brimming with breathtaking destinations, each with its unique allure, how does one choose?
Whether you're yearning for tranquil seclusion or cosmopolitan adventures, this blog post is your magic carpet ride to the most popular honeymoon destinations around the globe. 
But I won't stop there! I'll also share invaluable tips to help you narrow your options and pick the perfect paradise that caters to your shared interests and dreams.
Sun-Soaked Beaches: Maldives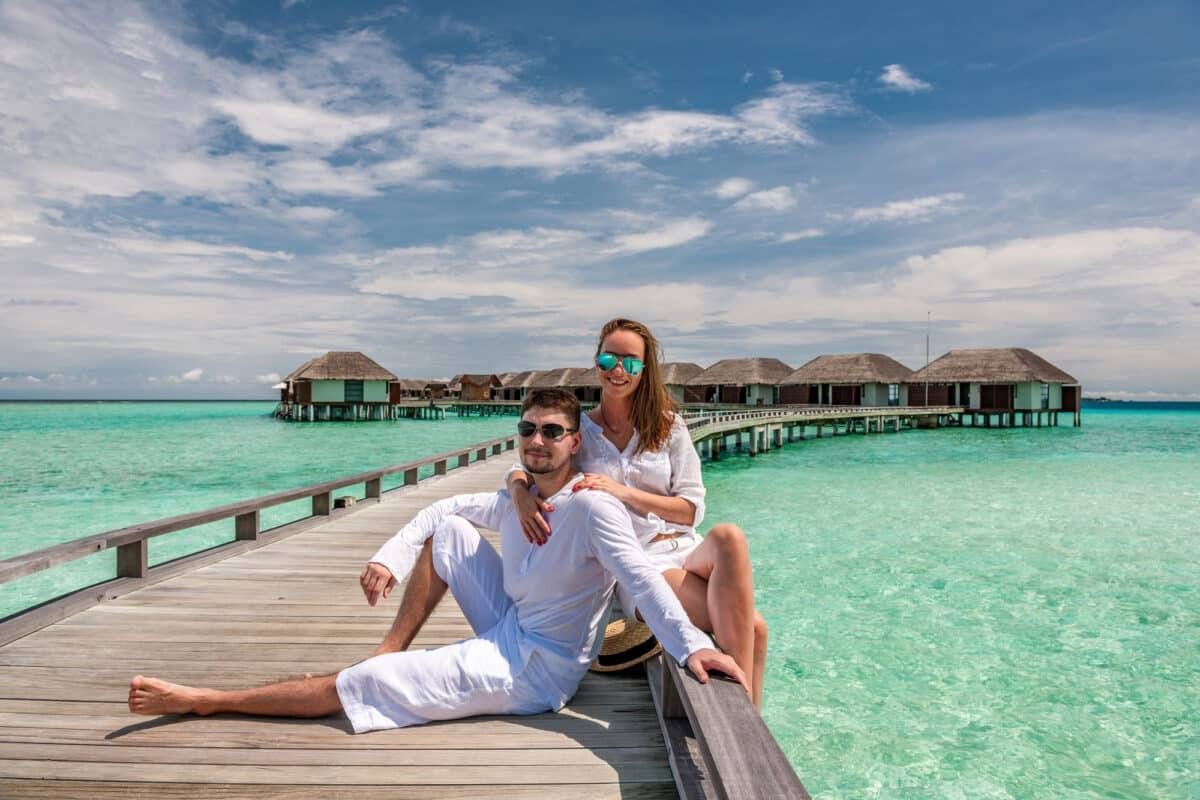 The crystal-clear waters are home to vibrant coral reefs teeming with marine life, making it an excellent spot for those looking to indulge in some snorkeling experiences during their romantic getaway.
You can only talk about the Maldives by mentioning the iconic overwater bungalows.
These luxurious accommodations offer unparalleled views of the Indian Ocean, allowing you to step straight from your room into the warm water below.
Imagine waking up each morning in your private sanctuary surrounded by turquoise seas and stepping out onto your deck to soak up the tropical sunshine – it's pure bliss.
For an unforgettable experience tailored just for you and your partner, opt for one of the many all-inclusive resorts in the Maldives.
With everything taken care of – from delicious gourmet meals to personalized activities – all that's left for you both is to enjoy a truly magical honeymoon.
Cultural Experiences
While basking in the lap of luxury at your chosen resort, remember to immerse yourselves in Fiji's rich cultural experiences.
Explore the vibrant local scene and engage with the warm-hearted locals eager to share their customs and traditions with you.
From authentic cuisine to immersive festivals, there is plenty for couples to discover together, deepening your connection with each other and this enchanting island nation.
Feast on traditional Fijian dishes prepared by skilled chefs using fresh local ingredients, as you indulge in unique flavors that will tantalize your taste buds.
Share a lovo feast – food cooked underground wrapped in banana leaves – or savor delicious kokoda, marinated fish served in coconut milk. Foodies can even participate in cooking classes some resorts offer for an unforgettable hands-on experience.
These culturally enriching experiences will undoubtedly enhance your honeymoon getaway and leave you both spellbound by Fiji's captivating charm.
Island Activities
Whether it's getting up close with exotic island wildlife or embarking on an underwater exploration journey, your time spent here will be nothing short of magical.
Immerse yourselves in nature as you hike through lush rainforests teeming with vibrant flora and fauna, or take a stroll along pristine sandy beaches while marveling at the crystal-clear turquoise waters.
The endless array of island activities available during your luxurious Fijian retreat ensures that every day presents new adventures for you to cherish as newlyweds; further solidifying your bond amidst this paradisiacal haven.
Safari Honeymoon: South Africa
A Safari Honeymoon in South Africa offers an extraordinary experience for couples who crave adventure and are passionate about wildlife.
Imagine waking up to birds chirping, taking a hot air balloon ride over the vast plains at sunrise, or enjoying a romantic dinner under the African sky while listening to lions roar in the distance.
With its diverse landscapes ranging from lush wetlands to arid deserts, South Africa provides an unparalleled setting to create unforgettable memories with your partner.
Before embarking on this once-in-a-lifetime journey, make sure you've packed all your safari packing essentials such as comfortable clothing in neutral colors, sturdy walking shoes, sunscreen, mosquito repellent, binoculars, and a wide-brimmed hat to protect yourself from the sun.
Since witnessing majestic creatures like elephants, lions, leopards and more is one of the main highlights of a safari honeymoon in South Africa; it's essential to bring suitable camera gear and familiarize yourself with some basic wildlife photography tips.
Moreover, engaging with reputable tour operators ensures smooth planning and execution so that every detail falls into place seamlessly during this special time spent celebrating love against the backdrop of breathtaking landscapes teeming with vibrant flora and fauna.
So embrace the wild side of romance by choosing a thrilling safari honeymoon amidst the natural beauty found within captivating South Africa!
Rich Culture and History: Kyoto, Japan
Imagine stepping into a painting, where every brush stroke transports you to an enchanted world steeped in rich culture and history.
This is what it feels like when you set foot in Kyoto, Japan – a city that has gracefully preserved its cultural heritage despite being one of the most modern countries in the world.
Kyoto offers honeymooners a truly unique experience amidst ancient temples, Zen gardens, and Geisha encounters.
To fully immerse yourselves in this magical destination, consider incorporating these activities into your itinerary:
Temple Hopping: With over 2,000 temples and shrines dotted throughout the city, visiting at least a few should be on top of your list. From Kinkaku-ji (the Golden Pavilion) to Fushimi Inari Taisha with its iconic red torii gates, each temple will leave you breathless.
Strolling through Gion: The historic district of Gion is known for its traditional wooden machiya houses and teahouses where geishas entertain their guests. Take a leisurely walk down Hanami-koji Street or Shirakawa River to stumble upon hidden gems and witness geisha sightings.
Relaxing at Arashiyama Bamboo Grove: A visit to Kyoto wouldn't be complete without experiencing the tranquility found within Arashiyama's lush bamboo forest as you listen to the rustling leaves while hand-in-hand with your love.
As your romantic getaway unfolds beneath cherry blossoms or vibrant fall foliage, you'll find that Kyoto's allure goes beyond its picturesque landscapes; it lies deep within its ability to offer both serenity and adventure simultaneously. 
Tips for Choosing the Perfect Honeymoon Destination
When it comes to selecting the perfect honeymoon destination, there are a few factors you should consider.
Budget planning and activity preferences play a significant role in narrowing down your options. 
Remember that while certain locations may be more affordable than others, various factors such as travel season and accommodation choices can impact overall costs.
It's essential not only to choose a location within your budget but also one that offers activities catering to both partners' interests. 
For example, if one partner loves relaxing on the beach while the other enjoys exploring historical sites or trying new cuisines, pick a location offering these experiences.
Frequently Asked Questions
What are Some Budget-Friendly Alternatives to these Popular Honeymoon Destinations that Still Offer a Memorable Experience?
Budget-friendly activities and memorable experiences don't have to be mutually exclusive.
Plenty of affordable alternatives to popular honeymoon destinations still offer unforgettable moments for newlyweds.
For instance, consider exploring the beautiful landscapes of Costa Rica instead of Hawaii, or enjoying the romantic atmosphere in Portugal rather than Italy.
How do these Destinations Cater to Couples with Specific Dietary Restrictions or Requirements, such as Vegan or Halal Options?
When catering to couples with specific dietary restrictions or requirements, many destinations offer vegan friendly resorts and halal dining options. 
These accommodations often provide a diverse range of plant-based meals and dishes prepared according to Islamic guidelines, ensuring guests can enjoy their honeymoon without compromising their lifestyle choices.
These establishments are increasingly aware of the growing demand for specialized diets and strive to cater to various needs by offering customizable menus and working closely with local suppliers to source high-quality ingredients. 
As a result, couples can expect an enjoyable culinary experience while staying true to their dietary preferences during their romantic getaway.
Are there Any Recommended Local Customs or Traditions Couples Can Participate in to Make their Honeymoon Experience More Unique and Authentic?
To make your honeymoon standout, participating in local traditions and engaging in cultural experiences can truly enrich your trip.
Whether it's taking part in a traditional tea ceremony in Japan, learning to dance the tango in Argentina or attending a Hawaiian Luau, these unique activities allow you and your partner to immerse yourselves into the heart of your chosen destination.
What Kind of Travel Insurance is Recommended for these Destinations, Considering Potential Weather-Related or Other Unforeseen Issues that May Arise During the Trip?
When considering travel insurance types for your trip, it's important to consider potential weather-related or other unforeseen issues.
Comprehensive coverage is typically recommended, as it can protect you from a wide range of situations including trip cancellation, medical emergencies, and lost luggage.
It's also worthwhile to consider adding 'cancel for any reason' coverage for extra peace of mind in case unexpected circumstances force you to change your plans last minute.
Choosing the right travel insurance will depend on the specific risks associated with your destination and personal preferences, so be sure to compare policies and read the fine print before deciding.
Final Thoughts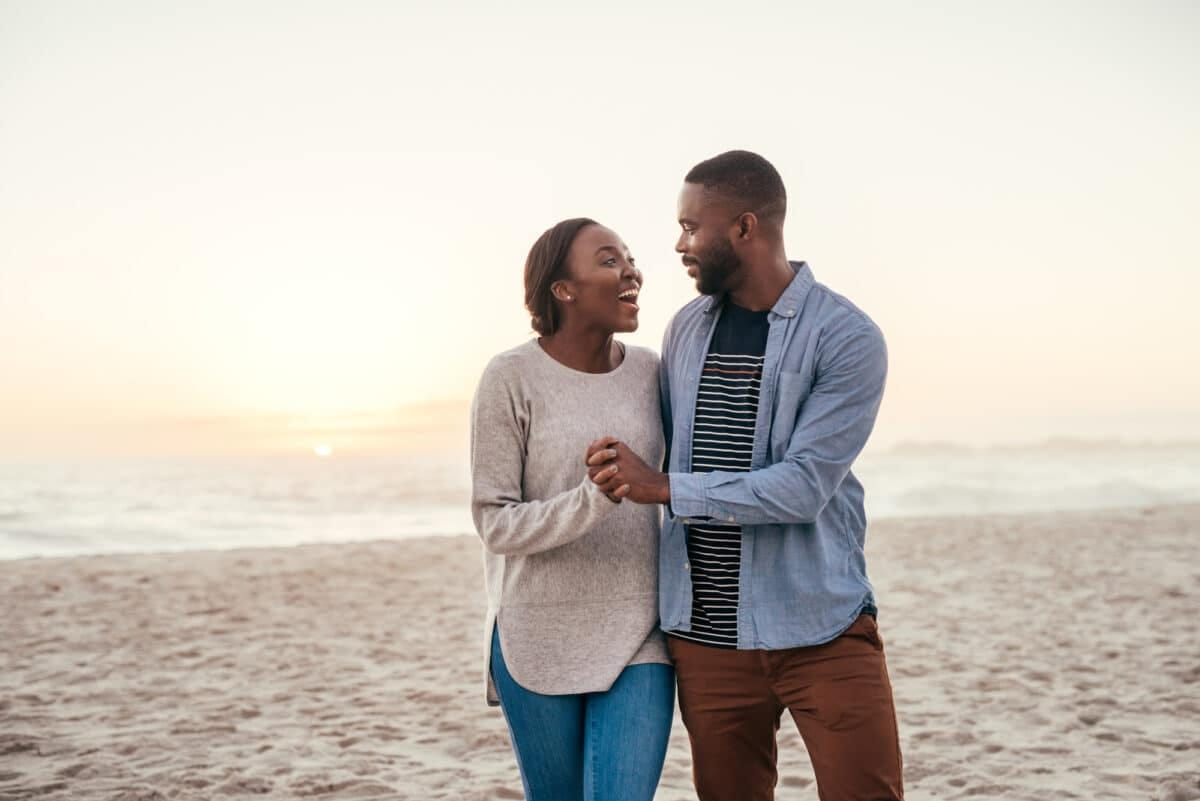 It's important to remember that every couple is unique and deserves a honeymoon experience tailored to their specific needs and preferences.
With so many diverse destinations available, there is something for everyone – whether you're seeking budget-friendly options, inclusive environments or local customs to embrace.
A recent survey found that 74% of newlyweds prioritize memorable experiences over luxury when planning their honeymoons.
So let this be a reminder: focus on creating cherished memories with your partner as you embark on your new journey together.