So, it's not just the bride and her bridesmaids who get to look their best for the wedding day. Sometimes, the guys and their wedding attire can get overlooked!
You might be wondering about how long can it take to have a suit tailored for a groom? When a groom opts to get a custom suit made for himself, his best man, and his groomsman, he may be left waiting for a while. This period of waiting for a bespoke suit to be made can vary. This can add to the wedding stress. However, good things come to those who wait!
Average Waiting Time To Get a Suit Tailored For A Groom?
How long does it usually take to get a suit tailored for a groom? It typically takes 7 to 8 weeks to have a custom suit made for the groom and his wedding party. A bespoke suit with additional complexity might take a little bit longer. If the wedding suit is relatively simple or just made to measure, it might take 3 to 4 weeks depending on how busy the bespoke tailor is.
So, in other words, the groom's tailored suit will probably be ready before the wedding dress arrives. Read on for additional advice regarding having a custom wedding suit or bespoke tux made for the groom.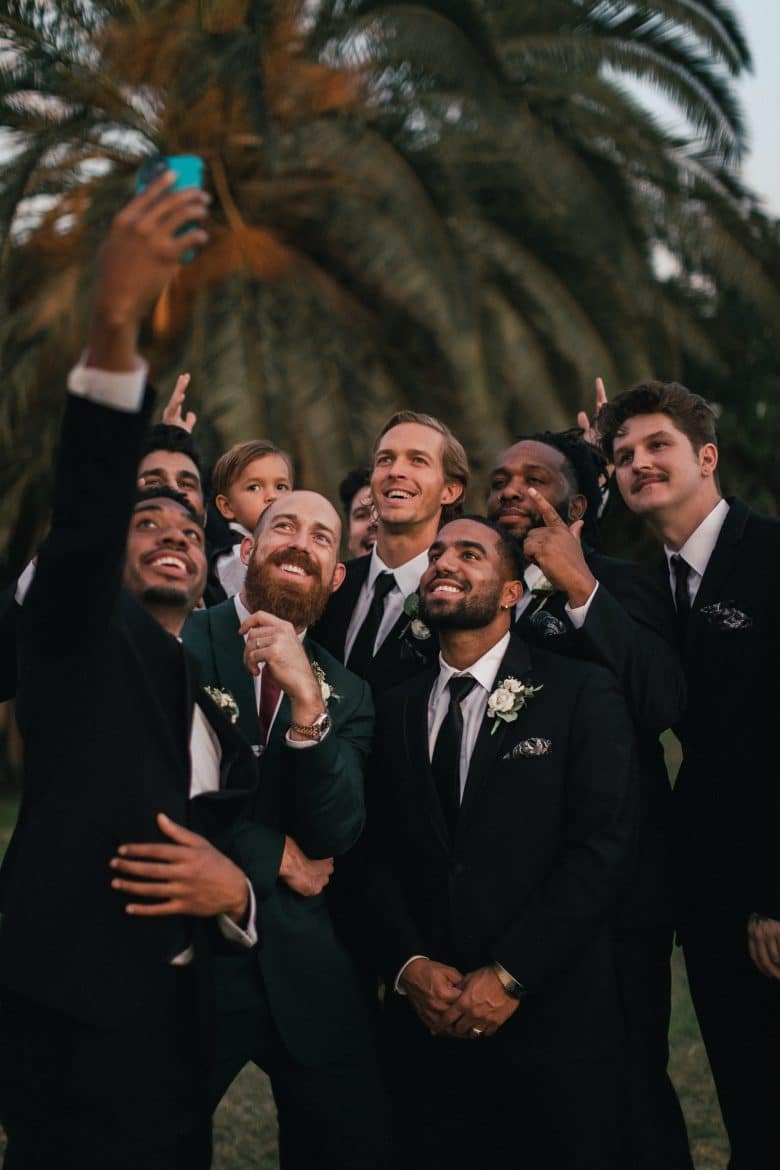 How Much Should You Expect To Pay For Having a Suit Tailored?
Tailors differ and so do their prices. A tailored suit from a reputable wedding tailor can cost from $200 to about $10,000. This assumes you are ordering a custom tailored suit to be made from scratch. It is a large price range but the cost will vary based on the fabric used within the waistcoat as well as the custom suit pants and jacket.
To keep the price down, start with a rack suit and then request sections of that to be fitted. This will be less work for the tailor, and therefore, a lower cost. Also, it will definitely fit better.
A tux / tuxedo will probably cost a little bit more because of the additional complexity in terms of the wedding suit design.
How Much Do Groom Suit Alterations Cost on Average?
If the groom goes for his suit fitting and it's not quite the perfect fit, it should be possible for the tailor to make minor alterations to make it a better fit.
How much you expect to pay will vary based on the level of modifications required as well as the location and reputation of the tailor.
A minor alteration to just one section of a wedding suit may only cost $20 to $25. An example might be adjusting the bow tie or lapel.
Minor alterations to the suit jacket or waist length of the suit pants might cost $50 to $100.
If the requirements are more complex and many different sections of the groom's suit need to be altered, then the price might go to between $100 and $200. That's for a typical mid-range tailor. However, a more high-end men's suit tailor might set you back somewhere between $300 and $400.
Final Thoughts
If in doubt, call your local menswear retailer and ask for a quote. They'll most likely request the groom to come in for a fitting first to get jacket and trousers measurements. They'll also want to chat about the choice of fabric for the pants and jacket.
Many grooms will also opt to get their shirt ordered from the tailor. This will save time and energy. With the right suit, the groom will look very smart when playing games for the bride and groom!
We hope this covers the main questions you might have about having a suit tailored for the groom and groomsmen's attire in general. Hopefully, by the end of the process, the groom should end up with the perfect wedding suit.