The moment has finally arrived—the exchange of vows, the heartfelt "I dos," and the magical words that unite two souls in a bond of love and commitment.
The wedding officiant, the person entrusted with the honor of presiding over your ceremony, plays a pivotal role in creating this enchanting experience.
Don't leave your wedding to chance – find out how to make the right choice when it comes to wedding vendors in our detailed article.
I'll guide you through the essential steps to find the perfect individual who will weave the tapestry of your love story into an unforgettable ceremony, setting the stage for your journey into married life.
Determine Your Ceremony Style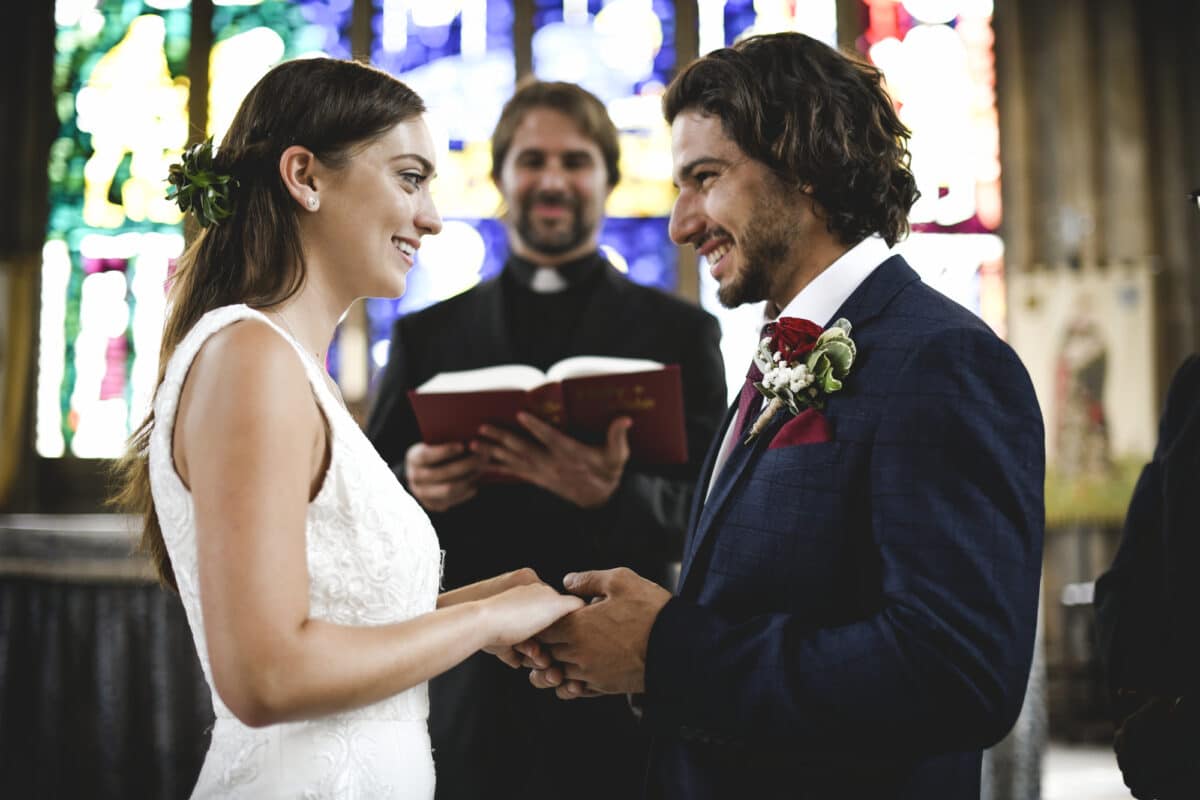 Your wedding ceremony is one of the most important moments in your life, so choosing an officiant who can deliver a memorable experience is crucial.
Before searching for potential candidates, take some time to determine your ceremony style. This will help narrow your choices and ensure you find someone who shares your vision.
One key consideration is whether you want an indoor or outdoor wedding.
Outdoor weddings offer stunning backdrops and natural lighting but require more planning in case of inclement weather.
Indoor weddings are generally more predictable, but they may lack the charm of an outdoor setting.
Remember that different venues may have specific rules about where ceremonies can be held, so check with them before finalizing any plans.
Consider Your Religious or Cultural Background
When choosing a wedding officiant, it is important to consider your religious or cultural background.
This consideration will help you choose an individual who can accommodate and honor the traditions of both families involved in the ceremony.
If you come from different religious backgrounds, interfaith ceremonies are becoming increasingly popular options for couples who want to incorporate their beliefs into their wedding day.
An experienced officiant with knowledge of multiple religions can create a personalized ceremony that honors each tradition while respecting your unique relationship.
It's also essential to find someone who understands and respects your culture.
If certain customs or rituals are significant to you and your family, ensure the officiant will incorporate them into the ceremony.
They should be open-minded and respectful of all cultural practices.
Decide on Your Officiant's Role in Your Ceremony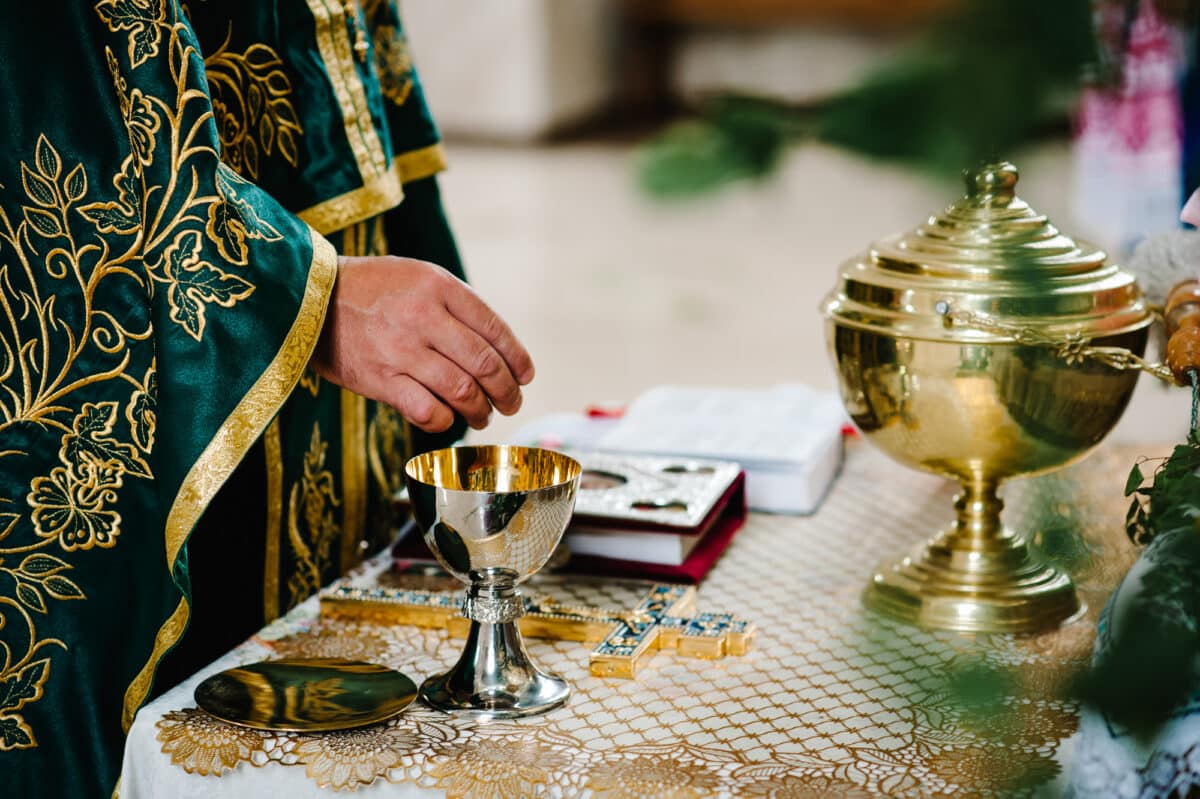 First and foremost, consider what attire you want your officiant to wear during the ceremony. The outfit should reflect the formality and theme of your big day.
A well-dressed officiant can add elegance and sophistication to your wedding ceremony. Discuss with them beforehand what they plan to wear so that there are no surprises on the day.
You then need to pay attention to their speaking style. Your chosen officiant should be articulate, clear, and engaging while delivering meaningful words for you and your guests.
Their tone and pace should seamlessly match the mood of different ceremony parts, ensuring everyone feels included.
Just as importantly, don't forget that this is YOUR special day! Therefore, choose an experienced professional who knows how important flexibility is at weddings.
They should understand how to adapt to last-minute changes without causing stress or anxiety for anyone involved in the event planning.
Finding someone who understands these key factors will ensure that they help make your big day unforgettable by leading an extraordinary ceremony that reflects both yours' personalities perfectly – creating memories that last forever!
Look for Recommendations and Reviews
Word-of-mouth recommendations are often more reliable than online reviews because you get feedback directly from someone with personal experience working with that individual.
Reading testimonials about potential officiants can also offer valuable insights into how others have experienced their services.
Check out websites like WeddingWire and The Knot to read unbiased reviews and ratings from past clients.
Once you've narrowed down your search based on these two factors, it's time to reach out to potential candidates and schedule consultations.
During this meeting, ask questions about their approach to ceremonies, availability, fees and any additional services offered.
Take note of how responsive and professional they are during this initial communication process – if they seem uninterested or slow to respond, it may be a sign that they won't prioritize your needs throughout the planning process.
Ask for references: In addition to reading testimonials, asking for references from previous clients or venues where they have performed ceremonies can help build trust.
Consider personality fit: Your wedding officiant should be someone who makes you feel comfortable and confident on your big day.
Discuss customization options: If specific elements or traditions you would like incorporated into the ceremony, ensure the officiant is open to accommodating those requests beforehand.
Remember that finding the right wedding officiant takes time and effort, but having someone who will help create a meaningful ceremony that reflects who you are as a couple is worth it.
So don't rush the process – take the time to get to know different candidates before making a final decision. Congratulations on taking this next step toward an unforgettable wedding!
Ask About Their Experience and Credentials
When asking about their experience, inquire how many weddings they have officiated and if they have worked at venues similar to yours.
It's also important to ask about any unique situations they've encountered during ceremonies and how they handled them.
A seasoned professional will be able to provide examples of ways they've adapted to different scenarios.
Credentials are equally important when selecting an officiant for your wedding day.
Ask if they belong to any organizations or associations related to wedding officiating, such as the American Association of Wedding Officiants (AAWO) or Universal Life Church (ULC).
These affiliations can indicate that the officiant takes their role seriously and continues learning within their profession.
Discuss Fees and Availability
Couples should never assume that an officiant is available just because they've expressed interest in their services.
It's always best to ask upfront about availability before getting too far into the planning process.
When discussing fees with your potential officiant, inquire about additional costs beyond their base fee. For example, some officiants charge extra for rehearsals or travel expenses.
Knowing what you'll be expected to pay can help prevent surprises on your big day.
Ensure They Are Willing to Personalize Your Ceremony
Like a tailor fitting a wedding gown, your officiant should be able to craft a ceremony that fits you perfectly.
When searching for an officiant, finding someone willing and able to personalize your ceremony according to your wishes is essential.
Personalization options are crucial when selecting an officiant because every couple has unique needs and desires for their special day.
Your officiant should work with you to create the perfect ceremony that reflects your personality, values, and beliefs.
They must listen carefully to your requests and incorporate them into the script. Officiant communication is vital throughout the planning process.
You want someone who will respond promptly to emails or calls, answer any questions, and provide guidance on how best to achieve what you desire within budget constraints.
Finalize Your Decision and Book Your Officiant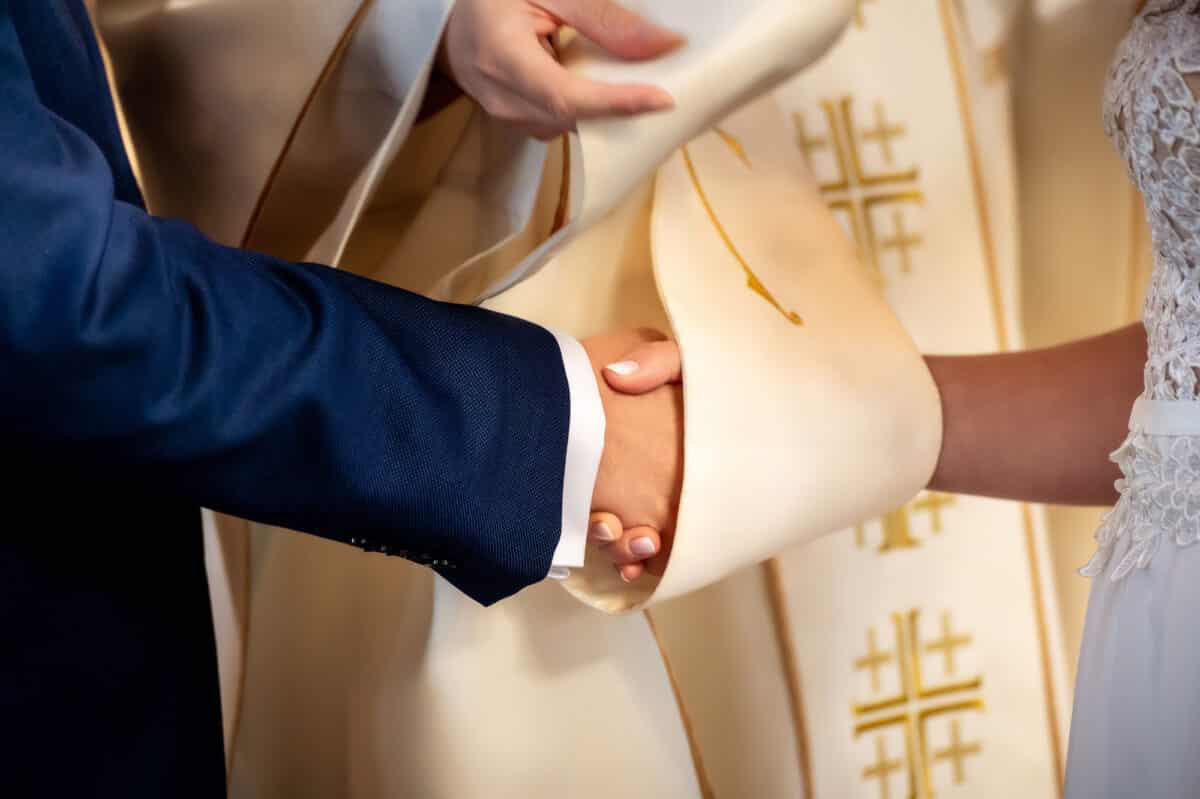 Now that you've confirmed their legal authority to perform weddings, it's time to finalize your decision and book your officiant.
One of the most crucial aspects of any vendor agreement is negotiating fees. When it comes to hiring an officiant, make sure you have a clear understanding of what services are included in their fee.
Some officiants may charge extra for travel expenses or pre-wedding consultations. Clear communication with your chosen officiant ensures your ceremony runs smoothly.
Make sure you discuss all the details beforehand, including any special requests or religious traditions you would like incorporated into your service.
Look for someone who has experience and shares your values and vision for your dream wedding.
With these tips in mind, I'm confident you'll find the perfect person to lead you through one of life's most meaningful moments – saying "I do" surrounded by those closest to your heart.
Frequently Asked Questions
How Do I Know if My Chosen Officiant Will Be Comfortable with Non-traditional Elements in My Ceremony?
You want to ensure that the chosen officiant is comfortable and experienced in performing ceremonies with unique features such as handfasting, unity candles or sand ceremonies. 
Don't assume that all officiants are open to non-traditional practices; finding someone who shares your vision for a meaningful and personalized ceremony is important.
Is it Appropriate to Invite My Officiant to the Reception?
Remember that their role as your officiant may limit their ability to stay too long or participate in certain activities at the reception.
Discussing these details beforehand is always best, so everyone is on the same page.
Can I Incorporate Readings or Rituals From Multiple Religions or Cultures into my Ceremony?
Whether including a traditional Indian ritual or reciting verses from the Bible, weaving together different elements can create a beautiful and memorable experience for all involved.
What Happens if My Chosen Officiant is Unable to Perform the Ceremony on the Wedding Day?
Include this clause in your contractual agreements with your first choice officiant.
Choosing someone who can step in at the last minute and still provide a meaningful and personalized ceremony for you and your partner is important. 
It is recommended to take the time to secure a reliable backup option to ensure that everything goes smoothly on your big day.
Final Thoughts
Choosing a wedding officiant can be an exciting yet daunting task. With so many options available, finding someone who aligns with your vision for the ceremony is important.
If you want to include non-traditional elements or incorporate multiple religious and cultural traditions, communicate openly with your chosen officiant beforehand.
Don't hesitate to ask questions and express any concerns you may have. Remember, this is your special day and it should reflect your unique personality and beliefs.
By finding the right officiant, you can create a meaningful and unforgettable ceremony that represents your love story.
So take your time in selecting the perfect person to lead you on this journey of marriage!