Choosing to get married on your birthday might be seen as an unconventional decision, but it is not necessarily a strange one.
The idea of combining two special occasions can be appealing, as it offers unique advantages and simplifies some aspects of event planning.
However, there are also potential drawbacks to sharing your wedding anniversary with your birthday, such as overshadowing one celebration with the other.
To decide whether getting married on your birthday is the right decision, it's important to consider the implications it may have on both personal and practical levels.
Balancing the significance of each occasion, while also managing the logistical aspects of planning and executing a combined event, requires careful thought and preparation.
In the end, the choice to marry on one's birthday is ultimately a matter of personal preference and what feels most appropriate for the individuals involved.
Key Takeaways
Combining birthday and wedding celebrations can offer unique advantages, but may also come with potential drawbacks.
Careful thought and preparation are necessary when planning an event that merges two special occasions.
The choice to marry on one's birthday comes down to personal preference and what feels most fitting for the individuals involved.
Combining Birthday and Wedding Celebrations
Advantages of Birthday Weddings
Combining birthday and wedding celebrations can offer some unique advantages. For one, it streamlines the planning process and helps cut down on the number of events each year.
It can also create a memorable and special occasion that is uniquely personal to the couple.
Sharing an anniversary with a birthday can also have sentimental value, helping to ensure that both events are celebrated with equal importance.
Combining celebrations is also a chance to save money and time, as friends and family may appreciate having fewer gifts to buy and events to attend.
Disadvantages of Birthday Weddings
On the other hand, there are some potential disadvantages to consider when combining birthday and wedding celebrations.
One major concern is the risk of overshadowing one event with the other.
For example, the wedding could outshine the birthday, leaving the individual feeling like their special day was somewhat lost in the mix.
Another possible drawback is the issue of receiving only one gift for both occasions, which might be disappointing for those who enjoy giving and receiving presents
Having a shared celebration can complicate matters should the marriage end in divorce, as it would taint the memory of the individual's birthday.
Selecting the Date and Venue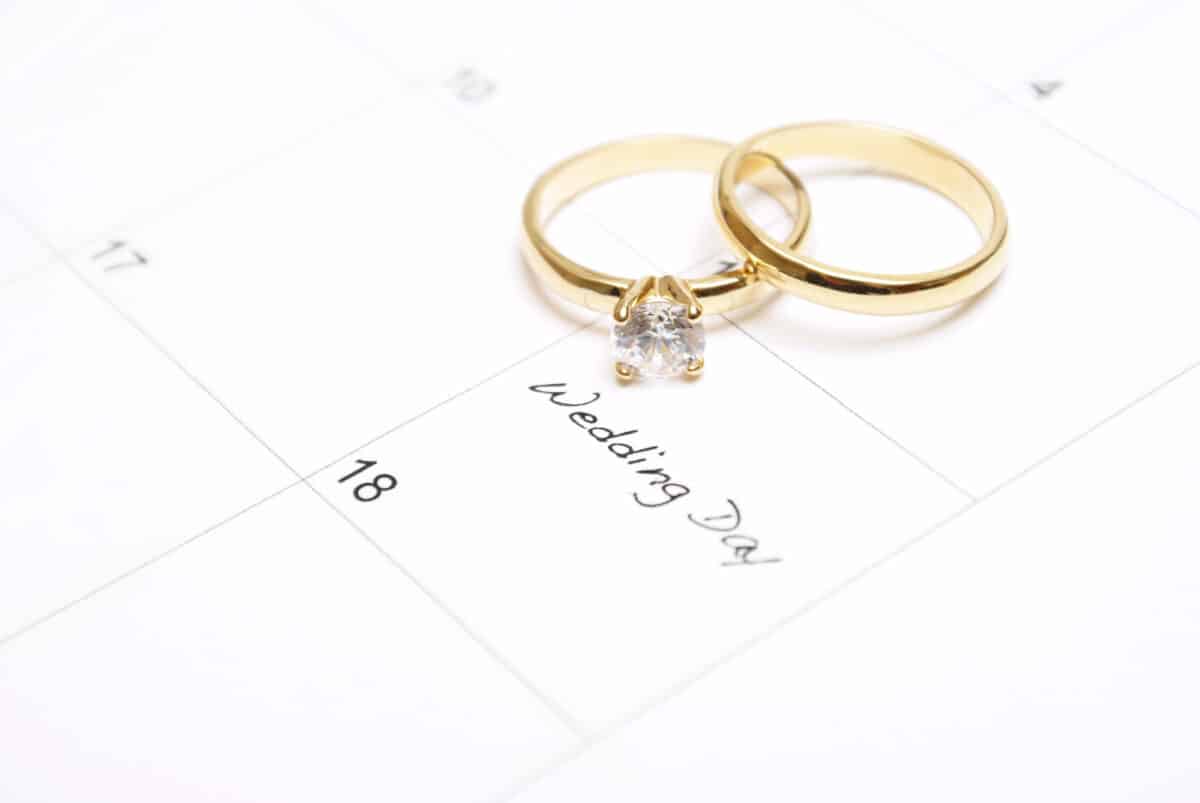 Time of Year Considerations
Each season has its own charm and can greatly impact the atmosphere of your big day.
Summer weddings often bring warmer weather, allowing for outdoor venues and a more relaxed dress code.
Winter weddings, on the other hand, can create a cozy atmosphere with the potential for a picturesque snowy backdrop.
Fall presents a unique time for a wedding, with leaves changing colors and cooler temperatures.
This season is particularly popular for those desiring an outdoor wedding, with September and June being the most sought-after months.
Make sure to consider holidays and significant dates like September 11th, as they may affect your wedding plans.
Balancing Important Events
Think about other significant dates, such as family members' birthdays and anniversaries, when planning your wedding.
Choosing a date that doesn't conflict with these events can help ensure that everyone can attend and fully enjoy the celebration.
Planning the Event
When considering getting married on your birthday, take into account the planning aspect of such an event, ensuring that everything runs smoothly and results in a memorable day for both the couple and the guests.
Invitations and Announcements
Carefully crafting invitations and announcements for a wedding that coincides with your birthday can be challenging, as you'll want to strike a balance between celebrating these two significant moments.
Work with a professional wedding planner or designer to create unique invitations incorporating both the wedding and birthday themes.
This way, guests will be aware of the dual celebration and can come prepared to honor both occasions.
Send out invitations well in advance to allow guests to plan accordingly for this special date.
Schedule and Timeline
Allocate time for each important event, such as the ceremony, reception, and birthday celebration.
Ensure that these events flow seamlessly by working closely with your wedding planner and communicate the desired timeline to all relevant vendors.
For example, your wedding ceremony could take place early in the afternoon, followed by a reception that includes a dedicated time for cake cutting and birthday acknowledgments.
This way, both events are celebrated, and no aspect will be overshadowed.
Wedding and Birthday Ceremony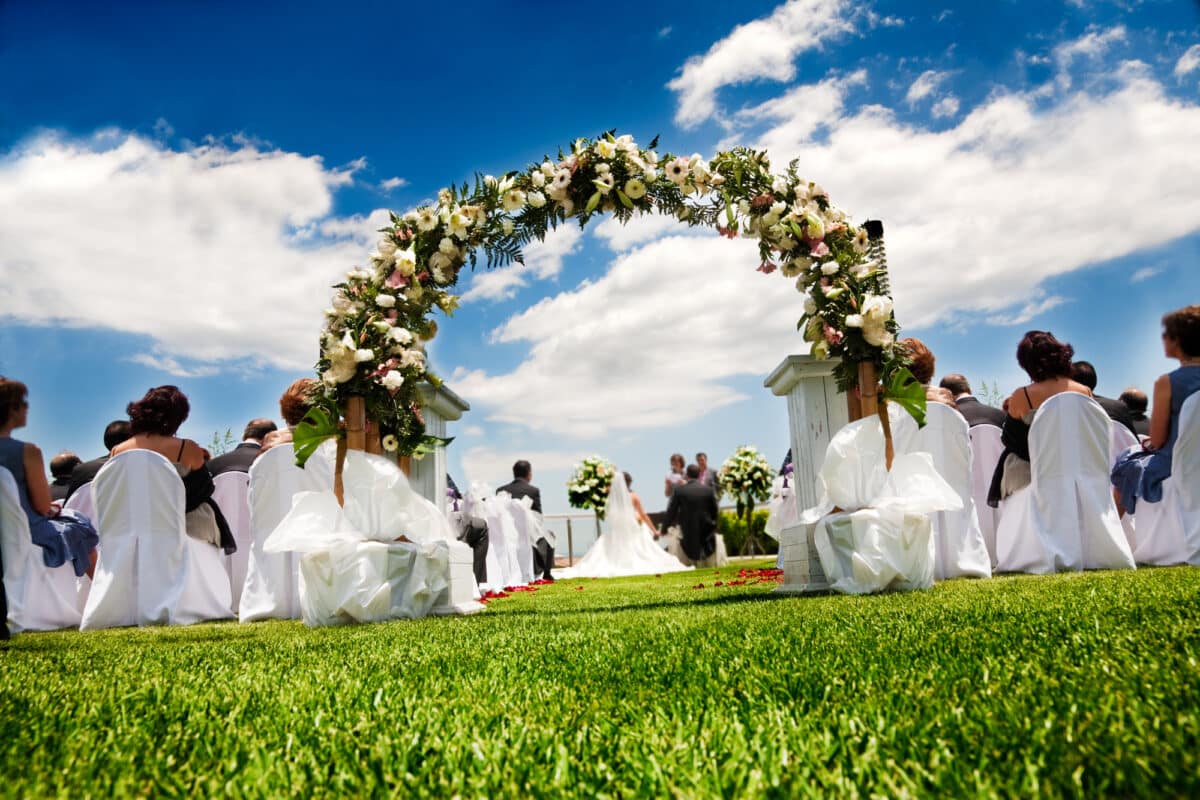 Incorporating Traditions into The Ceremony
When planning a wedding and birthday ceremony, it's important to strike a balance between celebrating the union of the bride and groom and honoring the birthday(s) of the couple.
To achieve this balance, consider incorporating both wedding and birthday traditions into the ceremony in a tasteful manner.
For instance, include the traditional exchange of vows, but also have a special moment of lighting birthday candles and making a wish.
This can be done by having a small birthday cake besides the wedding cake, or incorporating birthday candles onto the wedding cake itself.
Consider turning some customary wedding elements, like the bouquet or garter toss, into a more festive birthday activity, such as a birthday game or gift exchange, involving both the couple and the guests.
Vows and Readings
The bride and groom can choose to reflect on their individual journeys thus far and how they have brought them together as a couple.
They may include lines that express gratitude for experiencing these two significant milestones together and for sharing their special day with their loved ones.
Selected readings can be adapted to merge both the wedding and birthday themes.
Choose passages from literature, poetry, or religious texts that highlight the beauty of love, partnership, and personal growth.
These readings can be shared by friends or family members during the ceremony, creating an inclusive atmosphere and a memorable occasion for everyone involved.
Reception and Celebration
Creating a Unique Atmosphere
Getting married on your birthday can add a personalized touch to your special day and enhance the atmosphere at the reception.
Combining these two celebrations can lead to a unique experience for you and your guests, offering a mix of traditions from both a wedding and birthday celebration.
Attention can still be given to the bride and groom's union, while incorporating elements of a birthday celebration to make the day feel more individualized.
For instance, couples can opt for birthday-themed table settings or decorations to heighten the festivities.
Entertainment Options
Having a combined birthday and wedding celebration allows for a wider variety of entertainment options at the reception.
You might choose to hire a live band to play a mix of wedding classics and high-energy birthday tunes, or decide upon a DJ to curate a playlist that represents both special occasions.
To keep the engagement and enjoyment levels of guests high, consider incorporating games, photo booths, or interactive performances, such as karaoke sessions.
By blending the entertainment elements of both a wedding reception and a birthday party, the overall atmosphere becomes more lively and will create lasting memories for everyone in attendance.
Culinary Choices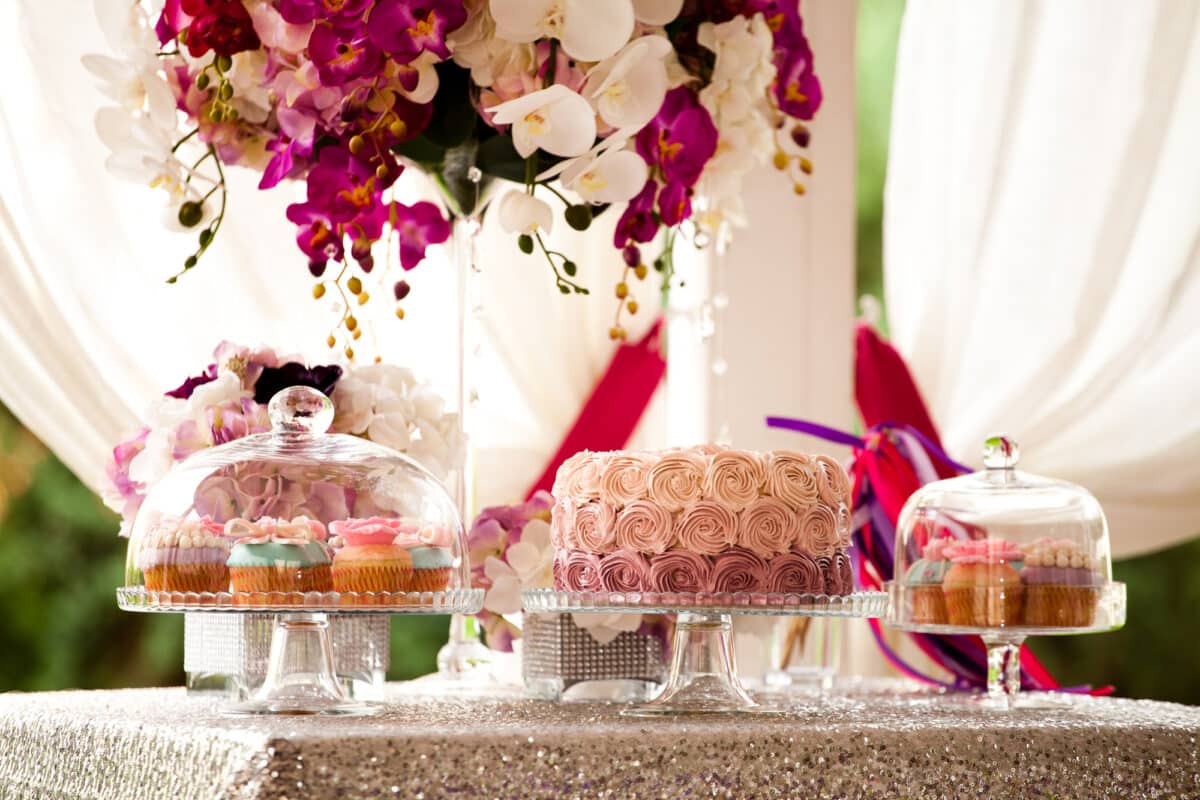 Combining Wedding Cake and Birthday Cake
One of the most significant aspects of a wedding and birthday celebration is the cake.
In this unique case, merging the wedding cake and birthday cake creates a memorable dessert experience for the bride, groom, and guests.
Consider designing a two-tiered cake, where the top layer is a birthday cake and the bottom layer is a wedding cake.
Another option is to have two separate cakes displayed side by side, showcasing both the wedding and birthday themes.
To ensure inclusivity, offer cupcakes alongside the main cake, adding a mix of wedding and birthday-themed decorations.
Menu Options
Creating a menu that caters to both wedding traditions and birthday celebrations offers a wide array of options for guests and the couple.
Start with appetizers featuring finger foods that evoke festive birthday treats:

Mini sliders or sandwiches
Stuffed mushrooms
Assorted dips

For the main course, focus on dishes that cater to a wide range of tastes and dietary requirements. Some suggestions include:

Gourmet pizza stations with various toppings
Grilled vegetable platters
A pasta bar with multiple sauce options

Finally, take advantage of the dessert offerings to celebrate both events. Alongside the combined wedding and birthday cake, consider adding:

A candy or dessert buffet with childhood favorites
A selection of pastries, such as eclairs and fruit tarts
A make-your-own sundae bar for a fun, interactive experience
Anniversaries and Gift Considerations
Anniversary Gift Ideas
When it comes to celebrating anniversaries, traditional gifts are often given according to the number of years the couple has been married.
For example, the 1st anniversary gift is traditionally paper, symbolizing the strength and connections within the relationship.
Combining a wedding anniversary with a birthday may create a unique opportunity to exchange heartfelt gifts that not only celebrate the individual's birthday but also the love and bond shared between the couple.
Balancing Birthdays and Anniversaries
While some couples may consider it an extravagant celebration to combine their wedding and birthday, there are also potential drawbacks.
One issue is the possibility of receiving more birthday love than anniversary attention.
Couples need to ensure they strike a balance between acknowledging both the individual's birthday and the importance of their union as a couple.
This can be achieved by clearly differentiating the two occasions and planning memorable events for both, such as overseas trips or expensive treats for anniversaries.
Weather and Travel Considerations
Weather Concerns Based on Time of Year
When planning a wedding on your birthday, consider weather concerns specific to that time of year.
For instance, if your birthday falls during peak hurricane season or during a season where extreme heat, cold, or precipitation is common, you should take necessary precautions.
Make sure to research the historical weather patterns in your desired location for the wedding.
This information can help you make informed decisions about whether an outdoor venue would be appropriate or if indoor alternatives should be considered.
Honeymoon and Travel Plans
Depending on the time of year, flight and accommodation prices might vary.
If your birthday falls during peak travel seasons, such as summer or holidays, be prepared to potentially face higher prices and limited availability for flights, hotels, and honeymoon packages.
Moreover, combining your wedding and birthday celebrations could have an impact on your honeymoon travel plans as well since you and your partner might prefer to schedule the honeymoon immediately after the wedding.
It's essential to factor in this unique timing when planning your wedding and honeymoon budget and itinerary.
Personal Stories and Experiences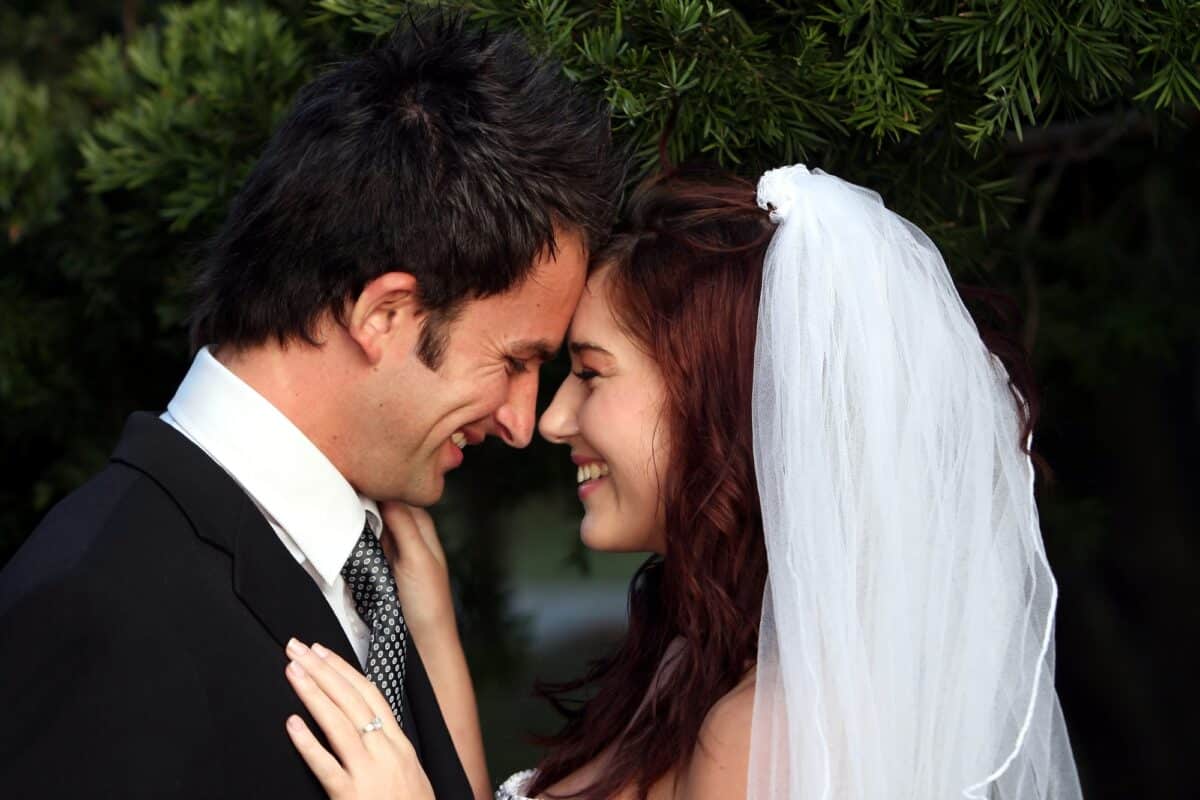 Incorporating Personal History
For some couples, choosing a wedding date that falls on a birthday can hold significant personal meaning.
This might be particularly true for those who share a special bond around their birthdays, such as twins or couples with birthdays close to each other.
In these cases, a birthday wedding might be seen as a way to further celebrate their connection, especially if they have a history of spending their birthdays together.
For example, a couple with birthdays in November might decide to get married on one of their birthdays to embrace the time of year they both love.
They could choose a place that holds sentimental value, such as the spot where they first met or where they shared their first holiday together.
Incorporating elements of their personal history into the wedding, such as serving champagne from the same vineyard visited on a memorable trip or selecting a bridal suite reminiscent of where they spent their first anniversary, can help make the occasion even more special.
Celebrity Birthday Weddings
The concept of getting married on a birthday isn't limited to the general public; it extends to celebrities as well.
For example, an NFL player might opt to tie the knot on his birthday in Los Angeles, inviting his brother and other family members for a lavish celebration in a luxurious venue.
The couple could choose to toast their nuptials and the groom's birthday simultaneously, emphasizing the importance of both the wedding and the birthday in their relationship.
This blending of personal milestones could also be seen in the choice of wedding date and other elements, such as incorporating their dating history and couple goals into the wedding theme.
As these examples show, whether it's the result of personal history or a desire to create a unique celebration, getting married on a birthday can be a meaningful choice for some couples.
However, it is essential to consider the potential downsides, such as having to celebrate both events in the same season and potentially receiving less attention for one of the milestones in the years to come.
The decision ultimately comes down to the couple's preferences and what they believe will make their special day truly memorable.