Ahoy, lovebirds!
As a newlywed myself who recently embarked on a luxurious honeymoon cruise, I can tell you firsthand – there's nothing quite like starting your new life together amidst the endless expanse of the sea, sipping champagne under the starlit sky, and waking up in a new exotic locale every day. 
I'm excited to share the best luxury honeymoon cruises perfect for an unforgettable start to your happily ever after.
Cruises offer an extraordinary blend of relaxation, romance, adventure, and luxury.
They whisk you away from the everyday, immersing you in a world where your every whim is catered to, and breathtaking sights greet you at every port. 
From idyllic Mediterranean coastlines to the untamed beauty of the Alaskan wilderness, from the tropical paradise of the Caribbean to the enchanting fjords of Norway, the world becomes your oyster.
In this blog, I will share my top picks for luxury honeymoon cruises and some insider tips to make your voyage as smooth as the ocean on a calm day.
So, get ready, fellow romantics, as we set sail on this journey of discovering the ultimate luxury honeymoon cruises that will add a touch of grandeur to your newlywed bliss.
Trust me; it's an experience that's worth every knot!
Key Takeaways
Luxury honeymoon cruises offer newlyweds an ideal blend of romance, adventure, and indulgence.
Top destinations and leading cruise lines provide unparalleled experiences and world-class amenities.
Couples can expect romantic accommodations, exceptional dining, and curated activities onboard and ashore.
Top Honeymoon Cruise Destinations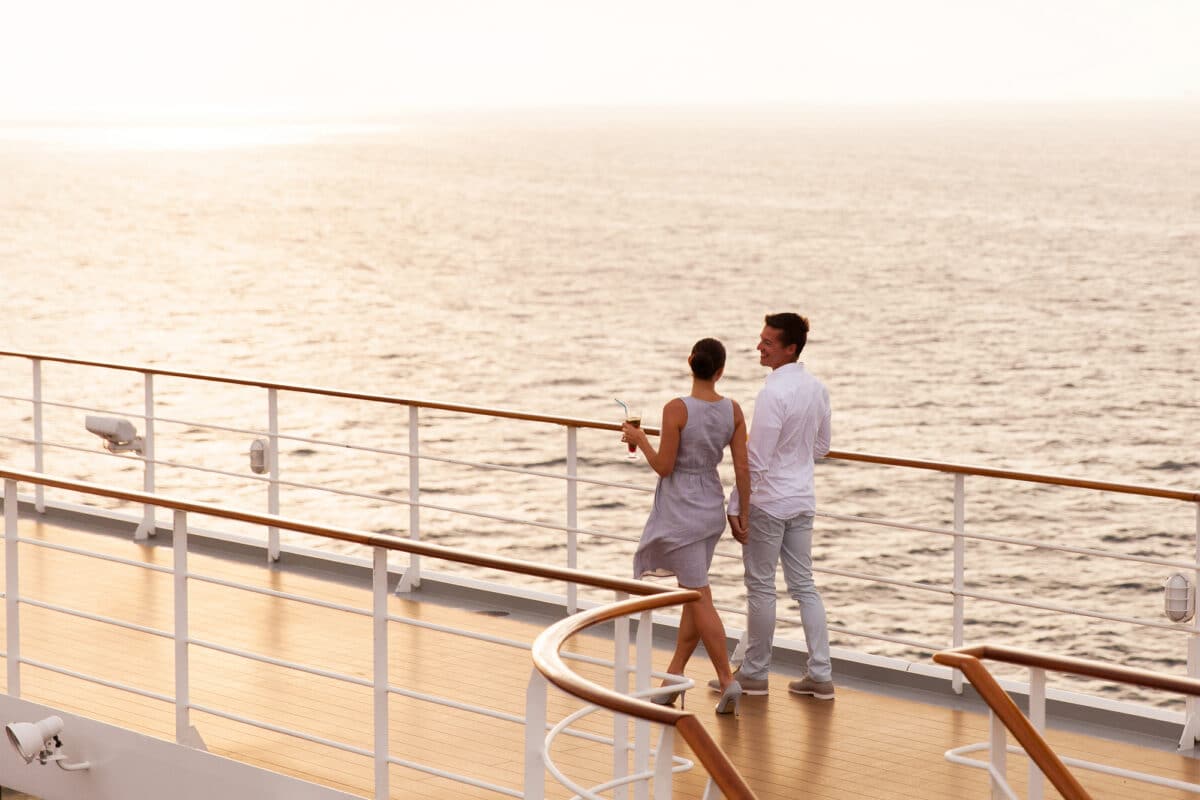 Setting sail on a luxury cruise for your honeymoon is the ultimate way to celebrate your newlywed love.
With so many destinations, we've narrowed it down to three categories: Tropical Beach Getaways, Romantic European Escapes, and Adventurous Expeditions.
Let's explore these dreamy honeymoon cruise destinations.
Tropical Beach Getaways
Caribbean: The Caribbean is an idyllic destination for honeymooners who dream of white sandy beaches, crystal-clear waters, and vibrant culture. Luxury cruise lines such as Celebrity Cruises and Royal Caribbean offer itineraries with popular ports of call such as St. Thomas, Aruba, and Barbados.
Hawaii: Experience the Aloha spirit by sailing on a Hawaiian honeymoon cruise. With Norwegian Cruise Lines, you can explore the unique islands of Oahu, Maui, Kauai, and the Big Island, taking in these enchanting islands' stunning landscapes, pristine beaches, and rich cultural heritage.
Romantic European Escapes
Mediterranean and Greek Islands: A honeymoon cruise through the Mediterranean will take you to the romantic locales of Italy, France, Spain, and the picturesque Greek Islands. Explore ancient ruins, sample local cuisine, and bask in the Mediterranean sun while enjoying the luxurious accommodations of cruise lines such as Viking Cruises and Princess Cruises.
Scandinavia and the Baltics: For an unforgettable European honeymoon experience, consider a cruise through the charming ports of Scandinavia and the Baltics. With lines like Holland America Line and Cunard Cruises, you'll discover the enchanting capitals of Northern Europe, including Copenhagen, Stockholm, and Helsinki, as well as historical gems, like Tallinn and St. Petersburg.
Adventurous Expeditions
Galapagos Islands: For adventure-seeking newlyweds, the Galapagos Islands offer up-close encounters with some of the world's most unique wildlife. With Silversea Cruises' Silver Origin, you'll explore these unspoiled islands while enjoying luxury accommodations and impeccable service.
No matter your honeymoon dream, there's a luxury cruise destination perfect for you and your partner.
So, prepare to embark on an unforgettable journey and create memories that will last a lifetime.
Onboard Dining Experiences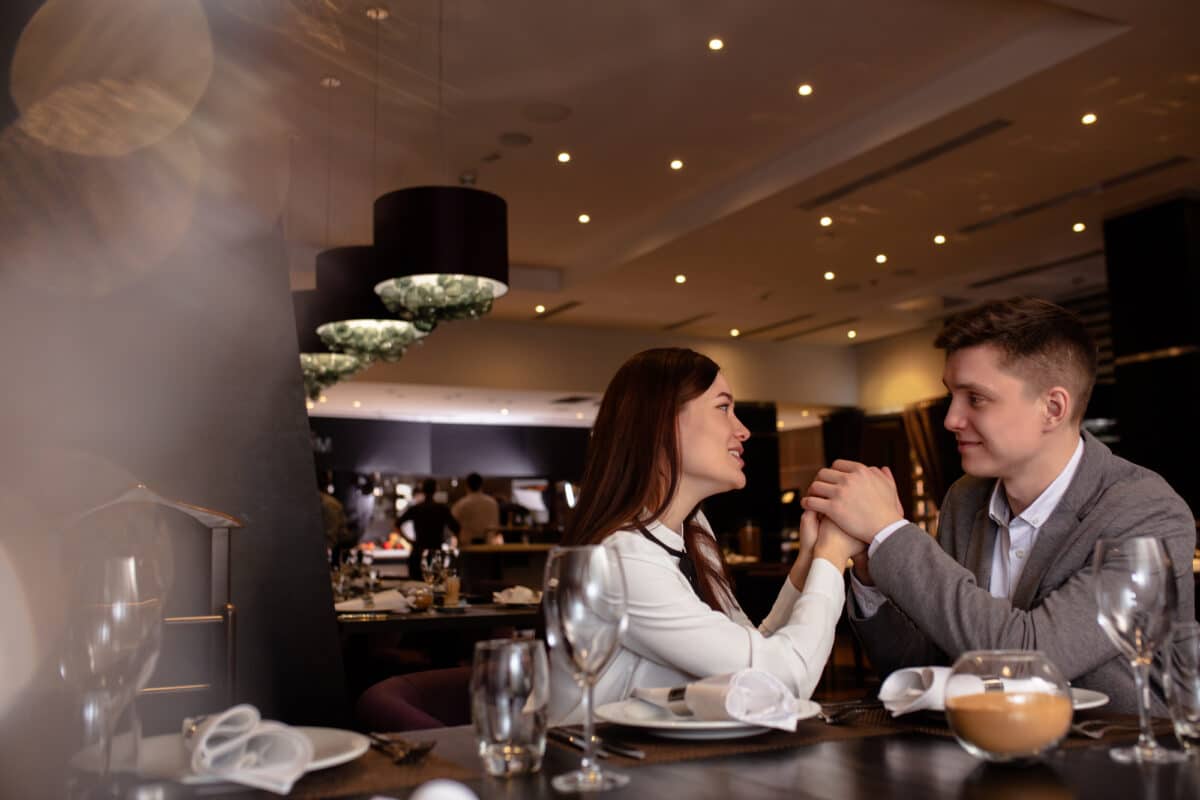 Couples Dining Options
Newlyweds can find numerous options designed specifically for couples in luxury honeymoon cruises.
Romantic dining venues onboard these ships typically offer spacious seating, soothing ambiances, and personalized service.
These intimate restaurants are ideal for sharing special moments with your partner while enjoying a gourmet meal.
Some notable choices include:
Celebrity Cruises: Luminae, a restaurant with modern décor and an extensive menu, reserved for Suite Class guests, ensuring a serene dining experience.
Princess Cruises: Balcony dinner, a unique experience that lets you dine under the stars on your private balcony while being attended by a dedicated waiter.
Specialty Dining Packages
Luxury honeymoon cruises often provide specialty dining packages to suit the tastes of couples with various culinary interests.
These packages allow newlyweds to indulge in diverse cuisines, often created by renowned chefs.
Some popular specialty dining options include:
Norwegian Cruise Line: Le Bistro, a French dining experience featuring exceptional ingredients, authentic flavors, and a touch of nouvelle cuisine.
Royal Caribbean: Giovanni's Table, an Italian family-style trattoria that offers hand-tossed pizzas, freshly rolled pasta, and classic desserts like tiramisu.
Disney Cruise Line: Palo, an adults-only, Northern Italian restaurant that offers an extraordinary dining experience with exquisite dishes, curated wine pairings, and a stunning ocean view.
Luxury honeymoon cruises often feature an array of multi-venue bars, fine-dining restaurants, and casual eateries.
Furthermore, these ships may offer flexible dining packages that allow couples to customize their meal plans according to their preferences and dietary needs. 
Honeymoon Packages and Offerings
Inclusions and Perks
When planning a luxury honeymoon cruise, newlyweds often look for packages that cater to their needs and desires.
Most cruise lines offer comprehensive honeymoon and romance packages for an unforgettable, romantic experience.
Inclusions typically offered in these packages include:
Luxurious accommodations, often with upgraded rooms or suites for comfort and privacy.
Champagne and chocolate-covered strawberries upon arrival, setting the tone for a romantic vacation.
Specialty dining experiences allow you to enjoy intimate meals at exclusive restaurants onboard.
Spa and wellness treatments tailored for couples, such as a couples massage or aromatherapy sessions.
Exclusive excursions and activities, for bonding and adventure during your voyage.
Not only do honeymoon packages include these perks, but many cruise lines also offer a honeymoon registry service.
This allows friends and family to contribute towards the cost of your honeymoon cruise or add extra experiences and amenities for your trip.
The registry can include items such as:
Cruise fare contributions
Shore excursions
Spa treatments
Beverage packages
Onboard photography sessions
When selecting your honeymoon cruise, pay close attention to the inclusions and perks provided.
The packages may differ from one cruise line to another, so choosing the one that best suits your preferences and expectations is essential.
With the right package, a luxury honeymoon cruise can offer newlyweds the perfect blend of relaxation, adventure, and romance.
Cruise Activities for Couples
Relaxation and Wellness
Newlyweds seeking relaxation and rejuvenation will find various luxurious options on a honeymoon cruise.
Spas are a common feature on many cruise lines, offering a range of indulgent treatments, from facials to body wraps.
Couples massages are popular, allowing couples to unwind in a serene setting.
Many luxury cruises provide state-of-the-art fitness centers equipped with various machines and weights for those looking to maintain their fitness routine while on vacation.
Some cruise lines also offer group exercise classes such as yoga, Pilates, or even dance lessons, providing a fun and interactive way to stay active during the voyage.
Fun and Adventure
Regarding onboard entertainment, luxury honeymoon cruises have no shortage of fun and adventure.
Couples can enjoy various exciting water sports, including snorkeling, scuba diving, and even jet skiing, depending on the cruise line and destination.
For those who prefer to stay on board, there are many onboard activities.
Trivia contests, wine tastings, and cooking demonstrations are just a few examples of the diverse activities couples can participate in during their cruise.
Many cruise lines offer dance lessons for couples, ranging from classic ballroom to lively salsa.
These lessons offer couples a chance to learn a new skill together, bond over shared experiences, and perhaps even showcase their newfound abilities on the dance floor during one of the cruise's evening events.
Luxury honeymoon cruises offer a perfect blend of relaxation, wellness, fun, and adventure, ensuring every couple's vacation is nothing short of unforgettable.
Unique Shore Excursions for Newlyweds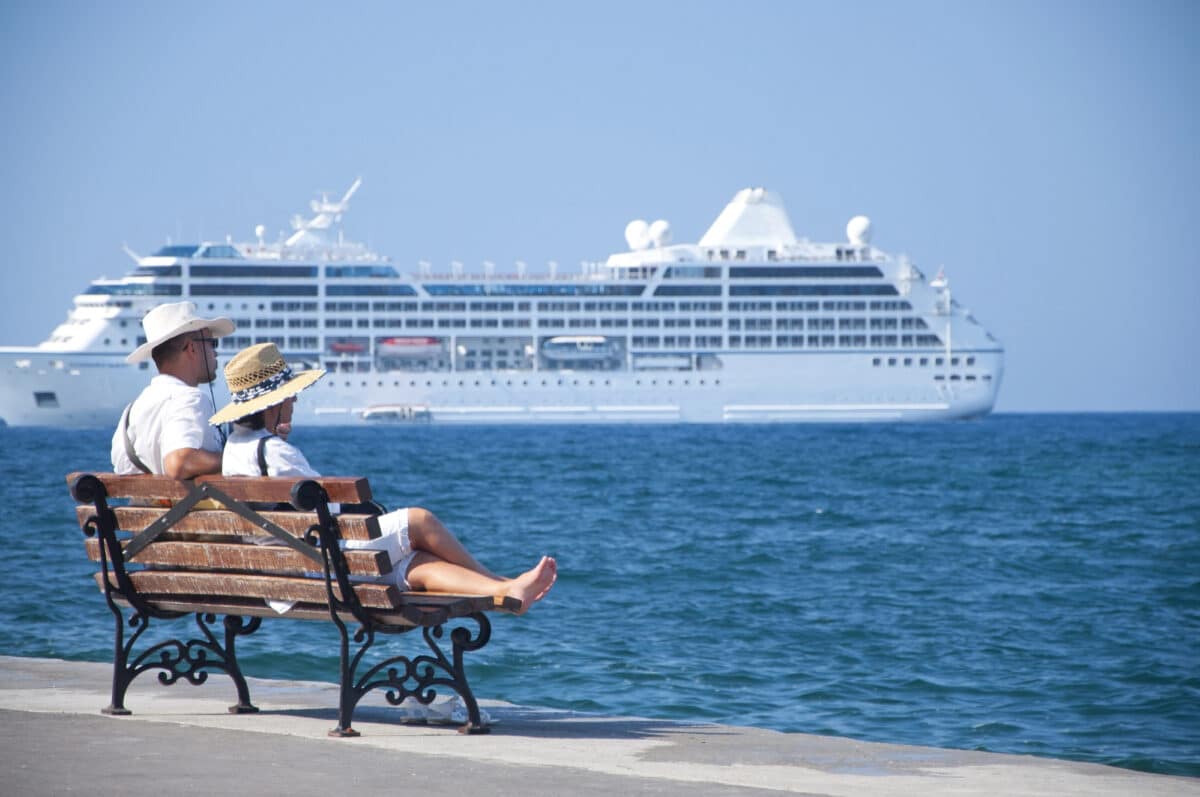 Romantic Getaways
For couples seeking a romantic escape, luxury honeymoon cruises offer an array of picturesque shore excursions.
Here, we've compiled a list of must-visit beach getaways for you and your significant other:
Bora Bora, French Polynesia: Sail on a serene lagoon and relax on pristine white sands in this South Pacific paradise.
Santorini, Greece: Explore the stunning cliffside city of Oia, watch the sunset over the caldera, and sample some of the world's best wine.
Positano, Amalfi Coast: Discover this charming Italian coastal town with an intimate boat tour and a romantic dinner at a local restaurant.
St. Lucia, Caribbean: Indulge in a couples massage on the beach, then rejuvenate with a dip in the warm, turquoise waters.
Thrilling Adventures
For adventurous newlyweds seeking to add excitement to their honeymoon, we've gathered some exhilarating excursions to consider:
Great Barrier Reef, Australia: Embark on a scuba diving or snorkeling adventure in this natural wonder and marvel at its underwater beauty.
Galápagos Islands, Ecuador: Encounter unique wildlife, trek across volcanic landscapes, and kayak alongside sea turtles in this unforgettable island chain.
Swim with Stingrays, Antigua: Make lasting memories interacting with and feeding these friendly creatures in a safe and protected environment.
Dogsledding, Alaska: Experience the adrenaline rush of mushing through snow-covered trails while exploring the breathtaking Alaskan wilderness.
Remember that a luxury honeymoon cruise can cater to relaxed and thrill-seeking newlyweds.
Find a cruise-line that offers a wide range of shore excursions, and make your honeymoon an unforgettable experience by exploring romantic beach getaways and embarking on adventurous escapades together.
Planning Your Honeymoon Cruise
When selecting the perfect honeymoon cruise, newlyweds have an incredible range of options catering to various needs, preferences, and budgets.
Cruising offers an excellent blend of adventure, relaxation, and romance – making it a great choice for an unforgettable honeymoon at sea.
Best Time to Go
Choosing the best time to embark on your honeymoon cruise maximizes your vacation.
Factors to consider include your preferred weather conditions, budget, and the destinations you want to visit.
Cruise lines operate in different regions according to their seasons.
For example, if you're seeking a honeymoon in the Caribbean, the high season runs from December to April, when the weather is warm and dry.
However, prices also tend to be higher during this time.
If you're more budget-conscious, consider booking your honeymoon cruise during the low season – which, for the Caribbean, would be from May to November.
Remember that travelling during the low season may come with less-than-perfect weather, such as the risk of hurricanes in the Caribbean.
Additionally, some of the most popular honeymoon cruises include:
Viking Cruises
Carnival Cruises
Celebrity Cruises
Disney Cruise Line
Norwegian Cruise Lines
Cunard Cruises
Princess Cruises
Royal Caribbean International
Holland America Line
Desire Cruises
Virgin Voyages
By carefully considering the best time to plan your honeymoon cruise, you can ensure that your cruise vacation makes for an unforgettable honeymoon experience tailored to your preferences and allowing you to make lifelong memories with your new spouse.
Final Thoughts
Luxury honeymoon cruises offer newlyweds the perfect blend of romance, adventure, and indulgence.
Whether you choose a tropical beach getaway, a romantic European escape, or an adventurous expedition, the world becomes your oyster on these dreamy cruises.
From onboard dining experiences to honeymoon packages and activities for couples, every aspect is designed to create an unforgettable start to your happily ever after.
So, set sail on a luxury honeymoon cruise and let the sea be the backdrop to your most cherished memories together.