It's not uncommon for Christian couples to hold a church wedding.
Church weddings are popular with couples in which one or both are Christians or come from Christian homes.
However, organizing a church wedding can be tricky without the right guidance.
Depending on the church you're getting married in, you might be required to submit different documents.
And while Christians believe that a church marriage joins you as a couple before God, how about the law?
Do you need a marriage license to get married in a church?
Yes, yes, you do, and this post explores why.
What Is a Marriage License?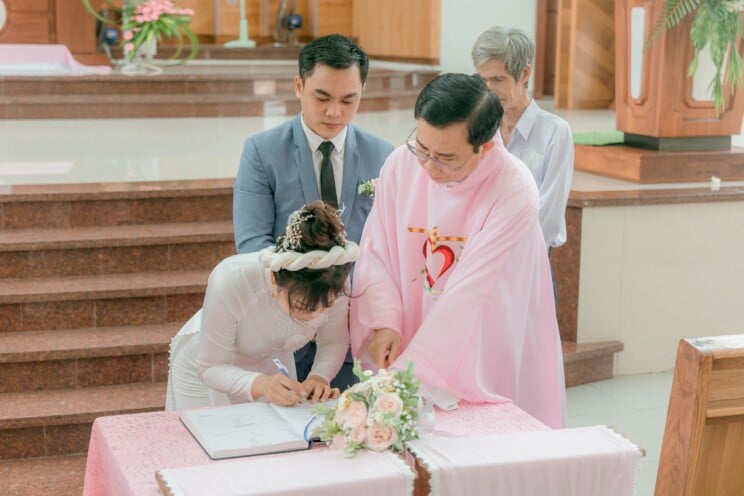 The marriage license is a legal document a couple obtains before getting married. It can be issued by a religious organization or state authority.
After the license has been signed, a marriage certificate is usually issued.
A marriage license is even more important than the wedding ceremony and reception. It is the document that binds you and your partner legally.
Without it, you can't get a marriage certificate.
The Difference Between a Marriage License and a Marriage Certificate
Many couples mistake the marriage license for a marriage certificate.
This is understandable since they serve almost the same function. They are interchangeable in some cases.
A marriage license is the first document you get. Simply put, it is an application to get married.
Without it, you and your partner can not tie the knot. It states that you and your partner are legally allowed to get married.
A marriage certificate comes after the wedding. It's proof that you and your partner are legally married.
These two documents are essential for any wedding to be legally binding.
In summary, the license proves that you're legally allowed to marry, while the certificate proves you are legally married.
How To Get Your Marriage License
Getting a marriage license is pretty straightforward. Just follow these steps.
Choose a Date and Location for Your Wedding
Before applying for a marriage license, you must have settled on the date and location of the wedding.
You need these settled for two reasons:
Firstly, the location of your wedding will determine where you'll file for the license.
You must submit your marriage license application in the county where you intend to marry.
Secondly, your wedding date will determine when you apply for the license.
Marriage licenses usually have a validity period (typically 90 days). This means you'll have to get married within that time frame for the marriage to be valid.
Deciding on the date first will save you the trouble of reapplying for one because it's expired.
Do note that you do not want to apply too late either.
Depending on the state and county, a marriage license can take anywhere from 3 to 5 working days to get to you.
As a result, it's advisable you start that application process at least a week before the set date.
File for a License at the County Clerk's Office
The next step is to visit the county clerk's office. The entire process should not take time — two hours tops.
To make the process shorter, here is a list of things you'll need to present while filing for the license.
Please note that some of the things listed here may or may not apply depending on the state and county you're getting married in.
A mode of identification. Depending on your county clerk, you could use your passport, ID card, or birth certificate.
Information about your parents. Their birthdays, full names, where they were born, and, if applicable, the dates they passed.
A witness. Some counties require two.
If you've been married before, you'll need to provide proof that you're single–a certificate of divorce or death–whichever is applicable.
You'll be required to pay an application fee. This can cost anywhere from $40 to $160. Please note that most offices accept only cash payments so don't forget to carry some with you.
Depending on your state and county, the county clerk will hand you your license or mail it to you at a later date.
Append the Necessary Signatures
Once you've received your marriage license, you need to get it signed and returned to the county.
The signing usually occurs at some point during the wedding ceremony, mostly immediately after the ceremony.
The couple will sign the document, followed by the officiating minister and two witnesses (some counties require only one).
After the wedding, the officiant will submit the signed marriage license to the court. Once the court processes the license, it becomes a marriage certificate.
Do You Need a Marriage License To Get Married in a Church?
To answer your question, yes, you do. No credible church will join you and your partner without a marriage license.
Without a marriage license, your wedding ceremony has no legal backing. It is an important document that needs to be issued before you walk down the aisle!
Frequently Asked Questions
Why is a marriage license so important?
Your marriage license gives you and your spouse legal authority over each other. u003cbru003eu003cbru003eWith this document, you have legal access to your spouse's benefits and can participate in their health insurance, get visa approval for your partner, claim their pensions, life insurance, or retirement funds. 
When should I apply for a marriage license?
Ideally, you should file your marriage license at least a week before your wedding to avoid any delays.
What is the timeframe for getting a marriage license?
It doesn't take a lot of time to get a marriage license. u003cbru003eu003cbru003eAs long as you go to court with the requirements, you should get your marriage license within two hours.
Final Thoughts
Planning a wedding is no walk in the park.
But with the many things that need to be done, it's vital you don't forget to make out time and also budget for your marriage license.
Remember, your marriage ceremony won't be legally recognized if you do not apply for one beforehand.