Soon after getting engaged, you'll turn your attention to where you would like to hold your dream wedding reception. That will naturally lead to questions about how to choose the menu for wedding reception food.
When thinking back about a wedding they attended, the one thing that guests tend to remember most is the actual wedding food they ate for the meal at the reception. So when deciding upon a wedding menu, a couple should be ideally catering to their guests' tastes just as much as their own.
As a wedding guest, during cocktail hour, they'll start to feel a little hungry. Especially if they're not being treated with an appetizer like hors d'oeuvres for example. As the time draws closer to the dinner bell, guests will be curious as to what the wedding catering team has in store for them.
They'll need their energy to watch you play wedding games later!
The more curious guests will, of course, have snuck into the banqueting hall to have a sneak peek at the wedding menu and perhaps to steal a selfie by the wedding cake table. Yes, believe it or not, I've seen this happening a couple of times!
So, while it is your wedding day, shouldn't you get to decide what will be on your own wedding menu? Well, technically yes, but if you're investing a lot of money into the catering side of things, doesn't it make sense to ensure that your guests enjoy the wedding reception food?
Tips On How To Choose The Menu For Wedding Reception Food
1. Figure Out A Budget
Before you get carried away with your favorite dishes, you'll need to figure out what makes financial sense for your wedding budget. Food gets expensive, so hopefully, without having to resort to fried chicken for the mains, you need to determine if you can afford to have filet mignon on your wedding menu.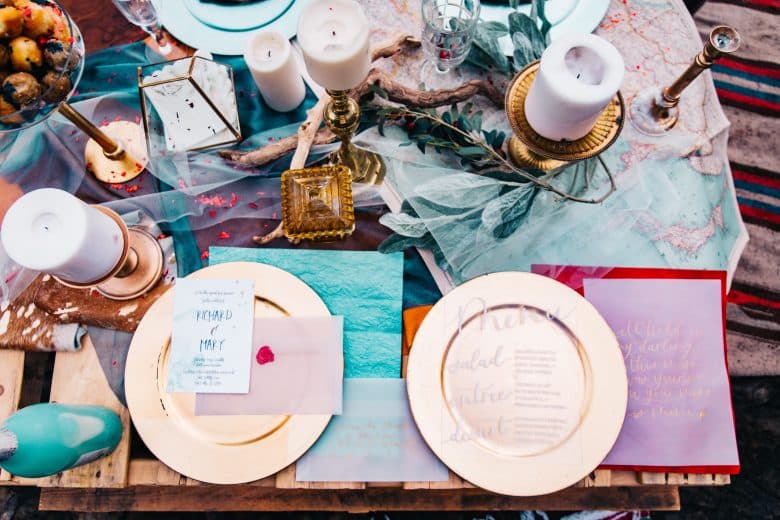 2. Determine The Number of Guests
Invited guest numbers tie directly in with the wedding budget. There'll be a big difference in your catering cost if having say 50 guests versus 150 attending the venue for the meal. I know of some foodie couples who have deliberately culled their guest list because the wedding food is very important to them and they want their wedding menu to reflect that.
3. Match To Your Wedding Theme
Should the sit down dinner match up with a wedding theme? We don't think it has to. However, this might be important to you. I know, for some brides, the food at their wedding is as important as the wedding dress.
If for example, you're having a marine-themed wedding, it might make sense to offer a seafood-focused wedding dinner. However, you'll be wise to think about guests who do not enjoy seafood. More on this later.
4. Consider Dietary Requirements
For every wedding I've attended, there are always some guests who have strict dietary requirements. It's a good idea to find out in advance if any of your guests have such needs. A good way to do this is to ask the question on the RSVP cards that you'll be sending.
So, whether it be celiac, nut allergies, or vegan, you'll need to chat with your wedding caterer to cover these options for the meal. If you're not having a caterer, then your wedding venue will be able to advise.
5. Offer a Simple Menu
Applying the KISS (keep it simple stupid) principle here might be no harm. Having a complex wedding reception menu can be confusing and cause anxiety for some guests. While you can offer a menu choice, see below, it's best to keep this simple.
By simple, I mean, try to only offer food that guests can easily identify.
6. Offer A Menu Choice
I confess that I'm a fussy eater. There, I've admitted it! Sometimes I get anxious about what will be served as the wedding food just in case there is nothing I will like on the menu. It's very refreshing for me when I see something I'd be happy to eat when reading through the wedding menu card.
I'm probably in the minority in terms of being a fussy eater, but by offering your guests a menu choice, you're maximizing the chances of all of your guests enjoying their wedding dinner.
7. Don't Have Messy Foods
Lobster anyone? Seriously though, keep in mind that your attending guests will be dressed in their finest outfits. Serving messy food might result in a few accidents later. Also, the bride in her white wedding dress probably doesn't want to risk getting food stains that will be difficult to get rid of.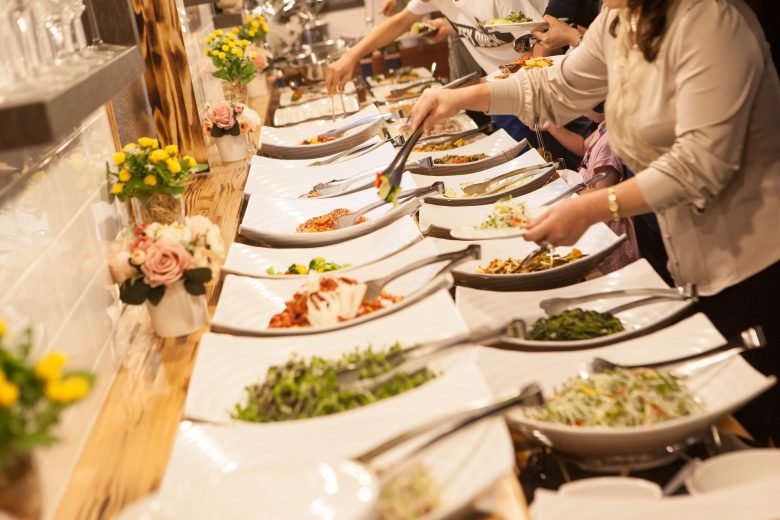 Frequently Asked Questions
What time should dinner be served at a wedding?
For US weddings, the usual flow of the reception is as follows. After cocktail hour, the bridal party including the bride and groom will be announced into the banqueting hall for dinner. Next, there might be the first dance and then dinner will be served.
Typically, as a rule of thumb, guests should be eating approximately half an hour after they are seated.
Is a buffet style wedding tacky?
This is a controversial topic. The short answer is, no, a buffet style wedding meal is not tacky. I've been to some very expensive weddings and have been served incredible meals from the food station. From starter through to dessert.
To be honest, I've had some sit down meals that were a bit tacky and not exactly my dish of choice. That's just my personal opinion though.
The bottom line is that it mainly comes down to what type of wedding food is being served rather than how it is actually served.
Is buffet or plated dinner cheaper?
The short answer is that a buffet meal is cheaper for the food and the plated sit down dinner is more expensive for the service. There are many variables at play when it comes to working out which is cheaper for you.
You'll need to account for the number of guests, type of food, number of choices being offered, and the particular caterer too.
How can I feed my wedding guests cheap?
A few handy tips to feed your wedding guests for cheap are to provide off the shelf deserts as well as appetizers. A locally sourced soup as a starter will also help keep costs down as well as filling your guests.
For a backyard wedding, a simple food station that offers one or two options to the buffet line will help reduce costs. Lasagna, stir-fry chicken, and grilled cheese are also usually affordable options.
Also, by having a brunch wedding, you can save a few dollars from your wedding budget.
What is the cheapest food to serve at a wedding?
For a seated dinner, an affordable plated meal would be cheaper if using the following inexpensive ingredients within the recipe. Eggs, pasta, potatoes, and bread. Lots more examples here.
Final Thoughts
Now that you've read through these tips about how to choose the menu for wedding reception food, you'll hopefully be a little wiser when selecting a catering company.
Now that you're armed with some decent wedding menu ideas, best of luck with the wedding planning!