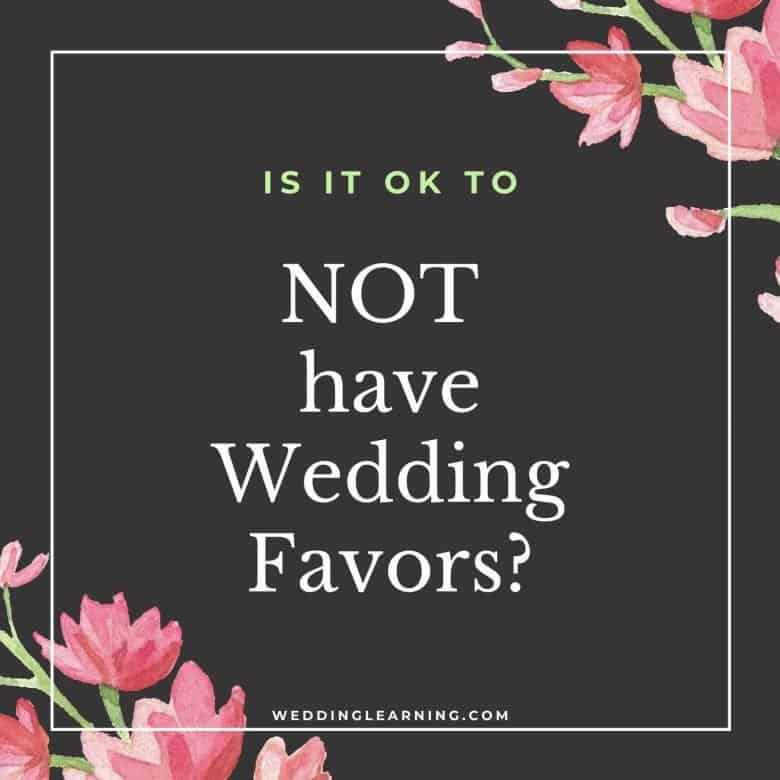 You have decided to tie the proverbial knot and you are now preparing to make the happiest day of your life become a reality. Now it is time to work out your budget. Wedding favors are small trinkets or gifts of appreciation that are given by the bride and groom to thank their guests for attending their wedding but are they really necessary?
Are Wedding Favors Necessary?
Is it OK to NOT Have Wedding Favors? Yes, wedding favors are considered optional and not mandatory. Many couples believe that spending a lot of money on mementos that are more than likely going to be thrown away by guests after the wedding is a waste of money. It is entirely a couple's prerogative to have wedding favors if they so wish.
Did you know that in 2020 the average cost of wedding favors is about 251 dollars? Many feel that even at that price wedding favors are a waste of money that could otherwise be spent on something more important.
This being said, it is ultimately your special day and you should do what you feel is going to make your day the best that it can be. Not doing wedding favors at all? Hang on a second because you could have the best of both worlds and offer favors that are not going to cost you an arm and a leg.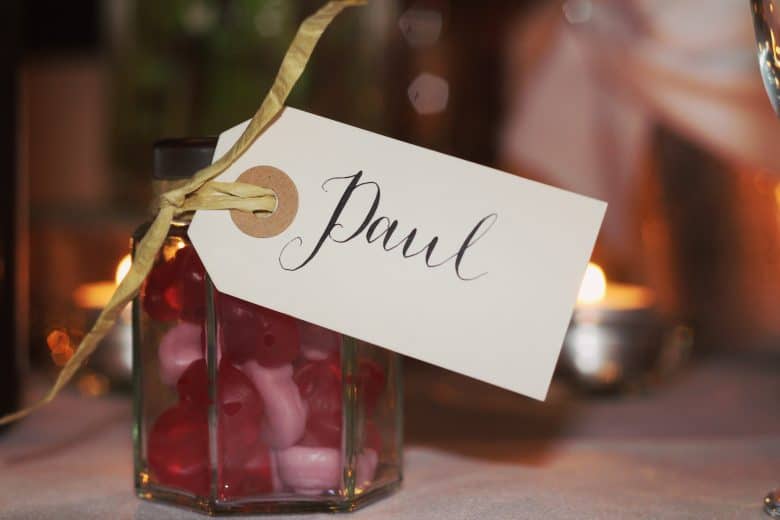 Tips for Incorporating Cheap and Savvy Wedding Favors Into Your Big Day
Are wedding favors necessary? Let's take a little look back at where the tradition came from. The handing out of wedding favors to your guests is a tradition that was started hundreds of years ago.
Favors were considered to be an extravagance that only the wealthy could afford. Bonbonnieres were one of the first wedding favors and were made from elegant boxes made of gold, stone, and porcelain. This extravagant favor is no longer the case in modern times as many brides and grooms tend to have to conform to a strict budget so as to cut expenses.
An extravagant wedding is always nice but can be the cause of huge financial burdens to the happy couple for many years after the wedding.
Nevertheless, if you are dead set on handing out wedding favors on your special day here are a few tips you can use to minimize costs:
Look Past Wedding Vendors
Just because you are buying favors for a wedding does not mean that you need to look at only wedding vendors. Unfortunately, many of these vendors mark up their prices which can make the cost of even the bare minimum favor very costly.
Try to browse through sites and stores that specialize more in the item that you are looking for. If you are thinking about handing out chocolate favors then visit your local chocolate factory or sweet shop for bulk deals and wholesale prices.
Look for Favors Online
Do your homework and look for items on sites such as Amazon and eBay. These sites are always offering special deals on all kinds of wedding paraphernalia.
Doing this search can also help you to make a comparison of the different prices that are being offered by various vendors so that you can find the most affordable deals.
Discontinued Stock
There are many stores both physical and online that offer super savings on items that are being discontinued. The trick here is to make sure that you buy enough with some extra to spare as you are more than likely not going to find it again on your next visit.
Another pro to this is the fact that your guests will not see the same favor again due to its discontinuance and will think that it is extra unique and special!
Buy in bulk
Bulk is always better as it reduces the per-person cost. Candies, soaps, candles, and other items work out to be much cheap wedding favors when bought in bulk.
DIY Wedding Favors – Do It Yourself
This can take some time, but if you are creative and feel that you can spare the time to make wedding favors then this option is for you. There are many simple and less expensive ways to make the most amazing and funny Covid wedding favors.
Just be sure that the cost savings outweigh the amount of time it is going to take to make these yourself. Alternatively, get your loyal bridesmaids to come over on a weekend and have a bridesmaid favor making party. Get them to bring their own snacks!
Create a DIY candy buffet
If you are set on the DIY option, then why not let your guests do the work and assemble their own favors by fixing themselves up a sweet treat on the day of your wedding.
You can make your buffet table special by adding in candy that encompasses the same colors as your wedding theme or the ensemble can offer an array of both you and your partner's personal favorites.
Note: if your wedding is happening during the Covid pandemic, it's a good idea to ensure that sweets and candy are individually wrapped.
While we're on the topic of Covid, and if you're invited to a wedding, here's some advice on what to write in a wedding card message during Covid.
Mix it Up with Other Wedding Items
A useful idea is to combine your wedding favors with other components of your wedding. An example of this could be roses in a centerpiece that each guest can take home at the end of the nights or even squares of wedding cake that they, your guests, are able to put into a small decorated box with a small message of thanks.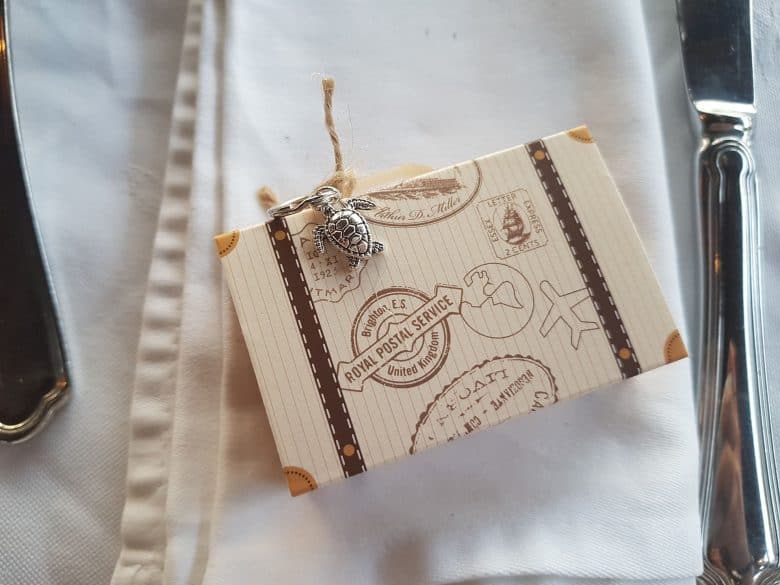 Affordable Wedding Favor Ideas
The tradition of wedding favors is followed by many people all over the world to express a certain symbolism of the special event. If you have decided to hand out wedding favors at your wedding, then it is important to plan ahead and look for affordable and reasonable deals especially if your budget is limited.
The More Traditional Favor
Almonds
Greek mythology speaks about the king of Athens who married the daughter of a neighboring king. The tale tells how the king sailed off on a ship promising to return. By the time he returned the queen had died and turned into an almond tree.
The devastated kind embraces the tree and it suddenly burst into bloom. This was believed to reflect their love and endurance with the fruit symbolizing their eternal love and commitment to each other.
This being said, almonds can make quite a cost-effective wedding favor and the tale behind it will make it even more special for your guests.
Modern Day Favors That Won't Cost an Arm and A Leg
Tea Bags
Buy individual tea bags and decorate them to compliment your wedding theme by using envelopes, pretty labels, ribbon, or twine. This can make a really elegant edible wedding favor (kind of!) and will cost you next to nothing to make.
Seed Packets
Seed packets can be a useful wedding favor but are especially suited to the more rustic weddings. Packets of seeds are inexpensive and can be used by the guests to plant in their gardens at home once the wedding is over. When your guests see the flowers that bloom from the seeds that they have planted they will think of your wedding. Well, that is the idea at least.
Glow Sticks
Bring back the memories of your youth by using the same glow sticks that you used to throw around in dance clubs. Watch your guests go wild on the dance floor with these inexpensive wedding favors. This is not for everyone but would definitely work well if you met your significant other during a night out on the town with your friends.
Bookmarks
Many people read books, so this is a lovely DIY idea with an added personal touch. Print what you would like to say on cardstock, punch a hole on the top, pull some ribbon through the hole, and there you have it. An elegant and memorable wedding favor at an affordable price.
Scented soap bars
Scented soap bars are useful, elegant, and affordable. Who could ask for more!
Wrapping Up
So, are wedding favors necessary? They're optional and completely up to you. Skip if you want, nobody will mind. They might not even notice.