A wedding invitation isn't just a piece of paper; it's a work of art that introduces your unique love story to your guests and sets the tone for the whole event.
But with many styles, themes, and options, how do you find the perfect invitation that reflects your personality and vision? 
Welcome to the world of wedding planning, where every detail, no matter how small, significantly impacts your big day.
Today, we're diving into the exquisite realm of wedding invitations — the first official glimpse into the magic and love that will come together to create your once-in-a-lifetime celebration.
In this guide, you'll read essential tips and insider secrets to help you choose a wedding invitation that fits your style and theme like a perfectly tailored suit. 
So, let's embark on this exciting journey and get ready to wow your guests with a stunning introduction to your big day.
Identifying Your Wedding Style and Theme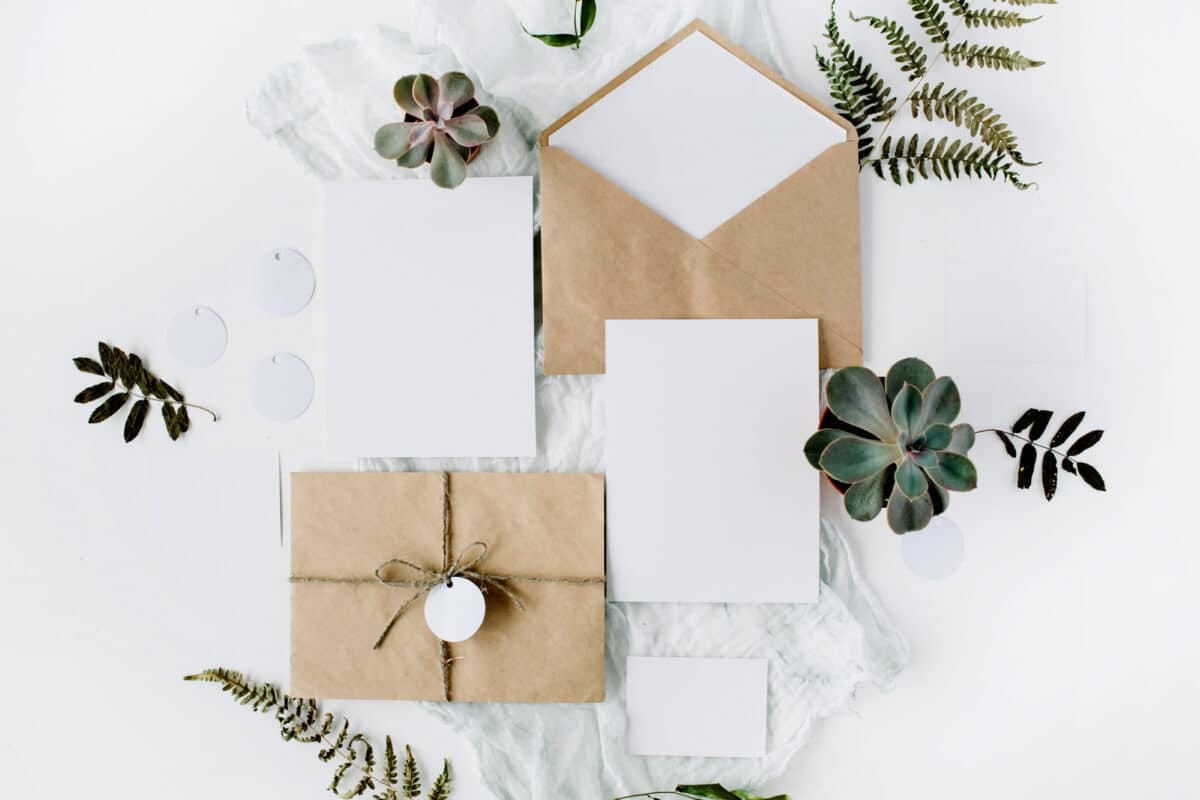 Think about what makes you both happy as a couple: traveling, nature, music or something else altogether.
Consider these elements when deciding on your overall aesthetic.
This will help you showcase who you are as a couple through every detail of your big day, including your wedding invitations.
Matching décor with your wedding invitations is crucial. The invite sets the tone for what guests expect from the event.
Incorporating similar colors and themes throughout the wedding planning process, such as flowers, linens, menu cards, etc., creates an immersive experience for everyone involved.
It's important to remember that finding inspiration for creating the perfect invitation takes time; don't rush this decision.
Consider how you want to present yourselves as individuals while also considering how well everything should come together simultaneously.
Your invites should be viewed as mini-mood boards – they establish the ambiance of your entire special day.
Determining Your Color Palette
Take a look at your venue and consider its aesthetic. Is it rustic or modern? Does it have any existing colors that you'd like to incorporate into your wedding decor?
Consider the season you're getting married and draw from the natural hues around you.
For example, consider incorporating bright shades of yellow, orange, and pink if you're having a summer wedding.
Choose colors that complement their dresses rather than clash with them. You want everyone to look cohesive and put together on your special day.
Don't stress too much about choosing the "perfect" color combination – as long as it reflects who you are as a couple and makes you happy, that's all that matters.
Trust your instincts and have fun with different options until you find one that fits you.
Choosing the Right Typography
Explore different color palettes that match your style and theme. I love seeing couples add unique design elements to the invitation to make it extra special.
Whether it's a classic serif font or something more modern and bold, I'm sure with a little bit of research and creativity; you can find the perfect typography for your wedding invitation.
Fonts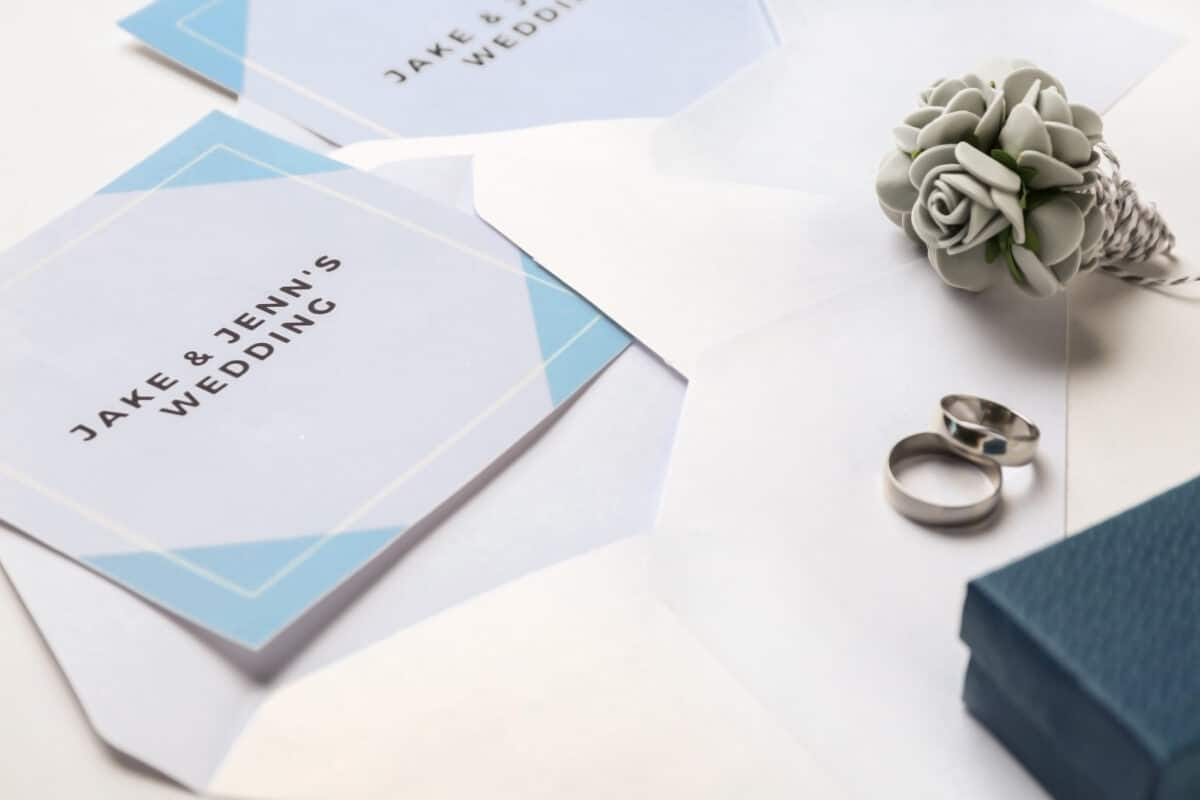 I understand how important it is to create an invitation that reflects your style and your special day's theme. Combining fonts uniquely is one way to make sure your invitation stands out.
When selecting fonts, consider pairing two different styles together. For example, try using a script font with a clean sans-serif font.
This creates contrast and adds visual interest while still maintaining legibility. Popular font pairings include Garamond and Helvetica or Baskerville and Futura.
Another option is to use the same font family but switch up the weight or style. Bold headings paired with lighter body text can add hierarchy and balance to the design.
Play around with italicized or condensed versions of the same font as well. Just remember to keep readability in mind when choosing any combination of fonts.
Don't go overboard with too many decorative options or overly-scripted lettering, which may be difficult for guests to read.
Combining fonts can elevate your wedding invitation designs and make them stand out from others on your guest's fridge.
Be creative but also keep readability in mind when making choices about typography.
Color Palettes
Color plays a crucial role in setting the tone and mood of any design project – especially for weddings.
Using color psychology and incorporating unique color combinations can help create an invitation that reflects your style and enhances the theme of your special day.
When choosing colors for your wedding invites, consider what emotions you want to convey.
For example, if you're having a beach wedding, shades of blue and green could evoke calmness and relaxation. 
Using colors opposite each other on the color wheel creates contrast while complementing one another. Analogous colors sit next to each other on the wheel and provide harmony when used together.
It's important to remember that different types of paper stock and printing techniques can affect how colors appear on your final product.
It's always best to test various options before making a final decision. With careful consideration and experimentation, your choice of colors can truly elevate your wedding invitation designs.
Combining fonts and selecting the perfect color palette are just two pieces of the puzzle for creating beautiful wedding invitations.
As you embark on this exciting journey, don't forget to have fun with it. Invitations should reflect who you are as a couple and set the stage for an unforgettable event filled with love and joy.
Design Elements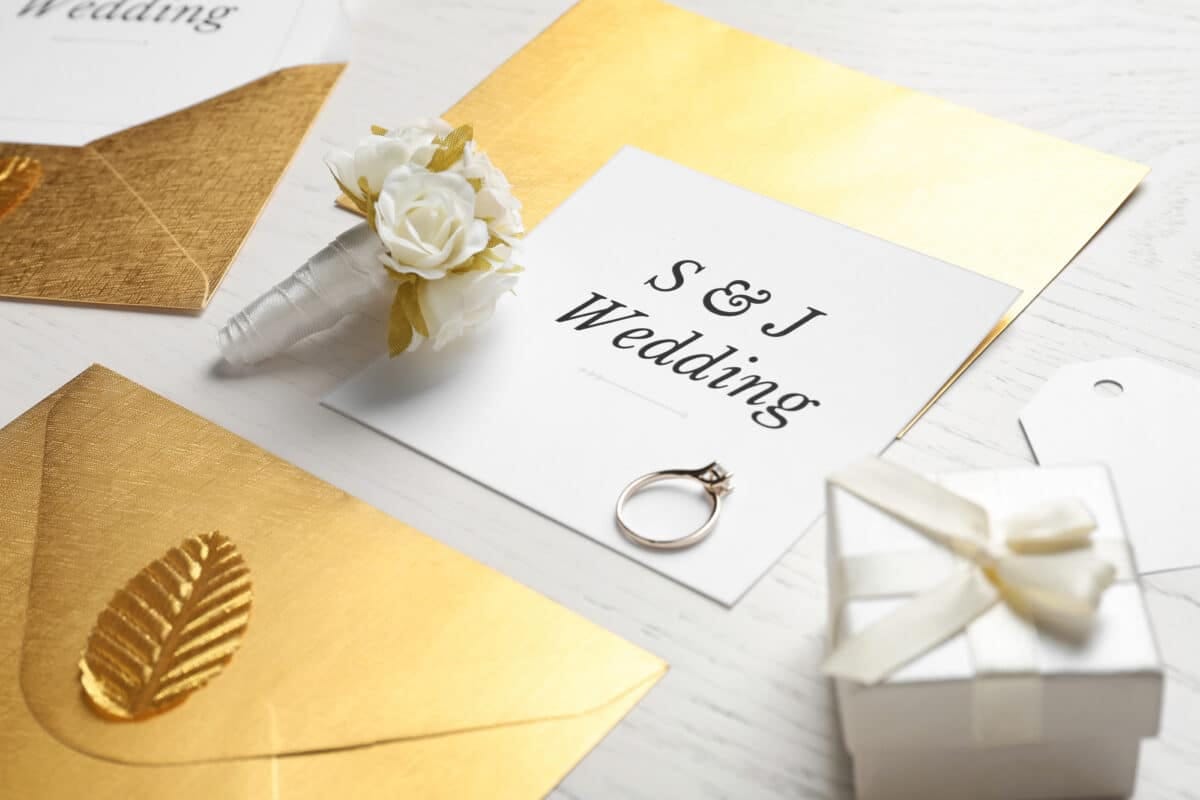 Adding floral motifs or graphic illustrations to your invitations can create a unique and personalized touch while enhancing the overall aesthetic.
When incorporating design elements, consider your theme and personal style.
For example, if you're having a rustic outdoor wedding, adding hand-drawn botanicals could complement the natural setting.
On the other hand, minimalist geometric shapes may be more appropriate for a modern city celebration.
It's important to balance using enough design elements to make an impact without overwhelming the overall look of your invitations. In some cases, simplicity is key.
A single floral motif in a subtle corner or a small graphic illustration as an accent can add enough interest without removing essential information such as date, location, and RSVP details.
Remember to work with your stationery designer to ensure that any chosen design elements align with your vision for the big day.
With careful consideration and collaboration, incorporating these visual accents can elevate your invitations and set the tone for your special event.
Frequently Asked Questions
How Many Invitations Should I Order for My Wedding?
I recommend ordering at least 10% more than your guest count to account for any last-minute additions or mistakes.
It's also important to consider your RSVP deadline when placing your order, as you'll want to give guests enough time to respond before finalizing your headcount with vendors. 
Don't forget that you may need additional cards like rehearsal dinner invites or thank-you notes, so factor those into your total order quantity.
Can I Include Registry Information on My Wedding Invitation?
Consider alternative registry options like charitable donations or experiences instead of traditional gifts.
I understand the importance of conveying all necessary details while still adhering to social norms and ensuring your style and theme are reflected in every aspect of your special day.
What is the Typical Cost for Wedding Invitations?
Designing wedding invitations is like creating art; each stroke and detail reflects the couple's unique style.
Factors such as quantity, printing method, paper quality, and embellishments all contribute to the cost of your invitation suite.
Design options are endless; from classic elegance to whimsical charm or modern simplicity, there is something for everyone. 
How Far in Advance Should I Send Out My Wedding Invitations?
I recommend sending them out 6-8 weeks before the big day.
This gives guests enough time to plan and RSVP by your deadline, which should be around 3-4 weeks before your wedding date. 
Consider any travel or accommodation arrangements that may need to be made, as well as give yourself enough time for printing and addressing each invite.
Don't forget to include a clear RSVP date and method of response on your invitations to ensure an accurate headcount for your special day.
Can I Include a Dress Code on My Wedding Invitation?
It's important to remember that your guests are likely to be from different backgrounds and may not be familiar with formal dressing protocols.
Therefore, using clear and concise language while respecting their choices is key. 
Add a line like "attire: cocktail" or "black tie optional" towards the bottom of your invite.
This will help set the tone for your big day while ensuring everyone feels comfortable and confident in what they wear.
Final Thoughts
Like choosing a perfect partner for life, selecting the right invitation requires careful consideration and attention to detail.
Consider what you want your guests to feel when they receive your invitation. Is it whimsical and romantic or sophisticated and modern? Your color, font, and design will set the tone for your special day.
Remember, your wedding invitation is not just a piece of paper; it's an extension of yourself as a couple. So choose wisely and make it a reflection of who you are.
Don't underestimate the power of a well-designed invitation – it can make all the difference.