Calling all curvy, voluptuous, and full-figured brides-to-be! Your search for the ultimate guide to finding the perfect wedding dress that celebrates your beautiful body ends here.
In this blog, we'll explore an array of stunning plus-size wedding dress styles designed to flatter and accentuate your divine shape while making you feel like the radiant bride you are.
Need help finding the ideal bridal gown? Check out our Complete Guide to Choosing a Wedding Dress for expert advice.
We'll also share insider tips on finding the ideal fit, selecting the perfect silhouette, and mastering accessorizing to create a breathtakingly balanced and harmonious bridal look.
Understanding Your Body Type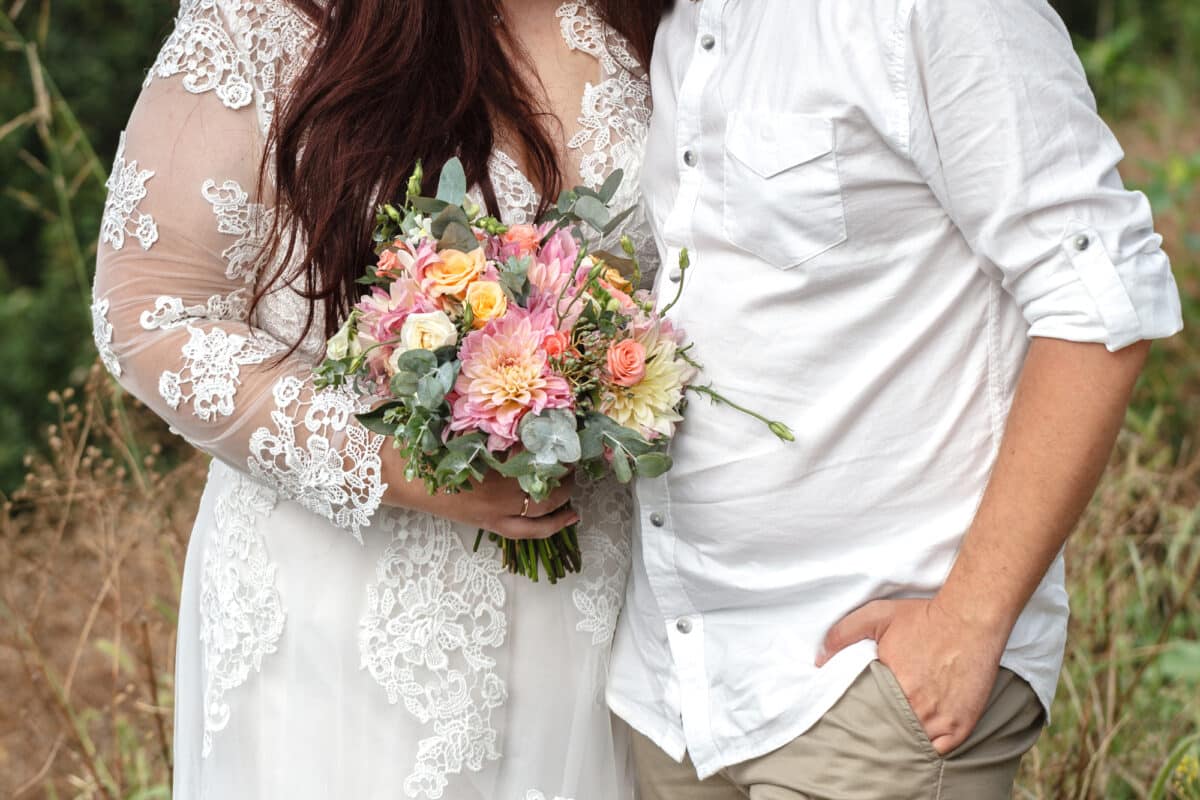 Every bride deserves to feel confident on her special day, regardless of her size or shape. Understanding your body type is crucial in choosing the perfect dress style that accentuates all your best features.
To start, determine what kind of figure you have. Are you an hourglass, apple-shaped or pear-shaped? Knowing this information will help narrow down which styles work well for your body type.
For instance, A-line dresses are great for apples as they cinch at the waistline, while ball gowns flatter hourglasses with their full skirts that emphasize the hips.
It's important to remember that there's no such thing as a "perfect" body shape. Embrace who you are and choose a dress that makes you feel beautiful and confident.
Don't be afraid to try different styles until you find "the one." Body confidence comes from feeling comfortable in your own skin and wearing a gown that complements your unique curves can go a long way in achieving this.
Incorporating elements like ruching or corseted bodices can also add extra support where needed without compromising style. At the end of the day, it's about finding balance between comfort and fashion.
By taking these steps towards understanding your body type and embracing yourself fully, you'll be able to confidently walk down the aisle knowing that you look stunning in every way possible!
Silhouette Styles That Flatter Your Curves
Silhouette styles can make all the difference in enhancing and showcasing your beautiful figure on your special day.
One popular silhouette option for plus-size brides is the empire waist. This style cinches at the smallest part of your torso, just below the bust line, before flowing out into a loose skirt.
The result is an elongated appearance that accentuates your curves while providing plenty of comfort and support.
Another flattering choice is the mermaid cut, which hugs your body from the chest through the hips before flaring out dramatically at or below the knee. This style creates an hourglass shape by highlighting your natural curves in all the right places.
Plus-size brides often worry that this form-fitting design won't be comfortable, but with modern stretch fabrics and expert tailoring, you'll feel confident and stunning all night long.
When selecting a silhouette style, keep these three tips in mind:
Consider Your Body Type – Different silhouettes look best on different shapes, so take time to think about what works for you.
Don't Be Afraid to Try Something New – You may find that a silhouette you didn't expect looks amazing on you!
Work With An Experienced Designer – A skilled designer knows how to create custom pieces that fit perfectly and enhance your unique beauty.
With these tips in mind, you're sure to find a gorgeous wedding dress that makes you feel like royalty on your big day!
Fabric Choices for Plus-Size Dresses
When it comes to plus-size wedding dresses, the fabric choices available can make all the difference in how comfortable and confident you feel on your big day.
Two popular options are satin and lace. Satin is a smooth, shiny material that drapes beautifully and creates an elegant look. On the other hand, lace has a delicate, feminine quality that adds texture and visual interest.
Another factor to consider when choosing your dress's fabric is whether you prefer sheer or solid materials. Sheer fabrics such as chiffon or tulle create a romantic, ethereal effect.
However, they may not provide enough coverage for those who want more support or modesty. Solid fabrics like organza or Mikado silk offer structure and durability while still looking graceful.
Sleeve Options for Arm Coverage
When it comes to arm coverage for plus-size wedding dresses, there are a variety of options to choose from. There's something for everyone, from the classic long-sleeve to the trendy cold shoulder.
Those looking for a bit of coverage without being too covered could go for a cap sleeve, off-the-shoulder, sheer illusion, bell sleeve, bishop sleeve, ruffled sleeve, or flutter sleeve.
For a bit more coverage, bolero jackets, three-quarter length and short sleeves are great choices.
For those who prefer something more revealing, there are the spaghetti strap, strapless, and sleeveless options.
Choosing the Right Accessories
First and foremost, statement jewelry can elevate your overall look. Consider bold earrings or a chunky necklace to add some sparkle and shine.
Another important accessory choice is your shoes. While comfort should always be a priority, this doesn't mean you have to sacrifice style. Look for heels with extra support and cushioning, or choose flats if dancing is on the agenda.
For hair, soft curls or an updo can complement any bridal gown beautifully. As for makeup, stay true to yourself but don't be afraid to play up your features with a pop of color on the lips or eyes.
Remember that accessories should enhance rather than overpower your dress, so choose pieces that complement its silhouette and design elements. With these tips in mind, you'll feel confident and radiant walking down the aisle in your perfect plus-size wedding dress.
Finding the Right Silhouette
When it comes to plus-size dresses, there are various options available – from ball gowns to mermaid cuts. The key is choosing a style that flatters your figure and accentuates your best features.
Dress alterations are also crucial when it comes to achieving the perfect fit. A skilled seamstress can work wonders with hemlines, sleeves, and even neckline adjustments.
Don't be afraid to ask for modifications if something doesn't feel quite right.
Frequently Asked Questions
Are Any Plus-Size Wedding Dress Designers Specializing in Eco-Friendly Materials?
Some top picks in this category include Celia Grace, a brand known for using organic cotton and silks, and Reformation's bridal line, which offers chic styles made from upcycled fabrics. 
Can I Wear a Mermaid Silhouette if I Have a Larger Stomach Area?
Mermaid silhouettes can actually be quite flattering on plus-size brides.
The key is finding the right fit that accentuates your curves while still providing support in all the right places. 
Look for dresses with structured bodices and strategic ruching to help smooth out any problem areas.
How Do I Choose the Right Undergarments for a Plus-Size Wedding Dress?
You want to choose fabrics that will be comfortable and breathable throughout the day.
Look for options like cotton or microfiber blends that won't irritate your skin.
Finding a supportive fit is also key – especially if you have larger curves or areas you'd like to smooth out. 
Consider shapewear options like high-waisted briefs or bodysuits with built-in bras to provide extra support and create a streamlined silhouette under your gown.
Don't hesitate to ask for help from an experienced fitter or consultant when making these choices, as they can offer valuable advice on what styles will work best for your body type and dress style.
What Are Some Unique Ways to Customize a Plus-Size Wedding Dress?
Whether it's lace detailing or beading, these additions can take any gown from beautiful to breathtaking.
Alterations for fit are also important when customizing a plus-size wedding dress. 
From adjusting the neckline to ensuring a perfect hemline, tailoring is key in making your dress look and feel like it was made just for you.
Don't be afraid to get creative with your customization options and work closely with your seamstress or designer to create the perfect look for your big day.
Final Thoughts
Remember that your worth as a bride is not determined by your size or shape. You are beautiful just the way you are, and any dress you choose will only enhance that beauty.
Don't be afraid to break fashion rules and create your own unique style on your special day. After all, being a rebel has never looked so good. Happy shopping!