Many couples opt for more personalized wedding ceremonies by using poems for wedding readings.
Poems give words and meaning to our emotions, feelings, and thoughts. They're famous for their ability to give expression to innermost thoughts and evoke a myriad of emotions in listeners.
Using poems for wedding readings allows couples to express their journey, experience, and hopes — with a lyrical twist.
Best of all? You don't have to write it yourself! Odds are there's already a poem out there that paints a perfect picture of your relationship.
If you're looking to personalize your ceremony with a poem wedding reading, you're in the right place.
We've collated 31 of the best romantic poems — perfect for your wedding reading.
Friendly tip? Get your hankies ready because the waterworks are sure to flow.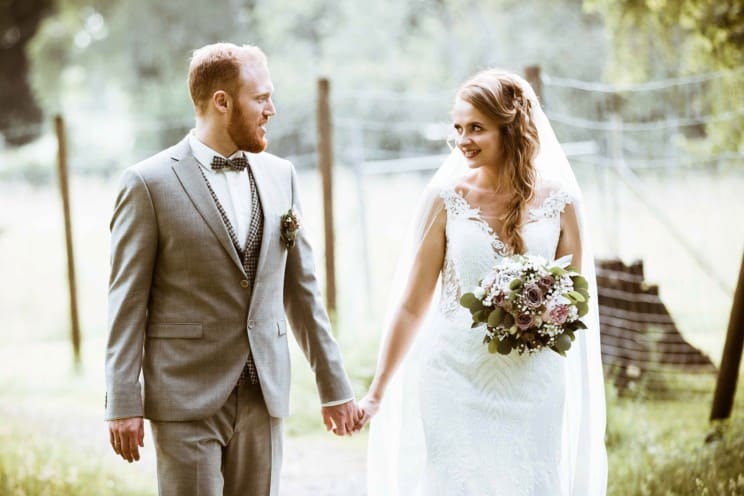 #1 The Privileged Lovers by Rumi
The moon has become a dancer
at this festival of love.
This dance of light,
This sacred blessing,
This divine love,
beckons us
to a world beyond
only lovers can see
with their eyes of fiery passion.
They are the chosen ones
who have surrendered.
Once they were particles of light
now they are the radiant sun.
They have left behind
the world of deceitful games.
They are the privileged lovers
who create a new world
with their eyes of fiery passion.
#2 Touched By An Angel by Maya Angelou
We, unaccustomed to courage
exiles from delight
live coiled in shells of loneliness
until love leaves its high holy temple
and comes into our sight
to liberate us into life.
Love arrives
and in its train come ecstasies
old memories of pleasure
ancient histories of pain.
Yet if we are bold,
love strikes away the chains of fear
from our souls.
We are weaned from our timidity
In the flush of love's light
we dare be brave
And suddenly we see
that love costs all we are
and will ever be.
Yet it is only love
which sets us free.
#3 [I Carry Your Heart With Me(I Carry It In)] by E. E. Cummings
i carry your heart with me(i carry it in
my heart)i am never without it(anywhere
i go you go,my dear;and whatever is done
by only me is your doing,my darling)
i fear
no fate(for you are my fate,my sweet)i want
no world(for beautiful you are my world,my true)
and it's you are whatever a moon has always meant
and whatever a sun will always sing is you
here is the deepest secret nobody knows
(here is the root of the root and the bud of the bud
and the sky of the sky of a tree called life;which grows
higher than soul can hope or mind can hide)
and this is the wonder that's keeping the stars apart
i carry your heart(i carry it in my heart)
#4 To My Dear and Loving Husband by Anne Bradstreet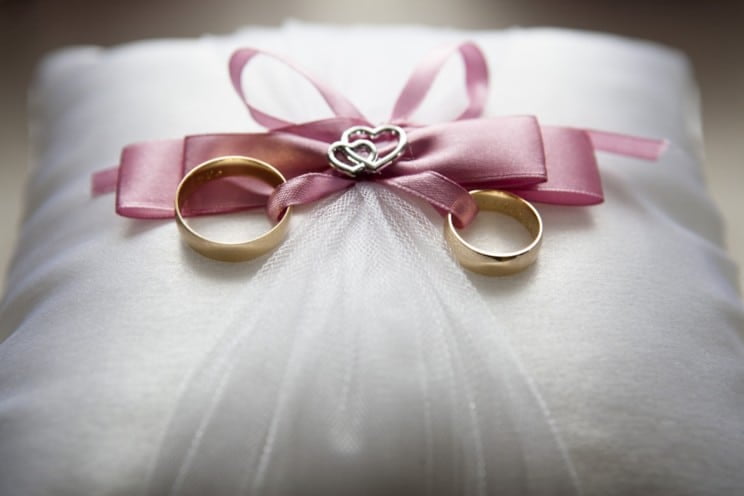 If ever two were one, then surely we.
If ever man were loved by wife, then thee.
If ever wife was happy in a man,
Compare with me, ye women, if you can.
I prize thy love more than whole mines of gold,
Or all the riches that the East doth hold.
My love is such that rivers cannot quench,
Nor ought but love from thee give recompense.
Thy love is such I can no way repay;
The heavens reward thee manifold, I pray.
Then while we live, in love let's so persever,
That when we live no more, we may live ever.
#5 Bridled Vows by Ian Duhig
I will be faithful to you, I do vow,
but not until the seas have all run dry
et cetera. Although I mean it now
I'm not a prophet and I will not lie.
To be your perfect wife, I could not swear;
I'll love, yes; honour (maybe); won't obey,
but will co-operate if you will care
as much as you are seeming to today.
I'll do my best to be your better half,
but I don't have the patience of a saint
and at you, not with you, I'll sometimes laugh,
and snap too, though I'll try to show restraint.
We might work out. No blame if we do not.
With all my heart, I think it's worth a shot.
#6 The Minute I Heard My First Love Story by Rumi
The minute I heard my first love story,
I started looking for you, not knowing
how blind that was.
Lovers don't finally meet somewhere,
they're in each other all along.
#7 I Wanna Be Yours by John Cooper Clarke
I wanna be your vacuum cleaner
Breathing in your dust
I wanna be your Ford Cortina
I will never rust
If you like your coffee hot
Let me be your coffee pot
You call the shots
I wanna be yours
I wanna be your raincoat
For those frequent rainy days
I wanna be your dreamboat
When you want to sail away
Let me be your teddy bear
Take me with you anywhere
I don't care
I wanna be yours
I wanna be your electric meter
I will not run out
I wanna be the electric heater
You'll get cold without
I wanna be your setting lotion
Hold your hair in deep devotion
Deep as the deep Atlantic ocean
That's how deep is my devotion
#8 Our Souls Are Mirrors by Rupi Kaur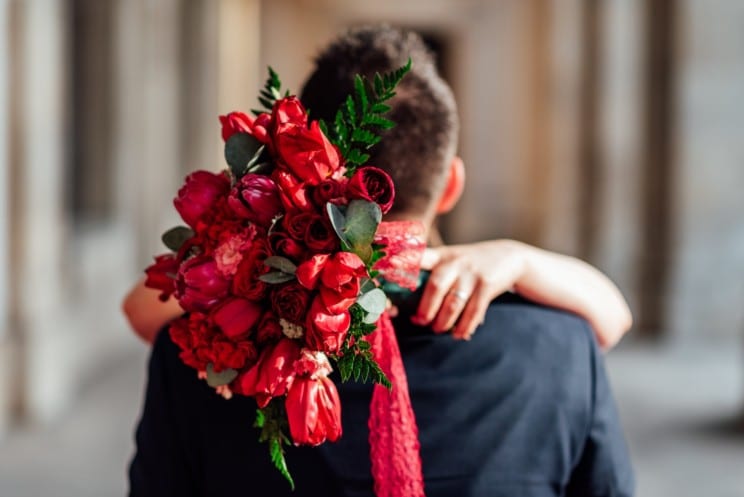 god must have kneaded you and i
from the same dough
rolled us out as one on the baking sheet
must have suddenly realized
how unfair it was
to put that much magic in one person
and sadly split that dough in two
how else is it that
when i look in the mirror
i am looking at you
when you breathe
my own lungs fill with air
that we just met but we
have known each other our whole lives
if we were not made as one to begin with
#9 To Love is Not to Possess by James Kavanaugh
To love is not to possess,
To own or imprison,
Nor to lose one's self in another.
Love is to join and separate,
To walk alone and together,
To find a laughing freedom
That lonely isolation does not permit.
It is finally to be able
To be who we really are
No longer clinging in childish dependency
Nor docilely living separate lives in silence,
It is to be perfectly one's self
And perfectly joined in permanent commitment
To another–and to one's inner self.
Love only endures when it moves like waves,
Receding and returning gently or passionately,
Or moving lovingly like the tide
In the moon's own predictable harmony,
Because finally, despite a child's scars
Or an adult's deepest wounds,
They are openly free to be
Who they really are–and always secretly were,
In the very core of their being
Where true and lasting love can alone abide.
#10 Love Song by Henry Dumas
Beloved,
I have to adore the earth:
The wind must have heard
your voice once.
It echoes and sings like you.
The soil must have tasted
you once.
It is laden with your scent.
The trees honor you
in gold
and blush when you pass.
I know why the north country
is frozen.
It has been trying to preserve
your memory.
I know why the desert
burns with fever.
It was wept too long without you.
On hands and knees,
the ocean begs up the beach,
and falls at your feet.
I have to adore
the mirror of the earth.
You have taught her well
how to be beautiful.
#11 Ever Increasing Circles by Helen Marsh
Joining hands, we become a circle,
Complete, connected and timeless,
We are whole, but not exclusive,
We are one and we will live as one,
But with endless others encircled around us,
Our marriage is neither beginning or end,
But a natural progression of our union,
Which finds us bound but not restricted,
All that was separate yields and flows,
Softly, towards the shared path of our future,
On the foundation of past knowledge,
We build modern family, a space of love,
An expanding community of new and old,
Emitting love, light and sublime acceptance,
We find all things reflected back at us,
Everything is provided for,
Together we hand-craft our next life phase,
It is all embracing, welcoming and generous,
The sensuous safety of our self made space,
Helps us to live bravely and without boundaries,
Here we nurture, thrive and multiply,
All history is ours now, set down by us, made by us,
Strong roots continually feed us, everything is possible,
We grow, we build, we share eternally now,
And holding hands, we look up, prepare,
For there is still far to go…
#12 This Marriage By Rumi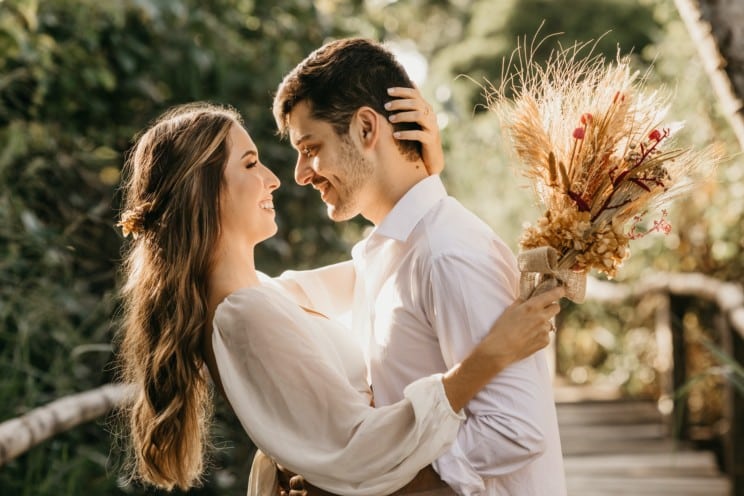 May these vows and this marriage be blessed.
May it be sweet milk,
this marriage, like wine and halvah.
May this marriage offer fruit and shade
like the date palm.
May this marriage be full of laughter,
our every day a day in paradise.
May this marriage be a sign of compassion,
a seal of happiness here and hereafter.
May this marriage have a fair face and a good name,
an omen as welcomes the moon in a clear blue sky.
I am out of words to describe
how spirit mingles in this marriage.
#13 The Invitation by Oriah
It doesn't interest me
what you do for a living.
I want to know
what you ache for
and if you dare to dream
of meeting your heart's longing.
It doesn't interest me
how old you are.
I want to know
if you will risk
looking like a fool
for love
for your dream
for the adventure of being alive.
It doesn't interest me
what planets are
squaring your moon…
I want to know
if you have touched
the centre of your own sorrow
if you have been opened
by life's betrayals
or have become shrivelled and closed
from fear of further pain.
I want to know
if you can sit with pain
mine or your own
without moving to hide it
or fade it
or fix it.
I want to know
if you can be with joy
mine or your own
if you can dance with wildness
and let the ecstasy fill you
to the tips of your fingers and toes
without cautioning us
to be careful
to be realistic
to remember the limitations
of being human.
It doesn't interest me
if the story you are telling me
is true.
I want to know if you can
disappoint another
to be true to yourself.
If you can bear
the accusation of betrayal
and not betray your own soul.
If you can be faithless
and therefore trustworthy.
I want to know if you can see Beauty
even when it is not pretty
every day.
And if you can source your own life
from its presence.
I want to know
if you can live with failure
yours and mine
and still stand at the edge of the lake
and shout to the silver of the full moon,
"Yes."
It doesn't interest me
to know where you live
or how much money you have.
I want to know if you can get up
after the night of grief and despair
weary and bruised to the bone
and do what needs to be done
to feed the children.
It doesn't interest me
who you know
or how you came to be here.
I want to know if you will stand
in the centre of the fire
with me
and not shrink back.
It doesn't interest me
where or what or with whom
you have studied.
I want to know
what sustains you
from the inside
when all else falls away.
I want to know
if you can be alone
with yourself
and if you truly like
the company you keep
in the empty moments.
#14 Married Love by Kuan Tao-sheng
You and I
Have so much love,
That it
Burns like a fire,
In which we bake a lump of clay
Molded into a figure of you
And a figure of me.
Then we take both of them,
And break them into pieces,
And mix the pieces with water,
And mold again a figure of you,
And a figure of me.
I am in your clay.
In life we share a single quilt.
In death we will share a single coffin.
#15 The Married Lover by Coventry Patmore
WHY, having won her, do I woo?
Because her spirit's vestal grace
Provokes me always to pursue,
But, spirit-like, eludes embrace;
Because her womanhood is such
That, as on court-days subjects kiss
The Queen's hand, yet so near a touch
Affirms no mean familiarness;
Nay, rather marks more fair the height
Which can with safety so neglect
To dread, as lower ladies might,
That grace could meet with disrespect;
Thus she with happy favour feeds
Allegiance from a love so high
That thence no false conceit proceeds
Of difference bridged, or state put by;
Because although in act and word
As lowly as a wife can be,
Her manners, when they call me lord,
Remind me 'tis by courtesy;
Not with her least consent of will,
Which would my proud affection hurt,
But by the noble style that still
Imputes an unattain'd desert;
Because her gay and lofty brows,
When all is won which hope can ask,
Reflect a light of hopeless snows
That bright in virgin ether bask;
Because, though free of the outer court
I am, this Temple keeps its shrine
Sacred to Heaven; because, in short,
She 's not and never can be mine.
#16 A Blessing For Wedding by Jane Hirshfield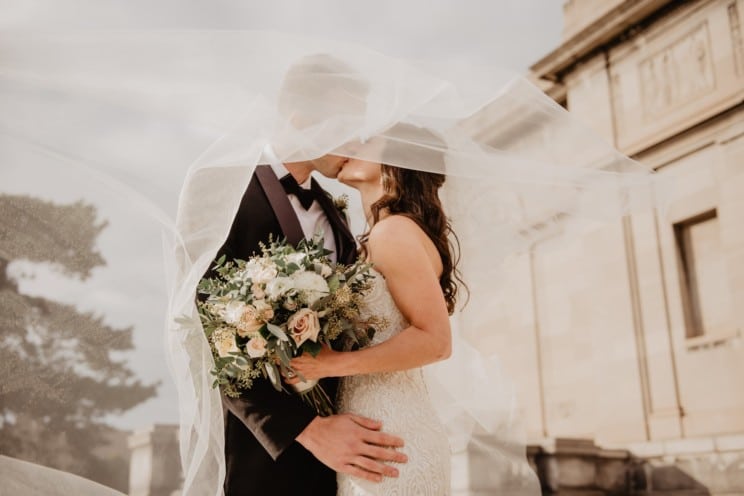 Today when persimmons ripen
Today when fox-kits come out of their den into snow
Today when the spotted egg releases its wren song
Today when the maple sets down its red leaves
Today when windows keep their promise to open
Today when fire keeps its promise to warm
Today when someone you love has died
or someone you never met has died
Today when someone you love has been born
or someone you will not meet has been born
Today when rain leaps to the waiting of roots in their dryness
Today when starlight bends to the roofs of the hungry and tired
Today when someone sits long inside his last sorrow
Today when someone steps into the heat of her first embrace
Today, let this light bless you
With these friends let it bless you
With snow-scent and lavender bless you
Let the vow of this day keep itself wildly and wholly
Spoken and silent, surprise you inside your ears
Sleeping and waking, unfold itself inside your eyes
Let its fierceness and tenderness hold you
Let its vastness be undisguised in all your days
#17 I Belong In Your Arms by Deborah Bridea
I belong in your arms
Finally, I have found a place
Into which I fit perfectly, safely
And securely with no doubts
No fears, no sadness, no tears
This place is filled with happiness and laughter
Yet it is spacious enough, to allow me
The freedom to move around
To live my life and be myself
This wonderful place, which I never believed really existed
I have found finally
Inside your arms, Inside your heart, inside your love
#18 My Delight and Thy Delight by Robert Bridges
MY delight and thy delight
Walking, like two angels white,
In the gardens of the night:
My desire and thy desire
Twining to a tongue of fire,
Leaping live, and laughing higher:
Thro' the everlasting strife
In the mystery of life.
Love, from whom the world begun,
Hath the secret of the sun.
Love can tell, and love alone,
Whence the million stars were strewn,
Why each atom knows its own,
How, in spite of woe and death,
Gay is life, and sweet is breath:
This he taught us, this we knew,
Happy in his science true,
Hand in hand as we stood
'Neath the shadows of the wood,
Heart to heart as we lay
In the dawning of the day.
#19 With You In My Heart by Mick Jennings
With you in my heart, my life is complete,
You're the air that I breathe and the food that I eat.
You are my soul mate, the beat in my heart,
It feels like a year, each second we're apart.
With you in my heart I'm walking on air,
I can imagine your perfume and the touch of your hair.
Your beautiful eyes, so kind and so green,
The loveliest sight I ever have seen.
With you in my heart, I am brim full of pride,
It's as though I can achieve anything with you by my side.
You're my rock, you're my angel, my one true love,
You're my present from heaven, my gift from above.
With you in my heart, I love you so much,
How caring you are, my soul you do touch.
You're a beautiful princess, a pleasure to know,
My love for you just continues to grow.
With you in my heart, I'm the happiest man on earth,
I feel God has planned this since the day of my birth.
I could never love anyone the way I love you,
I hope and I pray that you feel the same way too.
With you in my heart, through the good and the bad,
I'll be there when you need me, when you're hurting or sad.
In fact I'll be there for you any night, any day,
Whenever you need me, you just have to say.
With you in my heart, it really makes my day,
With the things that you do and the things that you say.
You and Eva deserve happiness and I will ensure,
From now, only good times come knocking at your door.
With you in my heart, I hope it feels good,
And that I am caring for you the way that I should.
I will always be happy, just by the love that you give,
I will protect you and love you for as long as I live.
#20 My Love by Jane Graham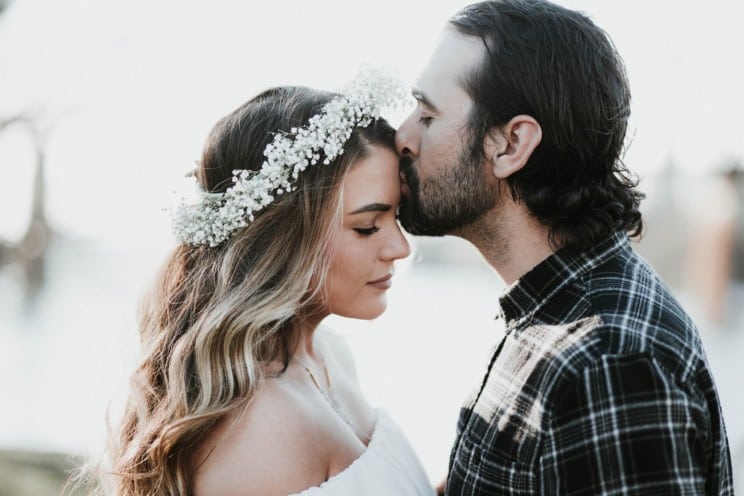 You say you love me
I know it's true
Without your love
What would I do?
My heart will sing
'you kiss my soul'
This is the thing
That makes us whole
Together we will face our life
You as my husband
Me your wife
Sharing, caring, journeying on
With only love notes
For our song.
#21 Dear Heart by Hayley Gait-Golding
Dear Heart,
I'd like it if you'd tell me
How you measure love.
Do you deal in ounces and quarters?
Or stroke it with kid gloves?
How do you pick who gets it
Because I'd really like a say
And why is it that some people
Get more and more each day?
Another thing I'd like to know
Is how love measures time?
Is it founded in an instant?
Then lasts a whole lifetime?
Does it grow and grow your whole life through
So I have more and more
Or is there just a set amount
You get at birth then store?
What happens if it's stolen?
Or if I cease to love
Does it all come back untarnished?
With interest on the above.
How can I know its importance?
Do you give it certain ranks?
Could I say that's 1st or 2nd class?
Like I do with postage stamps.
Is true love like in stories?
Like old fashioned fairy tales
Cinderella meets Prince Charming
And only love prevails
Why is it then that nowadays?
Love sometimes takes the course
Of starting off with marriage
But ending in divorce
Is love equal in proportions?
For families and for friends
For husbands, wives and children
Where does it ever end?
To let me know what's going on
Lets strike a little deal
Beat slowly for the phoneys
And fast if it's for real!
#22 I'll Be There For You" By Louise Cuddon
'll be there my darling, through thick and through thin
When your mind's in a mess and your head's in a spin
When your plane's been delayed, and you've missed the last train.
When life is just threatening to drive you insane
When your thrilling whodunit has lost its last page
When somebody tells you, you're looking your age
When your coffee's too cool, and your wine is too warm
When the forecast said "Fine", but you're out in a storm
When your quick break hotel, turns into a slum
And your holiday photos show only your thumb
When you park for five minutes in a resident's bay
And return to discover you've been towed away
When the jeans that you bought in hope or in haste
Just stick on your hips and don't reach round your waist
When the food you most like brings you out in red rashes
When as soon as you boot up the bloody thing crashes
So my darling, my sweetheart, my dear…
When you break a rule, when you act the fool
When you've got the flu, when you're in a stew
When you're last in the queue, don't feel blue'cause
I'm telling you, I'll be there
#23 A Passage From Captain Corelli's Mandolin" By Louis De Bernières
Love is a temporary madness.
It erupts like volcanoes and then subsides.
And when it subsides, you have to make a decision.
You have to work out whether your roots have so entwined together
that it is inconceivable that you should ever part.
Because this is what love is.
Love is not breathlessness,
It is not excitement,
It is not the promulgation of eternal passion.
That is just being "in love" which any fool can do.
Love itself is what is left over when being in love has burned away,
And this is both an art and a fortunate accident.
Those that truly love, have roots that grow towards each other underground,
And when all the pretty blossom have fallen from their branches,
They find that they are one tree and not two.
#24 At Nightfall," Charles Hanson Towne
I NEED so much the quiet of your love,
After the day's loud strife;
I need your calm all other things above,
After the stress of life.
I crave the haven that in your dear heart lies,
After all toil is done;
I need the starshine of your heavenly eyes,
After the day's great sun!
#25 He's Not Perfect By Bob Marley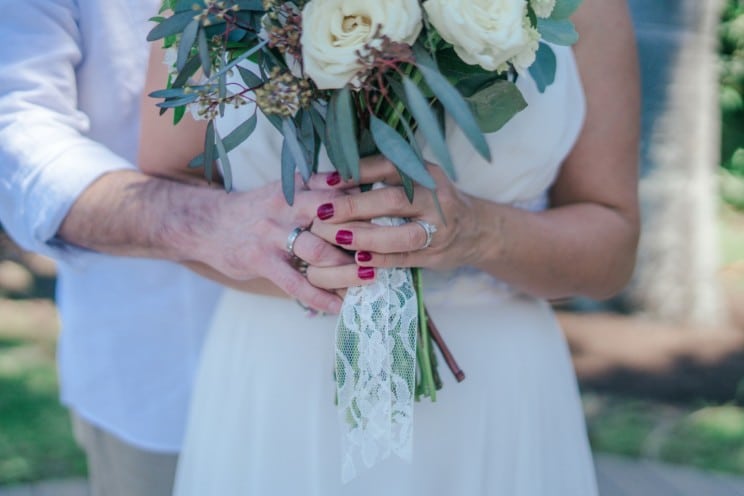 He's not perfect. You aren't either, and the two of you will never be perfect.
But if he can make you laugh at least once, causes you to think twice, and if he admits to being human and making mistakes, hold onto him and give him the most you can.
He isn't going to quote poetry, he's not thinking about you every moment, but he will give you a part of him that he knows you could break.
Don't hurt him, don't change him, and don't expect for more than he can give. Don't analyze.
Smile when he makes you happy, yell when he makes you mad, and miss him when he's not there.
Love hard when there is love to be had. Because perfect guys don't exist, but there's always one guy that is perfect for you.
#26 True Love by Unknown Author
True love is a sacred flame
That burns eternally,
And none can dim its special glow
Or change its destiny.
True love speaks in tender tones
And hears with gentle ear,
True love gives with open heart
And true love conquers fear.
True love makes no harsh demands
It neither rules nor binds,
And true love holds with gentle hands
The hearts that it entwines.
#27 Doves Poem by Unknown Author
Two doves meeting in the sky
Two loves hand in hand eye to eye
Two parts of a loving whole
Two hearts and a single soul
Two stars shining big and bright
Two fires bringing warmth and light
Two songs played in perfect tune
Two flowers growing into bloom
Two Doves gliding in the air
Two loves free without a care
Two parts of a loving whole
Two hearts and a single soul
#28 A Wedding Toast by James Bertolino
May your love be firm,
and may your dream of life together
be a river between two shores—
by day bathed in sunlight, and by night
illuminated from within. May the heron
carry news of you to the heavens, and the salmon bring
the sea's blue grace. May your twin thoughts
spiral upward like leafy vines,
like fiddle strings in the wind,
and be as noble as the Douglas fir.
May you never find yourselves back to back
without love pulling you around
into each other's arms.
#29 "Sonnet 116" By William Shakespeare
Let me not to the marriage of true minds
Admit impediments. Love is not love
Which alters when it alteration finds,
Or bends with the remover to remove.
O no! it is an ever-fixed mark
That looks on tempests and is never shaken;
It is the star to every wand'ring bark,
Whose worth's unknown, although his height be taken.
Love's not Time's fool, though rosy lips and cheeks
Within his bending sickle's compass come;
Love alters not with his brief hours and weeks,
But bears it out even to the edge of doom.
If this be error and upon me prov'd,
I never writ, nor no man ever lov'd
#30 Falling Stars By Rainer Maria Rilke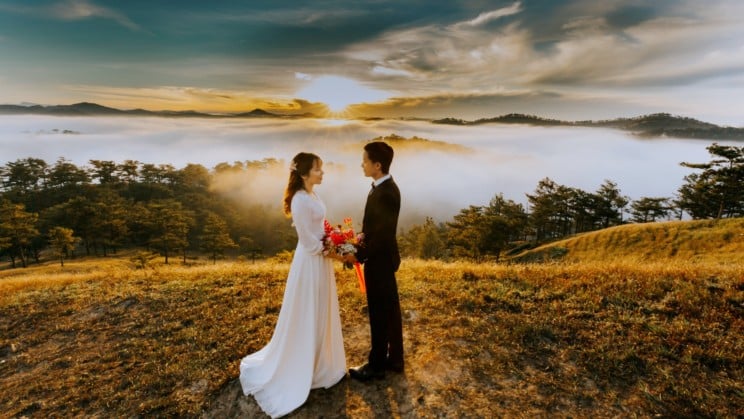 Do you still remember: falling stars,
how they leapt slantwise through the sky
like horses over suddenly held-out hurdles
of our wishes—did we have so many?—
for stars, innumerable, leapt everywhere;
almost every gaze upward became
wedded to the swift hazard of their play,
and our heart felt like a single thing
beneath that vast disintegration of their brilliance—
and was whole, as if it would survive them!
#31 Hope Is The Thing With Feathers by Emily Dickinson
"Hope" is the thing with feathers –
That perches in the soul –
And sings the tune without the words –
And never stops – at all –
And sweetest – in the Gale – is heard –
And sore must be the storm –
That could abash the little Bird
That kept so many warm –
I've heard it in the chillest land –
And on the strangest Sea –
Yet – never – in Extremity,
It asked a crumb – of me
Final Thoughts
Who doesn't love a poem on love? From classics to recents, witty to intense, this list has the best picks.
Go ahead and choose the one that speaks to your relationship and feel the atmosphere change as it's read aloud on that day.
Have a wonderful wedding ceremony!