Are you a blushing bride-to-be, standing at the threshold of the great white world of wedding dresses, feeling both exhilarated and overwhelmed by the abundance of options?
Fret not, for you have arrived at the perfect place to begin your quest for the ultimate dream gown! I'll take you on a magical journey through the enchanted realms of bridal fashion.
From silhouette to fabric, learn everything you need to know in our Ultimate Guide to Picking Your Wedding Dress.
As we explore the popular wedding dress styles, the latest trends, timeless classics, and hidden gems, I'll also reveal insider secrets and handy tips to help you identify the perfect dress that not only celebrates your style but also flatters your unique silhouette.
So, grab a cup of tea, curl up with your favorite device, and prepare to be dazzled by the world of exquisite fabrics, intricate details, and breathtaking designs as we embark on this unforgettable adventure to discover the wedding dress of your dreams!
A-Line Dresses for Flattering Elegance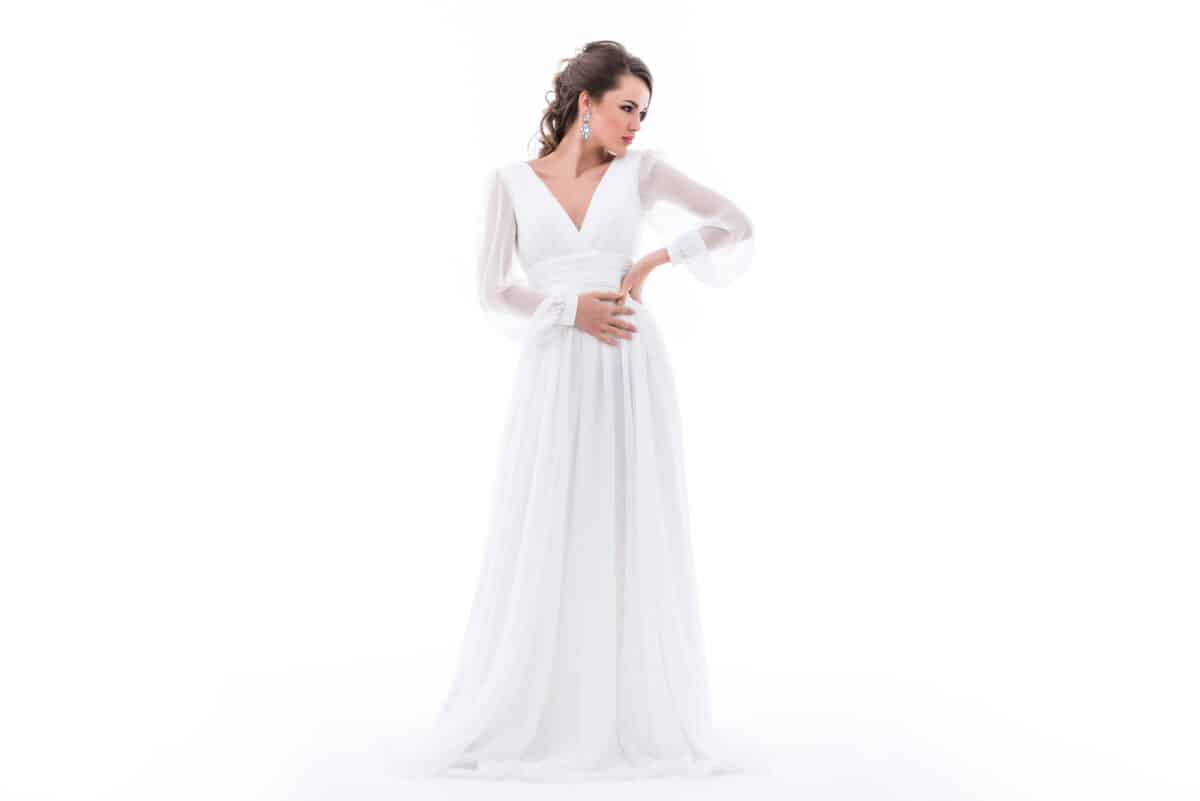 A-line dresses have been a timeless classic since the 1950s. The silhouette resembles the letter A, with the dress fitted at the top and flaring out from the waist downwards.
This style is perfect for those who want to accentuate their curves while still maintaining an elegant look.
Choosing the perfect fabric for A-line dresses is crucial to achieving that desired effect. Soft fabrics like chiffon or tulle will flow beautifully as you walk down the aisle, creating an ethereal feel.
On the other hand, stiffer materials like satin or silk give off a more structured vibe, making them ideal for those aiming for a polished look.
Accessorizing A-line dresses can be tricky but not impossible. Since this style already has a flattering shape on its own, it's best to keep accessories simple yet impactful.
Add a statement necklace or pair of earrings that complement your dress without overpowering it. You could also opt for a delicate veil to add romance to your ensemble.
Remember that choosing your wedding dress is about finding what makes you feel confident and beautiful on your special day.
An A-line dress offers both elegance and comfort, making it a popular choice among brides worldwide.
Sheath Dresses for Effortless Sophistication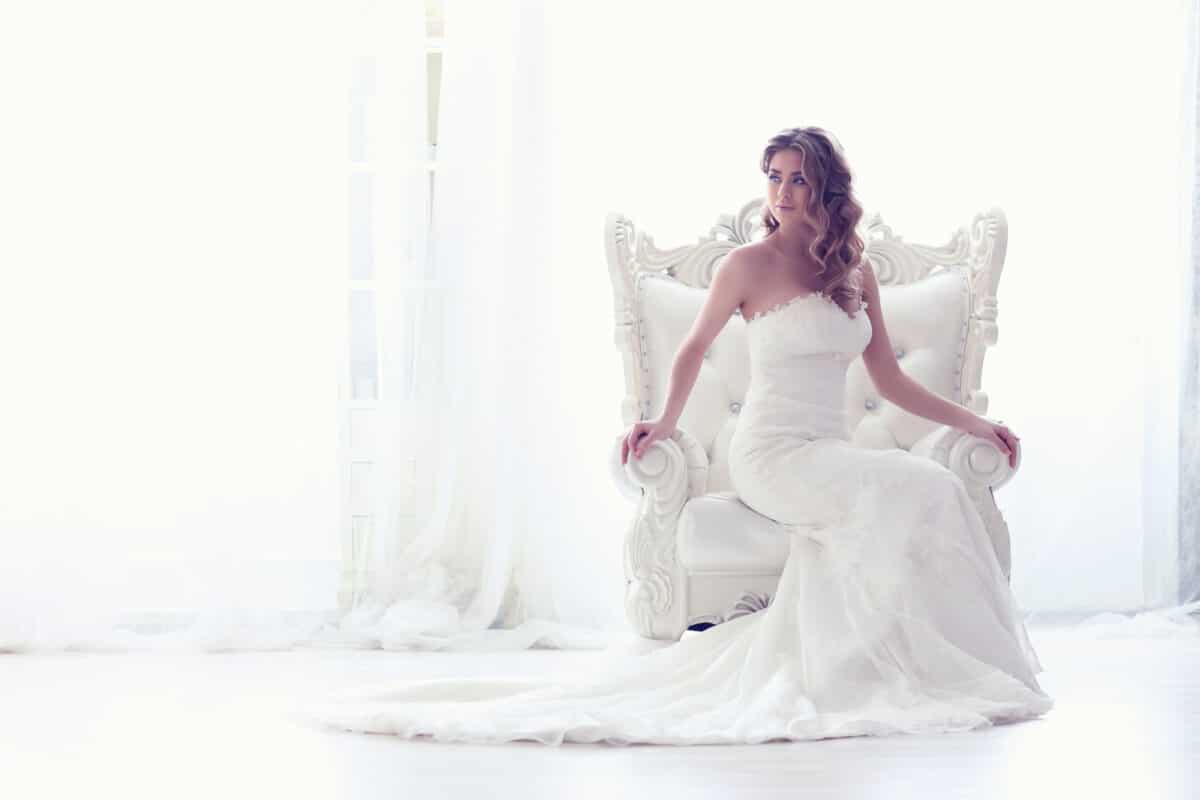 Effortless elegance and understated glamour are two qualities that many brides desire for their wedding day look. Sheath dresses, also known as column dresses, offer just that.
This style of dress is characterized by its slim silhouette that skims the body from top to bottom without any flaring or fullness.
One of the main benefits of a sheath dress is its versatility. It can be dressed with statement jewelry, a dramatic veil, or bold makeup for a more glamorous look.
It may also be paired down with minimal accessories and natural makeup for a more effortless aesthetic.
When choosing a sheath dress, consider your body shape and proportions. This style looks stunning on tall and slender brides as it accentuates their long lines.
However, petite brides can also rock this style by opting for a shorter hemline and avoiding too much fabric at the waist.
Consider incorporating lace or beading into the design to add some extra dimension to your sheath dress.
These details will provide subtle texture and shimmer without overwhelming the simplicity of the overall silhouette.
If you're looking for a wedding dress style that exudes effortless sophistication and understated glamour, then a sheath dress may be perfect for you.
With its versatile nature and flattering fit, it's no surprise why this style remains popular among modern brides today.
Off-the-Shoulder Dresses for a Romantic Touch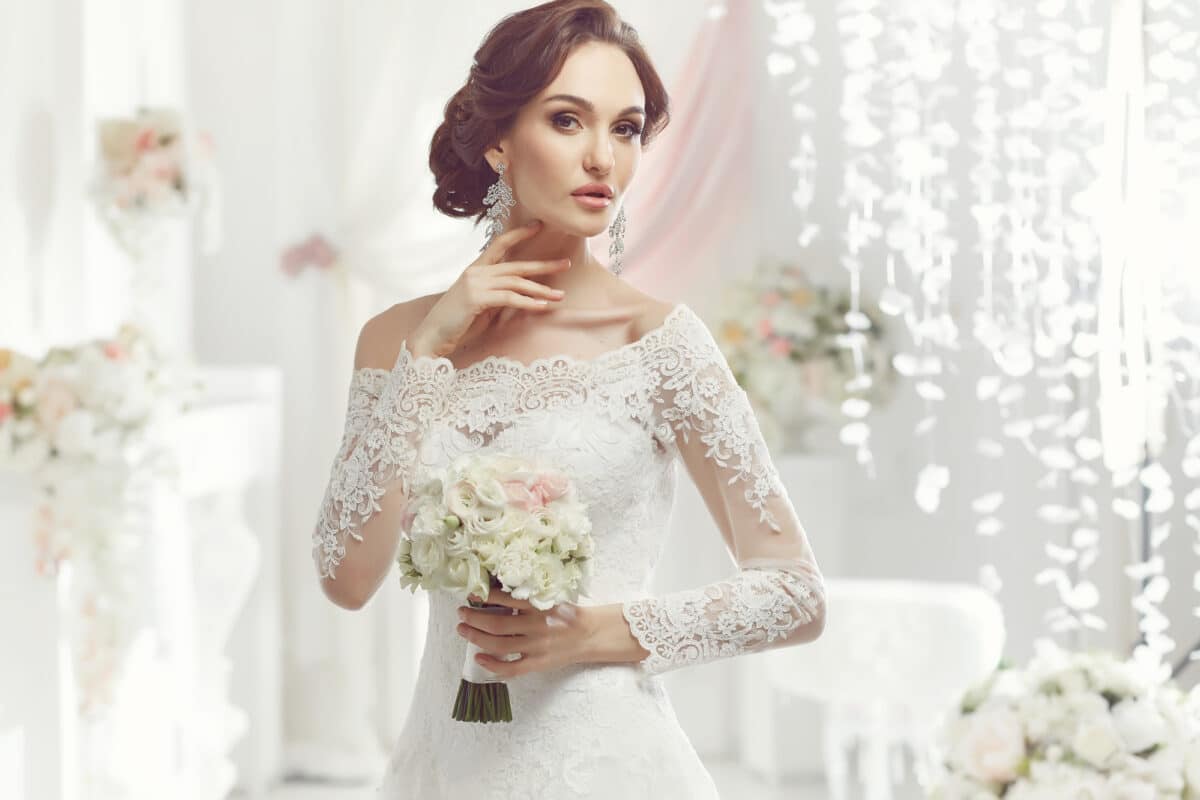 With its timeless elegance and feminine appeal, off-the-shoulder wedding dresses have become a go-to option for brides who want to add a romantic touch to their special day.
This style features a neckline just below the shoulders, exposing the collarbone and framing the face beautifully.
Off-the-shoulder dresses come in various fabrics and silhouettes, making it an ideal choice for both traditional and modern weddings.
Styling options for off-the-shoulder gowns are endless. For a bohemian vibe, choose flowy chiffon or lace fabric with intricate details such as embroidery or beading.
A structured silk dress will give you a classic look perfect for formal events. If you're aiming for something unique, consider opting for ruffled sleeves or asymmetrical hemlines to make your gown stand out from the crowd.
Accessorizing tips can help elevate your look even further. When choosing jewelry, pick pieces that complement rather than overpower your dress since an off-the-shoulder gown already makes a statement on its own.
Dainty necklaces and earrings work well with this style of dress. To complete the look, pair your dress with elegant heels or sandals depending on the venue.
Incorporating an off-the-shoulder wedding dress into your big day is sure to leave guests in awe of your beauty and gracefulness.
With so many variations available in stores today, finding one that fits perfectly should not be difficult!
Halter Neck Dresses for a Statement Look
As we move on from the romantic off-the-shoulder dresses, let's talk about a style that makes a statement – halter neck dresses.
These styles are perfect for brides who want to show off their arms and shoulders with an edgier look.
When it comes to accessorizing your halter neck dress, less is more. You don't want to overwhelm this bold dress's neckline with too many accessories.
Instead, opt for simple drop earrings or a delicate bracelet. A small hair accessory can add some extra flair without removing the overall look.
The best fabrics for halter neck dresses are ones that have some structure but still allow movement. Consider fabrics like crepe or silk Mikado for a chic and sophisticated vibe.
For a more relaxed feel, try lightweight chiffon or tulle.
Frequently Asked Questions
What Kind of Fabric Should I Choose for My Wedding Dress?
If you're looking for something light and airy, silk may be the way to go. It's flowy and soft, perfect for a romantic or bohemian look.
On the other hand, lace is a great option if you want something with more texture and detail. It adds depth and elegance to any design.
Incorporating color into your wedding dress can also add personality and uniqueness to your overall look.
Can I Customize the Design of My Wedding Dress?
From altering the neckline or sleeves to adding intricate beading or embroidery, a skilled seamstress can help bring your vision to life. 
Remember that customizing your dress may increase the cost and lead time for production.
However, if you have a specific look in mind or want to incorporate sentimental details into your dress, then customization is definitely worth considering.
How Do I Choose the Right Size for My Wedding Dress?
Measuring tips are essential to ensure accuracy, and it's best to have a professional do it for you. 
It's also important to consider alteration options when selecting a size, as most dresses will need adjustments to achieve that flawless look.
Don't stress too much about the number on the tag. Focus instead on finding a dress that makes you feel confident and beautiful.
Think of it like finding your soulmate – it should fit just right and make you glow from within.
What Type of Shoes Should I Wear With My Wedding Dress?
Try pairing your dress with some comfy wedges or barefoot sandals for a more bohemian look.
Another important factor is comfort since you'll be on your feet for hours! Choose shoes that fit well and don't pinch or rub anywhere. 
Don't forget about matching jewelry, too!
Consider incorporating similar materials or colors into both your shoe choice and accessories to create a cohesive look from head to toe.
Final Thoughts
Congratulations, beautiful bride-to-be! Now that you know the most popular wedding dress styles, it's time to choose the perfect one for your special day.
Remember to consider your body type when choosing your dress. If you're petite, opt for an A-line or ballgown silhouette to elongate your frame.
For curvier brides, a fit-and-flare or mermaid gown will accentuate your curves in all the right places. Don't be afraid to try on different styles until you find "the one".
Now, let's talk about accessories. Whether it's a veil, jewelry, or shoes – they can make or break your bridal look. Choose pieces that complement your dress without overpowering it.
And don't forget about comfort – if you plan on dancing the night away, pick comfortable shoes that won't leave you with blisters by the night's end.
Your wedding dress is not just any old garment. It's a symbol of love and commitment between two people who want to spend their lives together.
So go ahead and indulge in some fabulous fabric choices- after all, what says "I do" more than feeling like royalty?